What is Distant Stars Bundle
Bundles sold each year on Cosmonautics Day.
It contains a root box called Stellar Doll.
Cost-effectiveness is improved if the event has a concurrent emerald purchase quest. For this reason, if we include the sharing, we can consider it similar to the valuation of the Emerald x4 sale. (See estimated amount below for details)
Each bundle can be purchased only once.
More for those who are just starting out in gaming.
Stellar Skin Shop
Special shop for Stellar skins opened in conjunction with the sale of this bundle.
Same contents as normal means, no special offers.
There is no particular advantage to using the special shop.
After the event is over, you can still get it through normal means (skinstone or bundle).
If it's a skin you need, you can procure it at your own pace when you need it.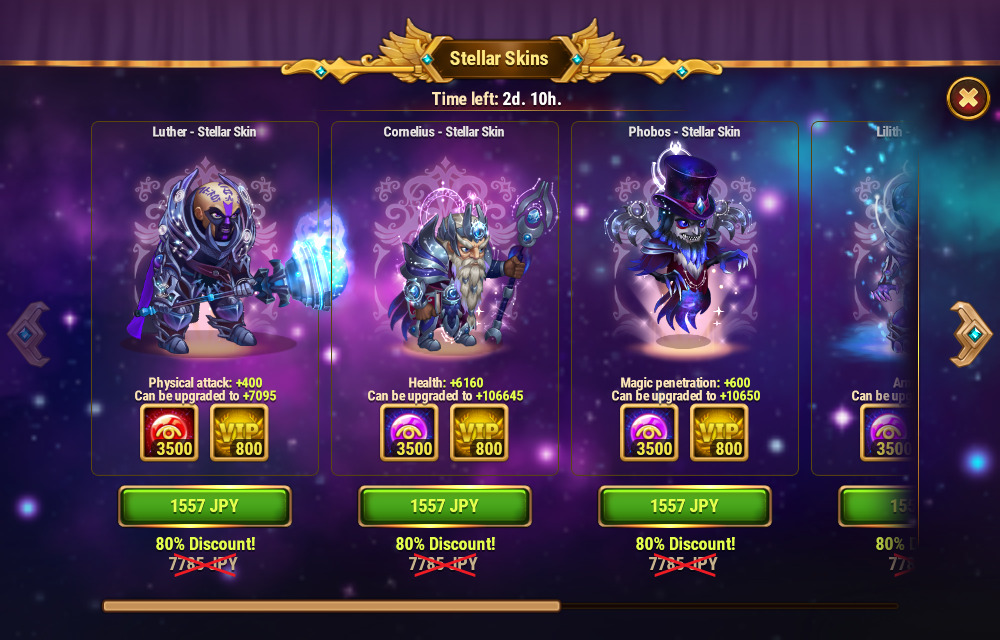 Estimated Emerald equivalent for each bundle
1,167JPY bundle = Emeralds(x0)
1,946JPY bundle = 11,398 Emeralds(x2)
3,891JPY bundle = 29,805 Emeralds(x2.6)
7,783JPY bundle = 64,860 Emeralds(x2.8)
13,620JPY bundle = Emeralds(x0)
23,349JPY bundle = 191,200 Emeralds(x2.7)
Estimated Emerald equivalent for each bundle(in Guild will get)
1,946JPY bundle = 19,588 Emeralds(x3.4)
3,891JPY bundle = 46,184 Emeralds(x4)
7,783JPY bundle = 90,879 Emeralds(x3.9)
13,620JPY bundle = Emeralds(x0)
23,349JPY bundle = 235,773 Emeralds(x3.4)
Estimated Emerald equivalent for each bundle(in Quests will get)
1,167JPY bundle = Emeralds(x0)
1,946JPY bundle = 13,073 Emeralds(x2.2)
3,891JPY bundle = 32,980 Emeralds(x2.8)
7,783JPY bundle = 72,535 Emeralds(x3.1)
13,620JPY bundle = Emeralds(x0)
23,349JPY bundle = 206,875 Emeralds(x3)
Estimated Emerald equivalent for each bundle(in Quests will get & Guild will get)
1,946JPY bundle = 21,263 Emeralds(x3.6)
3,891JPY bundle = 49,359 Emeralds(x4.2)
7,783JPY bundle = 98,554 Emeralds(x4.2)
13,620JPY bundle = Emeralds(x0)
23,349JPY bundle = 251,448 Emeralds(x3.6)
Stellar Doll
All Distant Stars Bundle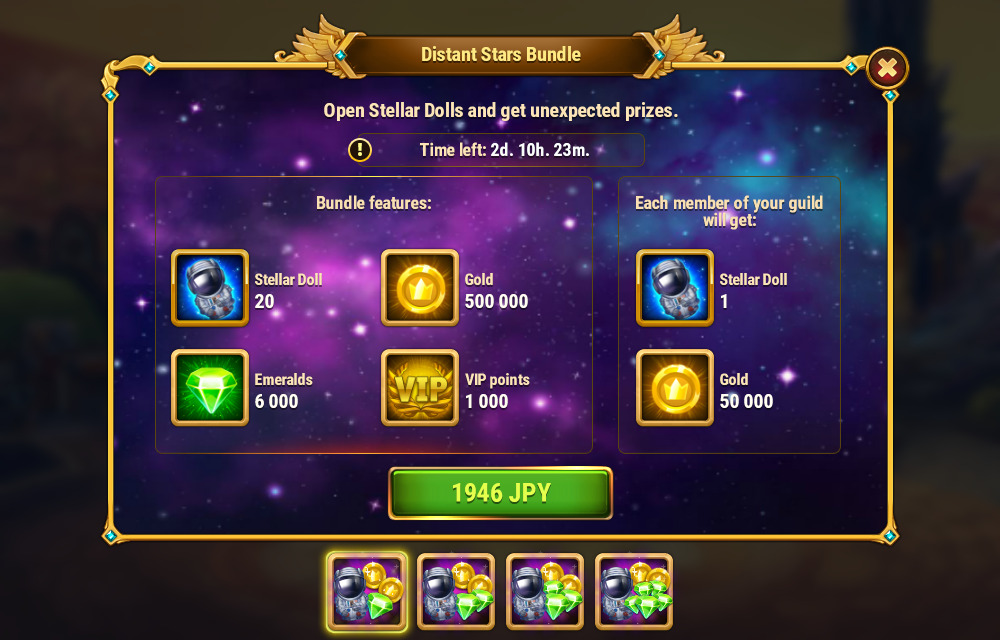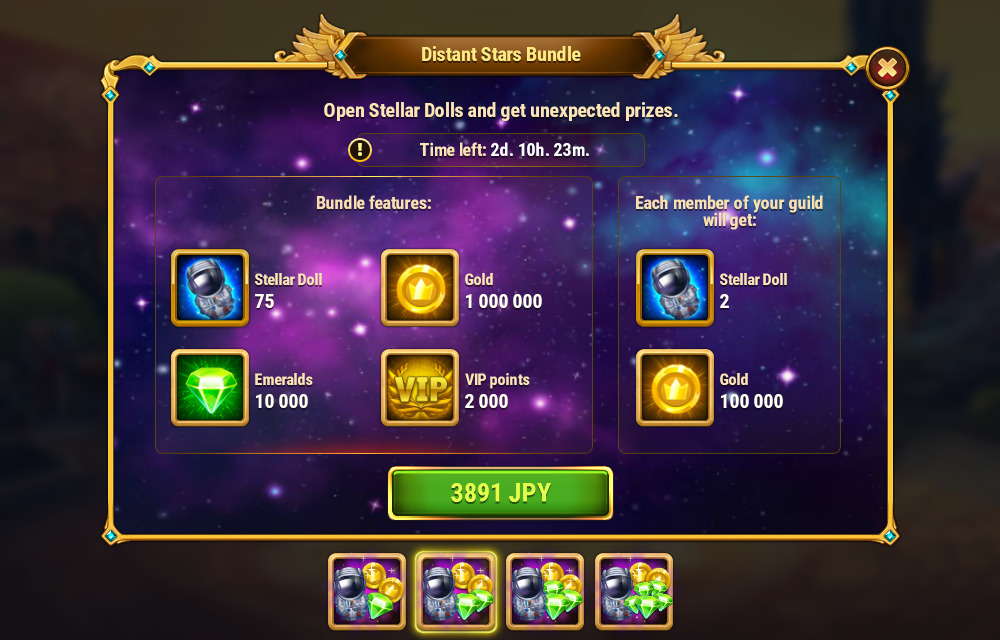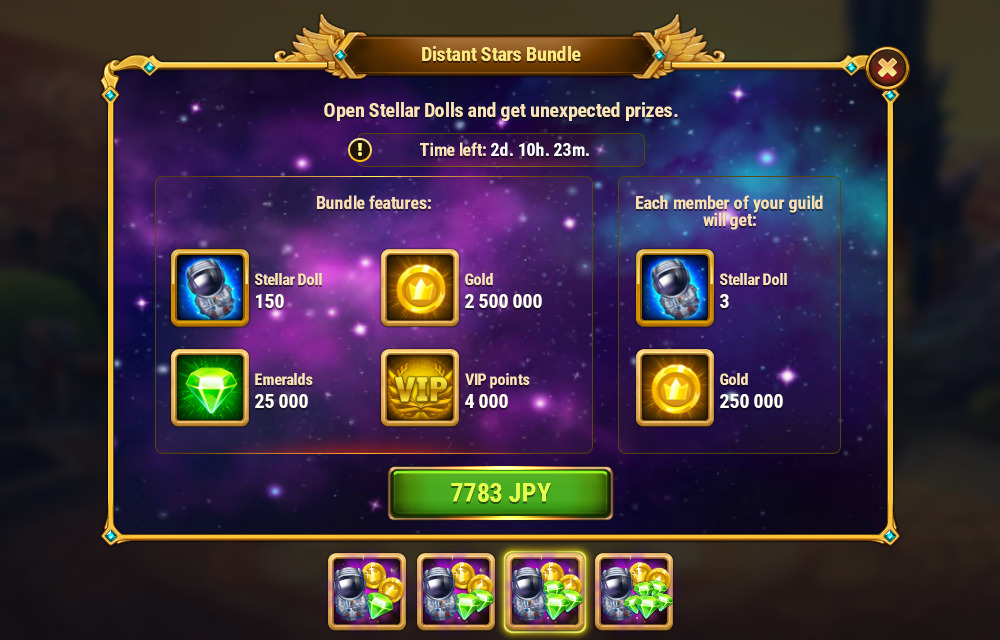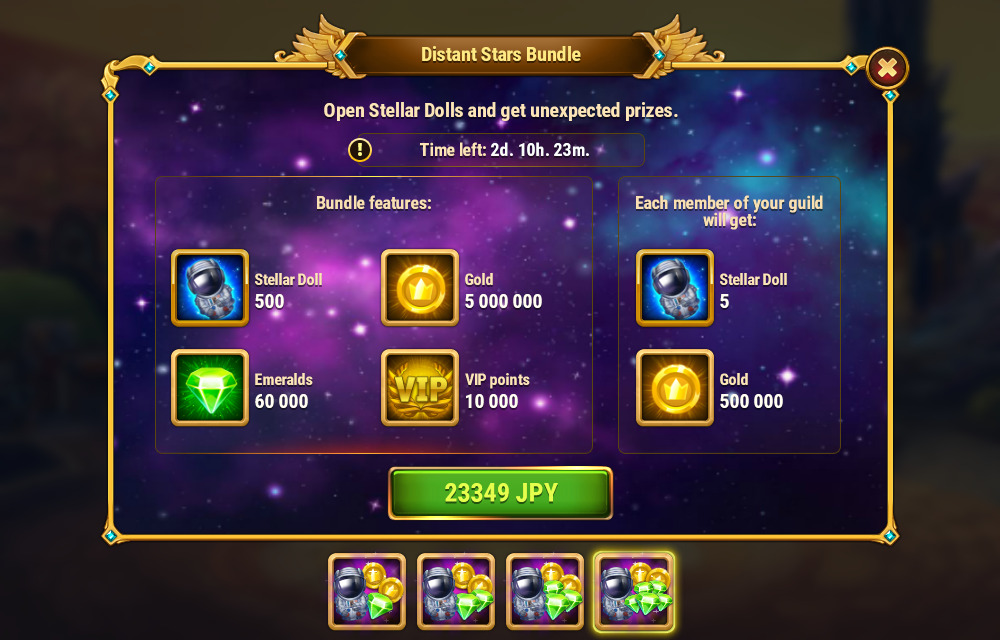 Bundle History
Monday, April 12, 2021 (3 days)
Tuesday, April 12, 2022 (3 days)