Harmony Shop Overview
Shop that appears every year in conjunction with the Summer Festival
Harmony Coin(Event prizes) can be used to shop.
Rates vary. Some are good deals and some are bad deals. It is recommended to be aware of the game, which can make a difference of about 1.5 times in the speed of growth for the same resource investment, depending on whether you act with cost-effectiveness in mind or not.
Harmony Shop Guide
Estimated value of event items
Harmony Scroll x1 is equivalent to emerald x100
Harmony Coin x100 is equivalent to Emerald x40
List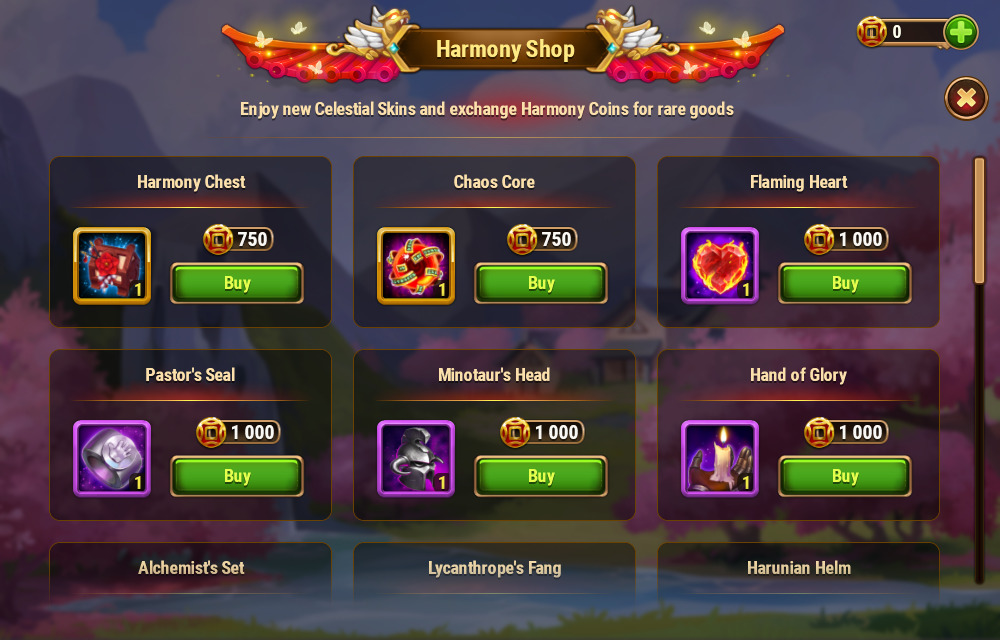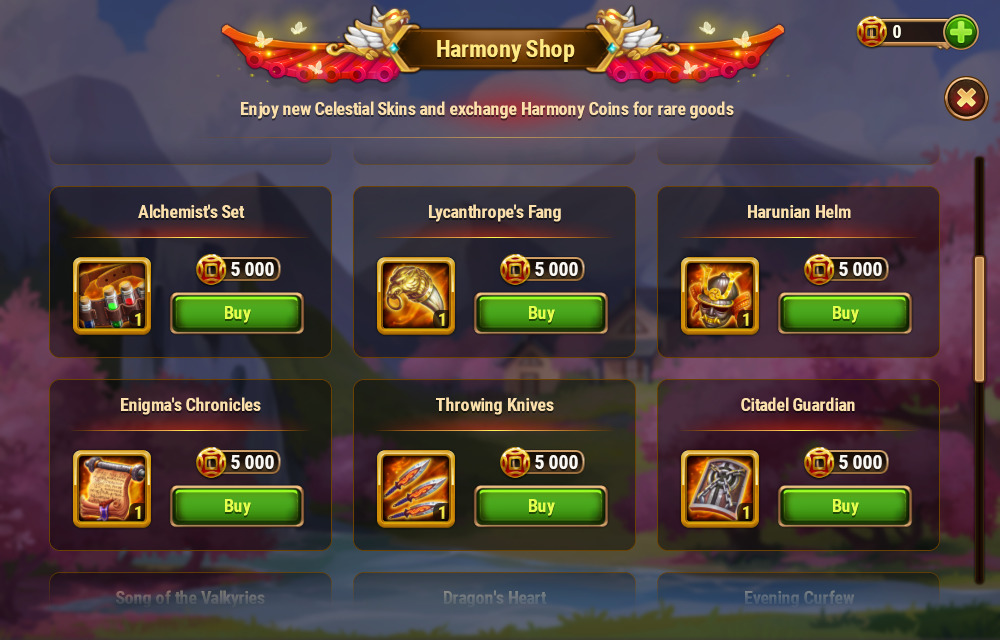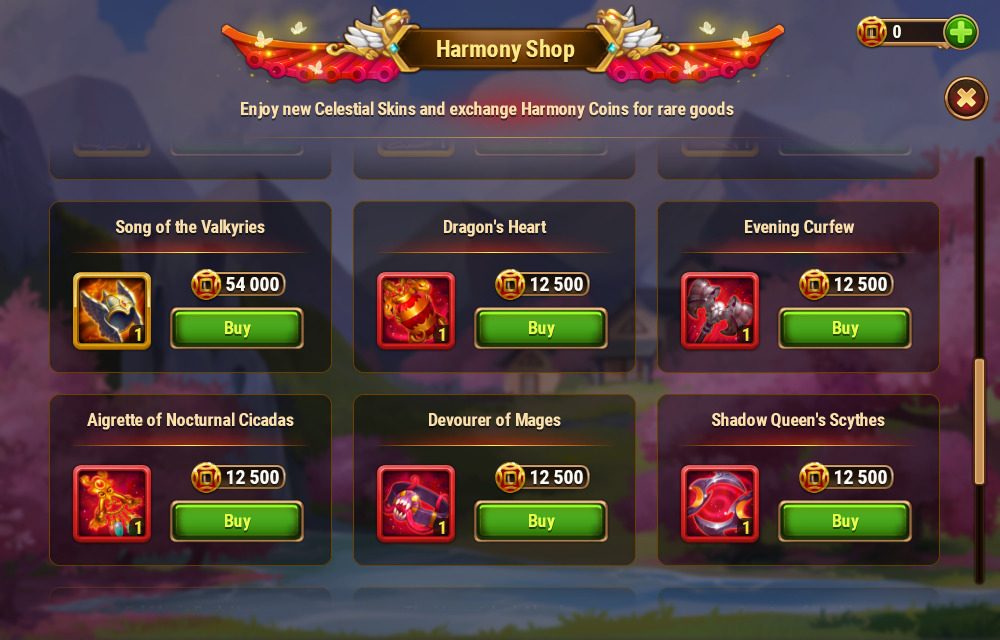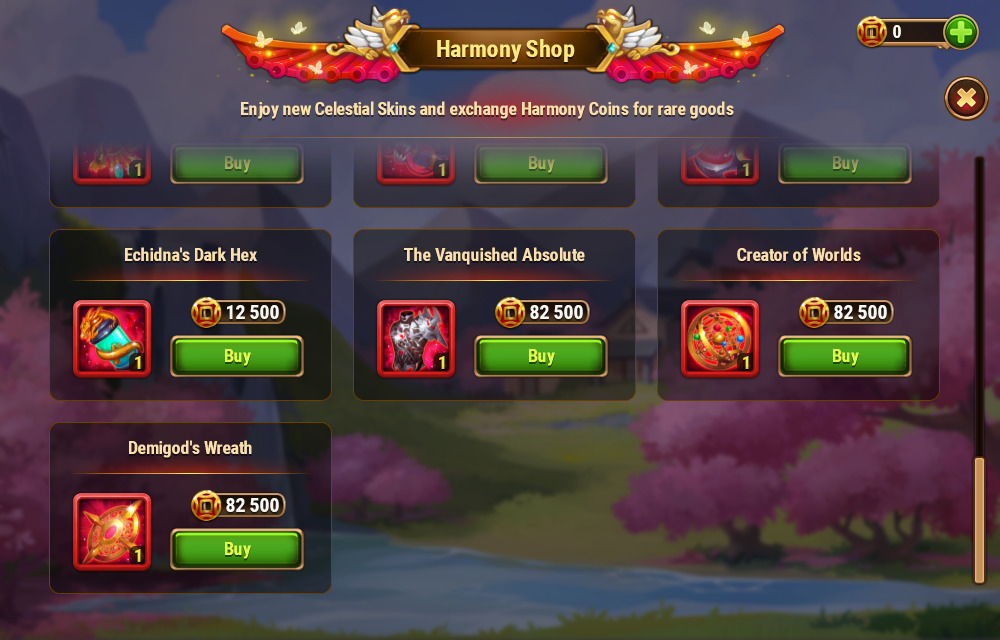 Concept
Rates are not very good overall.
Chaos Core has poor rates. Even if you want this one very much, you should not choose it here.
Purple Equipments has a good rate. It is cost-effective if you have the required number of items. Especially, the pastor's emblem was not lined up in the event store in the past, so it is hard to get in trouble if you have it here.
The only item that can only be obtained here is the Harmony chest, but it is not a must-have item.
If there are two pieces of equipment that you want as much as the other, it is easy to determine the answer by referring to the equipment that can be obtained at the same time when acquiring them through a campaign.
Harmony Shop Pricing
Here, a rate of 100% is equivalent to a Rare Fair.
1 Harmony Chest : 750 Harmony Coin(worth 276 Emerald / 92.1%)
1 Chaos Core : 750 Harmony Coin(worth 192 Emerald / 64%)
1 Flaming Heart : 1,000 Harmony Coin(worth 400 Emerald / 100%)
1 Pastor's Seal : 1,000 Harmony Coin(worth 400 Emerald / 100%)
1 Minotaur's Head : 1,000 Harmony Coin(worth 400 Emerald / 100%)
1 Hand of Glory : 1,000 Harmony Coin(worth 400 Emerald / 100%)
1 Alchemist's Set : 5,000 Harmony Coin(worth 1,600 Emerald / 80%)
1 LycanThrope's Fang : 5,000 Harmony Coin(worth 1,600 Emerald / 80%)
1 Harunian Helm : 5,000 Harmony Coin(worth 1,600 Emerald / 80%)
1 Enigma's Chronicles : 5,000 Harmony Coin(worth 1,600 Emerald / 80%)
1 Throwing Knives : 5,000 Harmony Coin(worth 1,600 Emerald / 80%)
1 Citadel Guardian : 5,000 Harmony Coin(worth 1,600 Emerald / 80%)
1 Song of the Valkyries : 54,000 Harmony Coin(worth 17,400 Emerald / 80.6%)
1 Dragon's Heart : 12,500 Harmony Coin(worth 4,000 Emerald / 80%)
1 Evening Curfew : 12,500 Harmony Coin(worth 4,000 Emerald / 80%)
1 Aigrette of Nocturnal Cicadas : 12,500 Harmony Coin(worth 4,000 Emerald / 80%)
1 Devourer of Mages : 12,500 Harmony Coin(worth 4,000 Emerald / 80%)
1 Shadow Queen's Scythes : 12,500 Harmony Coin(worth 4,000 Emerald / 80%)
1 Echidna's Dark Hex : 12,500 Harmony Coin(worth 4,000 Emerald / 80%)
1 The Vanquished Absolute : 82,500 Harmony Coin(worth 26,400 Emerald / 80%)
1 Creator of Worlds : 82,500 Harmony Coin(worth 26,400 Emerald / 80%)
1 Demigod's Wreath : 82,500 Harmony Coin(worth 26,400 Emerald / 80%)
Event Guide
Trial of the Heavens Guide
What is Harmony Chest
Arcane Knowledge