Overview of the Great Storm Shop
There is a limited time store for "The Great Storm" event.
What should you buy?
Let us try a method that converts in emeralds.
Available only during the limited-time event "The Great Storm" by Hero Wars.
Can be used one day longer than the event period.
You can shop with coins obtained from the event.
Coins can be obtained from limited-time quests, special maps, bundles, and gift codes.
If you have any coins carried over from the previous event using Mail, you can use them.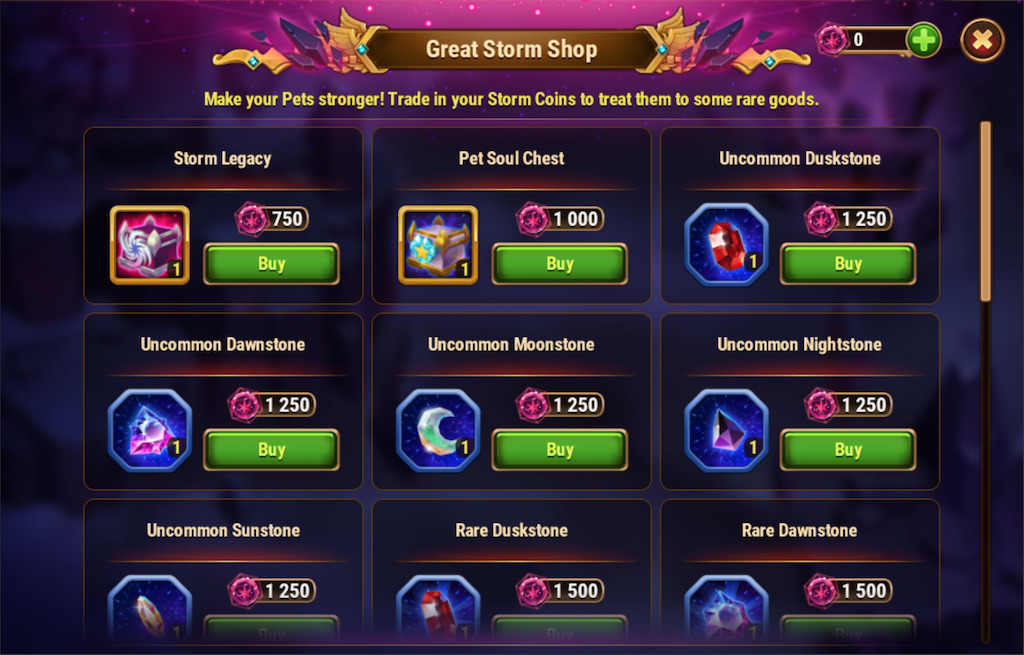 How to enter the shop
From the main screen of the game, enter Solo Adventure on the right. Press "Merchant" at the bottom right of the screen.

Description of item
I have estimated each product group and its emerald equivalent (and magnification factor).
Those above 100% are better value than regular means.
Those below 100% are better value than regular means.
Storm Legacy : Storm Coin 750(worth 338 Emerald / 100.1%)
Pet Soul Chest : Storm Coin 1,000(worth 430 Emerald / 95.6%)
Uncommon XX stone : Storm Coin 1,250(worth 630 Emerald / 112%)
Rare XX stone : Storm Coin 1,500(worth 630 Emerald / 93.3%)
Excellent XX stone : Storm Coin 2,000(worth 945 Emerald / 105%)
Flawless XX stone : Storm Coin 2,750(worth 945 Emerald / 76.4%)
Dawnstone : Storm Coin 1,100(worth 560 Emerald / 113.1%)
Small Dawnstone : Storm Coin 1,000(worth 490 Emerald / 108.9%)
Items found in the Storm Legacy (Matryoshka-style*)
The items below will be discharged.
Skins and frames from the previous Emerald Purchase Mission
(Note that the quest prizes will not be discharged this time)
Pet Potions x50
Chaos Particles x25
Pet Summoning Egg x1
Storm Legacy x2 (Matryoshka will be generated when this is found)
What is a Matryoshka-style?
There's an estimated 40% chance that you'll get two of the same treasure chests, so if you're lucky, you'll be able to get more than one.
However, the amount of drops is adjusted to be a little low.
As a result, the total amount of items obtained is strongly influenced by luck.
Statistics show that there are more than twice as many individual differences.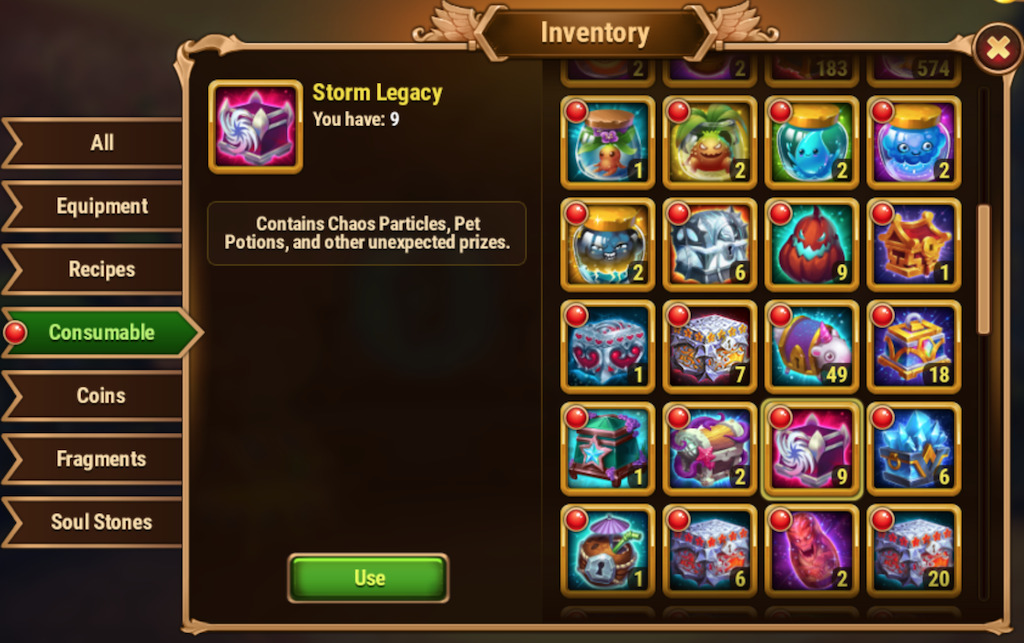 Storm Legacy Details
Pet upgrade items not available in the Great Storm Shop
Chaos Particles, Pet Potions, and Pet Summoning Egg are randomly obtained from the Storm Legacy.
Pet Summoning Eggs are not available, but can be interpreted as upwardly compatible since there is the Pet Soul Chest that allows you to specify the pet you want.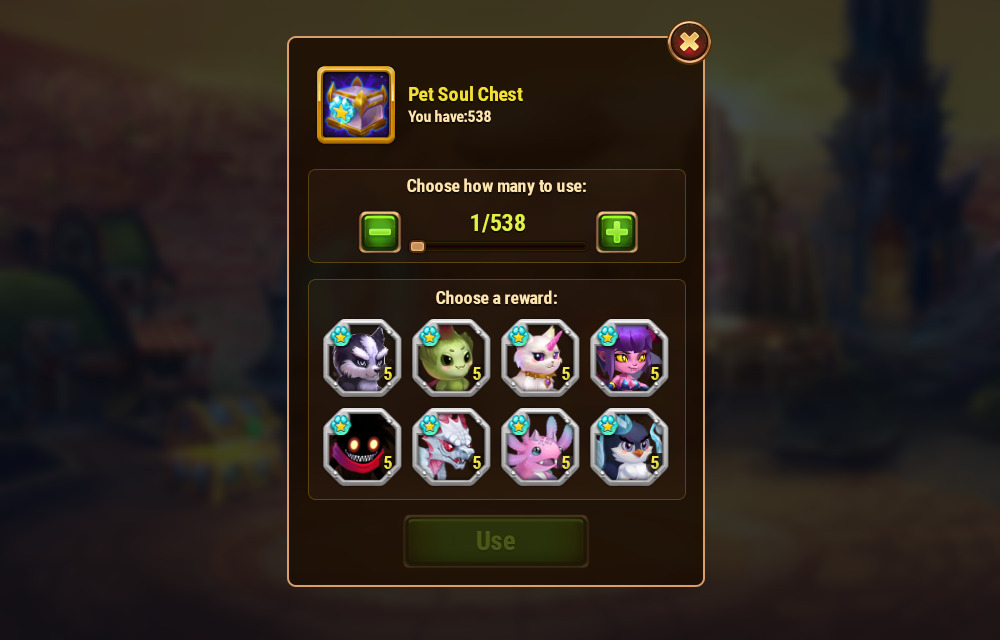 How to make the most of the Great Storm Shop
What's the benefit and what's the loss?
Storm's legacy is the most efficient (but pet potions will be left over in the future)
The only thing you shouldn't buy is the Flawless XX stone.
Other than that, you don't need to worry too much about profit and loss.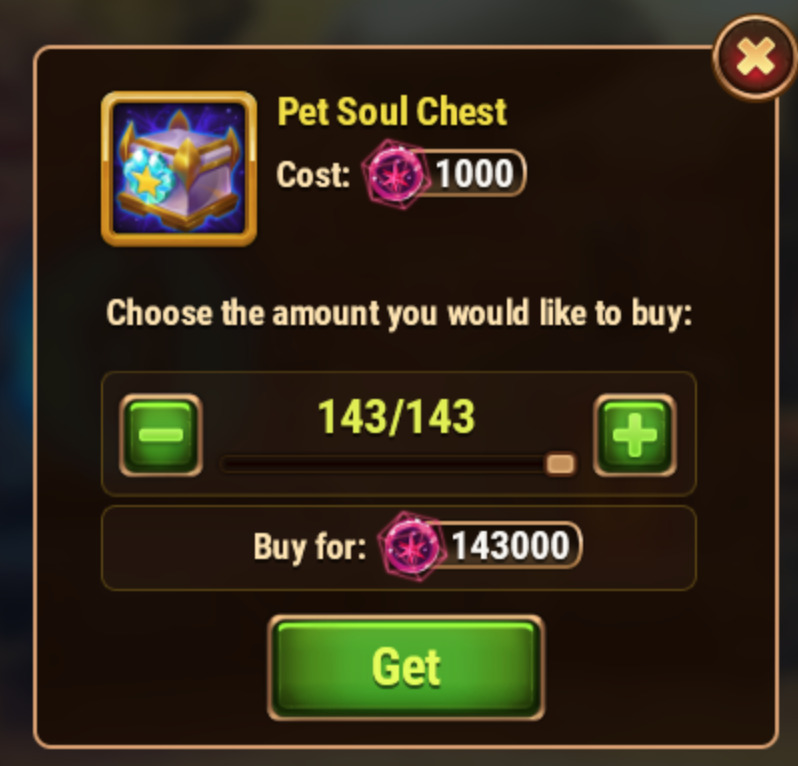 What should I buy?
As a method, it is recommended to choose with the following ideas.
You want immediate strength : Storm Legacy
To complete your pet in the long term : Pet Soul Chest
This is for the following reasons.
Pet training efficiency: Color > Level > Soul Stone
Difficulty of raising pets: Soul Stone > Color > Level
In other words, color ups are more efficient, but they don't finish until the end of the game.
(In heroes, the Skin Stone is hard, but it's easy, just like Artifact is easy and gets stronger quickly.)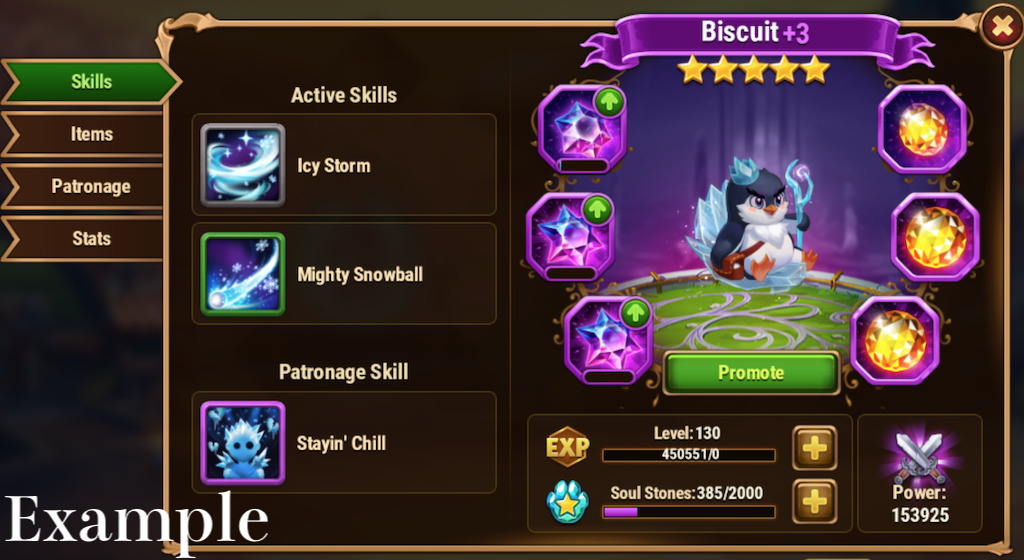 Don't do the Stone selling strategy.
If you buy a rare XX stone (equivalent to 90 Chaos Particles) for 1,250 medals and sell it from your inventory for 18 Chaos Particle, it is a reliable way to obtain Chaos Particle.
(There is no direct way to obtain the Chaos Particle in this event…)
This rate of sale is very costly because the ratio is too bad. Deprecated.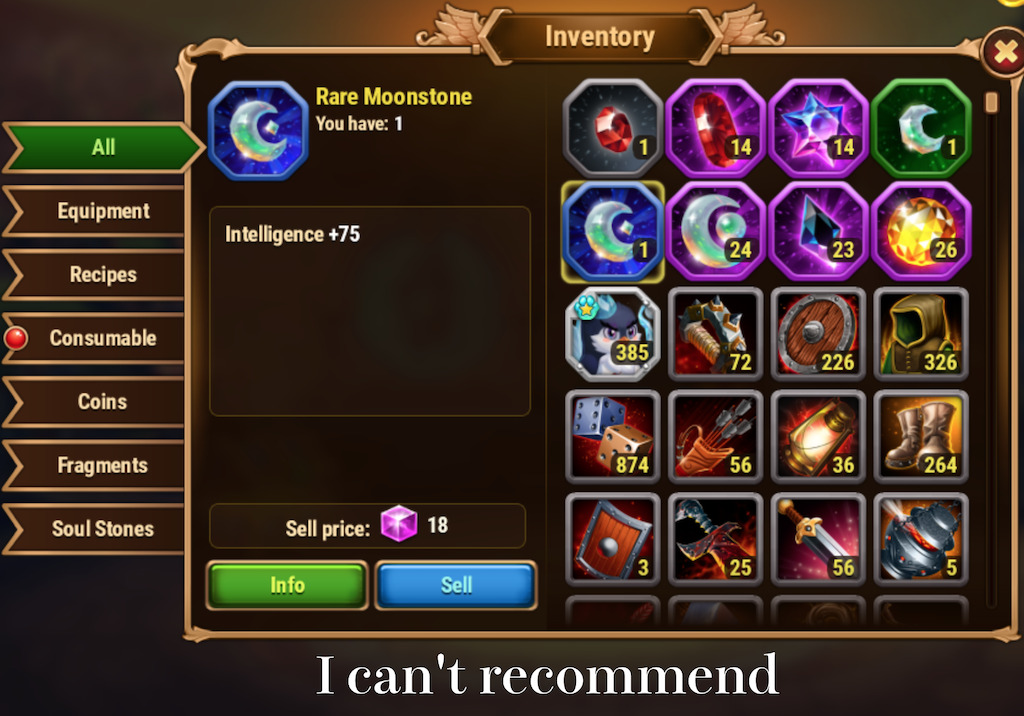 Play Guide
Event Page
The Great Storm All Quests
The Great Storm MAP Strategy
The Great Storm Map Data
Playing Record
Great Storm Treasures Bundle All