Secret Wealth Overview
Limited-time shop.
You can purchase energy bottles and equipment using Emeralds and Pet potions.
There are a total of ten boxes of goods, each displaying items based on their drop rate.
The contents of the items available for sale vary from account to account.
The items on sale change with each update. The updates occur three times a day at 9:00, 14:00, and 21:00 local time, coinciding with the Town Shop.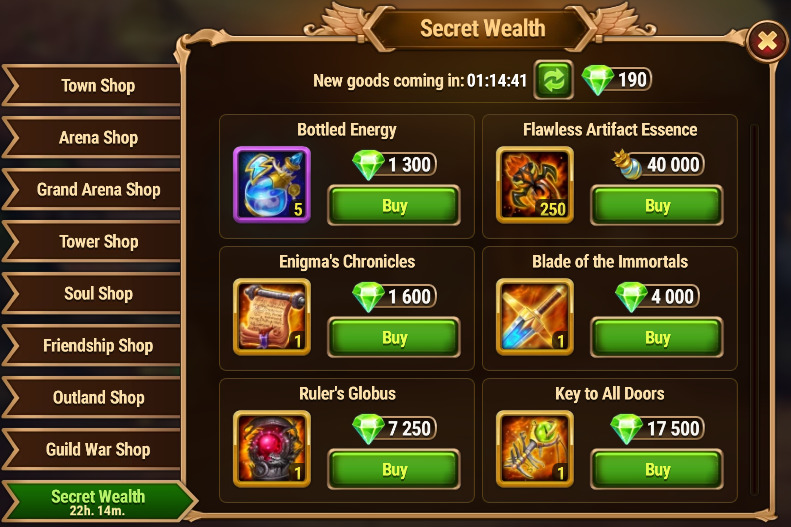 Secret Wealth 2 and 3 Differences
Slots have been increased from 6 to 10.
Additional slots can only be purchased with emeralds.
While purple crystals may not be highly valuable, they might be worth considering due to their scarcity.
The 100 Large Skin Stone Chest offers a relatively favorable rate and should be considered if skinstones are in short supply.
Only a very slight reduction in price.
Pet potion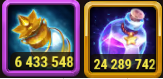 Unlike the first edition, there are now boxes available where you can shop using Pet potions.
The boxes available for purchase with Pet potions have a low rate. Those who still need pet potions for main pet should not make the purchase. There has been a demand for a purpose for the excess pet potions compared to before. It is believed that these boxes have been provided as a partial response to this request.
If you have a stockpile of Pet Potions, depending on your budget, you may consider a bulk/mass reload using Emeralds. In such cases, please refer to the following for Insights on how much you should conserve your Pet Potions.
( > Pet Level )
Pet Level
Replenishment with Emeralds
You can use emeralds to replace and replenish the displayed merchandise.
For the items, those that have already been purchased will be replenished, while those that have not been purchased will be replaced. This action is irreversible once performed.
The cost for the first and second replenishments is 90 emeralds, while the third and subsequent replenishments require 190 emeralds. No limit to the number of times.
Utilizing this feature solely for exchange purposes is not recommended.
However, it is recommended for replenishment purposes. Depending on your budget, it can be a valuable option to consider for replenishing your inventory.

Recommended
Item 1: 50 Bottled Energy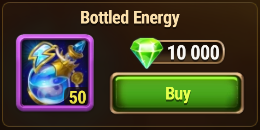 Item 6: Excellent Selection: Especially the Rune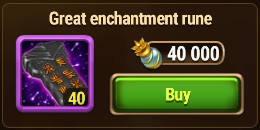 Item 9: Ruler's Globus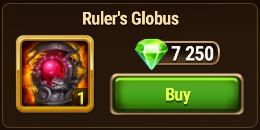 Probability, contents, and cost of Secret Wealth
Items exceeding 100% offer better value than standard method (ex. Rarity Fair).
Items falling below 100% offer low value than standard method (ex. Rarity Fair).
Item 1
Chance
Price
Goods
Estimated
Rate
70%
1,290 Emerald
5 Bottled Energy
116.3%
20%
2,390 Emerald
10 Bottled Energy
125.5%
6%
4,390 Emerald
20 Bottled Energy
136.7%
4%
9,990 Emerald
50 Bottled Energy
150.2%
Item 2
Chance
Price
Goods
Estimated
Rate
65%
1,100 Emerald
5 Chaos Core
87.3%
20%
2,090 Emerald
10 Chaos Core
91.9%
10%
3,990 Emerald
20 Chaos Core
96.2%
5%
9,890 Emerald
55 Chaos Core
106.8%
Item 3
Chance
Price
Goods
Estimated
Rate
65%
890 Emerald
200 Choice of Crystal
53.9%
25%
1,690 Emerald
400 Choice of Crystal
56.8%
10%
3,890 Emerald
1000 Choice of Crystal
61.7%
65%
890 Emerald
100 Choice of Vibrant Crystal
55.1%
25%
1,690 Emerald
200 Choice of Vibrant Crystal
58%
10%
3,890 Emerald
500 Choice of Vibrant Crystal
63%
65%
890 Emerald
50 Choice of Radiant Crystal
55.1%
25%
1,690 Emerald
100 Choice of Radiant Crystal
58%
10%
3,890 Emerald
250 Choice of Radiant Crystal
63%
Item 4
Chance
Price
Goods
Estimated
Rate
65%
1,290 Emerald
100 Choice of Insignia
38%
25%
2,490 Emerald
200 Choice of Insignia
39.4%
10%
4,790 Emerald
400 Choice of Insignia
40.9%
65%
1,290 Emerald
50 Choice of Greater Insignia
38%
25%
2,490 Emerald
100 Choice of Greater Insignia
39.4%
10%
4,790 Emerald
200 Choice of Greater Insignia
40.9%
Item 5
Chance
Price
Goods
Estimated
Rate
65%
1,890 Emerald
10 Large Skin Stone Chest
101.6%
20%
3,590 Emerald
20 Large Skin Stone Chest
107%
10%
6,590 Emerald
40 Large Skin Stone Chest
116.5%
5%
14,990 Emerald
100 Large Skin Stone Chest
128.1%
Item 6 (* Pet Potion)
Chance
Price
Goods
Estimated
Rate
10%
37,500 Pet Potion
15 Chaos Core
76.8%
10%
40,000 Pet Potion
40 Great enchantment rune
100%
10%
40,000 Pet Potion
250 Flawless Artifact Essence
60%
10%
40,000 Pet Potion
250 Flawless Artifact Scroll
60%
10%
40,000 Pet Potion
250 Flawless Artifact Metal
60%
10%
40,000 Pet Potion
70 Chest of Random Crystals
49.9%
10%
37,500 Pet Potion
50 Chest of Random Insignia
49%
10%
40,000 Pet Potion
2 Lesser Hero Soul Stone Chest
100%
10%
40,000 Pet Potion
80 Titan Artifact Sphere
90%
10%
35,000 Pet Potion
25 Summoning Sphere
46.4%
Item 7
Chance
Price
Goods
Estimated
Rate
5%
2,000 Emerald
1 Diviner's Orb
100%
5%
2,000 Emerald
1 Staff of Selena's Halo
100%
5%
1,600 Emerald
1 Enigma's Chronicles
100%
5%
1,600 Emerald
1 Thieves Guild Sign
100%
5%
1,600 Emerald
1 Citadel Guardian
100%
5%
1,600 Emerald
1 La Mort's Card
100%
5%
1,600 Emerald
1 Alchemist's Set
100%
5%
1,600 Emerald
1 Enigma's Chronicles
100%
5%
1,600 Emerald
1 La Mort's Card
100%
5%
1,600 Emerald
1 Lycanthrope's Fang
100%
5%
1,350 Emerald
1 All-seer
94.8%
5%
1,600 Emerald
1 Gro Bulgor's Poleaxe
100%
5%
1,300 Emerald
1 Apostle's Mace
98.5%
5%
1,600 Emerald
1 Throwing Knives
100%
5%
1,600 Emerald
1 Riversar's Tiara
100%
5%
1,600 Emerald
1 Harunian Helm
100%
5%
2,000 Emerald
1 World Tremor
100%
5%
1,600 Emerald
1 Enchanted Chain
100%
5%
1,600 Emerald
1 Thieves Guild Sign
100%
5%
1,600 Emerald
1 Hellion Harpoon
100%
Item 8
Chance
Price
Goods
Estimated
Rate
10%
4,000 Emerald
1 Aigrette of Nocturnal Cicadas
100%
10%
4,000 Emerald
1 Andvari's Fortitude Support
100%
10%
4,000 Emerald
1 Jarugardi's Sneer
100%
10%
4,000 Emerald
1 Dragon's Heart
100%
10%
4,000 Emerald
1 Devourer of Mages
100%
10%
4,200 Emerald
1 Asklepius' Staff
99%
10%
4,200 Emerald
1 Blued Plate Armor
99%
10%
4,000 Emerald
1 Blade of the Immortals
100%
10%
4,000 Emerald
1 Staff of Neutralization
100%
10%
4,000 Emerald
1 Evening Curfew
100%
Item 9
Chance
Price
Goods
Estimated
Rate
16%
6,500 Emerald
1 Book of Fate
101.5%
15%
7,000 Emerald
1 All-Seeing Eye
102.9%
13%
7,000 Emerald
1 Creator's Feathering
102.9%
13%
7,000 Emerald
1 Shining Armor
102.9%
17%
6,500 Emerald
1 Oracle's Censer
104.6%
13%
7,000 Emerald
1 Archangel's Mace
98.9%
13%
7,250 Emerald
1 Ruler's Globus
176.6%
Item 10
Chance
Price
Goods
Estimated
Rate
10%
21,500 Emerald
1 Unity of Extremes
99.5%
10%
23,500 Emerald
1 Piercing Gaze
98.7%
10%
26,500 Emerald
1 Demigod's Wreath
99.6%
10%
26,500 Emerald
1 Creator of Worlds
99.6%
10%
17,500 Emerald
1 Key to All Doors
99.4%
10%
15,500 Emerald
1 Light of Distant Stars
99.4%
10%
17,500 Emerald
1 Song of the Valkyries
99.4%
10%
17,500 Emerald
1 Evil Genius Cuirass
99.4%
10%
23,000 Emerald
1 Insatiable Wing Aegis
100.9%
10%
24,000 Emerald
1 Awakened Might
100%
History
Wednesday, June 14, 2023 (25 hours) #1
Wednesday, July 19, 2023 (24 hours) #2
Monday, August 13, 2023 (24 hours) #2
Tuesday, August 22, 2023 (24 hours) #2
Thursday, September 07, 2023 (24 hours) #2
Tuesday, September 26, 2023 (24 hours) #2
Wednesday, October 25, 2023 (24 hours) #2
Thursday, November 02, 2023 (24 hours) #3
Past Events
Secret Wealth #1
Secret Wealth #2