The Great Storm Overview
Massive event with 8 quests.
Gather each pet's materials at once.
Good bundle cost. Estimated to be better value than Emerald x4 for low VIPs.
Solo adventure will appear on a dedicated map.
Flavor Text
Commanding the forces of nature, the evil leader of the Chaos hordes has summoned the Great Storm that leaves nothing in its wake. What's her true purpose? No one knows that yet, but the Storm is coming. Behold its power!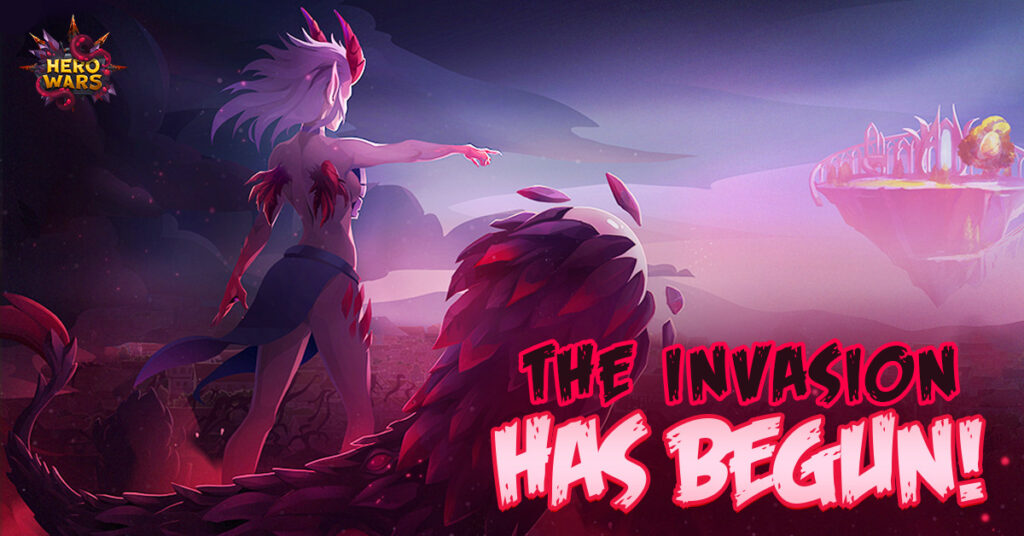 Play Guide
The Great Storm How to proceed
Complete each quest to accumulate Action Points.
Use the Action Points you've accumulated to advance through the exclusive map.
Obtain Storm Coins from Chests and Boss on the exclusive map.
Use the Storm Coins to exchange them for Pet resource at the Store.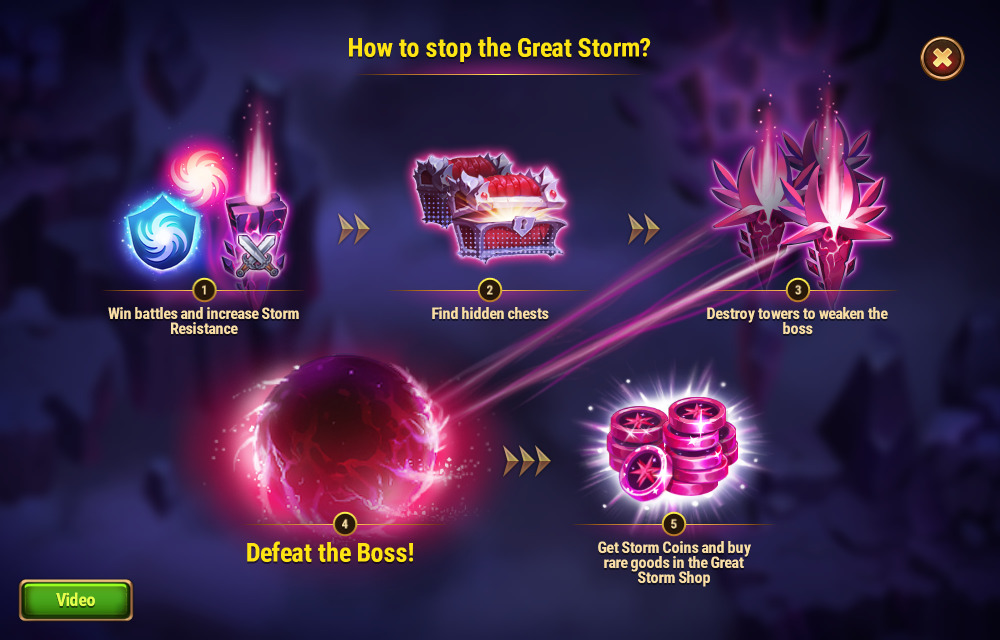 The Great Storm Quests Order
1. Log in (MAX 3)
2. VIP Level (MAX 7)
3. Buy Emeralds (MAX 70,000)
4. Spend Emeralds (MAX 90,000)
5. Win battles in Great Storm Map (MAX 53)
6. Spend energy (MAX 15,000)
7. Pet Summoning (MAX 80)
8. Open Chests in Adventure (MAX 12)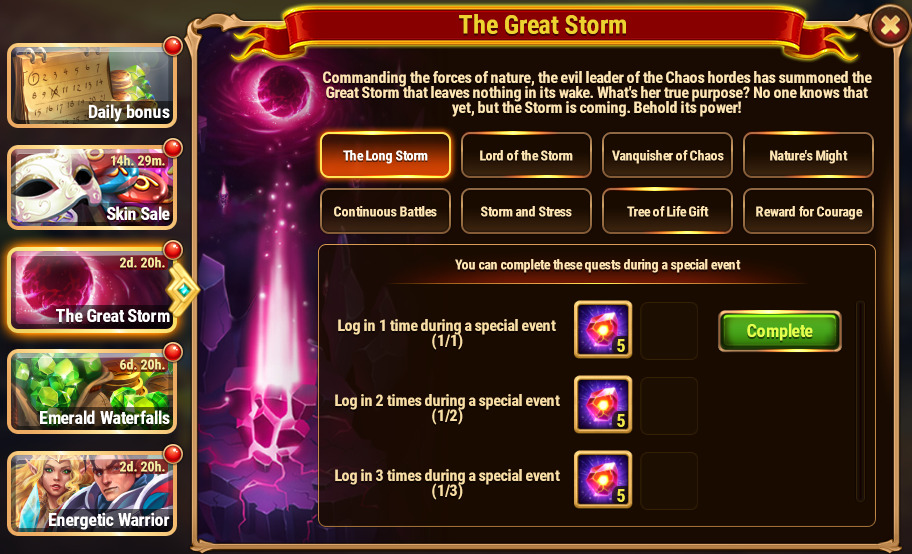 The Great Storm All Quests
Which is more important for Pet Summoning: The Great Storm, or Daily Quests?
The Pet Summoning quest in this event is difficult for many people to complete if they are doing the Daily Quests!
The Great Storm is held about every two months. So the Daily Quests reward for two months and this event reward. Here's a comparison to see which is better!
The Daily Quests reward is a Pet Potion x100, which is an estimated value of 10 Emeralds per day.
For 2 months, Pet Potion x6,000 = Emerald x600.
If you open 80 Pet Summoning in a Great Storm, you will be rewarded with 8 Action Points and 15,750 Storm Coins, which is equivalent to 34 Storm Legacy and an estimated value of Emerald x11,492.
The expected value is 1,420 Pet Potions, 606 Chaos Particles, 22 Pet Summoning Egg, and Gold x3,000,000 (estimate based on past results)
The amount of Pet Potions is higher in the daily quests. However, the more you train, the more Pet Potions you will end up with, and the less Chaos Particle you will need. There is little incentive to prioritize this.
If you can only do one or the other, I recommend using the Pet Summoning Egg for this event and not for the daily quests.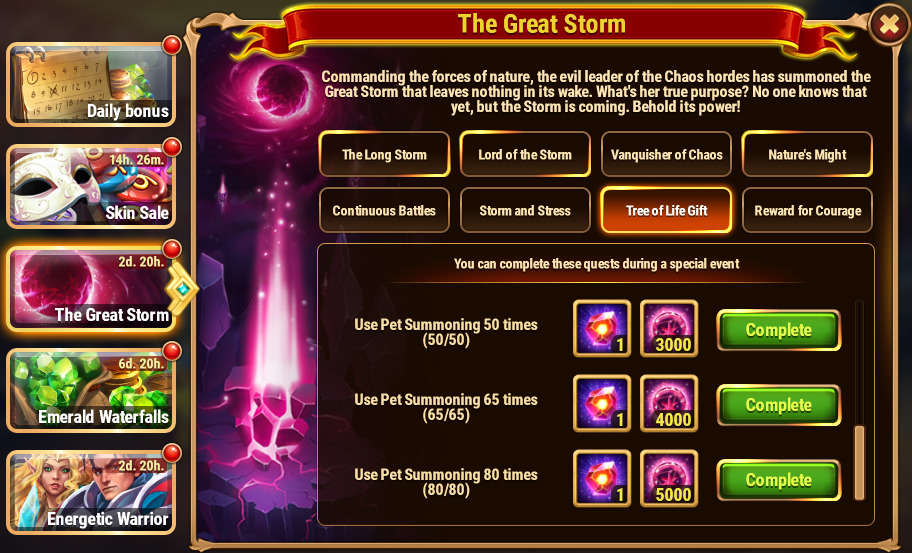 The Great Storm: The Difference Between Doing and Not Doing Map Strategy
Basic idea
If you're fine with the Storm Legacy as rewards, you don't need to attack the map.
Let me explain the concept.
Action points required to capture the MAP: 56 pts
Storm Coins gained by attacking the MAP: 8,170 actual coins (there may be individual differences)
Storm Coins obtained from MAP chests: Expected value 50,000 coins (4,000-6,000×6+20,000)
Quest reward for attacking MAP: 9,750 coins
All of these coins can be exchanged for Storm Legacy in the store: 91 chests.
Action points will be converted into Storm Legacy at a rate of 1:1.6 after the event.
56 pts = 90 chests (89.6 rounded up to the nearest wave).
If you are fine with the reward being Storm Legacy, do not attack the event map and wait for the event to end.
The expected reward amount is almost the same.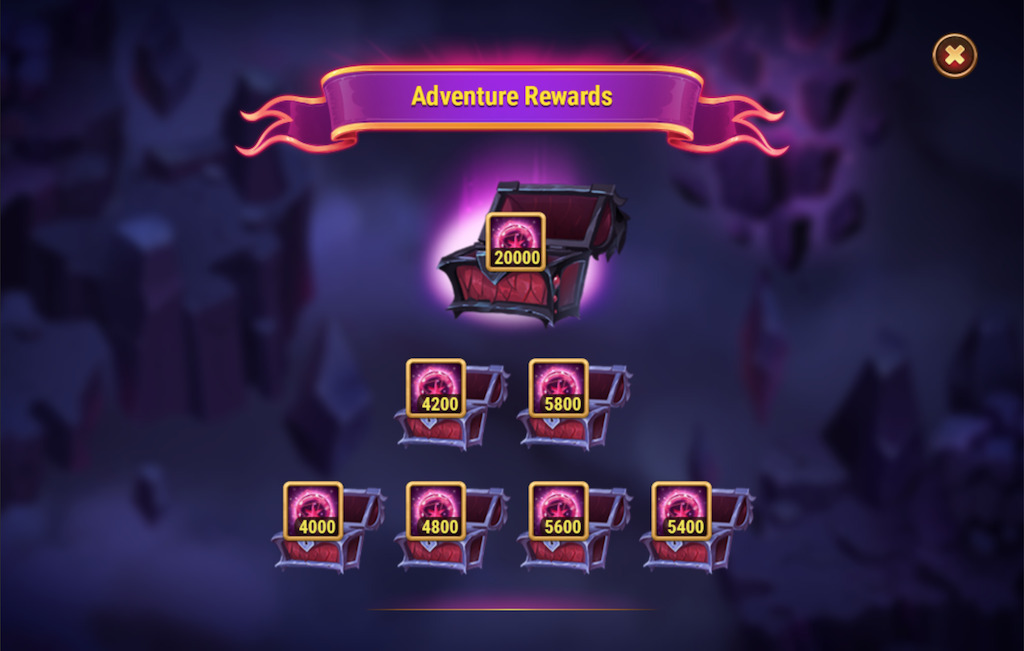 Applied thinking
If you are going to attack the map, it is important to be able to defeat the boss, because there is a reward of 20,000 coins for defeating the boss.
If you can't beat the boss, it's better to wait for the event to end to get more rewards.
If you can defeat the boss with few action points, you will get more rewards by attacking the map.
Event shop
Storm Legacy
After the event
The organization used in the event will be directly reflected in the adventure. Note
Excess resources will be converted to assets after the event.
1 Action Points = 1.6 Storm Legacy
750 Storm Coin = 1 Storm Legacy
Fractions will be rounded up when converting. It's a good idea to adjust your coins so that you get a small fraction.
You can receive the above in your mailbox by restarting your browser after the event.
You will receive the item for 7 days after logging in.
No carry-over to the next event.
The Great Storm Map
If you are going to attack the map, please refer to the following.
The Great Storm MAP Strategy
Playing Record
Map Data
The Great Storms and Seasonal Events
During season events, such as the Ascension Season, you may fulfill the quest requirements for the Season Event by proceeding with The Great Storm map attack.
This is because the storm raging map is also treated as an adventure.
Season Event
Event History
Fri, 12 March 2021 (3 days)
Fri, 14 May 2021 (3 days)
Fri, 09 July 2021 (3 days)
Sat, 18 September 2021 (3 days)
Fri, 19 November 2021 (3 days)
Fri, 14 January 2022 (3 days)
Fri, 11 March 2022 (3 days)
Fri, 27 May 2022 (3 days)
Fri, 15 July 2022 (3 days)
Mon, 12 September 2021 (3 days)
Fri, 18 November 2021 (3 days)
Fri, 09 January 2023 (3 days)
Fri, 10 March 2023 (3 days)
Mon, 10 May 2023 (3 days)
Tue, 11 July 2023 (3 days)
Sat, 02 September 2023 (3 days)
Release of Soul Stones for New Pets
Soul Stone availability for new pets may be released in conjunction.
Sat, 18 September 2021 : Biscuit's Soul Stone
Fri, 16 September 2022 : Khorus's Soul Stone added to Pet Soul Chest only (pet summons added on 11/3)
Great Storm Treasures
The optimal purchasing options may vary depending on the version. Please review the contents and consider accordingly.
Great Storm Treasures #1 (In Emeralds)
Great Storm Treasures #2 (In Chaos Particles)
Related Articles
Regular Events
A Portal Anomaly (Another Pet Event)