What is the Storm Legacy?
Available at The Great Storm Event.
Matryoshka-style root box.
Pet training materials can be obtained.
There is no direct way to obtain Chaos Particle in this event. However, it can only be obtained as an emission of this item.
Avatars and frames are available.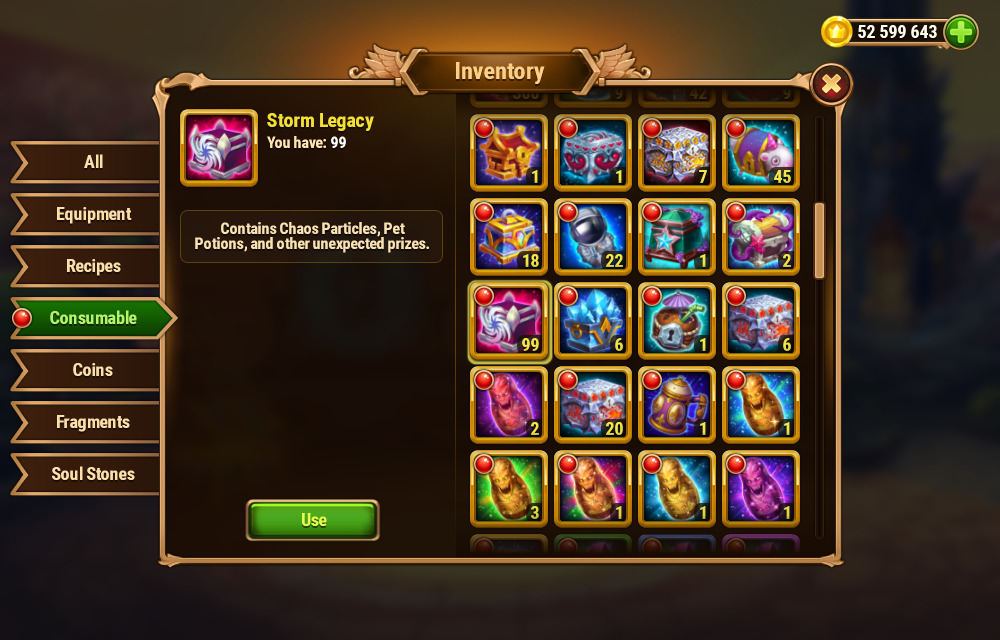 Evaluation of the Storm Legacy
As an emission rate, Pet Potions are more common.
Estimated value of Pet Potions is low, and is skewed toward Chaos Particle and Pet Summoning Egg. In other words, while the experience feels like you are losing out on a lot of Pet Potions, in reality most of their value is dependent on the Chaos Particle and Pet Summoning Eggs. Although it is not possible to pinpoint and enhance only the Soul Stone of a targeted Pet like the Pet Soul Chest, and there is Gold in the mix, it seems to be a valid enough option if you value Chaos Particle, want to shorten your time, or have difficulty clearing the Map.
The actual emission rate is quite likely to be biased when about 100 pieces are opened. Therefore, The rate of emission as a physical phenomenon is not necessarily the same as the probability of this.
Pet Potion unit price is low.

Root box discharge rate
Storm Legacy, 2,160 pieces opened. For your reference.
Storm Legacy x2 : 868 (40.2%)
Chaos Particle x25 : 302 (14%)
Pet Summoning Egg x1 : 279 (12.9%)
Pet Potion x50 : 351 (16.3%)
Gold x100,000 : 355 (16.4%)
Avator with Gold x500,000 : 4 (0.2%)
Flame x1 : 1 (0.05%)
Estimated Value of Storm Legacy
Including Gold: 338 Emerald
Without Gold: 293 Emerald
Storm Legacy Value Ratio
Chaos Particle : 37%
Pet Summoning Egg : 48.7%
Pet Potion : 1.2%
Gold : 13.1%
Expected value: 100 Storm Legacy
Chaos Particle : 1,783
Pet Summoning Egg : 66
Pet Potion : 4,177
Gold : 8,864,101
Avatar and Frame Available at Storm Legacy
The Storm Legacy can be used to acquire Avatar and Frame.
Since Avatar and Frame are added to the event itself each time, Avatar and Frame obtainable from this item may be added in the future.
These may also be obtained from the Avatar Shop, which is held irregularly.
Avatar and Frame are hobby reword that do not play any part in enhancements and can be safely ignored.
Amount
Eye of the Corruption Avatar
Chaos Treads Frame

Example of Frame usage

Event Page
Event Shop