Adventure is
Adventure is one of the game modes in Hero Wars, unlocked at team level 40. You can access it from the Sanctuary or through a link in the main menu.
To start an adventure, you need to be in a guild. You can also create a private guild.
Each adventure consumes one Portal Charge, many case, limiting you to one play per day.
The adventure system is based on cooperative play with up to three players to progress through stages. Only guild members can participate.
There are a total of 13 stages.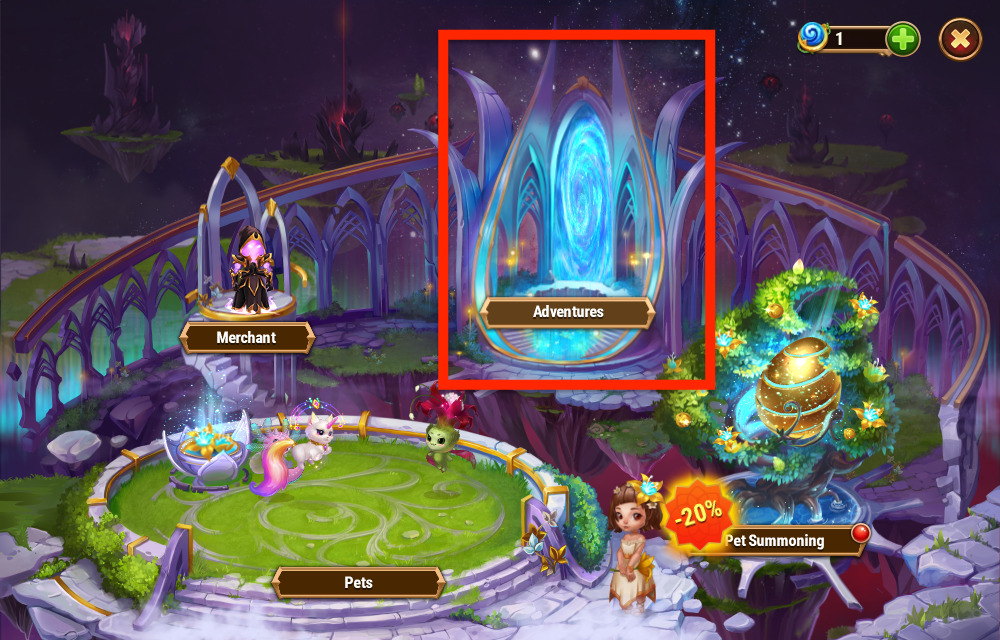 Adventure Rewards
You can obtain materials to upgrade pets.
Depending on the stage's progress, you can receive up to four treasure chests with random contents within a certain range.
The rewards are the same whether you set up your own stage or participate in a guild member's stage.
The higher the stage, the greater the rewards.
Clearing all four chests in Stage 1 is roughly equivalent to 500 emeralds in expected value, while clearing all four chests in Stage 13 is roughly equivalent to 4,000 emeralds in expected value.
Obtaining all four treasure chests enables a raid.
Clearing higher stages unlocks higher-level materials for pet equipment.
The available pet equipment is determined by the stage, but it can be exchanged for chaos particles upon clearing higher stages.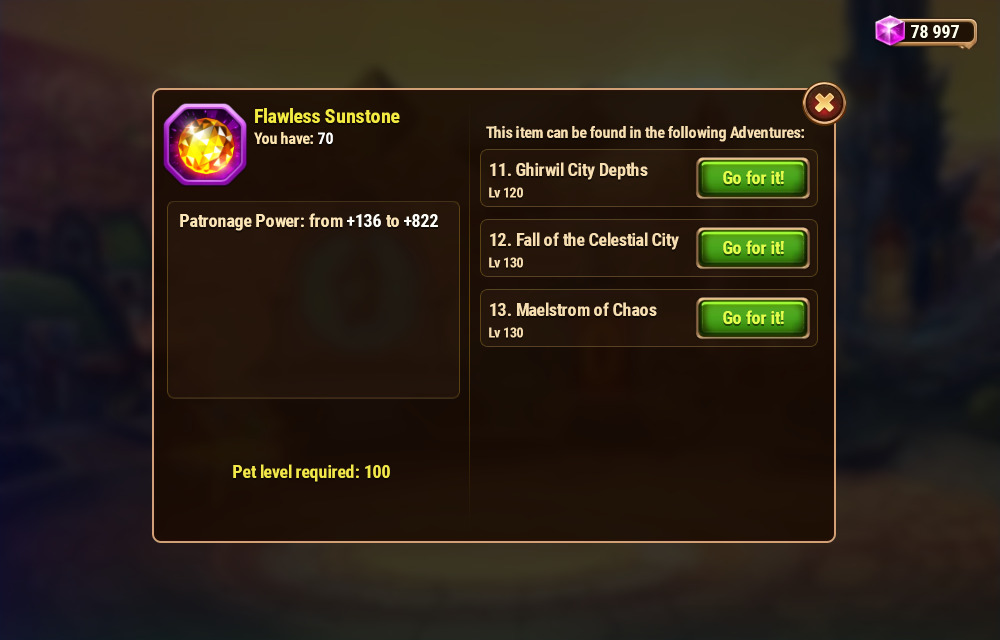 Notes on Adventure Rewards
It is possible to clear lower stages for lower-level equipment, but the disadvantages outweigh the advantages.
Clearing higher-level stages and exchanging them for chaos particles will lead to faster overall growth.
Due to these reasons, even if a guild is somewhat strong and starts a lower stage adventure, none of the guild members may participate, making it difficult to clear the stage.
Adventure Chest Rewards
The rewards from each chest include:
1st Chest: Pet Potion
2nd Chest: Pet Potion, Chaos Particle, or Pet Summoning Egg
3rd Chest: Pet Potion, Particle of Chaos, or Pet Summoning Egg
Boss Chest: Pet Potion, Particle of Chaos, Pet Summoning Egg, or Pet Equipment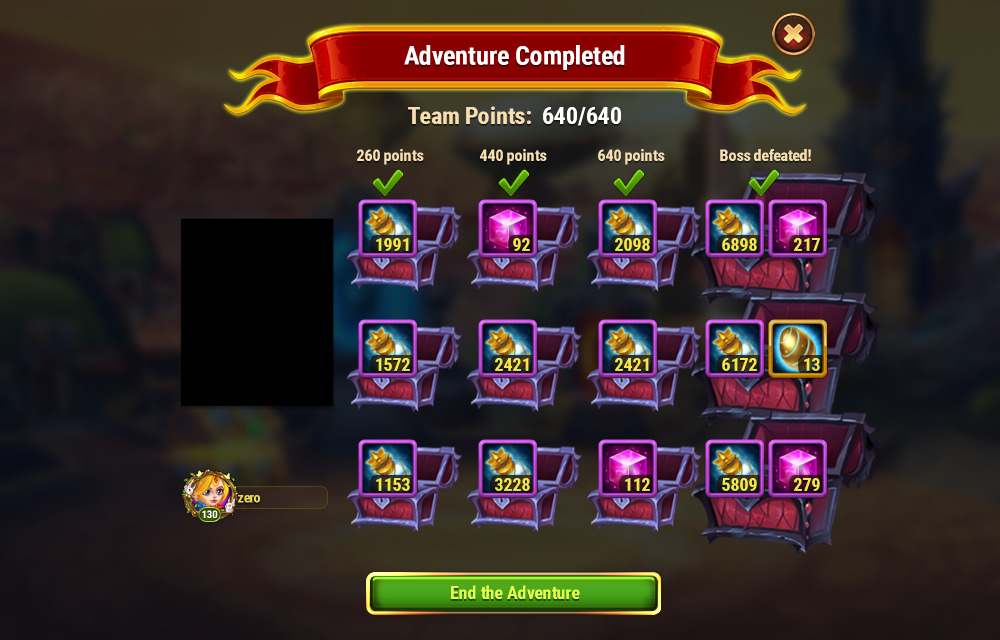 How to Start an Adventure
First, create a group.
When creating a group, choose whether the mode is for all guild members to participate or only invited members.
In the mode where only invited members can participate, invitations can only be sent to members who are not currently participating in the adventure.
Scenarios for Using Invitations
In general, the mode is used in the following situations, where only invited members can participate:
When there are uncooperative or reckless members in the guild during 4-box play, or when there are members who do not understand the game mechanics. This mode is used to filter out such individuals.
When the same three members always play the adventure together (referred to as a fixed team).
To explore untried maps.
To practice when unsure about performing well.
To fulfill a promise of helping a member attempting the adventure for the first time.
Adventure Raid (Instant Clear)
The raid option becomes available temporarily after clearing all four chests.
With one click, you can clear all four chests and complete the raid.
Raid rights are removed after the system refresh time.
Raid rights are valuable, and some guilds have manners about clearing all four chests.
Rewards of raid are the same as for clearing regular play.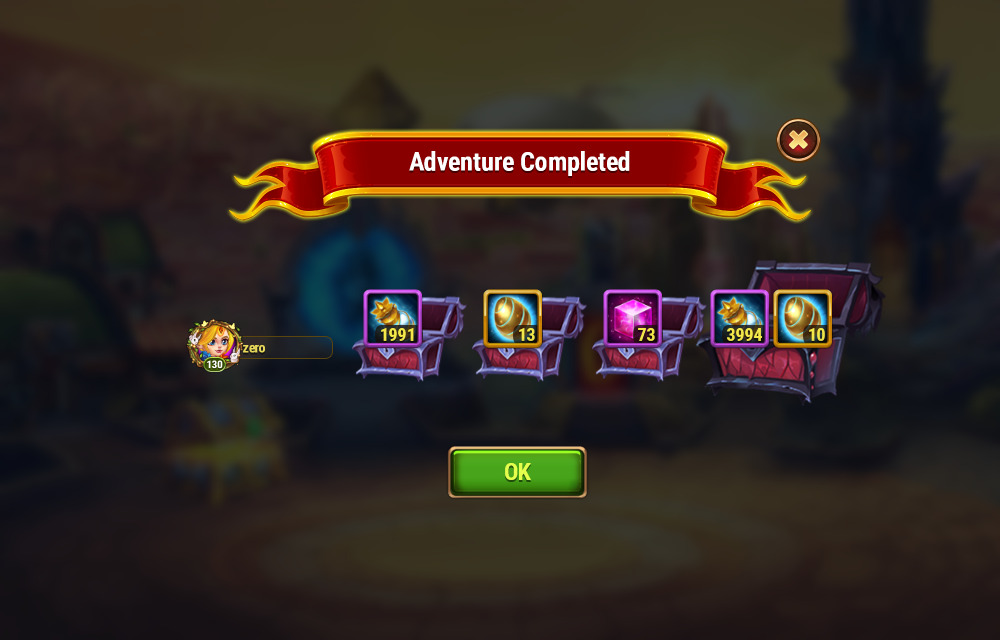 Recommended Raid Method
By following the steps below, you can raid for two days per play:
On the first day, clear all four chests. Open the chest but do not leave the adventure.
On the second day, wait for the system update time to pass, then leave the adventure and perform the raid. This way, raid rights remain until the next system update time.
Complete the raid before the system update time on the third day
In Japan time (GMT+9), the following applies:
Complete the adventure between 5:00 a.m. on the first day and 5:00 a.m. on the next day.
Complete the first raid between 11:00 a.m. on the second day and 5:00 a.m. the next day.
Perform the second raid between 5:00 a.m. and 11:00 a.m. on the third day.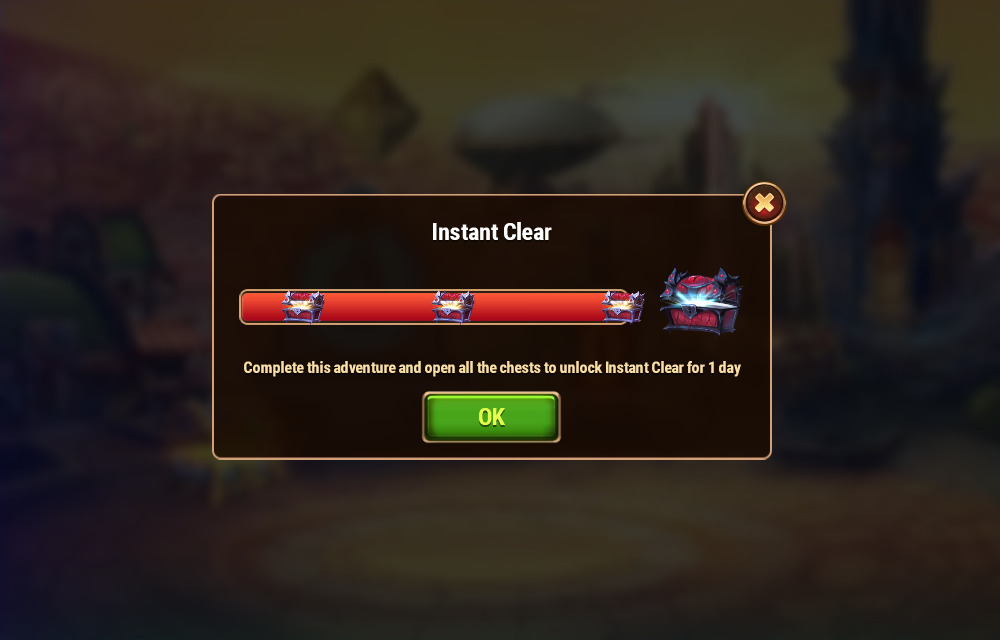 Leaving the Adventure
You can leave the adventure from the log screen within the adventure mode.
If you leave, any uncollected treasure chests will be sent to your email.
Once you leave, you will no longer be able to see the chat within the adventure.
Once everyone leaves, no one else can join the adventure, and it will no longer be visible.
If you fail to complete an adventure, it is recommended to leave as soon as possible after being greeted in the chat.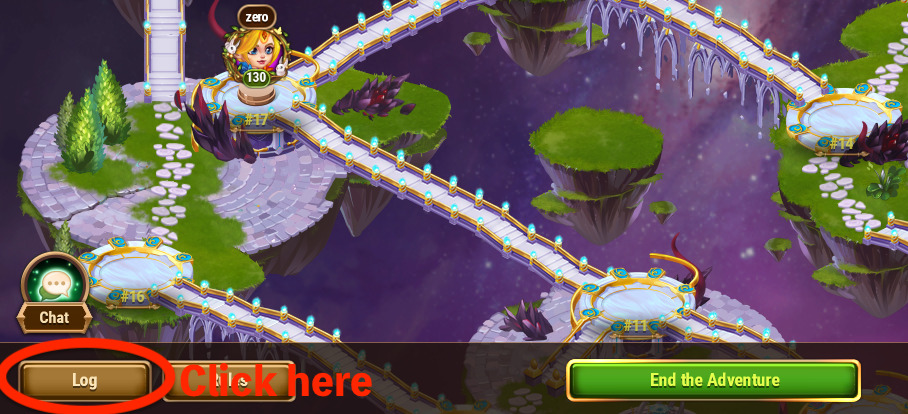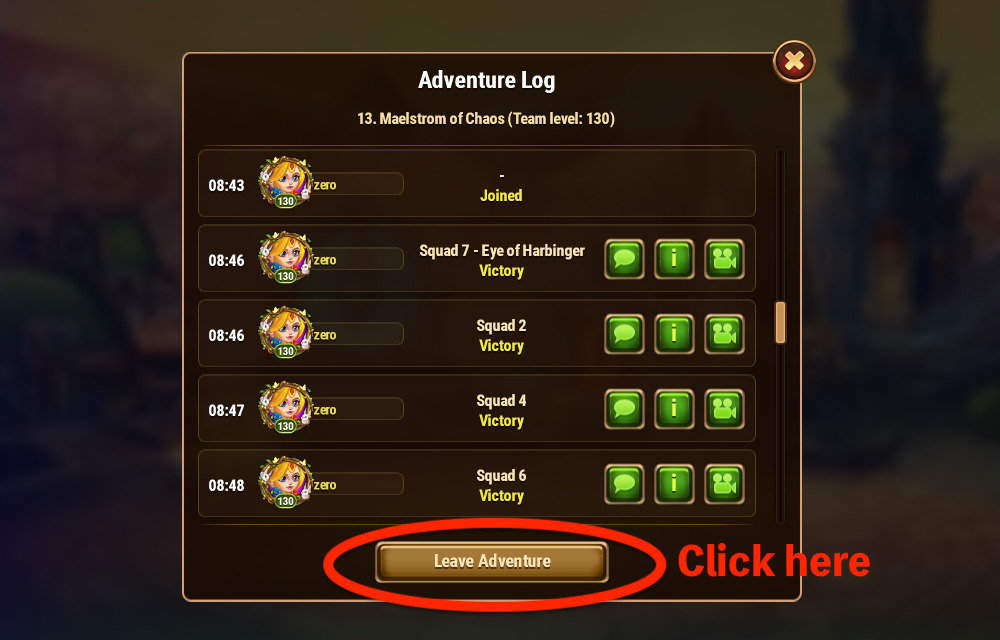 Conditions for Unlocking Each Stage of the Adventure
Higher stages are unlocked when the following conditions are met:
Reach the required team level for each stage.
Clear the lower stage at least once.
Meeting the unlocked team level, but if you don't have a certain amount of power, you will fail miserably.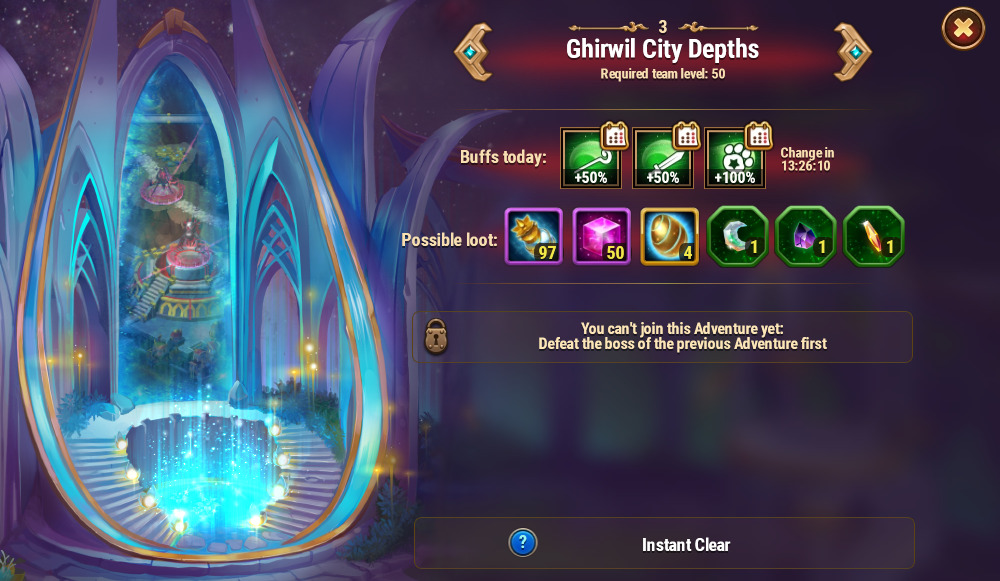 List of Unlocked Team Levels
Stage 1: 40
Stage 2: 45
Stage 3: 50
Stage 4: 55
Stage 5: 60
Stage 6: 70
Stage 7: 80
Stage 8: 90
Stage 9: 100
Stage 10: 110
Stage 11: 120
Stage 12: 130
Stage 13: 130
Key points of the main stages
Stage 1
Only in this stage, you can confirm three reward chests through solo play.
Only in this stage, two players can obtain four reward chests.
This stage is useful for completing daily quests when time is limited. If you rely on it too much, you will grow slower than other players.
Stage 9
Stage 9 is a beginner-friendly stage.
The recommended team power to complete this stage is around 300,000.
It is relatively easy to clear the stage when three players cooperate properly.
Stage 10
All players need to clear this stage without making any mistakes.
It is quite challenging, and players may have difficulty coordinating. Some guilds require prior commitment.
After clearing all four chests, many players save portals in their mail and use them to complete the quest through raiding, avoiding further play.
Stage 11
Many players move on to Stage 11 when their main team power reaches around 400,000.
Many players spend a long time in this stage following Stage 9.
One of the three players must be able to form a magic team or a pure damage team. If the guild has an imbalance with only physical teams, there may be difficulties with the abundance of boxes requiring magic teams.
Stage 12
Many players move on to Stage 12 when their main team power reaches around 600,000.
Two of the three players must be able to form a magic team or a pure damage team. The third player having only a physical team is acceptable.
It is important to have team variation within the guild at this stage.
Stage 13
The map changes daily in this stage.
When the main team's power reaches around 700,000, it becomes feasible to consider the challenge.
When the main team's power reaches around 800,000, many players completely migrate from Stage 12.
The Cleaver map is the easiest, while the Ginger map is the hardest.
It is recommended to initially play only the Cleaver map in Stage 13, then expand to the Orion map (same as Stage 11) as you get used to it, and finally the Galahad map (same as Stage 9) as you gain more experience.
The Ginger map can be tedious regardless of experience, so raiding is often used to avoid it.
Adventure Bosses
There are four bosses in total.
Each boss is specific to a particular map.
Each boss requires a different effective team composition.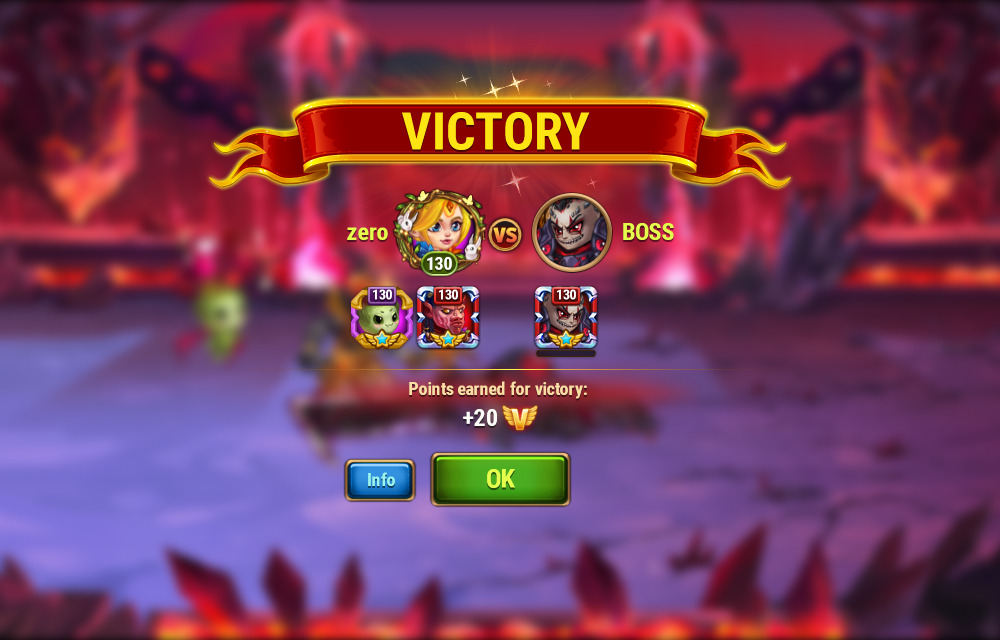 List of Bosses for Each Stage
Stage 1: Corrupted Galahad
Stage 2: Corrupted Ginger
Stage 3: Corrupted Orion
Stage 4: Corrupted Cleaver
Stage 5: Corrupted Galahad
Stage 6: Corrupted Ginger
Stage 7: Corrupted Orion
Stage 8: Corrupted Cleaver
Stage 9: Corrupted Galahad
Stage 10: Corrupted Ginger
Stage 11: Corrupted Orion
Stage 12: Corrupted Cleaver
Stage 13: Daily map change
How to Proceed with the Adventure Map
T.B.D.
Best Routes
Adventures 9
Adventures 13-9 (Galahad Map)
Adventure Bosses Strategies
Corrupted Galahad
Corrupted Ginger
T.B.D.
Corrupted Orion
Corrupted Cleaver
Related Articles
Pets
Patron List
Pet Level
Chaos Particle
Pet Potion
Pet Soul Stone
Order of pet upgrade for a strong team
Companion Pet Ranking