Triple Energy Recovery Amount
The amount of energy recovered is tripled for a specified period of time.
The recovery increment remains the same at 6 minutes.
In other words, instead of recovering 1 energy within 6 minutes, you will now recover 3 energy within the same time frame.
Normally, the energy recovered over a 24-hour period is 240.
With this bonus, the energy recovered over 24 hours increases to 720.
Additionally, while the buff is active, the maximum energy accumulation limit is increased by +50. This allows a total accumulation of up to 240 energy.
As a result, a player with a team level of 130 can fully recover all energy within 8 hours.
Considering the conditions of a team level 130, the 24-hour buff provides an equivalent value of 480 energy, assuming the player can log in within 8 hours.

Official Notes
Also, a couple of notes on the "Energy Recovery x3" bonus
If you will collect two "Energy Recovery x3" bonuses at once, The Energy Recovery rate will remain x3: if you activate two or more Energy Recovery bonuses at the same time, then only their duration will be summed up.
If you forget to collect the "Energy Recovery x3" bonus before the Season ends, you will receive the bonus via the in-game mail as well as other unclaimed rewards. Note: the bonus will be activated right after you collect it from the mail.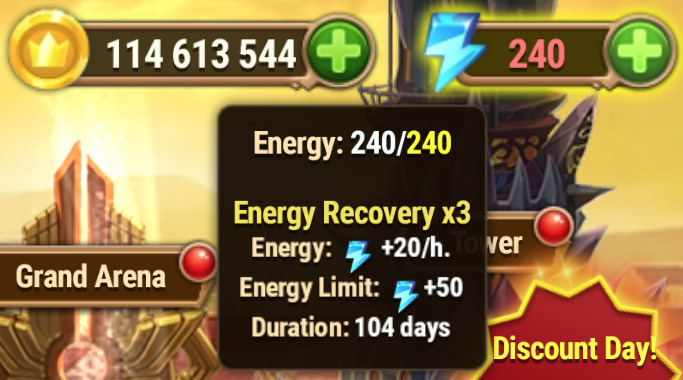 Table
24 hours : Total 720 Energy Recovory ( + 480 Energy Recovory)
2 days : Total 1,440 Energy Recovory ( + 960 Energy Recovory)
3 days : Total 2,160 Energy Recovory ( + 1,440 Energy Recovory)
4 days : Total 2,880 Energy Recovory ( + 1,920 Energy Recovory)
5 days : Total 3,600 Energy Recovory ( + 2,400 Energy Recovory)
6 days : Total 4,320 Energy Recovory ( + 2,880 Energy Recovory)
7 days : Total 5,040 Energy Recovory ( + 3,360 Energy Recovory)
8 days : Total 5,760 Energy Recovory ( + 3,840 Energy Recovory)
9 days : Total 6,480 Energy Recovory ( + 4,320 Energy Recovory)
10 days : Total 7,200 Energy Recovory ( + 4,800 Energy Recovory)
Related Articles
Season Event
Season Events FAQ