What is the Advent Calendar?
Comes as a login bonus for December 2022 in Hero Wars!
You can receive it as a reward in addition to the regular login bonus.
The timing of the system update will change daily.
Winter Pass
Golden Slots rewards will be tripled.
Mainly Kayla's Soul Stone.
Official description says it's worth 20,000 emeralds equivalent.
Bugs
Some users had all panels open the moment they opened the first one. Probably people who are changing timezones.
Official Community Manager FAQ
Winter Pass Specifications
Q. I have a few questions about the Advent Calendar :
1. Is the $3.39 a one time fee? or daily fee?
2. if you get the 3.39, do you get VIP points as well?
3. On the livestream, Daniel said you can purchase the pass at any time and you can claim the x3 for previous days, is that correct?
4. If you purposely did not claim for one day, like 10 Kayla ss for day 1, can you claim it later, like day 24 if you desire? Maybe save those ss for quests?
A.
1. One time fee
2. Not sure tbh
3. That's correct
4. Yes, you can claim the rewards later
Some people get to unlock all 30 days
Q. it's not fair that some people get to unlock all 30 days of gifts in a single day in advent calendar due to some bug whereas we have to wait for 30 days to collect them all.
A. Hey guys! We are aware of the fact that some players were able to claim all the Gifts one the day one. It's not as bad as it seems as other players will be able to get all the same rewards, just not at once. But we are bummed out that for some players it's not an "advent calendar" anymore.
The developers are looking into both the "whole calendar at a time" thing and into Items issue with Siege Crossbow and Blade Bow and discussing possible solutions at the moment. Thank you for letting us know!
All Rewards
With Gold Ticket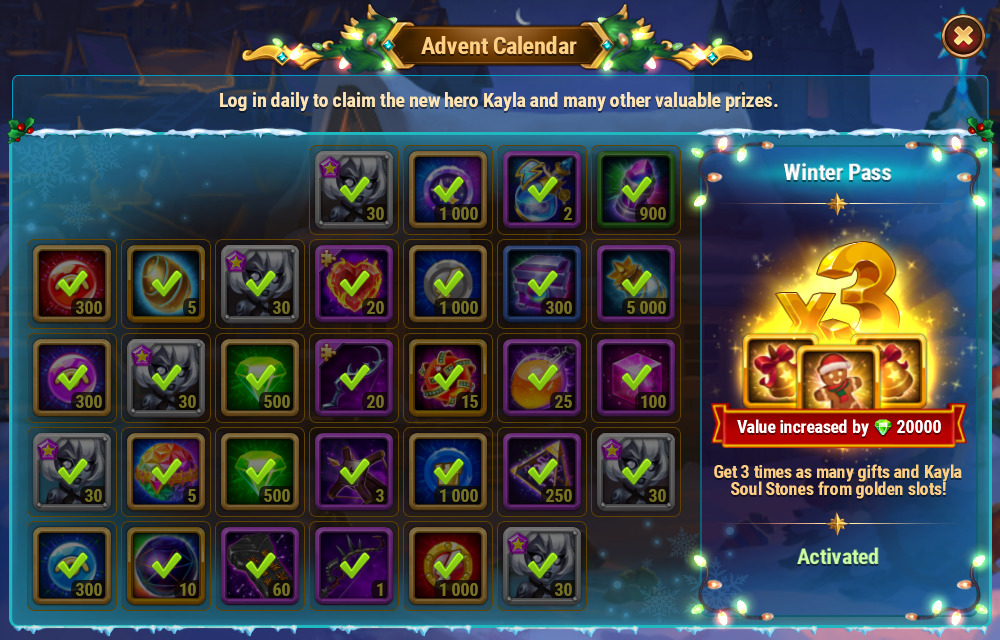 Without Gold Ticket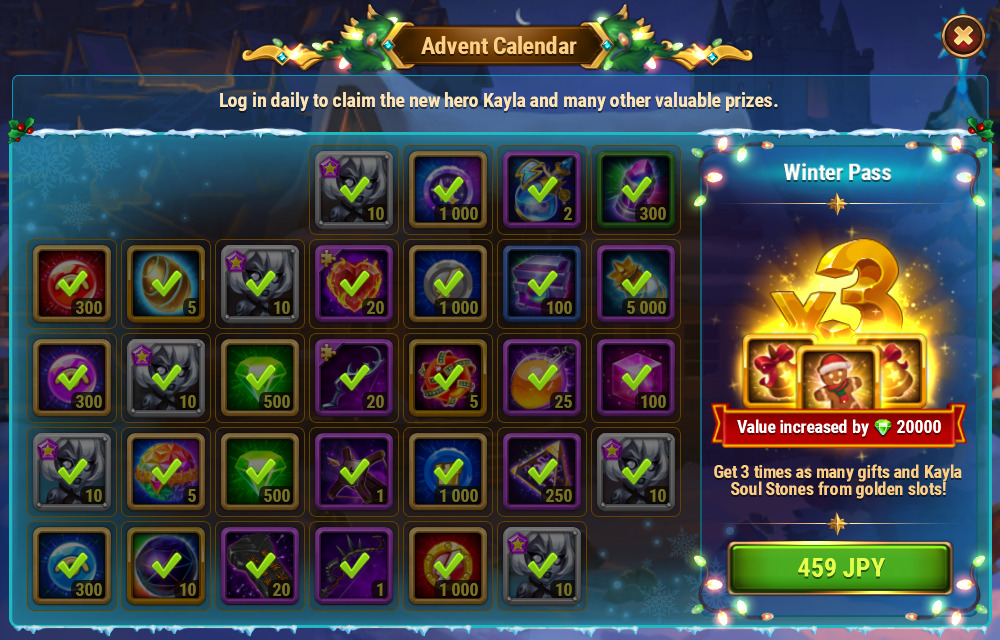 Event History
Thursday, December 01, 2022 (31 days)
Related Articles
Daily bonus
Kayla
Change update time and time zone
Winterfest