Time of the Fearless 1 Day Event Overview
Originally a 3-day event, but now a 1-day version.
Six quests are set.
The difficulty and rewards of the quests are light. Unlike the 3-day version, the dungeon is set to reward a total of 1,000 energy.
Flavor Text
Can't sit still? Is your soul longing to rise high in the sky? As the true champion, you can do so much more. Feel the sweetness of victory along with pleasant exhaustion after your great deeds!
Quests Order
1. Win Guild Dungeon battles using heroes (MAX 12)
2. VIP Level (MAX 5)
3. Spend Energy (MAX 1,500)
4. Arena/Grand Arena Battles (MAX 10)
5. Get Hero Soul Stone (MAX 80)
6. Complete Event Quest (MAX 29)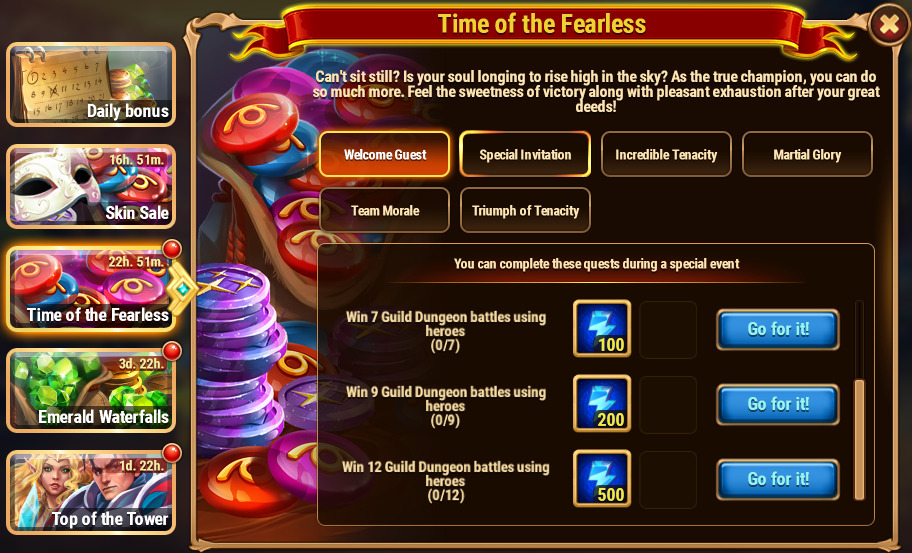 All Quests
Event History
Monday, December 05, 2022 (1 day)
Thursday, May 11, 2023 (1 day)
Monday, August 07, 2023 (1 day)
Related Events
Time of the Fearless (3 Days)
Emerald x4 Sale