Overview of the Emerald x4 Sale
Normally, direct purchases of emeralds are x3 for the first time, and x2 or x1 thereafter.
Emerald x4 sale is held for about 3 days around the end of the month.
The Emerald x4 Sale is held in conjunction with various events (mostly the Time of the Fearless and Sale events).
During the Emerald x4 Sale, you can buy double the amount of Emeralds for the same price as the normal price of x2. Deals
Each of the six sale amounts can only be sold once. However, they will be replenished daily during the event.
It's also a good way to digest the Emerald Waterfall event.
Why Buy Emerald x4 Sale?
Direct purchase of in-game currency, more versatile than bundles
You don't need to use it right away, but use it to complete the month's events (for example, when you want to complete the Emerald Consumption Quest and the Outland Treasure Chest Opening Quest at the same time).
If you save up some, it's easier to be flexible.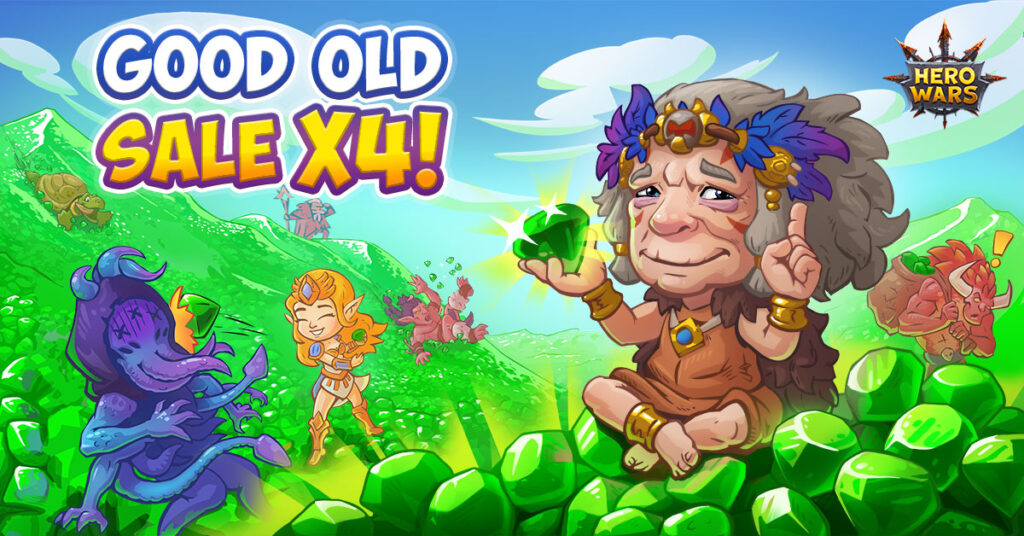 Cost-effectiveness of Emerald x4 Sale
The most cost-effective thing in the game is subscription (Gold Ticket, Valkyrie's Blessing), but it is the next best thing!
If it's during a sale event, you're eligible for a discount and can use it right away
Note that bundles are often more profitable than x4 for low VIPs (especially for pet events, bundles are more cost-effective)
After VIP10, you can save more than most bundles.
At VIP15, you can often expect to get almost double the price compared to VIP stores and various bundles.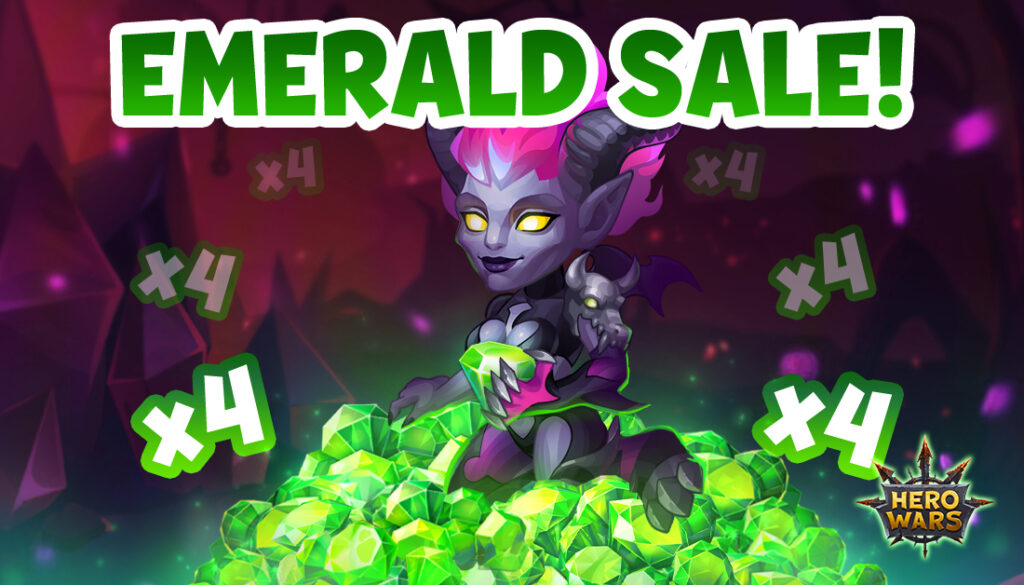 Emerald x4 sale and VIP will be multiplied.
The effect of the sale will be added to the VIP benefits.
For example, if you are a VIP 15 and you buy from the x4 sale, you will get a total of 880% more emeralds.
VIP1: 5% bonus
VIP2: 7% bonus
VIP3: 10% bonus
VIP4: 15% bonus
VIP5: 20% bonus
VIP6: 30% bonus
VIP7: 40% bonus
VIP8: 50% bonus
VIP9: 60% bonus
VIP10: 70% bonus
VIP11: 80% bonus
VIP12: 90% bonus
VIP13: 100% bonus
VIP14: 110% bonus
VIP15: 120% bonus
The actual difference between VIP0 and VIP15 is as follows.
(The lineup is also different. Please compare them with the same amount of emeralds)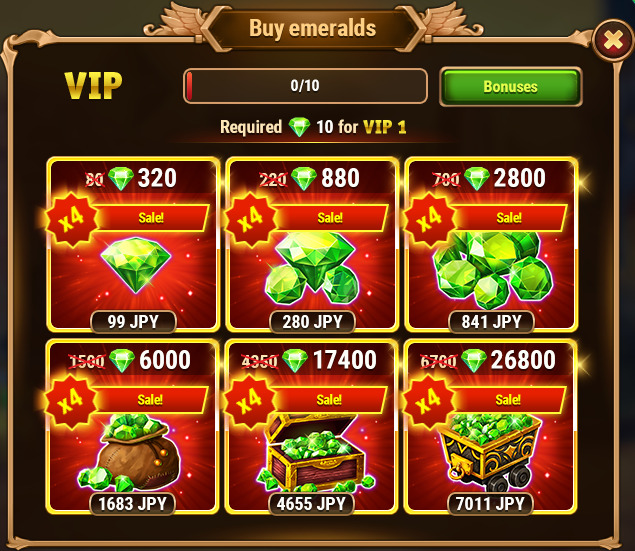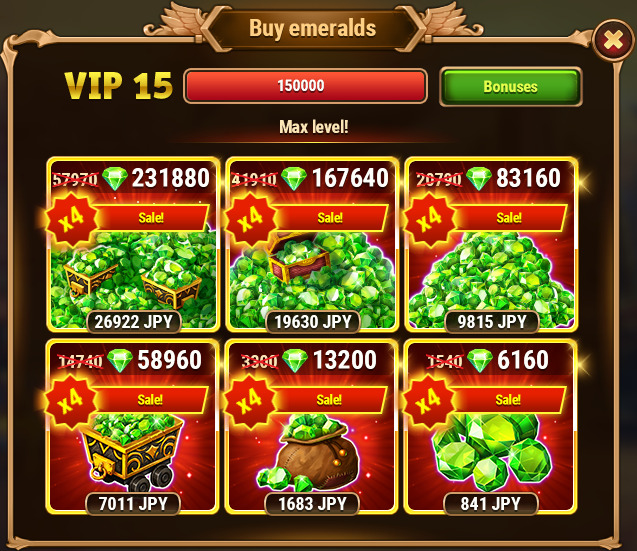 Emerald x4 Sale and Emerald Waterfalls
When the Emerald x4 Sale is held over multiple days, you can buy a little each day to complete the Emerald Waterfalls daily quest.
However, this will only reward you with about 240 energy, or a little more than a Bottled Energy.
In most cases, it is better to buy a higher-priced pack with a higher rate.
In addition, the weekly quest in Emerald Waterfalls gives you up to 14 Bottled Energy.
This is the equivalent of 4,200 emeralds in the Town Shop.
If you can aim for the weekly quests in addition to the weekly quests, it will be more profitable to do so.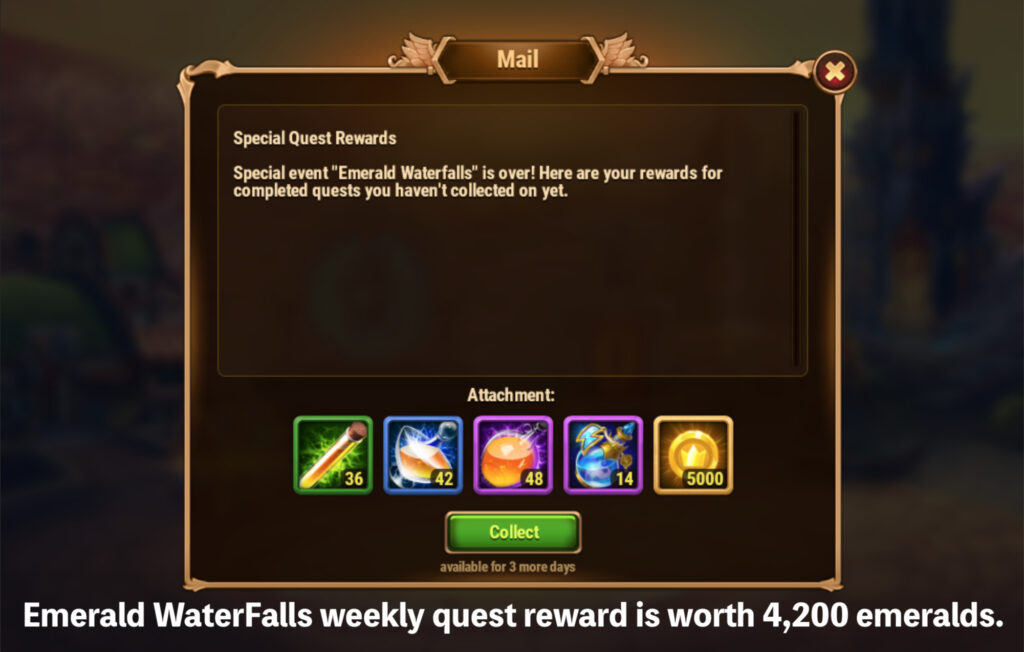 Emerald x4 Sale and First x3 Score
Previously, when you used the Emerald x4 Sale, you lost the initial x3 benefit.
Now, when you use the Emerald x4 Sale, the initial x3 benefit is retained.
There is not much benefit in using x3 rewards when your VIP is low, so it is recommended to save them.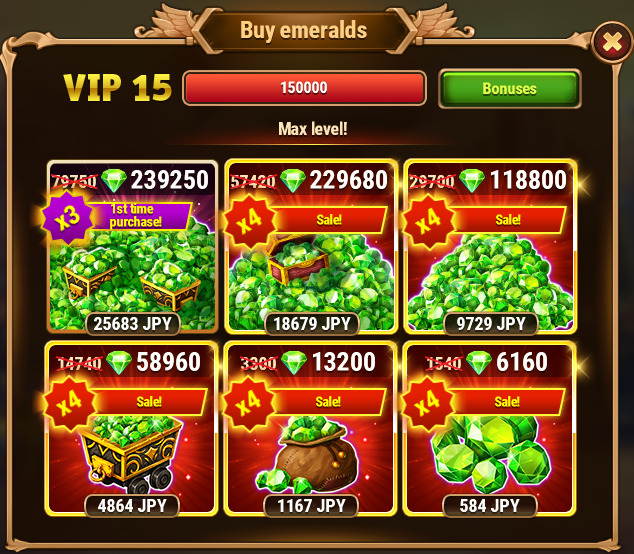 Emerald x4 Sale History
In 2022
Fri, 28 January 2022 (3 days)
Fri, 18 February 2022 (3 days)
Thu, 03 March 2022 (1 day)
Fri, 18 March 2022 (3 days)
Thu, 24 March 2022 (1 day)
Tue, 05 April 2022 (1 day)
Fri, 22 April 2022 (3 days)
Fri, 20 May 2022 (3 days)
Thu, 16 June 2022 (4 days)
Fri, 22 July 2022 (3 days)
Fri, 19 August 2022 (3 days)
Wed, 31 August 2022 (1 day)
Sun, 03 September 2022 (3 days)
Fri, 23 September 2022 (3 days)
Mon, 10 October 2022 (1 day)
Fri, 28 October 2022 (3 days)
Mon, 07 November 2022 (1 day)
Thu, 24 November 2022 (4 days)
Mon, 05 December 2022 (1 day)
Thu, 22 December 2022 (3 days)
Thu, 29 December 2022 (1 day)
In 2021
Fri, 22 January 2021 (3 days)
Fri, 19 February 2021 (3 days)
Fri, 19 March 2021 (3 days)
Thu, 25 March 2021 (1 day)
Fri, 23 April 2021 (3 days)
Fri, 21 May 2021 (3 days)
Fri, 18 June 2021 (3 days)
Wed, 30 June 2021 (1 day)
Thu, 22 July 2021 (4 days)
Fri, 20 August 2021 (3 days)
Fri, 24 September 2021 (3 days)
Fri, 22 October 2021 (3 days)
Thu, 25 November 2021 (4 days)
Fri, 17 December 2021 (3 days)
Fri, 31 December 2021 (1 day)
In 2020
Fri, 24 January 2020 (3 days)
Fri, 21 February 2020 (3 days)
Fri, 20 March 2020 (3 days)
Thu, 26 March 2020 (1 day)
Fri, 24 April 2020 (3 days)
Fri, 22 May 2020 (3 days)
Thu, 25 June 2020 (4 days)
Fri, 17 July 2020 (3 days)
Fri, 21 August 2020 (3 days)
Fri, 18 September 2020 (3 days)
Fri, 23 October 2020 (3 days)
Thu, 26 November 2020 (4 days)
Fri, 18 December 2020 (3 days)
Thu, 31 December 2020 (1 day)
More