Emerald x5 Sale Overview
Replaced the Emerald x4 Sale in June 2023, offering an additional 25% savings over the x4 Sale!
Normally, direct emerald purchases are x3 for the first time, then x2 or x1 thereafter.
Emerald x5 Sale offers more than double the amount of emeralds for the same price as x2 in the regular sale. Deals
Only one sale at each of the six sale prices. However, it will be replenished daily during the event.
It's also a great way to digest the Emerald Falls event.
Comparison with the Emerald x4 Sale
Prices sold are the same for both the x4 and x5 sales.
The base amount of emeralds sold is the same for both the x4 and x5 sales.
The VIPs you get are the same.
Only the amount of emeralds available is 25% different.
The actual difference between VIP0 and VIP15 is as follows.
(The lineup is also different. Please compare them with the same amount of emeralds)
VIP0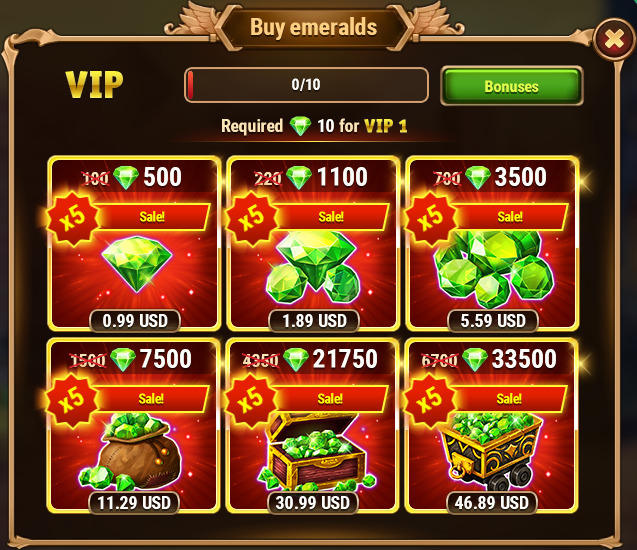 VIP15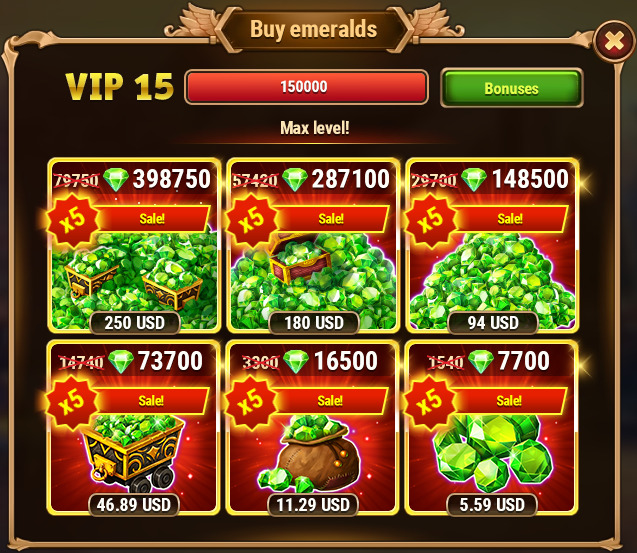 Emerald x5 sale and VIP will be multiplied
The effect of the sale will be added to the VIP benefits.
For example, if you are a VIP 15 and you buy from the x5 sale, you will get a total of 1,100% more emeralds.
VIP1: 5% bonus
VIP2: 7% bonus
VIP3: 10% bonus
VIP4: 15% bonus
VIP5: 20% bonus
VIP6: 30% bonus
VIP7: 40% bonus
VIP8: 50% bonus
VIP9: 60% bonus
VIP10: 70% bonus
VIP11: 80% bonus
VIP12: 90% bonus
VIP13: 100% bonus
VIP14: 110% bonus
VIP15: 120% bonus
Differences in cost performance among different lineups
Sales quantities are not all of the same cost performance, there are slight differences.
These conditions are subject to minor changes being implemented.
As of June 2023, they are as follows.
VIP0
500 Emeralds Pack : $1 = 505.05 Emeralds
1,100 Emeralds Pack : $1 = 582.01 Emeralds
3,500 Emeralds Pack : $1 = 626.12 Emeralds
7,500 Emeralds Pack : $1 = 664.3 Emeralds
21,750 Emeralds Pack : $1 = 701.84 Emeralds
33,500 Emeralds Pack : $1 = 714.44 Emeralds
VIP15
7,700 Emeralds Pack : $1 = 1377.46 Emeralds
16,500 Emeralds Pack : $1 = 1461.47 Emeralds
73,700 Emeralds Pack : $1 = 1571.76 Emeralds
148,500 Emeralds Pack : $1 = 1579.79 Emeralds
287,100 Emeralds Pack : $1 = 1595 Emeralds
398,750 Emeralds Pack : $1 = 1595 Emeralds
Sale History
Monday, June 05, 2023 (24 hours)
Monday, August 07, 2023 (24 hours)
Wednesday, September 06, 2023 (24 hours)
Related Articles
Emerald x4 Sale
Collect Emeralds
Emerald Waterfalls
Free Emeralds