What is Emerald Falls?
Emerald Falls is one of the special events in the game. It used to be a continuous event but was changed to an irregular event with the 2023 update.
During the event, players can participate in daily and weekly quests for purchasing and using emeralds, respectively.
The most beneficial aspect of the event is the quest to obtain the Energy Bottle with the purchase of Emeralds. It provides significant advantages to the players.
Instead of simply buying emeralds for this event, the best strategy is to use them in conjunction with the x4 sale. This combination offers the most value.
Using the x4 sale during Emerald Falls is highly recommended over using it when the event is not active. This ensures a better deal for the players.
May be held concurrently with the x5 sale.
Flavor Text
Get more gifts with your purchases every day!
Quest Order
1. Buy emeralds today (MAX: 20,000)
2. Buy emeralds during the event period (MAX: 150,000)
3. Use emeralds today (MAX: 45,000)
4. Use emeralds during the event period (MAX: 300,000)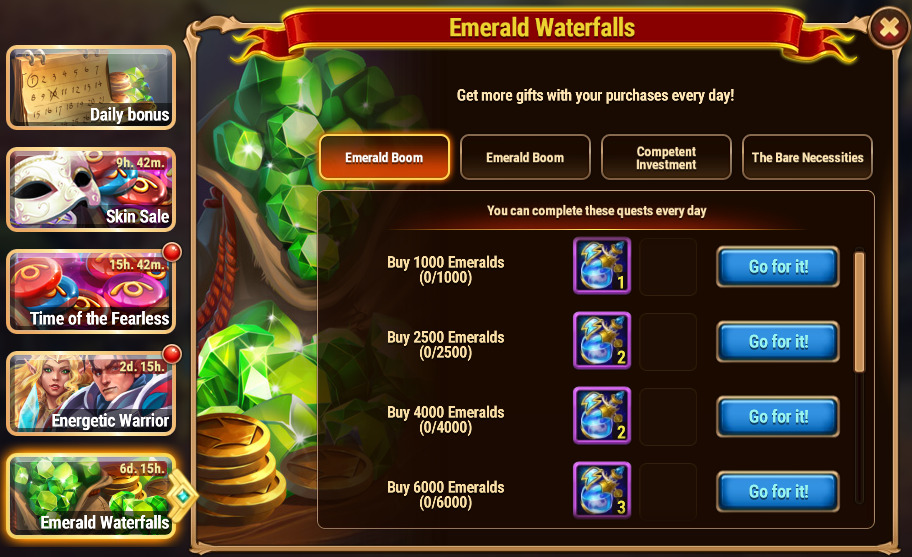 Staggered Technique
Due to the importance of daily rewards, the staggered technique seems to be effective when x4 and x5 are held (purchase in two installments with the update time in between).
Time Difference Techniques
Best Buy Procedure for x4 and x5 Sales during Emerald Falls
Choose the most cost-effective currency option for your purchase.
Buy 20,000 or more emeralds to receive x32 Bottled Energy (equivalent to 9,600 emeralds) as rewards for your daily quest.
Wait for your daily reset (usually at 5:00 a.m.).
Purchase an additional 20,000 or more emeralds to obtain another set of x32 Bottled Energy (worth 9,600 emeralds) from the Daily Quest.
Continue this process if the event lasts for more than 2 days.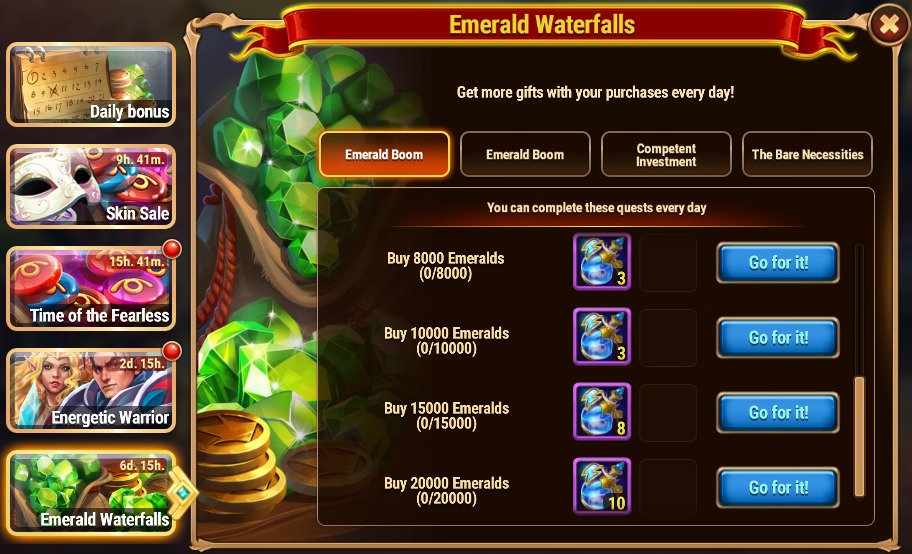 Emerald Waterfalls Tasks and Returns
All Quests
History
Monday, August 07, 2023 (7 days)
Thursday, August 17, 2023 (7 days)
Related Articles
Emerald x4 Sale
Emerald x5 Sale
Collect Emeralds
Mini Events
Emerald Waterfalls (Old Ver.)