Report
Upcoming Events
Events in August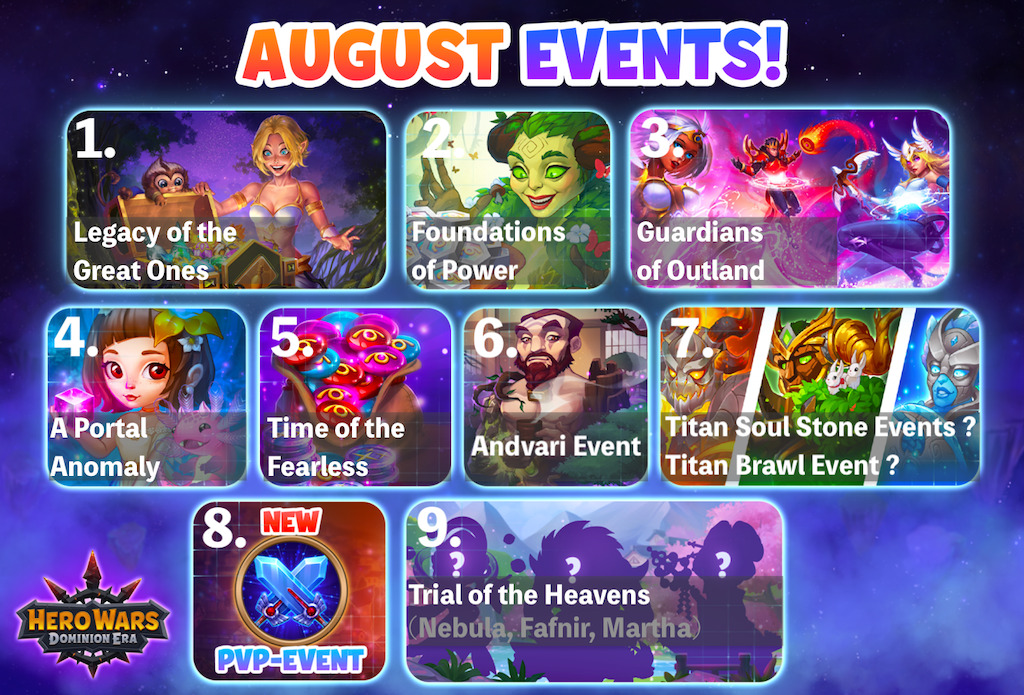 The official announcement has revealed 9 events, presented in no particular order and without known dates. Among these events, the dates for the following 8 are currently unknown.
1. Legacy of the Great Ones
3. Guardians of Outland
4. A Portal Anomaly
5. Time of the Fearless( > Perhaps x4 sale)
6. Andvari Event
Perhaps an adjusted version of the Thea event.
7. Titans Event
Titan Soul Stone Events or Titan Brawl Event
Titan Soul Events
Clash of the Titans
8. PvP Event
Details unknown. Once took the form of a brawl.
Mojo's Brawls
9. Trial of the Heavens
Skin additions are Nebula, Fafnir, and Martha.
Emerald Waterfalls Event Update
Summary of Changes
The current "Emerald Waterfalls" event will conclude on July 29th (previously it started automatically once a week).
The new "Emerald Waterfalls" event will commence in the first half of August.
The new event will be held irregularly, but with increased rewards, possibly featuring higher difficulty levels.
Impact on Players
Free-to-Play (F2P) players will see minimal impact.
Bottled Energy at the "Emerald Waterfalls" has always been a bonus for those purchasing emeralds.
Unlike before, this event will no longer guarantee a definite freebie.
However, for players making bulk purchases, the rewards during the "Emerald Waterfalls" event are expected to increase.
This introduces an additional factor to consider: players will need to decide if it's the right time to make a purchase. Depending on the timing, conditions may be better or worse than before. It's important to keep this in mind.
Official Message
Emerald Waterfalls Event Update!
"Emerald Waterfalls" is one of the oldest regular events in the game, which has long been in need of an update and a review of its content. Soon, it will undergo a series of changes — the number of quests, rewards, and their variety will be revamped! However, there's no need to worry as Energy Bottles won't disappear from rewards, in fact, their quantity will only increase!
Another important change is that starting from July 29, the event will no longer restart automatically. The special event "Emerald Waterfalls" will periodically appear in the game, just like all other events in Dominion, and we will definitely inform you about it in our publications!
Please note that if the "Emerald Waterfalls" event started on your account before July 29, it will end according to the timer. The new launch of the event will occur for all players simultaneously, similar to the start of other events. You will be able to see the updated version of the event in the first half of August, so stay tuned for updates!
Emerald Waterfalls
Official Community Manager FAQ
Titles are tailored to the content.
No reward for polls completion
Q. Why there is no reward for polls completion?
A. We have decided to abandon rewards for completing the questionnaire as it leads to inaccurate results. Surveys are an important tool to assess players' reactions to various game elements. Filling out these surveys is voluntary. However, when we offer a reward, the majority of players simply skip through all the questions mindlessly in order to obtain the reward.
Are we getting another overview for the events next month?
Q. Event calendar for August
A. We have noticed a positive response to the events calendar, so yes. We plan to continue this practice.
Adding resources (Dark and Light titans)
Q. Adding resources to chests, shops, spheres
A. Regarding the question of adding resources to chests, spheres, and the shops, I have gathered all the requests (and thanks to Gray_the Grayte for the updated spreadsheet). and I have passed the requests to the developers. Currently, I cannot provide specific answers or give a timeframe for the additions, but most likely, information on some points will be clarified at the beginning of next week.
Attack cancel script is destroying this game
Q. Scripts
A. According to the latest information, as far as I know, the developers are preparing new functionality that will counteract script users.
To help players sleep longer, increase the max energy
Q. Increase energy limit
A. Many mechanics in the game and balance are tailored to the current energy limits. I understand that you would like to have more energy. However, the developers are currently focused on other tasks.
Break between seasons
Q. Break between seasons
A. Yes, it will be.
Guild raid boss simulator
Q. Adding Osh battle to the combat training
A. Might be fun. I'll pass it to the devs team.
Problem Heroic Chest missions
Q. Annoying "Acquire x souls from the Heroic Chest" missions.
A. As far as I know, tasks of this type will be revised
We need Expedition QoL updata
Q. "Expedition" can be completed by pressing 1 button (Raid) in the mobile version.
A. Yeah, that is very convenient and developers agree with that. Hopefylly it will be added someday.
Server Migration
Q. Server Migration
A. This understandable. Migration mechanics haven't been updated for a long time and probably it needs a review. but for now this is not a priority for the developers team.
Summer Festival Coin drop rates 1
Q. Summer fest drop rates change.
A. Drop rate for summer fest havent been changed since the start of this activity. And it works as intended.
Summer Festival Coin drop rates 2
Q. I feel this bees expression perfectly summarises how the community feels about Summer Festival Coin drop rates…
A. At least the event is bee themed and not wasp themed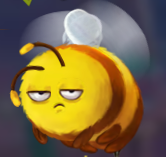 Special offer discounts
Q. Questions regarding special offer discounts.
A. I've passed all the critique and suggestions to the Dev team.

Main Updates
Addendum
Gift of the Sanctuary
Heidi
Summer Festival
New
Summer Festival Shop
Summer Festival Tasks and Returns
Why is Heidi's Health skin considered risky?
You Know? The Helios Great Nerf Incident
Which Tank to Upgrade in 2023
Updates to Seasons Specifications
Guild DASHIMAKI-TAMAGO 2023.Week29
Guild War:Web31-Gold league,Place 1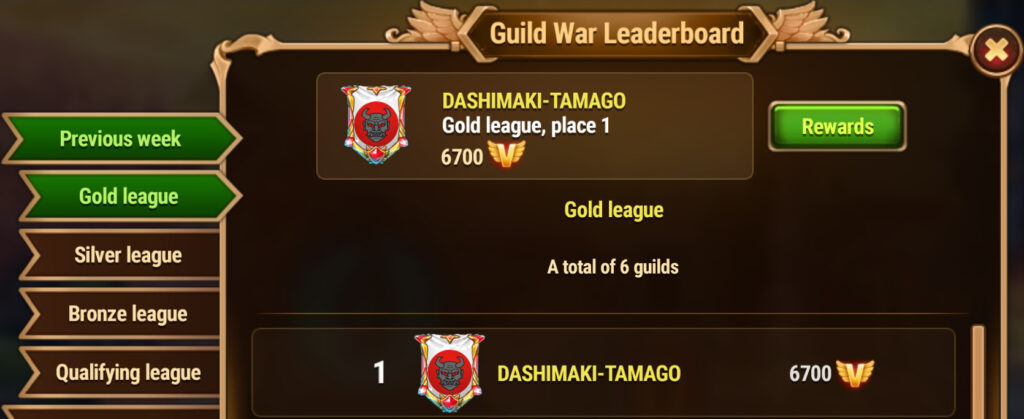 Guild Raid:Place 9

CoW: Season 4 Temporary Place 8