Time of the Fearless Event Overview
Held once a month in conjunction with the Emerald x4 sale (with some exceptions).
Usually held for three days starting on the fourth Friday of the month.
There are 8 quests.
Quests are lighter in difficulty and reward than other mid-sized events.
It is possible to complete the quests without using emeralds.
Flavor Text
Can't sit still? Is your soul longing to rise high in the sky? As the true champion, you can do so much more. Feel the sweetness of victory along with pleasant exhaustion after your great deeds!
Time of the Fearless and the use of Emeralds
Time of the Fearless is held at the same time as the x4 sale, so it's easy to spend emeralds!
However, the following week's events are the real time to use emeralds.
Because you don't need emeralds to complete most of the quests in the Age of Fearlessness.
The theory is to save the emeralds purchased in the x4 sale for events that have other emerald-consuming quests.
It is a good idea to start saving up a few months in advance, especially before a major update or sale event.
Quests Order
1. Log in (MAX 3)
2. VIP Level (MAX 5)
3. Spend Energy (MAX 2,100)
4. Open Chest in Outland (MAX 11)
5. Earn Hero Soul Stone (MAX 80)
6. Arena/Grand Arena Battles (MAX 15)
7. Open Chest in Tower (MAX 40)
8. Complete the quests of this event (MAX 62)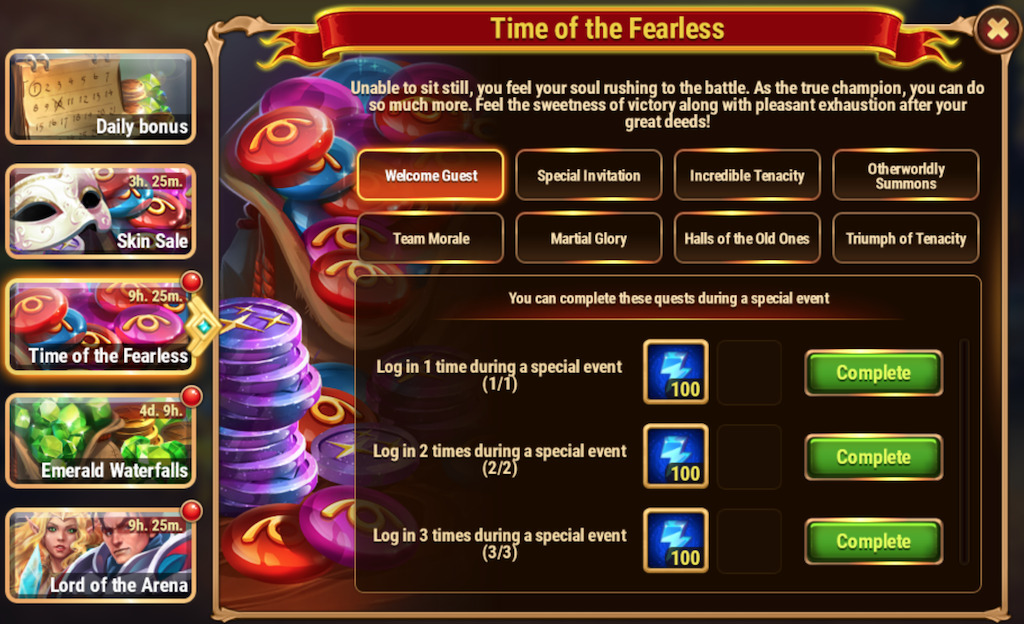 All Quests
Energy Stock
If you are VIP 5 or above and complete all of the "Indomitable Victory" quests, you will not need to receive the two quests.
So, if you finish the event without receiving two "welcome guests", you will receive 200 energy in the mail.
This energy can be stored for three days.
If a large event starts the next day, this energy can be used for energy consumption quests in the large event.
Use cases are limited, but you'll save a Bottled Energy.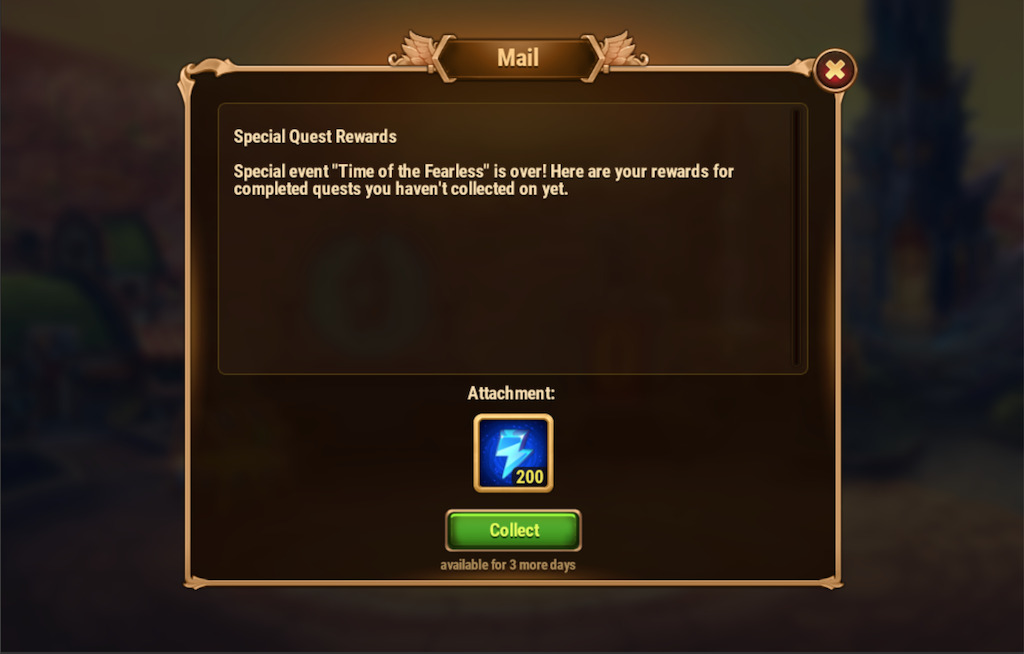 About Rewords
Skin Stones
Event History
Fri, 22 May 2020 (3 days)
Fri, 26 June 2020 (3 days)
Fri, 17 July 2020 (3 days)
Fri, 21 August 2020 (3 days)
Fri, 18 September 2020 (3 days)
Fri, 23 October 2020 (3 days)
Fri, 18 December 2020 (3 days)
Fri, 19 February 2021 (3 days)
Fri, 23 April 2021 (3 days)
Fri, 21 May 2021 (3 days)
Fri, 18 June 2021 (3 days)
Fri, 20 August 2021 (3 days)
Fri, 24 September 2021 (3 days)
Fri, 22 October 2021 (3 days)
Fri, 12 November 2021 (3 days) *No x4 sale
Fri, 17 December 2021 (3 days)
Fri, 28 January 2022 (3 days)
Fri, 18 February 2022 (3 days)
Fri, 22 April, 2022 (3 days)
Fri, 20 May, 2022 (3 days)
Fri, 22 July 2022 (3 days)
Fri, 19 August 2022 (3 days)
Fri, 23 September 2022 (3 days)
Fri, 30 December 2022 (3 days) *No x4 sale
Mon, 23 January 2023 (3 days)
Fri, 24 February 2023 (3.5 days)
Related Events
Emerald x4 Sale
Time of the Fearless (1DAY)