Report
Upcoming Events
Time of the Fearless Held for 3.5 Days
Since Nexters could not start at the scheduled time, the event was extended by one day only this time.
In fact, it will be held for a total of 3.5 days.
Events in March
If the past year is as usual, March will continue with Ode to Beauty, Spring Replicat, and Anniversary!.
Previous Guild Raid Reward Distribution Response
Rewards were distributed uniformly to players who had not handed in their ranking rewards.
Distribution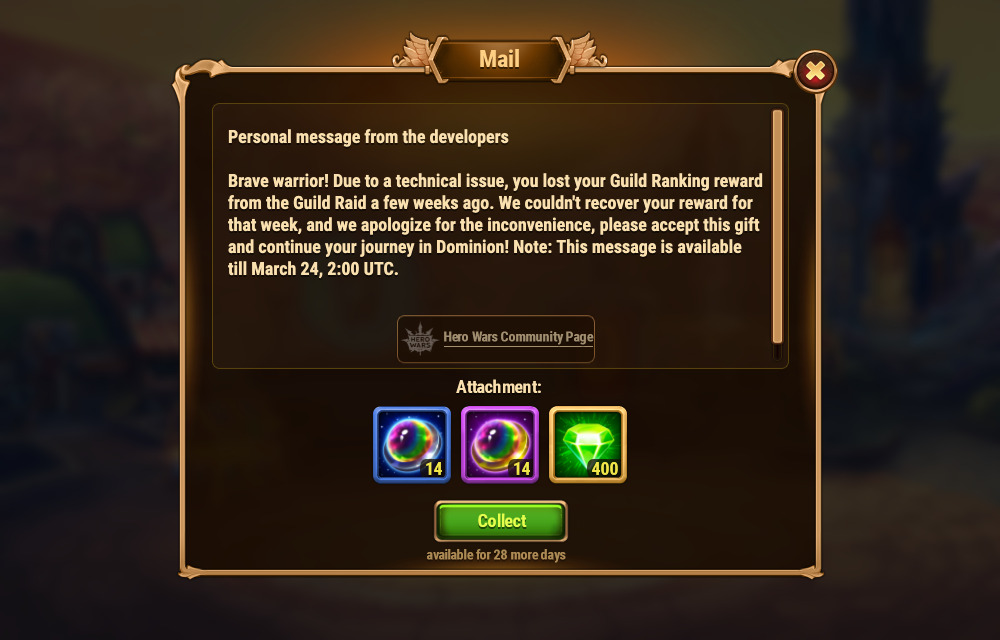 Official Message
Brave warrior! Due to a technical issue, you lost your Guild Ranking reward from the Guild Raid a few weeks ago. We couldn't recover your reward for that week, and we aplogize for the inconvenience, please accept this gift and continue your jurney in Dominion! Note: This message is available till March 24, 2:00 UTC.
Official Community Manager FAQ
Titles are tailored to the content.
Gleaming Seal Chest
Q. ny news about when the "Gleaming Defence Seal" fragment will be available in the "Gleaming Seal Chest"? since both d/l tanks are now released.
A. Not yet, I am clarifying that with the devs right now, I will give you an update here once I get the info
The dungeon is again really messed up
Q. The dungeon is again really messed up since yesterday. I think it came with the last update. Now the mixed fights are always with at least two tanks and Eden, very often even three tanks and Eden. Makes it impossible to heal the titans.
To be honest, I expect from you to solve the problem. You are here to help the community. Many players are really super unhappy currently. First players stopped spending money until the dungeon problem is solved. What you are doing is not helpful. You always say that you will ask the developers. But there is zero output. Ask them for a real account with maxed out titans and unlimited divination cards to test it by yourself. And then escalate it to someone who can solve the problem. Talking to developers is waisting of time.
A. I here you, I will check with the devs if we can run some proper tests and see what kind of enemies you get when completing several thousands of rooms with maxed Titans. And see if can get the same data for the previous weeks and months. Clearly, just looking into algorithm won't get us anywhere.
It is totally bizarre that Nexters do not follow the Lore
Q. Yes, it is totally bizarre that Nexters do not follow the Lore when setting classes for heroes. Keira should obviously be Undead and Mushy & Shroom should obviously be a Grove Keeper. Neither of these heroes are so strong that a very minor bonus like this suddenly going to make them overpowered and appearing in guild war teams. The only in game benefit from Keira being Undead is that she would gain benefit from Corvus's boost and Morrigan heal. The only benefit from Mushy being a Grove Keeper is that Alvanor's shield would reset on her. Unless of course you count the pointless Asgard Undead and Grove Keeper buffs that no one buys anyway as they only benefit one team out of your five Asgard teams.
A. Hi! I am not sure what to tell other than – yes, lore is not the only thing we take into consideration. Of course, lore is important, as we are really trying to represent a certain theme with every Special Role we introduce. But that's not the only thing we care about.
Keira might not be too popular or strong right now (your words, not mine), but she was when we were introducing the Undead Special role. At the moment we are quite cautious with retroactive Special Roles changes – like adding Keira to Undead or Mushy to Grove Keepers right now. We might do this in the future, and I will share with the developers that you are rooting for that, but that needs additional testing and consideration.
But thank you everyone for regularly bring this up, it's important for us to know that this is important to you.
Main Updates
Addendum
Mind of the Old Grove
New
Mycelium Clearing
Mushy and Shroom Doll
Mushy and Shroom Skins
Guild DASHIMAKI-TAMAGO 2023.Week07
Guild War:Web31-Gold league,Place 1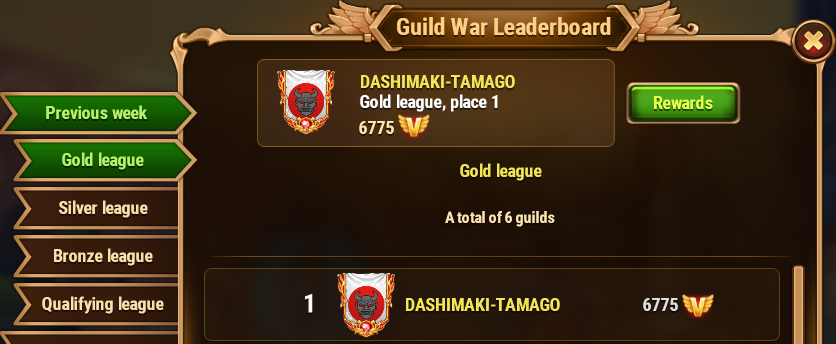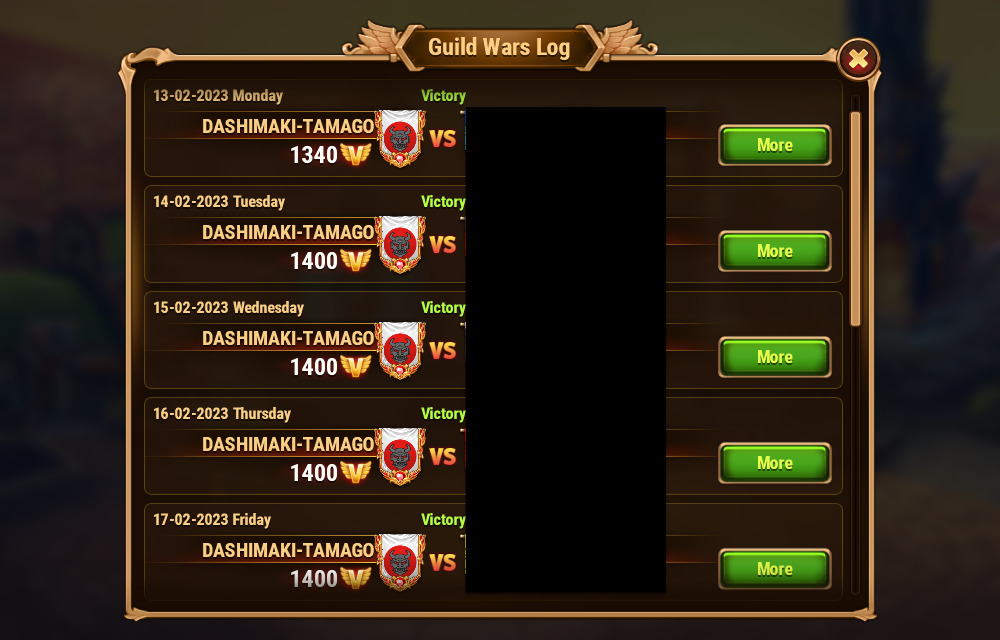 Guild Raid:Place 13

CoW: Season 2 Temporary Place 16