Emerald Waterfalls Over View
One of the special events.
Mini-events held throughout the year in the span of a week.
There are daily and weekly quests for buying and using emeralds, respectively.
Buying emeralds for this event has little benefit.
The general style is to complete the Buy Emeralds quest only during the x4 sale.
There is no significant benefit to completing the Emerald use quests with the intention of completing them as well. Little reward.
Specification changed in 2023.
After specification change
Emerald Falls Quest Contents
1. Buy Emeralds today (MAX: 2,000)
2. Buy Emeralds this week (MAX:14,000)
Spend an emerald today (MAX:2,000)
4. Use emeralds this week (MAX:14,000)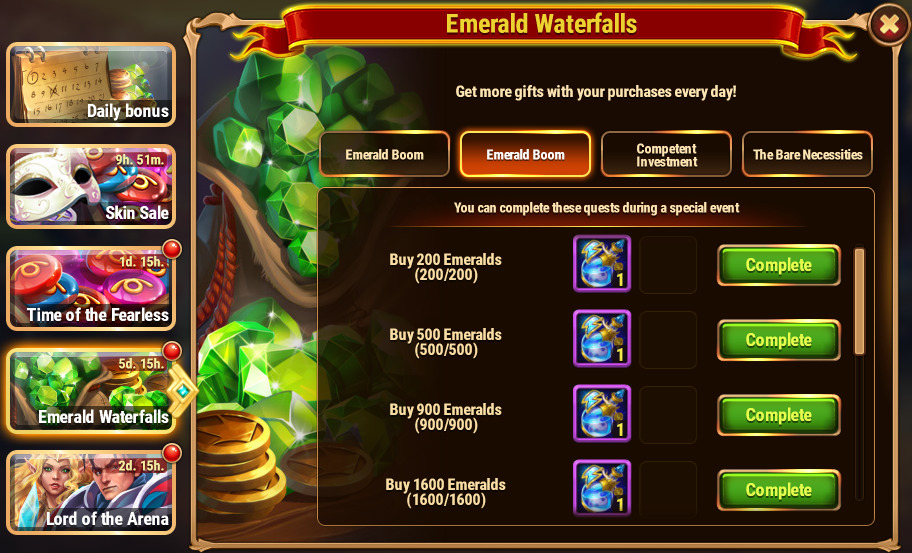 Emerald Waterfalls Energy Stock
Daily quests for purchasing emeralds will be delivered to your Mail if you don't receive them.
There is a 3-day deadline to receive them, so you can stagger the timing of their use according to events.
Use cases are limited, but there are situations where it can be used for large events.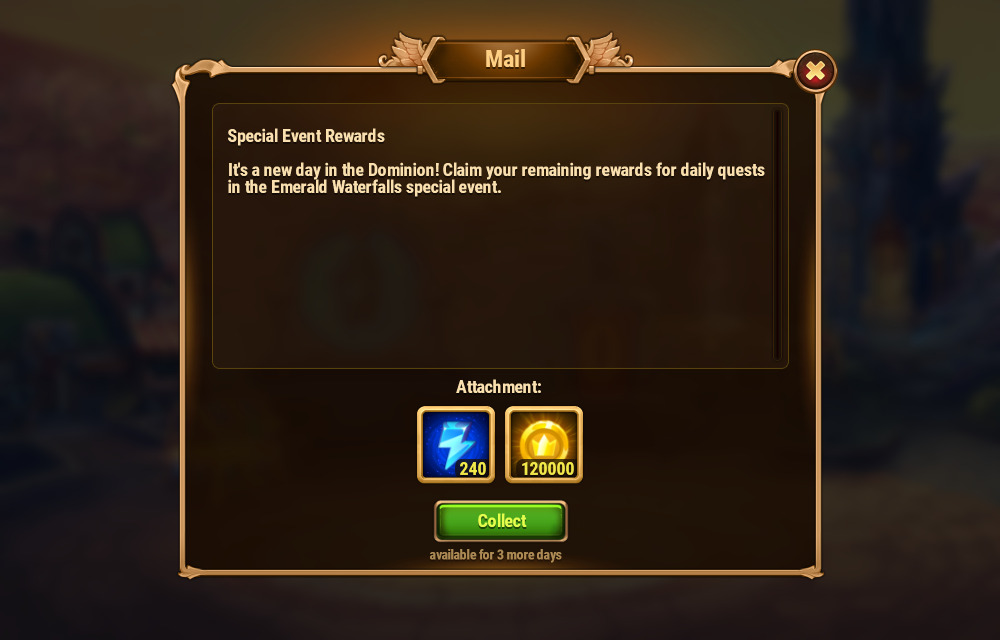 Emerald Waterfalls and the Time Difference Technique
The time difference technique can be used when the Emerald x4 Sale is held.
Emerald Waterfalls update time depends on PC time (basically 5am)
The update time for the x4 sale is the same worldwide (11:00 a.m. Japan time (GMT+9)).
Therefore, if you buy more than once, you can save a little money by this time difference.
This time difference technique is most important when the Emerald x4 sale starts on Thursday.
The "2. Buy Emeralds This Week" quest in Emerald Waterfalls will be updated on Friday.
The "Buy Emeralds This Week" quest in Emerald Waterfalls will be updated on Friday, so you can get more Bottled Energy by splitting the purchase days.
If you want to know what day of the week the Emerald x4 Sale started, please refer to the following article for the history of the sale.
Emerald Waterfalls All Quests