Free Emeralds: How to Earn Them
Overview
We're currently offering a trial service for Free Emeralds to a select group of users, and the availability of this service is gradually expanding. Users with multiple accounts may find that some accounts have access, while others do not.
You can obtain Free Emeralds by engaging with advertisements outside of the game.
There are two primary methods available: registering with external services and participating in surveys.
The available content may vary based on your device (PC, Android, or iPhone), and it changes daily.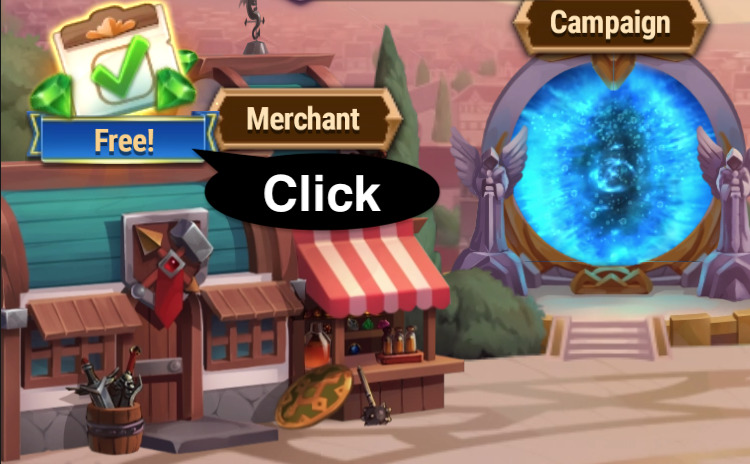 Not Recommended at This Time
We do not advise using the survey option at this time due to the following reasons:
No user who completed the survey has reported receiving the promised Emeralds.
The survey requires a significant amount of personal information, raising privacy concerns.
Some users may experience connectivity issues with certain providers due to security restrictions.
About the Offered Content
Some of the content changes daily, and there may be variations depending on your chosen language. It's important to note that this content is not directly related to Hero Wars but is a result of external collaborations. Therefore, the language of the content depends on your browser's language setting, not Hero Wars' language settings.
Registration with External Services
It is suggested that Emeralds can be earned by registering with specified external services.
Currently, it is unclear whether this method reliably rewards Emeralds.
For gaming-related offers, there may be completion conditions, such as completing the tutorial or making bundle payments for the service.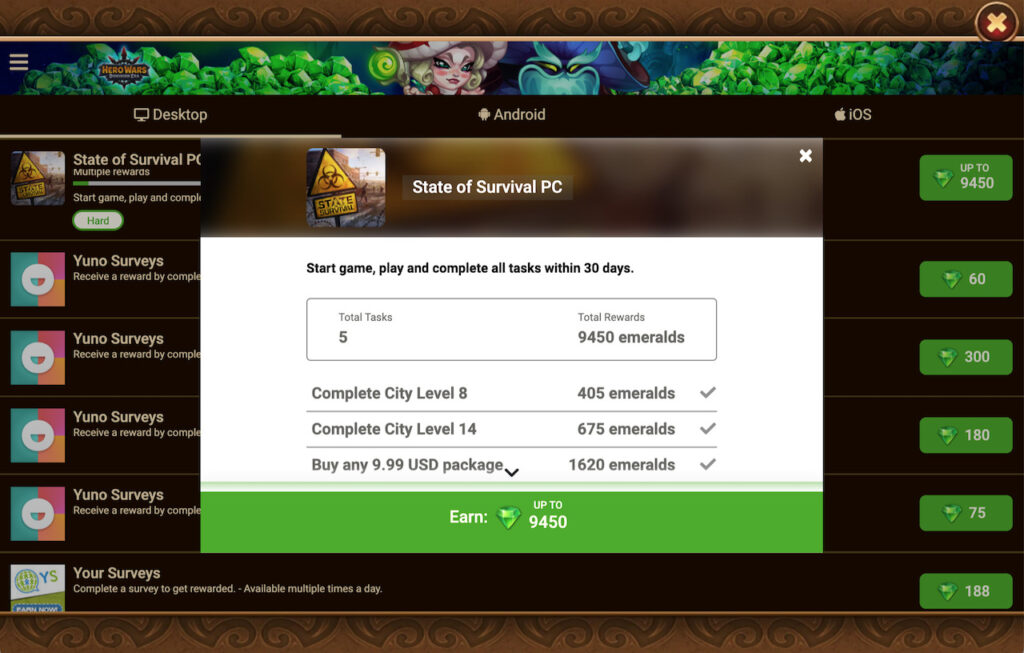 About Surveys
You can earn Emeralds by participating in surveys and providing answers to their questions.
The reliability of this method in delivering Emerald rewards is currently uncertain.
At this time, it's unclear whether participating in surveys will genuinely result in receiving Emeralds, and it may require providing a significant amount of personal information.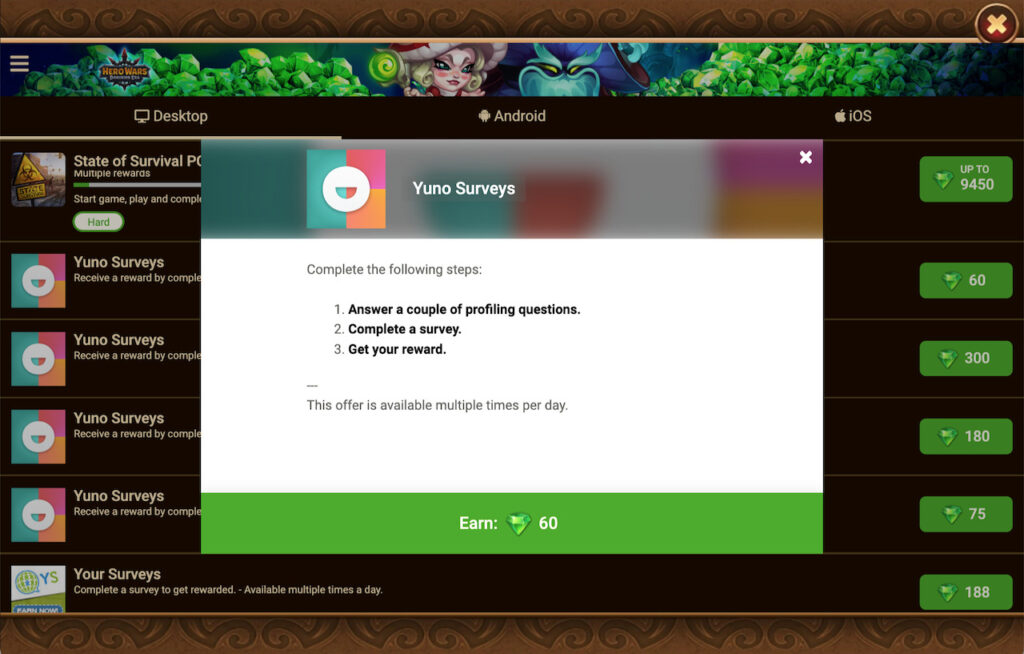 About ayeT-Studios – Rewarded Ads Platform
Please note that this program is provided by ayeT-Studios, an advertising platform provider, and not by Nexters, the operator of Hero Wars.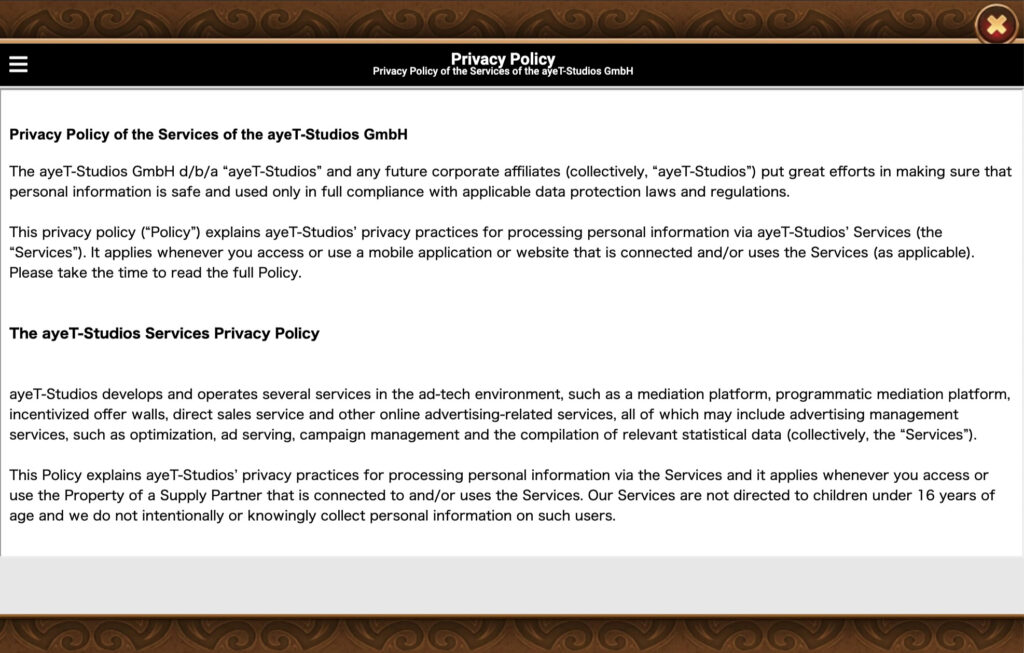 Recommended Ways to Acquire Emeralds
Here are some suggested methods for collecting Emeralds.
Collect Emeralds
Emerald x5 Sale
Emerald x4 Sale
Official Message
We continue to experiment and explore new ways of making your adventures in Dominion even more exciting — one of these experiments is the option to complete tasks outside of Dominion for Emeralds.
First and foremost, it's important to note that this feature will be added to the game gradually and affect only some players. Tasks type, rewards, and the frequency of their appearance will be managed by our partner company, which provides this service to us — Hero Wars: Dominion Era.
Why haven't we added this option for all players at once? For the same reasons we previously didn't implement the "Expanded Screen" feature to all players simultaneously — we want to gather sufficient information about how this new feature works. However, it's crucial for us not to inconvenience all users right away, as we're unsure how such a new and unfamiliar service might impact Dominion and your gaming experience.
Other Related Articles
Beginner's Guide
Emerald Waterfalls
Emerald x3 Sale