Emerald x3 Sale Overview
Introduced in July 2023, replacing the Emerald x4 Sale.
Appeared in a situation where the Emerald x4 Sale and Emerald x5 Sale already existed.
Each sale is available only once at six different price points, but it will be restocked daily throughout the event.
Can also be used to progress in the Emerald Falls event.
The mention of "Marta" in the official message is likely a typo for "Martha."
Comparison with the Emerald x4 Sale
Prices are the same as the x4 sale.
The VIP rewards you receive are the same.
The only difference lies in the available quantity of emeralds.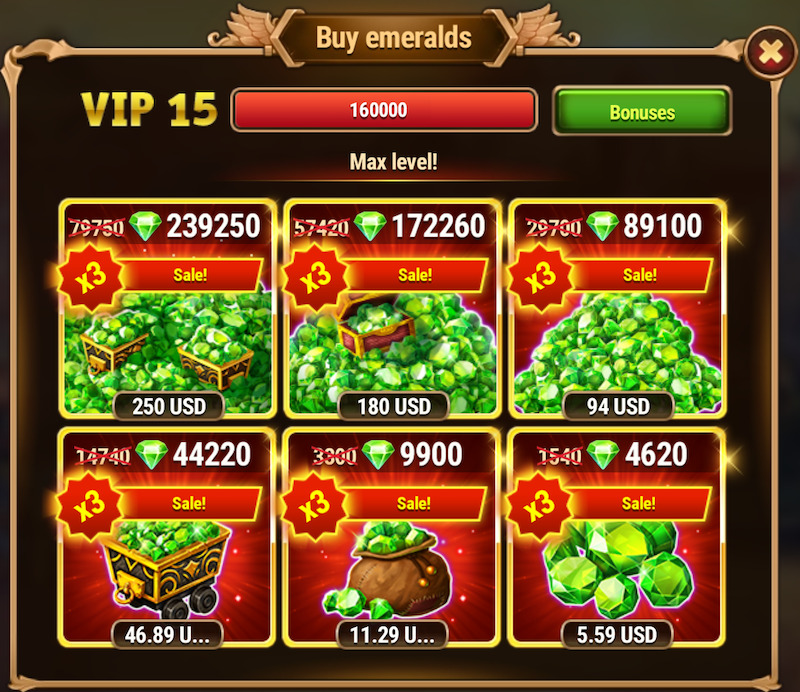 Reasons to Buy Emeralds from the x3 Sale:
If you are running low on emeralds and urgently need to acquire more, this sale offers a better rate compared to the x2 sale.
Provides better value than most bundles.
It's sad to compare it to the Emerald x5 Sale.
Official Messages
Emerald Sale in Dominion!
In addition to her regular sales, Marta loves to organize experiments, and today she has conjured up another one — get more Emeralds and make your Heroes, Titans, and Pets stronger than ever before!
Note that the sale will end on July 10, 2 AM UTC.
Event History
Saturday, July 08, 2023 (2 days)
Related Articles
Emerald x4 Sale
Emerald x5 Sale
Collect Emeralds
Free Emeralds