Sale Event Overview
Several times a year, HW has a sale event.
These events include discounts on the amount of emeralds consumed for various route elements.
Birthday Event (end of March)
Treasure Island (end of July)
Sale! (start of September)
Black Friday (end of November)
The following discounts are offered for all three events. (Based on actual results)
Circle of Summoning: 30% discount
Altar of the Elements: 20% discount
Heroic Chest: 60% discount
Artifact Chest: 30% discount
Pet Summoning:20% discount
Astral Seer:10% or 15% discount (2022.9- )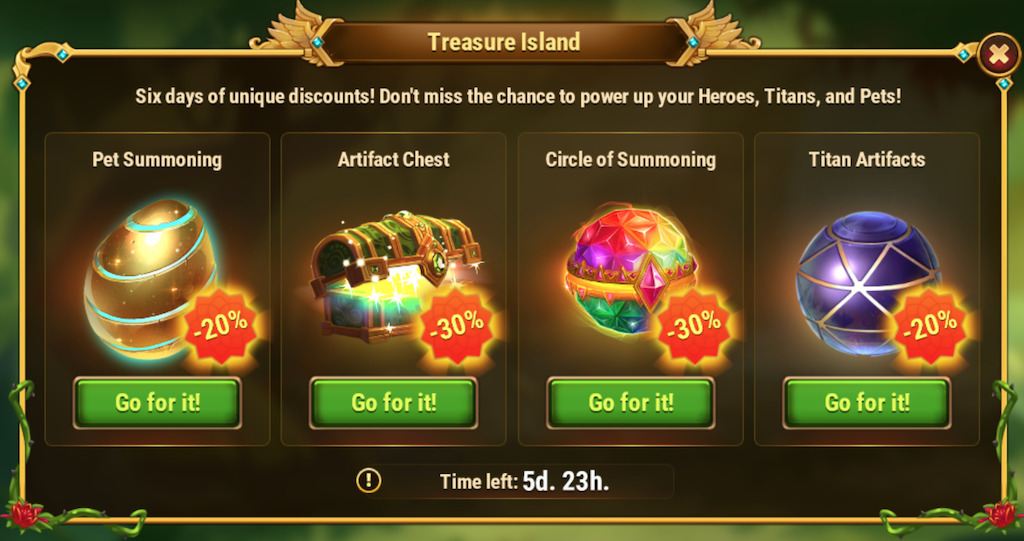 Previous events
Birthday Event: 2021.3.19-3.26, 2022.3.18-3.25, 2022.3.20-3.27
Treasure Island: 2021.7.20-7.27, 2022.6.13-6.20
Sale!: 2022.9.1-9.7
Black Friday: 2020.11.24-12.1, 2021.11.23-11.29, 2022.11.22-11.28
Notes
The x4 sales will be held simultaneously.
However, pick up for 3 days or so (based on actual results), not the entire event period.
Bundles are often sold in parallel.
On days when there is a x4 sale, the screen display will change.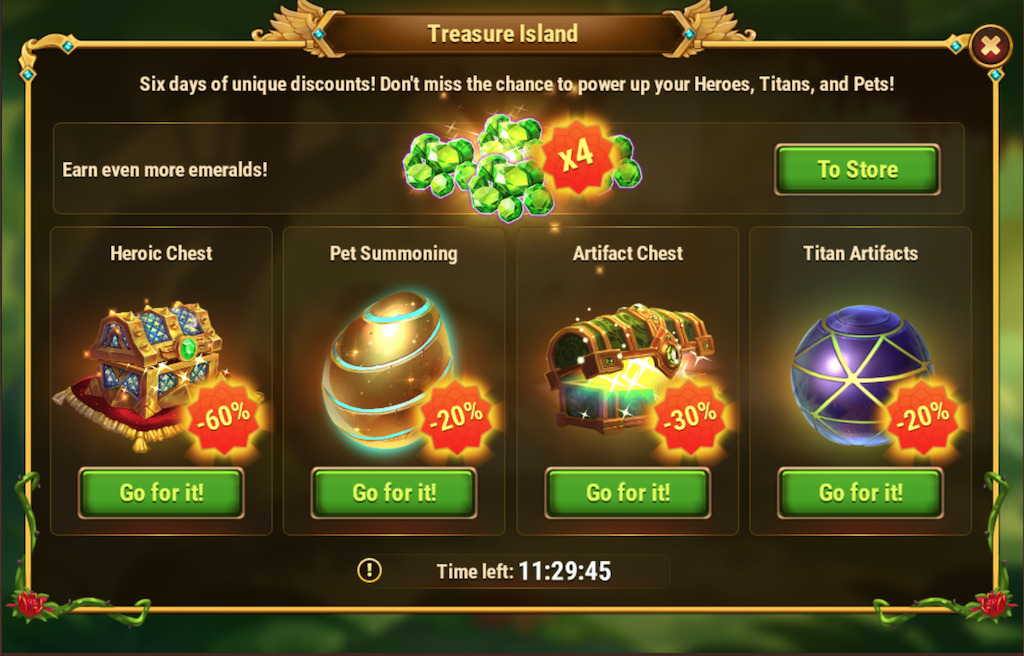 How to think about sale events
It is recommended to think about which one is best for different purposes.
To get stronger efficiently: Artifact Chest
Want to be strong in titan battles: Altar of the Elements
To be the best in the arena: Pet Summoning
Emeralds x4 will be held at the same time, but unless you have a purpose for the above sale items, it may be more profitable to use the emeralds for another event.
This is because in many cases there are no emerald consumption quests.

If you want to use emeralds for sale items, it is better to use them during this period even if you don't need them right now.
Also, when a sale is coming up, it is more profitable to wait for the sale event and not spend the emeralds right away.
Individual description of sale targets
Circle of Summoning: 30% discount
You can achieve the Titan Soul summoning automatically by completing other Titan events.
Therefore, it is a low priority.
However, if you intend to use emeralds for gold roulette, that's a different story.
It is more profitable to pull this during the sale and convert it into gold at the Titan Soul Shop.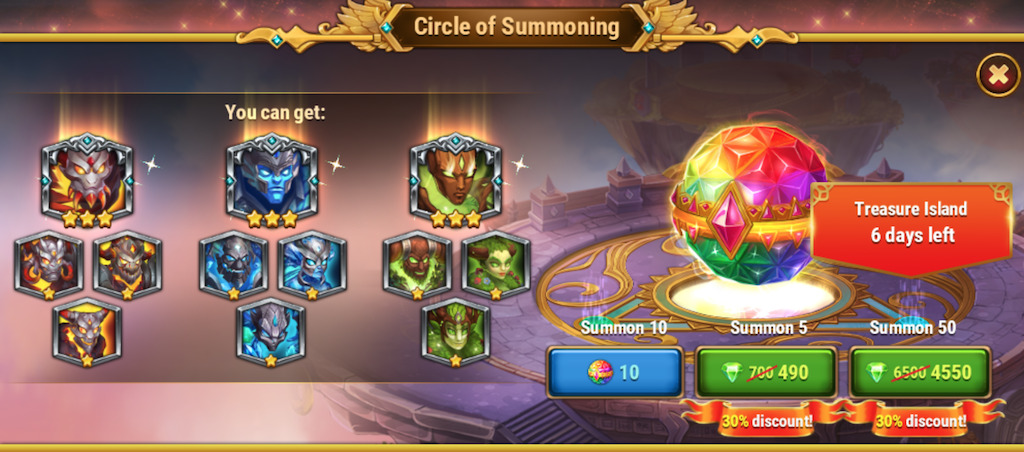 Altar of the Elements: 20% discount
This is the main candidate for this sale.
You cannot pull totems in Titan's Artifact Event.
If you are looking to obtain and strengthen them, the Altar of Elements is the best candidate.
This is the biggest event for those who want to be active on Titan.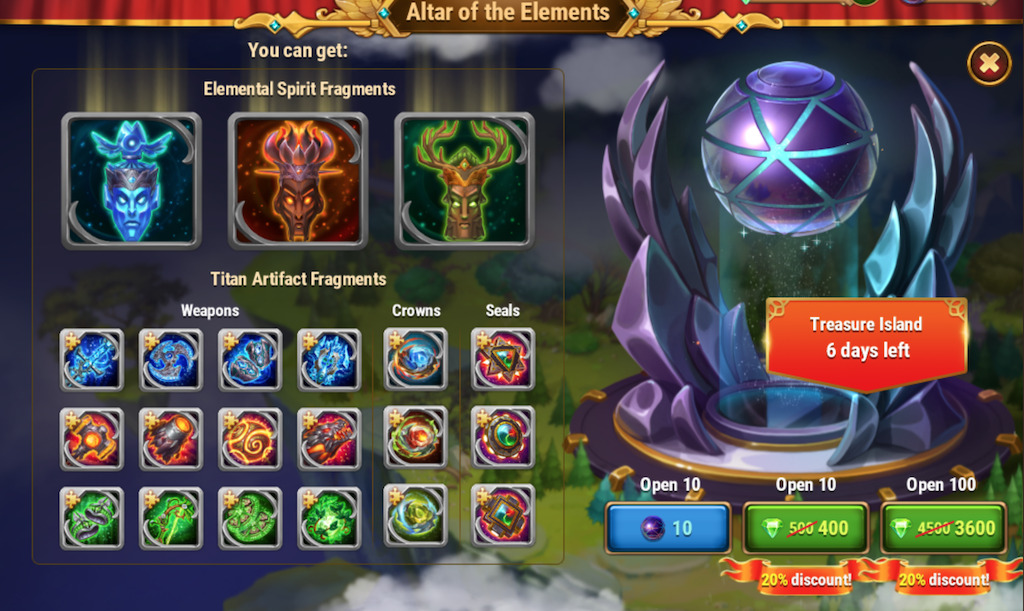 Heroic Chest: 60% discount
I don't recommend this unless you really want the Cleaver.
There is not a single benefit other than that.
Even with all these discounts, the appeal of the treasure chest is limited.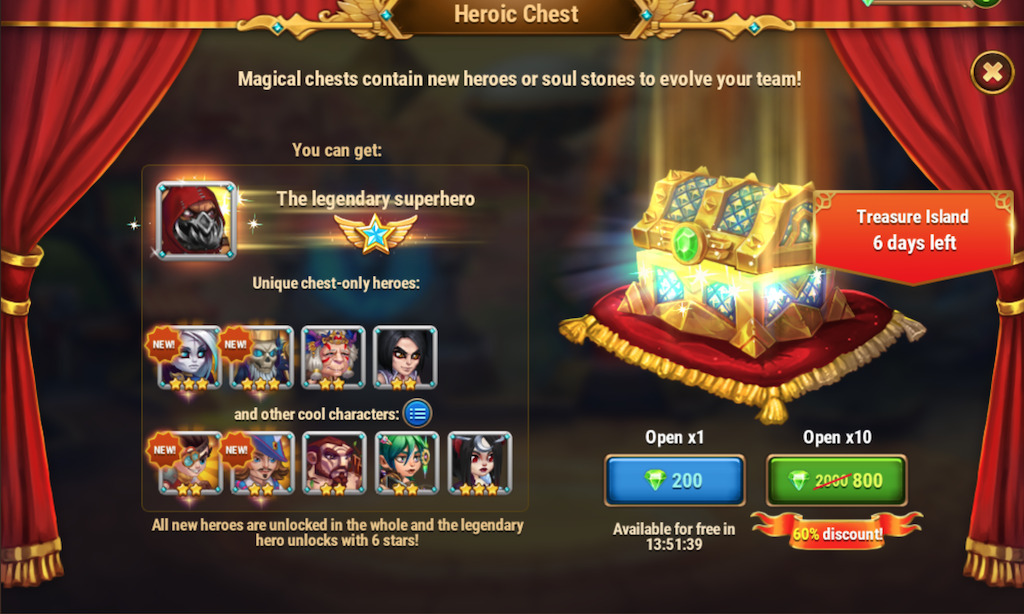 Artifact Chest: 30% discount
If you want to strengthen your heroes in a cost effective way, artifacts are considered the best option.
This is the best option for those who have no or little money and are hoarding emeralds.
Also, for those who prepare multiple teams, strengthening artifacts here is extremely profitable.
During the sale period, you can buy artifacts for the future and leave skins and other items at home.
If you work harder on non-artifacts the following month or later, you will be stronger two months later.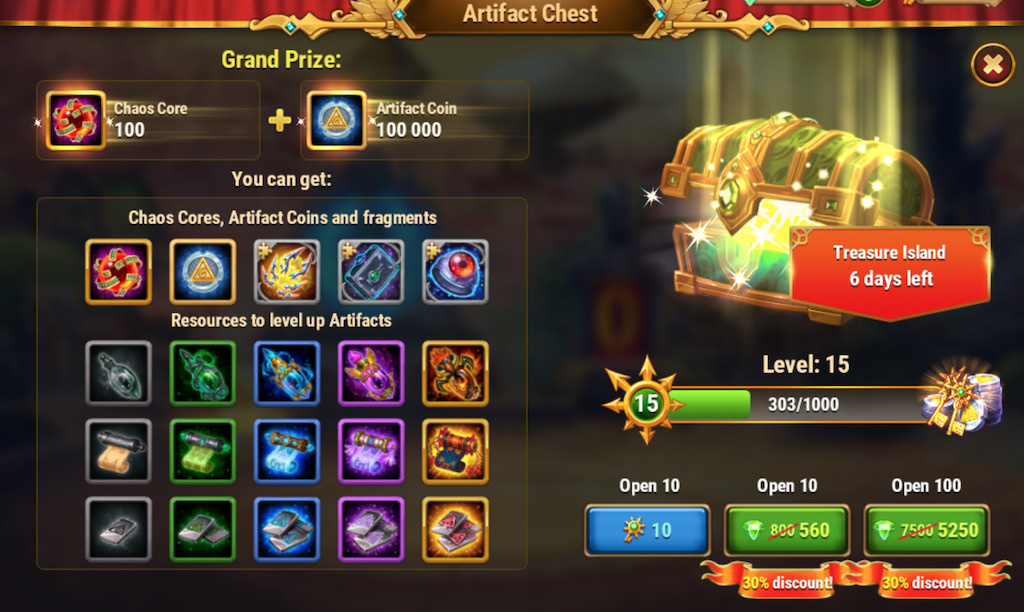 Pet Summoning: 20% off
Pets tend to be a low priority in hero enhancement due to their poor cost performance.
In addition, most of a pet's strength is affected by its color, and summoning a pet is an even worse way to enhance a pet.
Pet summoning is an even worse performing form of pet enhancement.
However, in a matchup between two teams with over 800,000 power, pets have a large impact on who wins and who loses.
Therefore, if you want to be the best in the arena, this pet summoning is useful.
However, considering the upcoming pet events, this opportunity is not a must.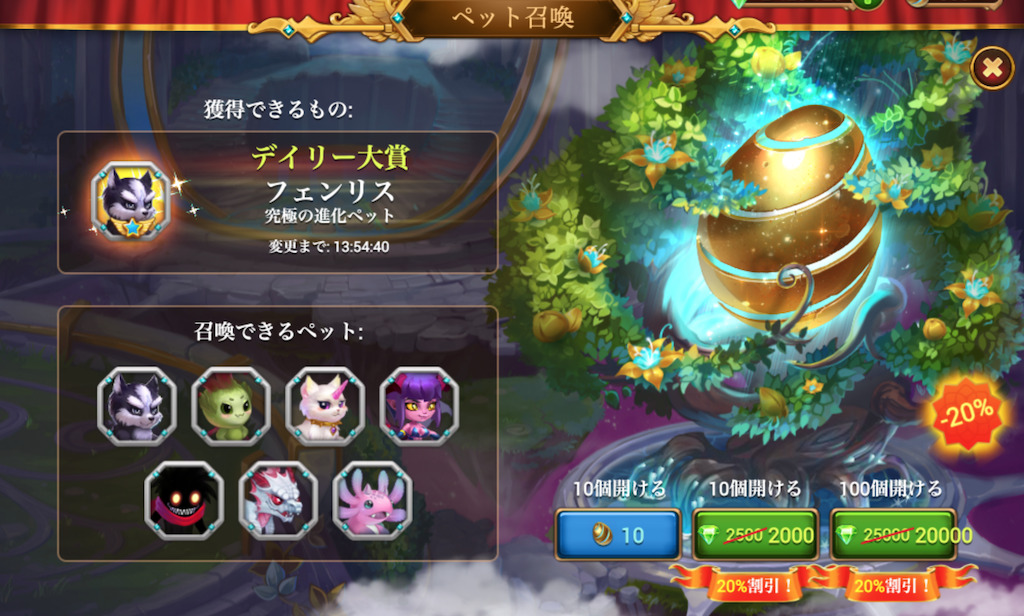 Astral Seer:10% or 15% discount (2022.9-)
Astral Seer is a very Emerald inefficient upgrade. If a person who has even canned pets wants to be active in Guild raids lvl 160 or top guilds, he or she will have to focus on that upgrade.
Although the upgrade efficiency is extremely poor, unless you use the Astral Seer to advance your Asgardian enhancements, you will never reach the realm of competing with players who have done so.
It is a upgrade reinforcement for aces, and beginners are advised to prioritize other stats of reinforcement first.
Discounts are important, but the Daily Double is also very important for the Astral Seer only.
Only on this item, the discount day! and the price reduction rate is the same, so if the Daily Double is not the one you are targeting, it is a decision to forgo it.
Black Friday 2022 changes the discount rate; it was held at 15% off.
10% discount (2022.9, 2023.3)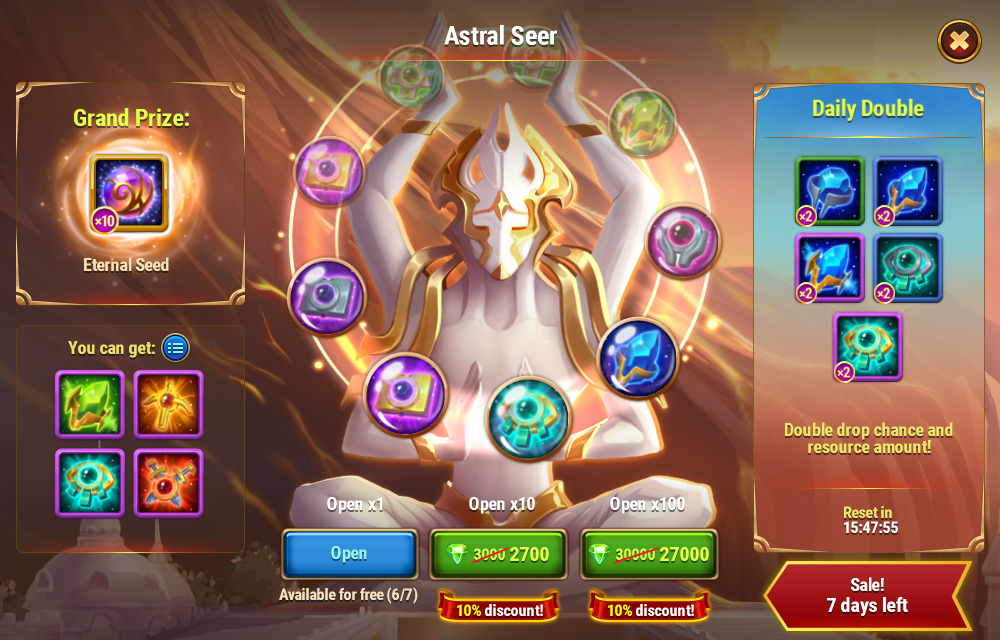 15% discount (2022.11)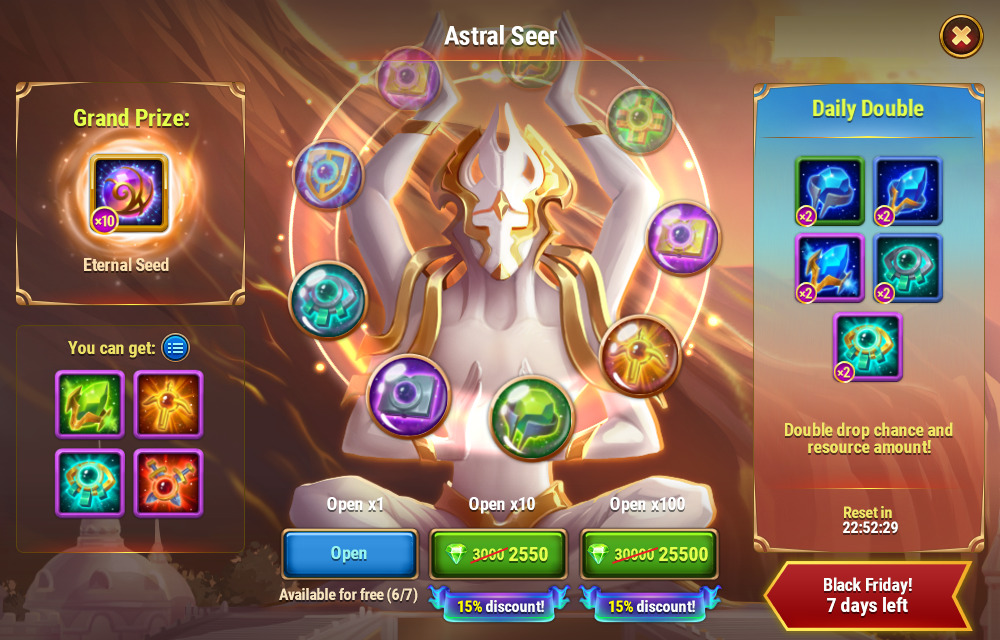 Events held simultaneously
Events held simultaneously with Anniversary!
Events held simultaneously with Treasure Island
Events held simultaneously with Sale!
Lore Festival
Lore Rush
Events held simultaneously with Black Friday
Black Friday is simultaneously followed by Cyber-con and Cyber Monday.
Cyber-con
Cyber Monday
Related Events
A mini version of this event, Discount Day! exists.
Since the price reduction rate is not as good as the sale event, it is recommended to take advantage of the sale event as much as possible.
Discount Day!