What is The Forgotten Treasury
Celestial Skin Unveiling Event.
An archaeological-themed shopping event featuring content evolved from the 2022 Trial of the Heavens.
Running for a duration of 7 days.
Cyber Monday will be held at the same time on Monday.
Not an event that can be targeted for enhancement, but can improve the overall bottom line.
Official Comment
New Celestial Skins for Martha, Fafnir, and Nebula and the "Forgotten Treasury" special event will appear in the game tomorrow! The new skins will increase Martha's Health and Fafnir's and Nebuals's Armor!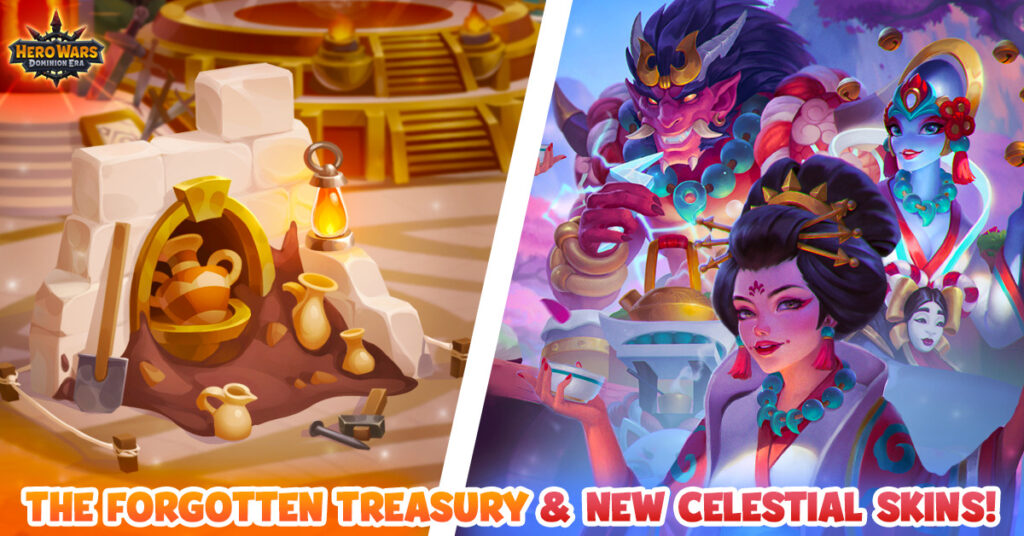 Flavor Text
Take the lead on your own archaeological excavation to find ancient vases, uncover their secrets, and obtain precious artifacts along with amazing magic powers!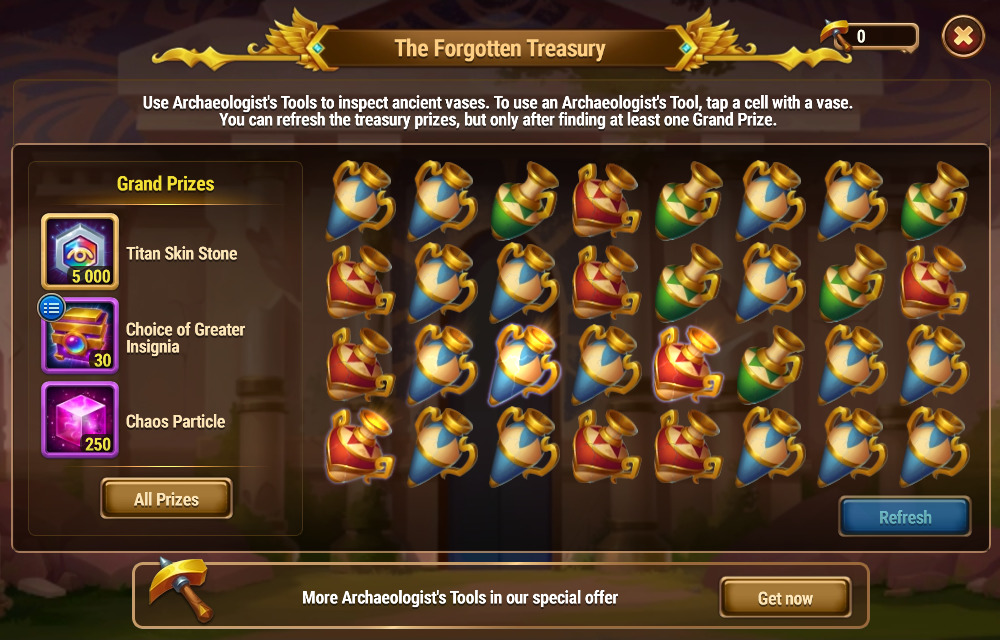 The Forgotten Treasury Description
The Forgotten Treasury Event Flow
Get the "Archaeologist's Tools" by completing quests or purchasing bundles.
Use the "Archaeologist's Tools" in the Ancient vases to obtain prizes.
Quest Order
1. Log in (MAX 7)
2. VIP Level (MAX 7)
3. Shopping (emeralds, special offers, skins, etc. included) (MAX 7)
4. Buy Emerald (MAX 90,000)
5. Spend Emerald (MAX 150,000)
6. Spend Energy (MAX 18,000)
7. Open chests in Tower (MAX 120)
8. Start or join Adventure (MAX 7)
All Quests
T.B.D.
The Forgotten Treasury Tasks and Returns
Archaeologist's Tool
Ancient vases
There are 3 Grand Prizes + 29 Prizes in place.
Grand Prize is worth approximately 1,000 emeralds or more.(Contains hypothesis)
Prize is worth approximately 100 to 300 Emeralds.(Contains hypothesis)
Avatars and frames are hobby elements that have no particular value in the game.
Prize avatars will be randomly changed each time the game is "Refresh".
If you pull all the avatars, you'll get 500,000 gold instead.
Avatars included in this update and the rest of the prizes will be visible on "All Prizes".
Ancient vases Playing
It's designed so that playing to collect avatars or whatever you can to build up your stock of items is likely to work.
If you want to be more efficient, theoretically it is more efficient to pull the remaining grand prizes when the ratio is 1/10 or less.
(This is a more profitable way to play!)
Playing for the item you want has a low probability of getting a good result.
The list of grand prizes and prizes are as follows.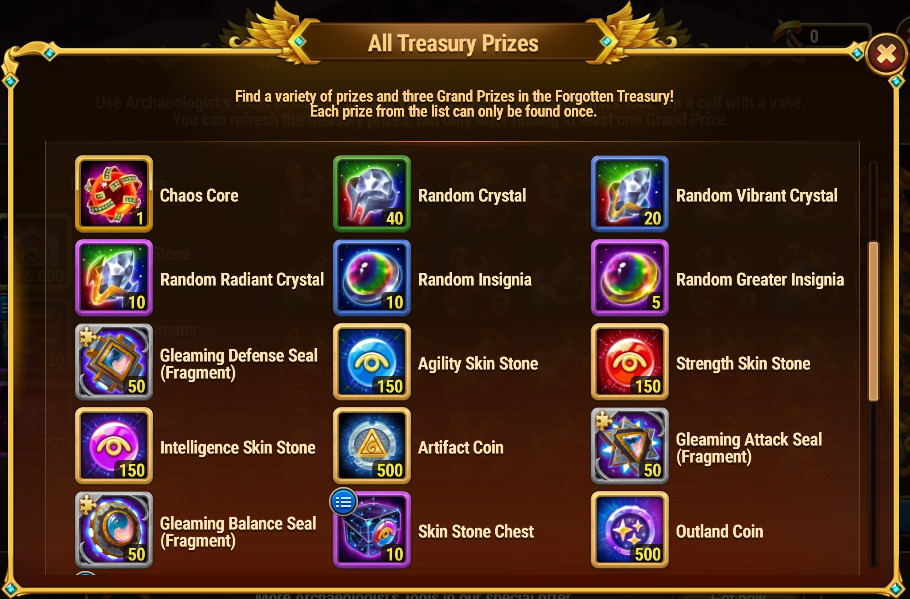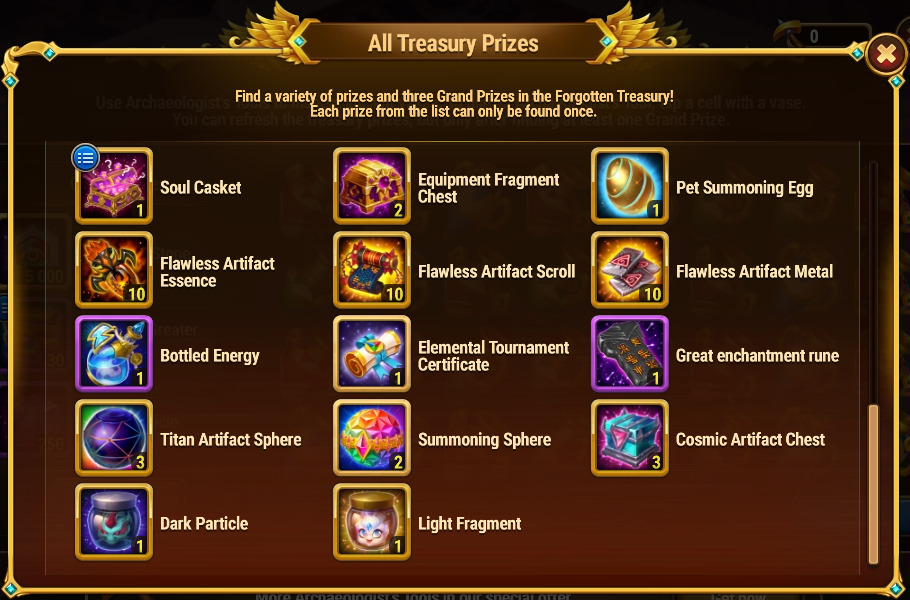 Celestial skin
Details about the Celestial Skin Addition
The skins will expand by 3 heroes.
Celestial Skins will be simultaneously accessible for all heroes upon the event's introduction.
Beyond the event, acquisition remains possible through standard means (Skin Stones or Bundles).
While a special store exists, its contents mirror the regular store with no added benefits.
No distinct advantages accompany the use of the Special Shop.
Obtain skins at your preferred pace, catering to your needs.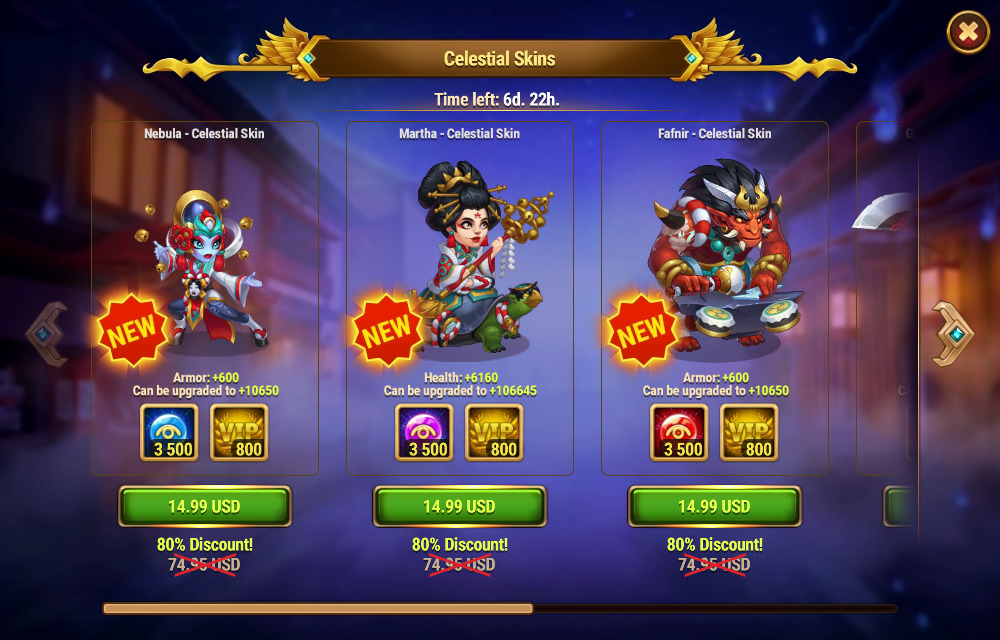 Supplementary Heroes for the Celestial Skin Collection
2023 : Martha, Fafnir, Nebula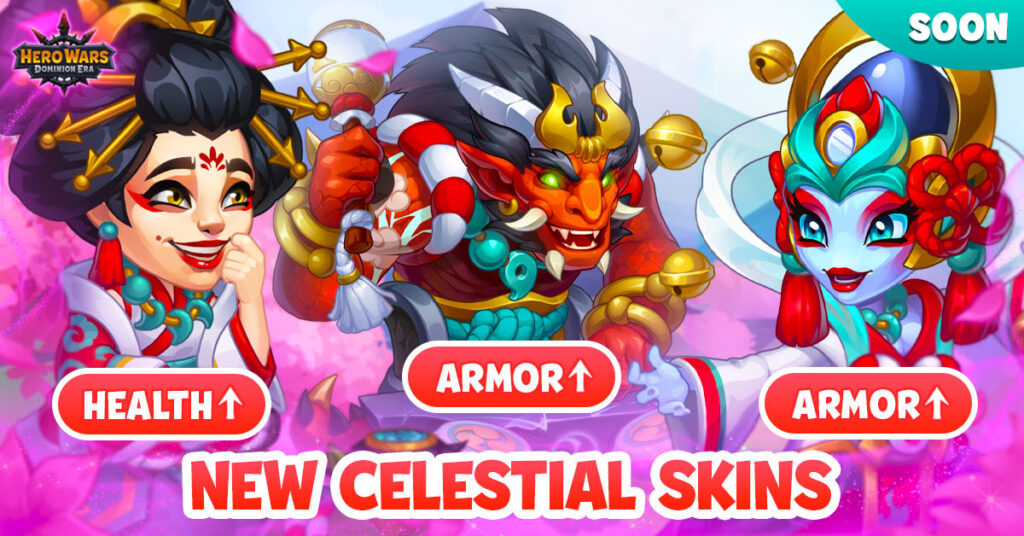 2022 : Galahad, K'arkh, Satori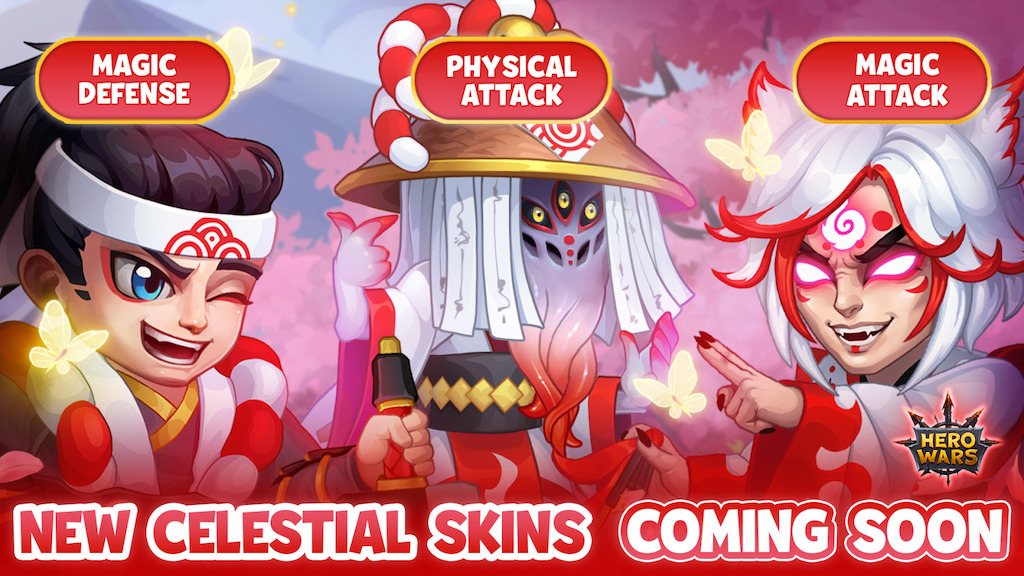 Understanding the Benefits and Drawbacks of Martha's Health Skin
About Forgotten Treasury Vase and after the event
Unclaimed bundle shares will be available in your Mail for 30 days.
Unclaimed quest rewards will be available in your Mail for 3 days.
If you have unused "Archaeologist's Tool", they will be converted to "Forgotten Treasury Vase" when you reload your browser.
You will receive this in your mail. There is no expiration date.
If you receive a chip key after the event, it will still be converted into a "Forgotten Treasury Vase" when you reload your browser.
If you haven't received a "Archaeologist's Tool" in the Mail with an expiration date, you may want to convert it to a "Forgotten Treasury Vase" with no expiration date. Please be careful!
"Forgotten Treasury Vase" can be opened by selecting "Use" from the consumables menu in your inventory.
The contents of the "Forgotten Treasury Vase" are the same as in the The Forgotten Treasury, but randomly selected.
The advantage of the "Forgotten Treasury Vase" is that it can be operated in one go, unlike the The Forgotten Treasury.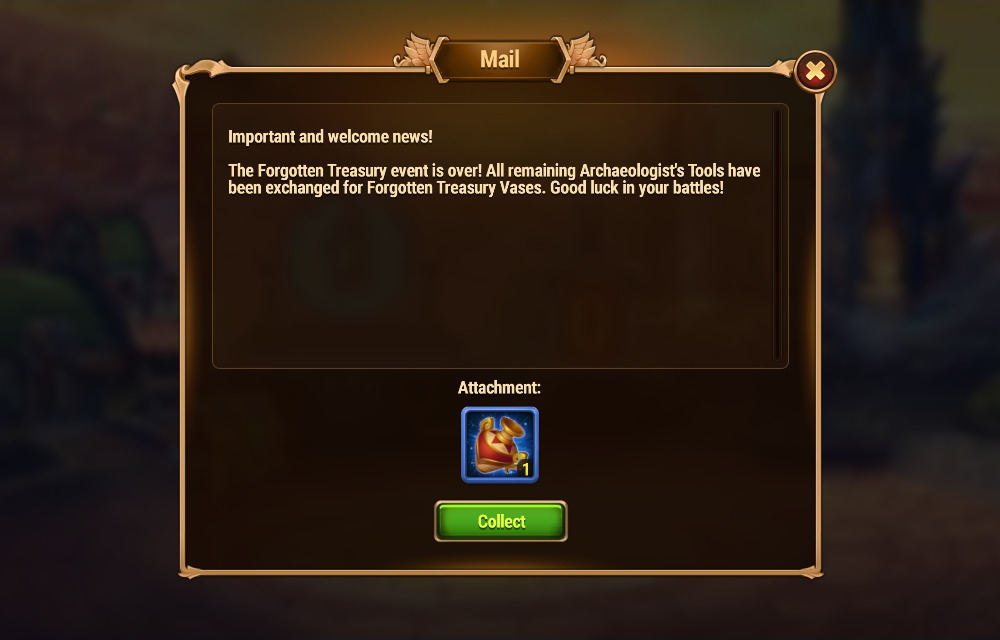 Event History
Tuesday, August 15, 2023 (7 days)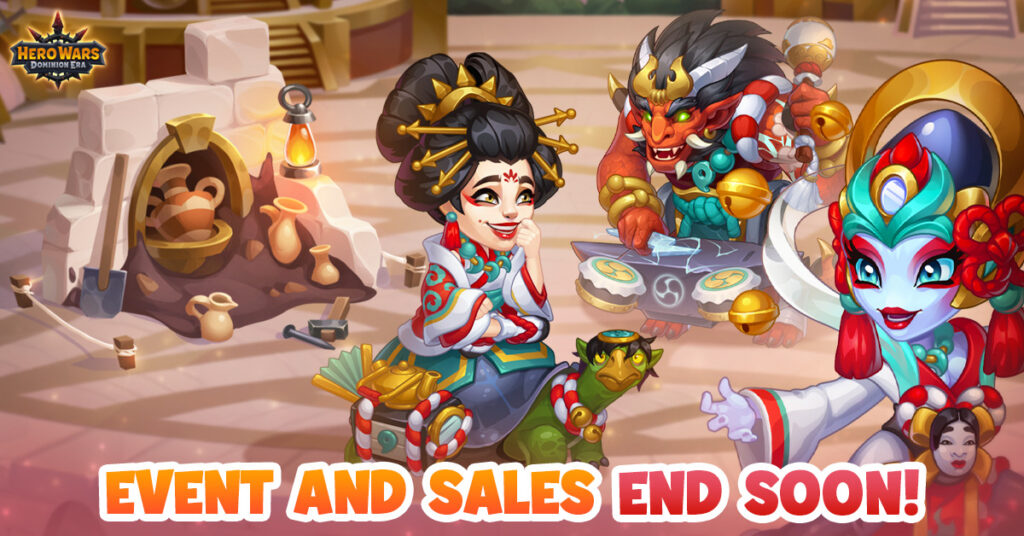 Bundle and Sales
Archaeologist's Bundle
Sale strategy
Emerald Waterfalls
Emerald x4 Sale
The Forgotten Treasury Event: Your Expert Buying Guide for Maximized Benefits
Cyber Monday
Related Events
Trial of the Heavens
Same Style Event
Spring Rebirth!
Blackbeard's Legacy
Cyber-con