About Cyber-con
Event with a strong sale element.
Largest of all sale events.
Best time to buy about 100,000 emeralds.
Flavor Text
Are you a total noob or a genuine console cowboy? Can you hack a megacorp's Cyber Vault and escape unnoticed? Will you hide behind a new avatar, or let yourself be caught? Either way, make the most of the treasures these days and nights have to offer!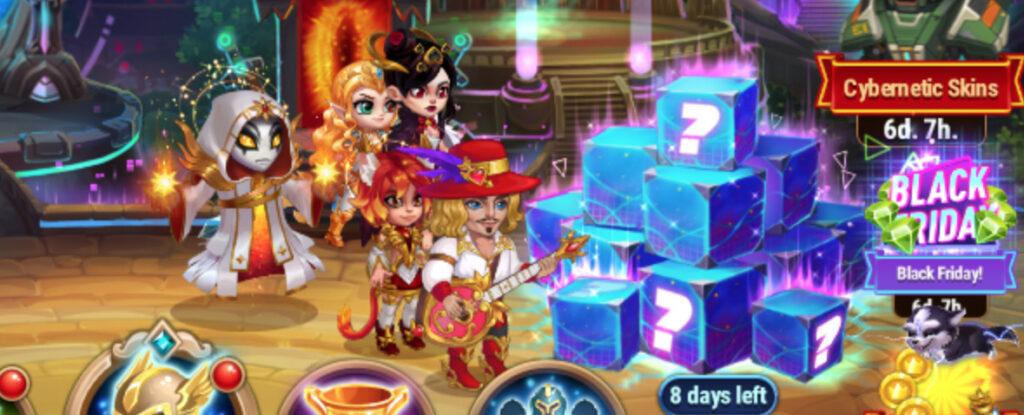 Guerrilla Event in 2023
Guerrilla event will be held in May 2023.
It is expected that the regular November event will be held as in previous years.
Content to coincide with the implementation of the Light and Dark Titan.
No frames, avatars, or skins will be added to the guerrilla event.
Encoder Streak quest rewards changed and cyber vault rewards reviewed as usual.
CyberCon Description
Cyber-con Event Flow
Get the "Chip Key" by completing quests or purchasing bundles.
Use the "Chip Key" in the cyber vault to obtain prizes.
Quests are relatively low in difficulty, except for those related to emeralds.
Cyber-con Quest Order
1.Log in (MAX 7)
2.VIP Level (MAX 7)
3. Shopping (MAX 7)
4. Buy Emeralds (MAX 90,000)
5.Spend Emeralds (MAX 150,000)
6. Spend energy (MAX 4,000)
7. Open treasure chests in the tower (MAX 120)
8. Join or start an adventure (MAX 7)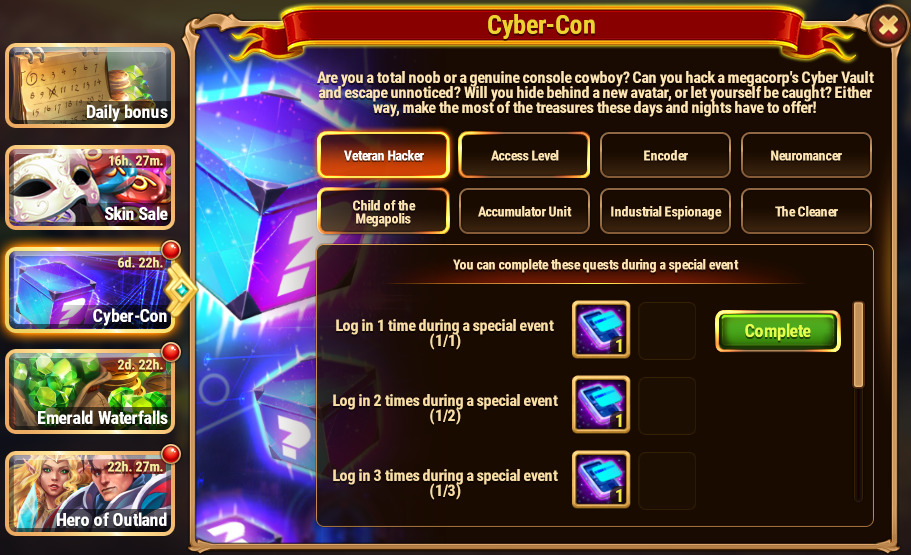 Cyber-con Quest Playing
Forcing yourself to complete quests will not give you the enhancements you are looking for in the "Chip Key".
If you plan to take advantage of the Emerald x4 sale, it's a relative bargain.
If you plan to take advantage of Black Friday, the "Chip Key" is a great bonus.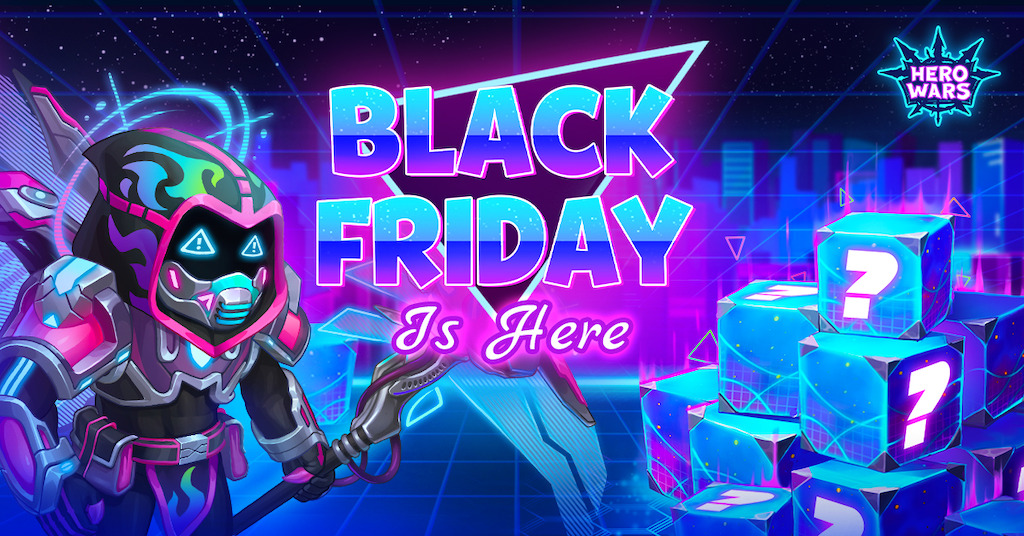 About the Make purchases quests
Main rewards are avatars and frames, but Chip Keys have been added since 2022.
More of a hobby element.
Even if you give up here, you may be able to get Avatar and Frame in the following year's events or in the Avatar Shop for a limited time (in that case, you'll have to get them with "Chip Key" or Gold).


All Quests
In 2021
In 2022
In 2023
Chip Key
Cyber Vault
Different lineup of prizes in 2020, 2021, 2022, and 2023.
There are 3 Grand Prizes + 29 Prizes in place.
Grand Prize is worth approximately 1,000 emeralds or more.(Contains hypothesis)
Prize is worth approximately 100 to 300 Emeralds.(Contains hypothesis)
Avatars and frames are hobby elements that have no particular value in the game.
Prize avatars will be randomly changed each time the game is "Refresh".
If you pull all the avatars, you'll get 500,000 gold instead.
Avatars included in this update and the rest of the prizes will be visible on "All Prizes".
If you have random crystals in your inventory, reload your browser and they will be converted accordingly.
→Add 2021.11.26: You can now select and use the consumables.
The event and bundle sales will last for 7 days, but the Cyber Vault itself will be available for 8 days.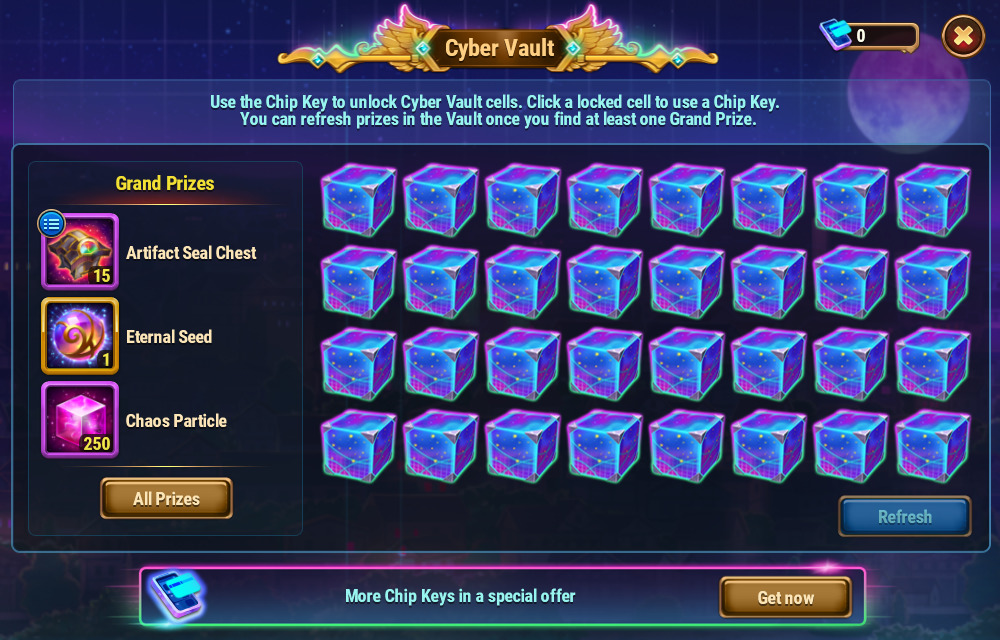 Cyber Vault Playing
It's designed so that playing to collect avatars or whatever you can to build up your stock of items is likely to work.
You can play for avatars or for efficiency. There are different ways to play.
If you're aiming for avatars, you'll want to aggressively press refresh until you get the avatar you want.
If you want to be more efficient, theoretically it is more efficient to pull the remaining grand prizes when the ratio is 1/10 or less.
(This is a more profitable way to play!)
Playing for the item you want has a low probability of getting a good result.
The list of grand prizes and prizes are as follows.
In 2021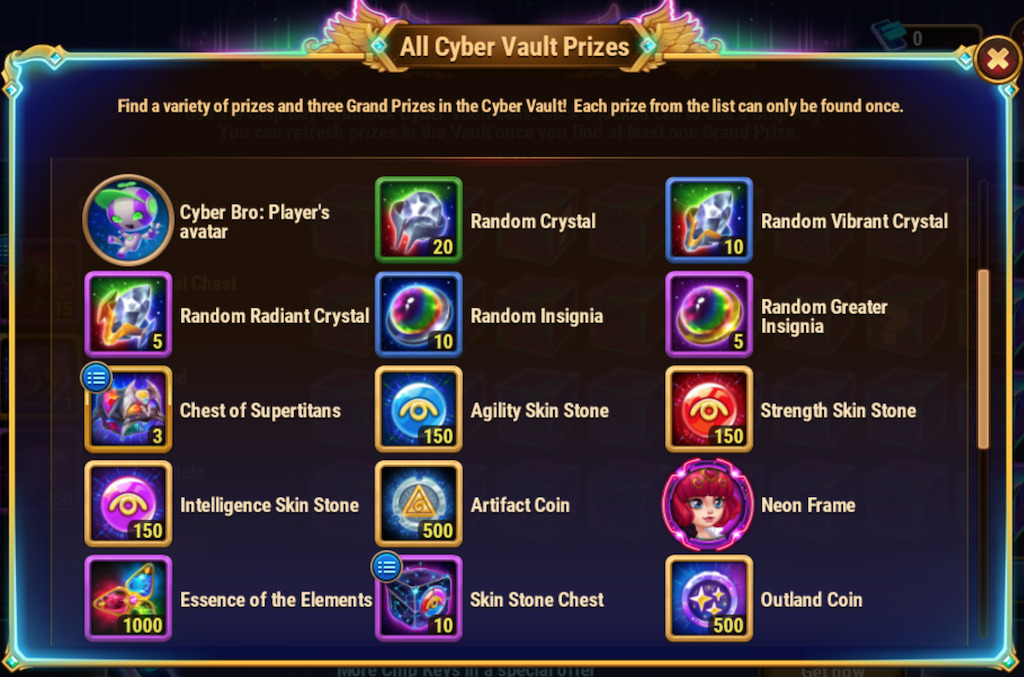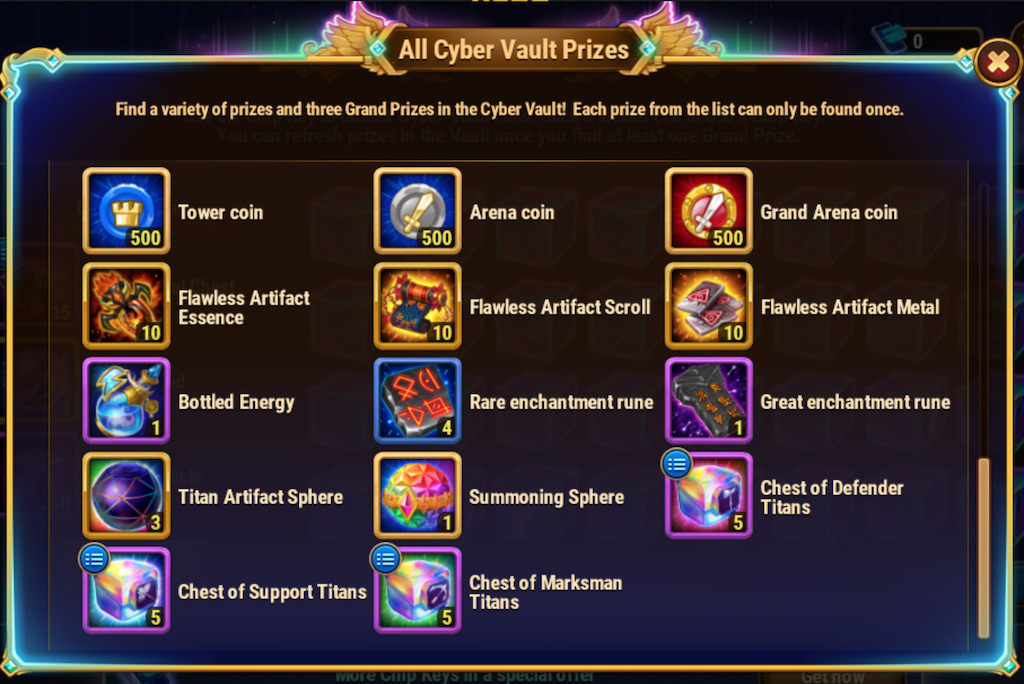 In 2022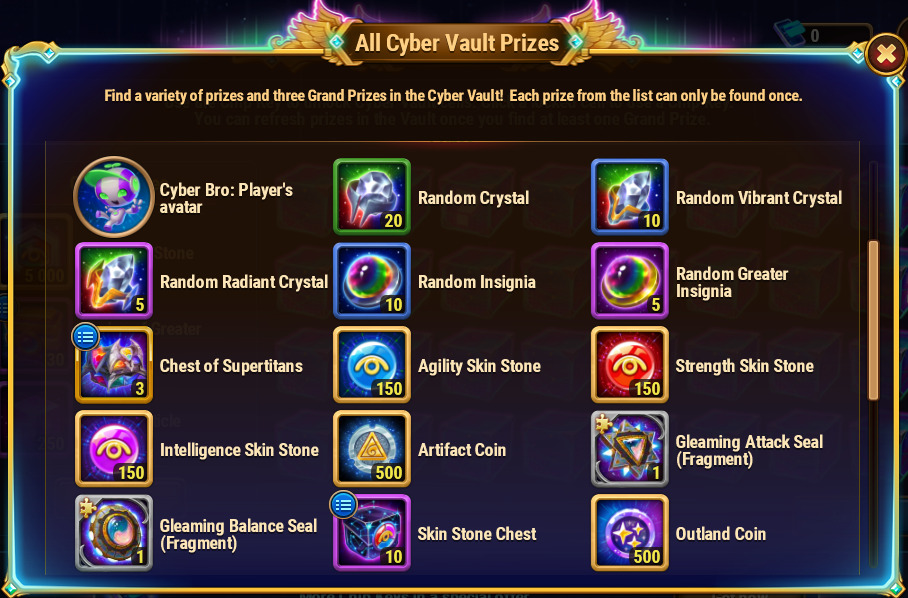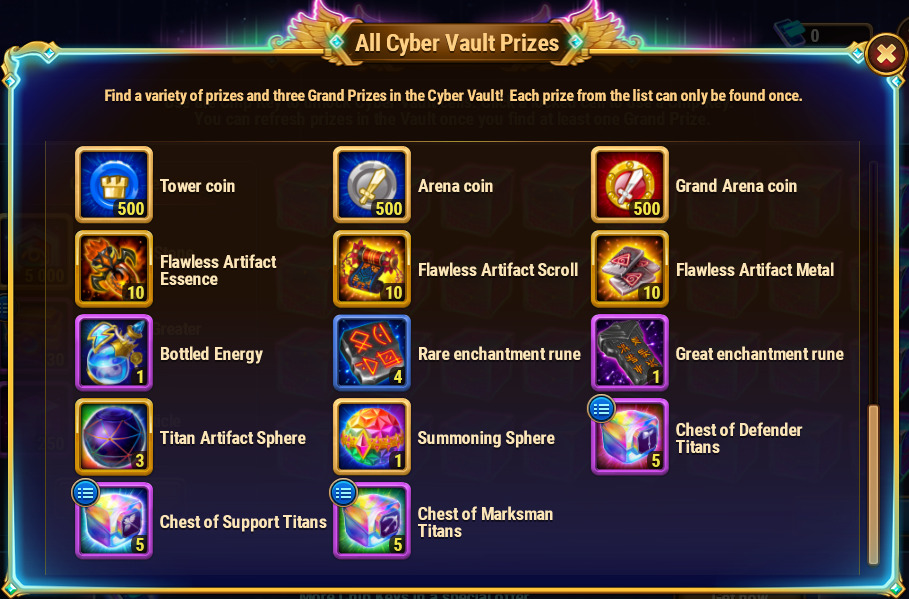 In 2023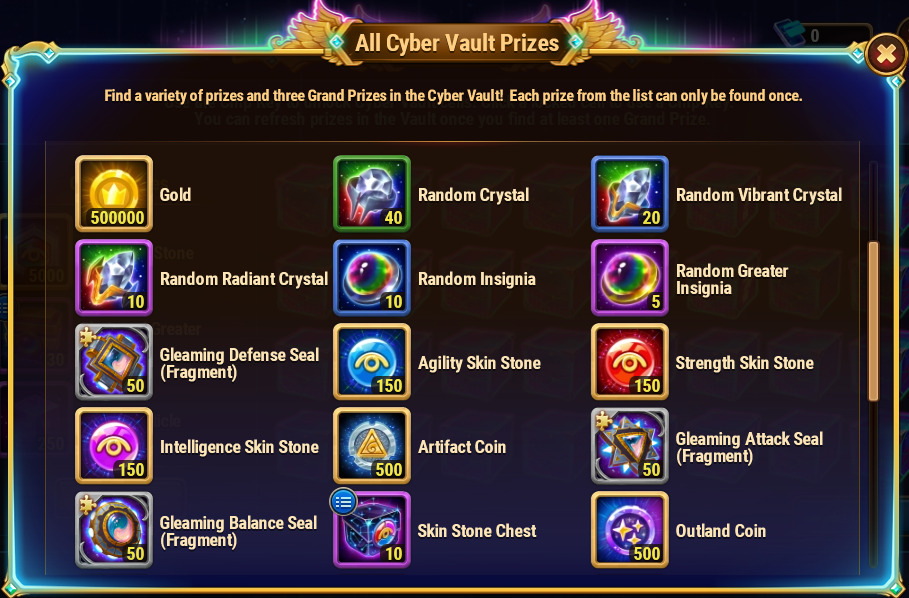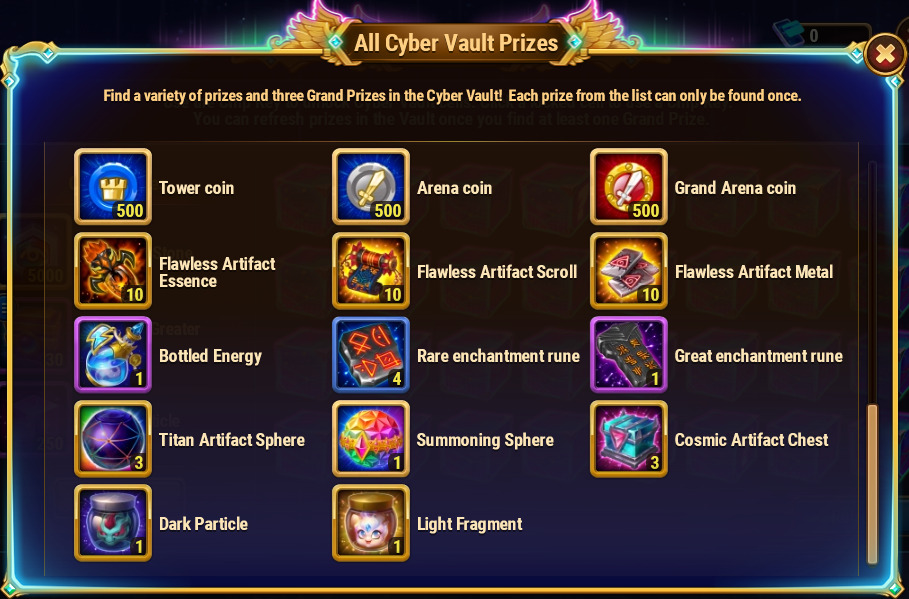 Gold
Once all avatars are acquired, 500,000 gold will be substituted thereafter.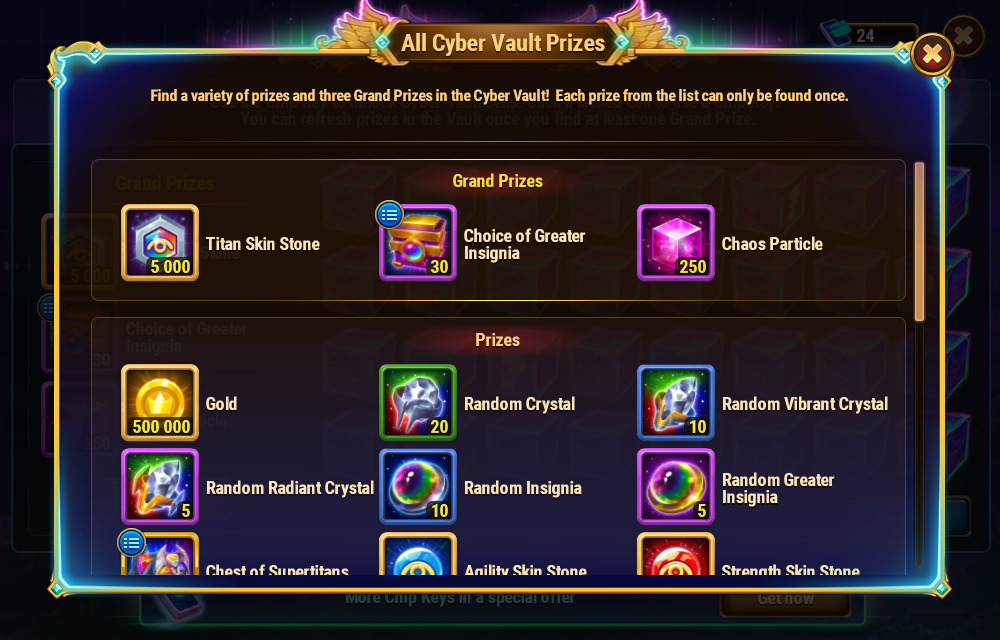 Frame
A frame will appear with a certain probability upon reset. The position of appearance is fixed.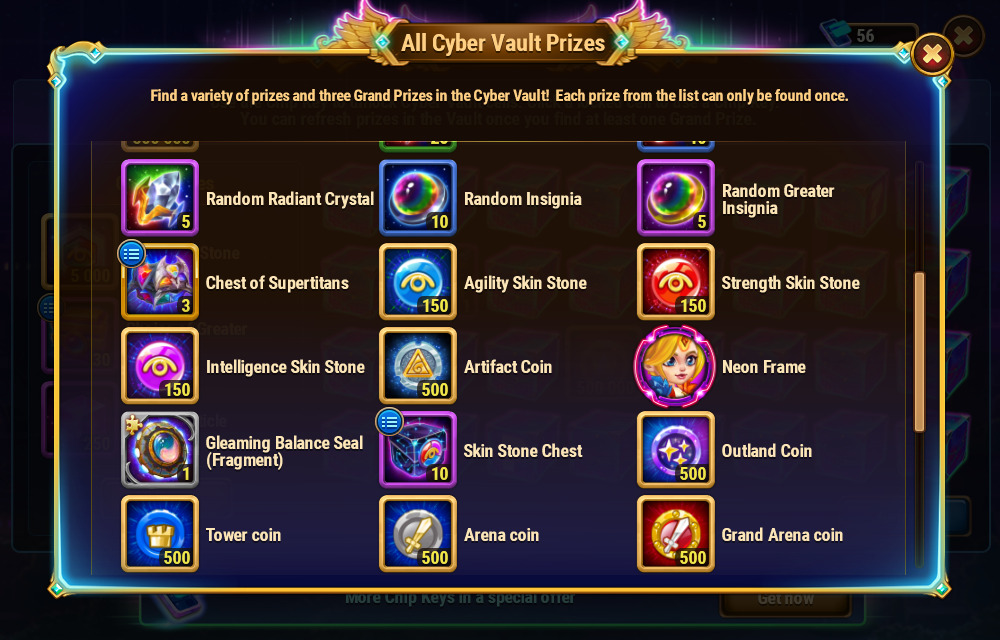 Group Gift
During this period, chip keys will also be distributed for free at the Group Gift URL.
Please don't forget to get it.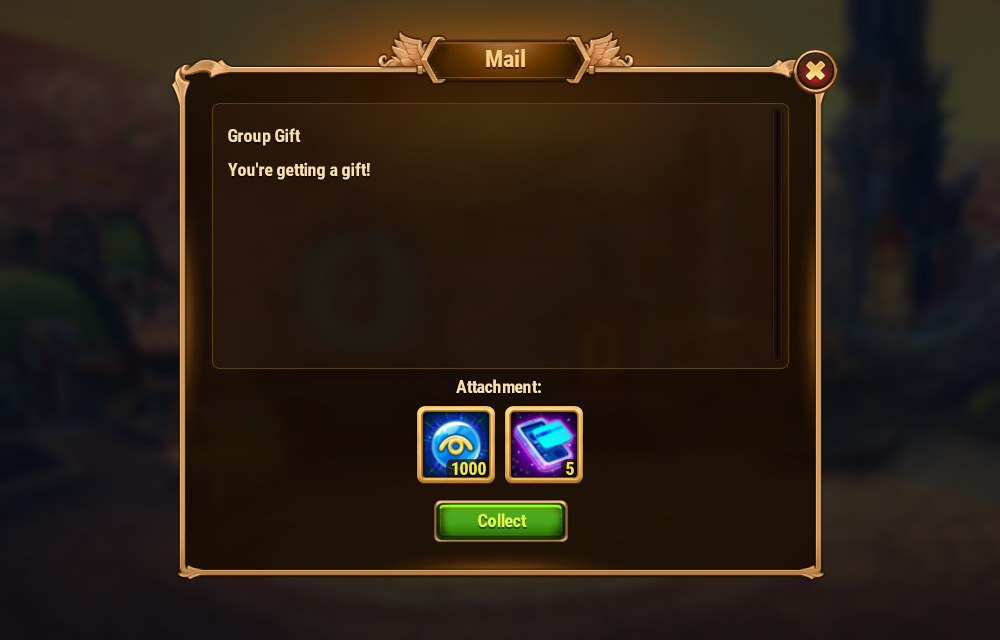 Cybernetic Skins
About the addition of the Cybernetic Skins
Added to three heroes.
Cybernetic Skinss will be available for the target heroes at the same time as the event is added.
After the event is over, you can still get it through normal means (Skin Stone or Bundle).
There is a special shop, but the content is the same as the regular shop and there are no benefits.
There is no advantage to use the special shop.
If you need a Cybernetic Skins, you can procure it at your own pace when you need it.
About the additional heroes for the Cybernetic Skinss
The number of Cybernetic Skinss is increased by 3 each year for this event since 2021.
Note: that no skins were added for the May 2023 guerrilla event.
2022 : Amira, Fox, Iris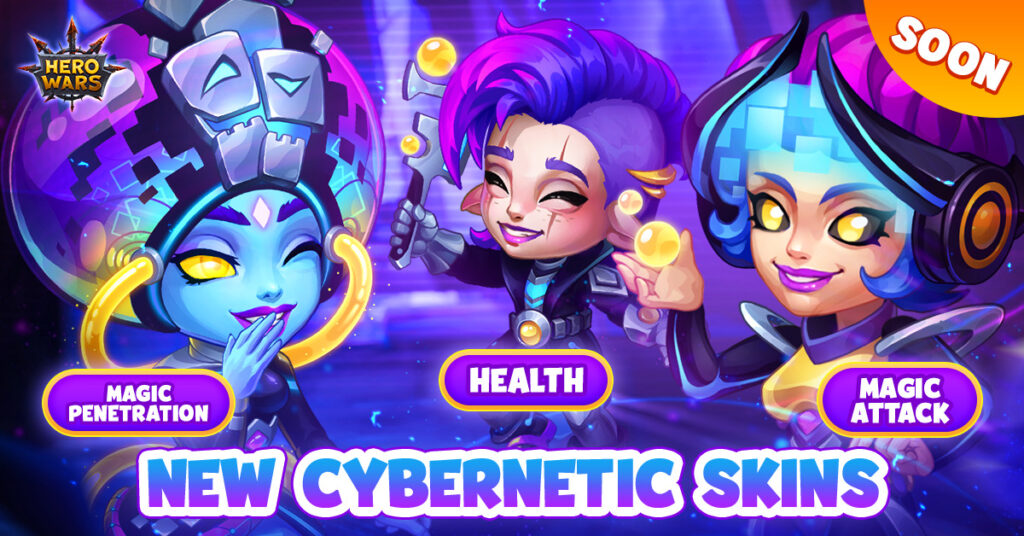 2021 : Astaroth, Cornelius, Elmir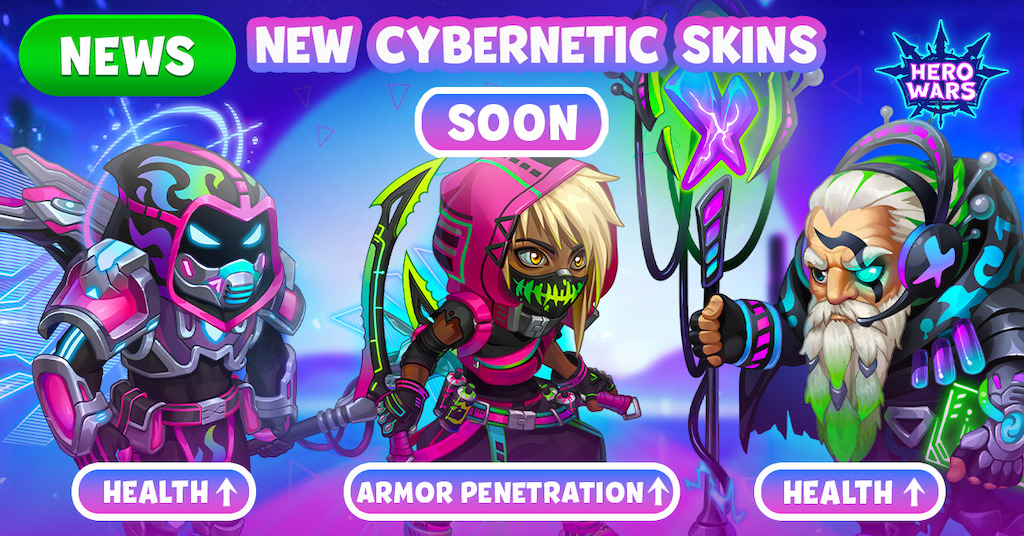 2020 : Krista, Lars, Luther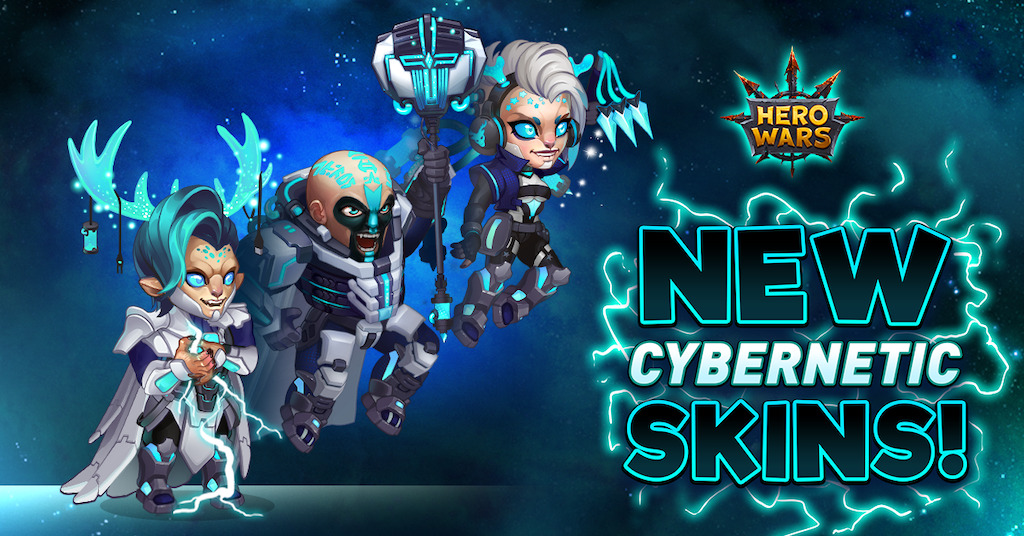 2019 : Satori, Orion ,Mojo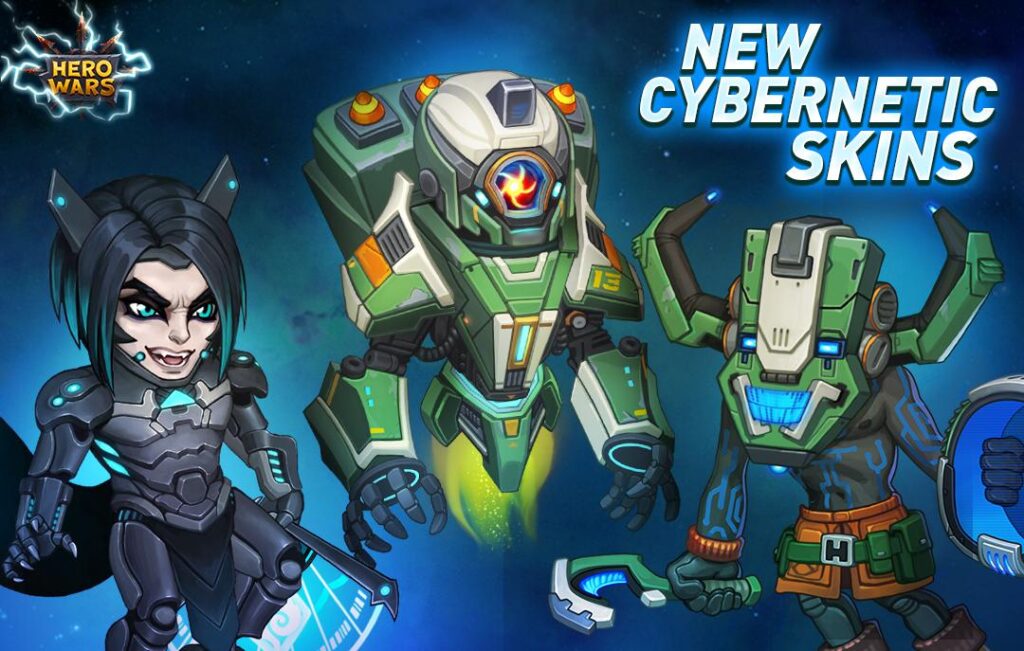 2017 : Ziri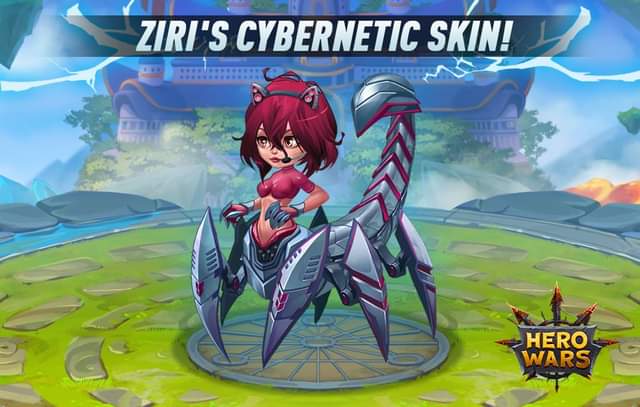 Cyber-con bundles and sale
Dates
2020-2022, in previous years, are as follows.
| | | | | | | | |
| --- | --- | --- | --- | --- | --- | --- | --- |
| | Day 1 | Day 2 | Day 3 | Day 4 | Day 5 | Day 6 | Day 7 |
| | Tuesday | Wednesday | Thursday | Friday | Saturday | Sunday | Monday |
| Hacker's Bundle | ◯ | ◯ | ◯ | ◯ | ◯ | ◯ | ◯ |
| Black Friday | ◯ | ◯ | ◯ | ◯ | ◯ | ◯ | ◯ |
| Emeralds x4 Sale | | | ◯ | ◯ | ◯ | ◯ | |
| Cyber Monday | | | | | | | ◯ |
Hacker's Bundle
Black Friday
For more information about Black Friday , please refer to the following.
Emerald x4 Sale
Cyber Monday
For more information about Cyber Monday , please refer to the following.
Cybernetic Skins
These skins are just being picked up.
You don't have to buy them right now, you can always get them under the same conditions.
If you don't need it right now, get it when you really need it!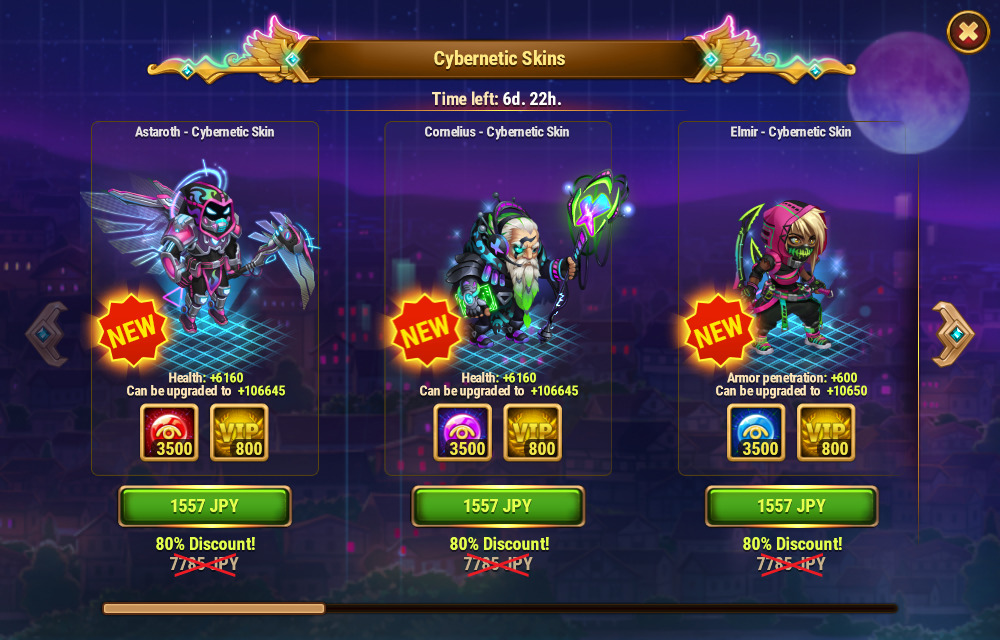 Black Friday Best Buy
About Strongbox and after the event
Unclaimed bundle shares will be available in your Mail for 30 days.
Unclaimed quest rewards will be available in your Mail for 3 days.
If you have unused "Chip key", they will be converted to "Strongbox" when you reload your browser.
You will receive this in your mail. There is no expiration date.
If you receive a chip key after the event, it will still be converted into a "Strongbox" when you reload your browser.
If you haven't received a "Chip key" in the Mail with an expiration date, you may want to convert it to a "Strongbox" with no expiration date. Please be careful!
"Strongbox" can be opened by selecting "Use" from the consumables menu in your inventory.
The contents of the "Strongbox" are the same as in the Cyber Vault, but randomly selected.
The advantage of the "Strongbox" is that it can be operated in one go, unlike the Cyber Vault.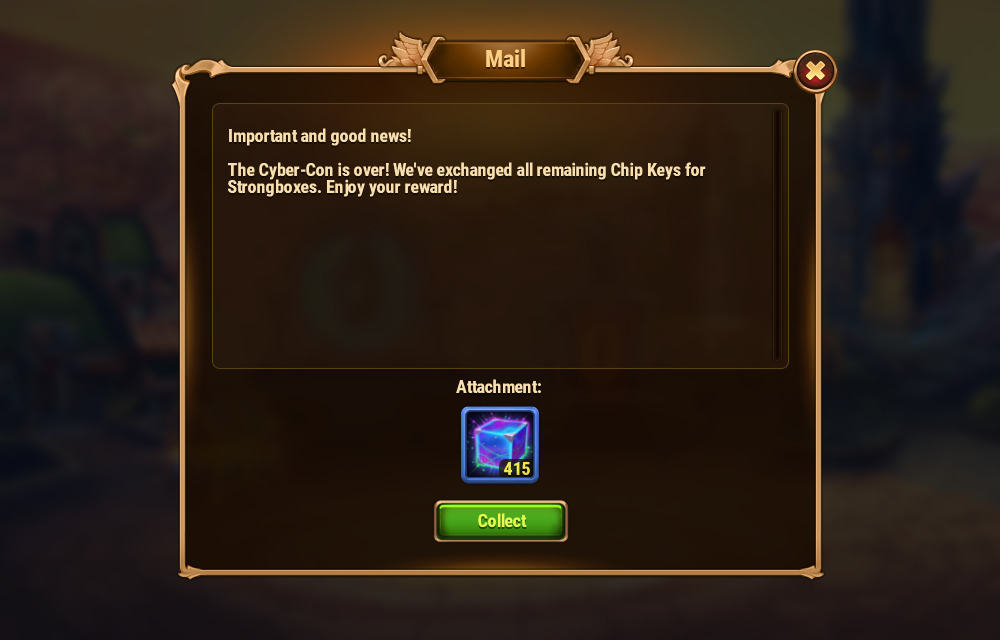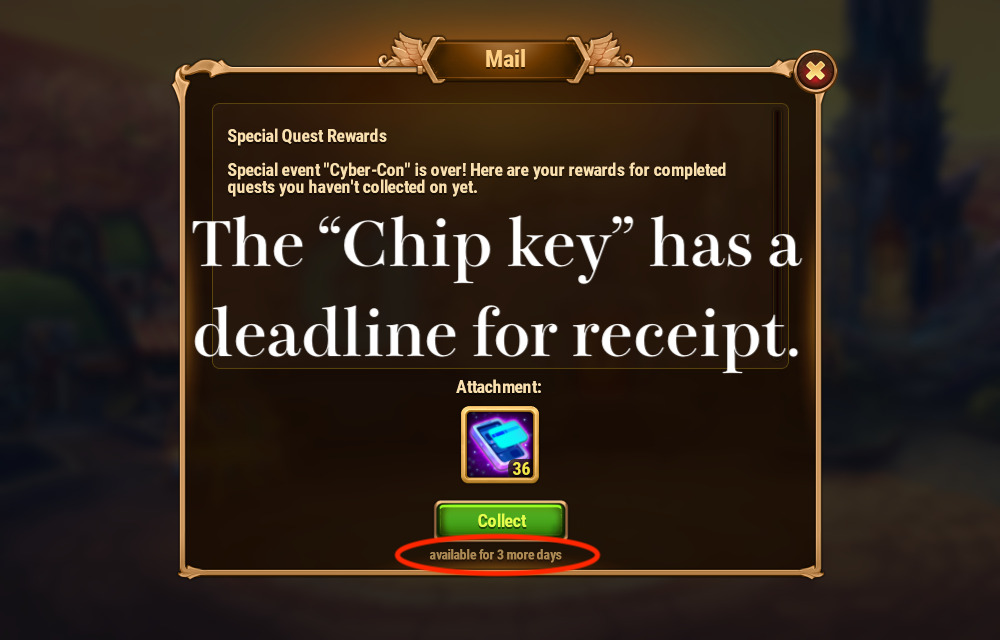 Event History
Tuesday, November 24, 2020 (7 days)
Tuesday, November 23, 2021 (7 days)
Tuesday, November 22, 2022 (7 days)
Tuesday, May 22, 2023 (7 days)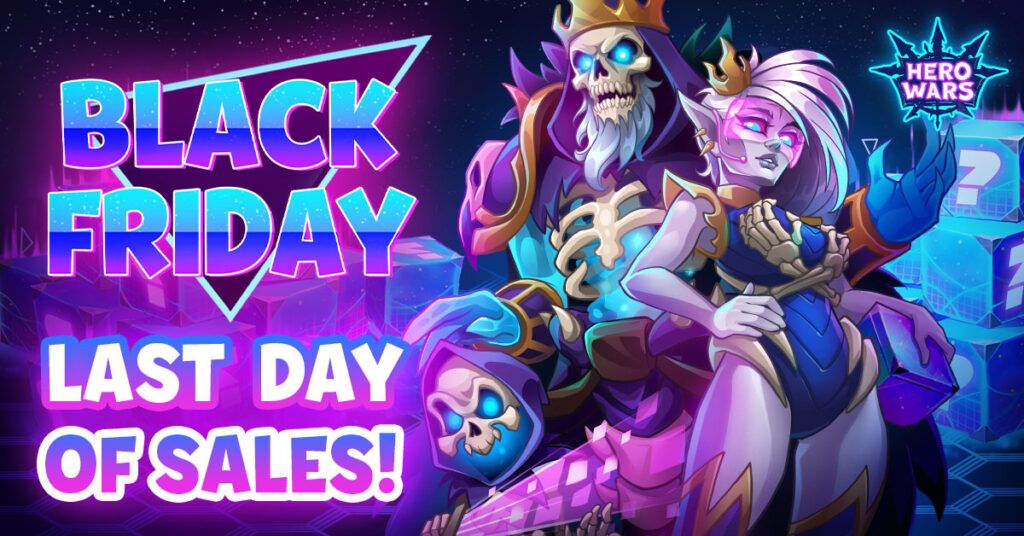 Same Style Event
Spring Rebirth!
Blackbeard's Legacy
The Forgotten Treasury