What is the Blackbeard's Legacy?
The event began in 2021.
In 2021, it will coincide with the Sale Event and Treasure Island.
Blackbeard's Legacy has a similar style to Cyber-Con.
The event quests are generally less difficult, except for those related to Emeralds.
The event will last for 6 days in 2021 and 2022, and 7 days in 2023.
Flavor Text
Captain Blackbeard was a cruel and greedy fellow. The whole of the Dominion hated him! But ever since the Pirate King found his demise in the depths of the ocean, treasure hunters are finding more and more remnants of his legacy.
About the 2023 Edition
Log-in bonuses and adventure quests are available for 6 days, but the event itself runs for 7 days.
Astral Seer is not included in the sale event.
There is an increased focus on emerald purchases and usage for top rewards, but avatars and frames are not included.
Buccaneer Stash has undergone a prize content redesign and now offers the same rewards as Cyber-Con 2023.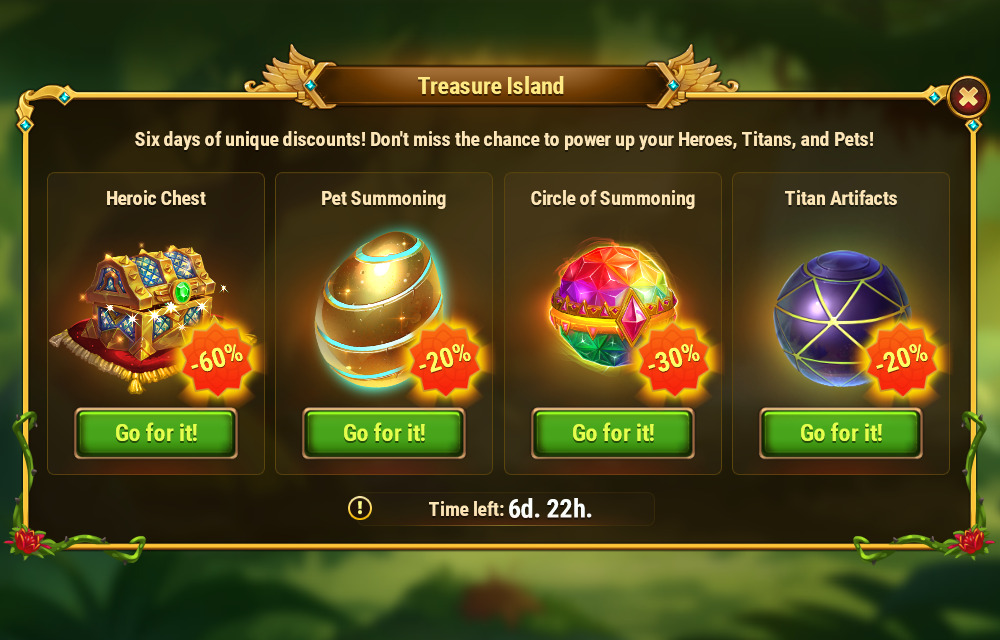 Blackbeard's Legacy Play Guide
Blackbeard's Legacy Event Flow
Obtain the "Pirate Key" by completing quests or purchasing bundles.
Use the "Pirate Key" on Buccaneer Stash to acquire prizes.
The quest difficulty is somewhat unique.
Blackbeard's Legacy Quests Order
1. Log in (MAX 6)
2. VIP Level (MAX 7)
3. Buy Emerald (MAX 90,000)
4. Spend Emerald (MAX 150,000)
5. Spend Energy (MAX 3,500)
6. Open Tower Chest (MAX 100)
7. Start or join 1 Adventure (MAX 6)
8. Arena/Grand Arena Battles (MAX 45)
All Quests
In 2023
In 2021 – 2022
Playing Blackbeard's Legacy Quests
Forcing yourself to complete quests will not yield the enhancements you seek in the "Pirate Key."
This is not a cost-effective event. It is recommended to proceed slowly and avoid overexertion.
Tower and adventure quests are available. On the day the event starts, ensure you don't complete your morning activities before the event begins.
By the way, there are 397 "Pirate Keys" that can be obtained by completing all quests.
Why is it recommended for starters?
If you have been playing the game for about a year, you likely already have the Super Titans and Hero Soul Stones you desire.
Collecting Super Titans and Hero Soul Stones should be a priority in the first 3-4 months of the game.
Since obtaining Soul Stones for certain heroes, like Martha, is challenging through normal gameplay, obtaining treasure chests here and opening them during events where Soul Stone quests exist will effectively improve your team.
Two of the three grand prizes directly address these issues: the Chest of Supertitans and Lesser Hero Soul Stones Chest.
The remaining grand prize, Chaos Particle, is important for all players!
About the 2023 Edition for starters
As a result of these revamped rewards, the structure of the event is no longer exclusively catered to starters, but rather to all players.
Many of the rewards are valuable for starters as well, as they aim to enhance their teams and progress over the long term.
Buccaneer Stash
There are 3 Grand Prizes + 29 other prizes available.
Each Grand Prize is worth approximately 1,000 emeralds or more (estimated).
Each prize is worth approximately 100 to 300 emeralds (estimated).
Avatars and frames are cosmetic elements that hold no significant value in the game.
Prize avatars will be randomly changed each time the game is refreshed.
If you collect all the avatars, you will receive 500,000 gold instead.
The avatars included in this update and the rest of the prizes can be viewed in the "All Prizes.
The event and bundle sales will last for 6 days, but the Buccaneer Stash itself will be available for 7 days. (If 7 days event, Buccaneer Stash is 8 days)
Buccaneer Stash Playing
It's designed so that playing to collect avatars or whatever you can to build up your stock of items is likely to work.
You can play for avatars or for efficiency. There are different ways to play.
If you're aiming for avatars, you'll want to aggressively press refresh until you get the avatar you want.
If you want to be more efficient, theoretically it is more efficient to pull the remaining grand prizes when the ratio is 1/10 or less.
(This is a more profitable way to play!)
Playing for the item you want has a low probability of getting a good result.
The list of grand prizes and prizes are as follows.
In 2023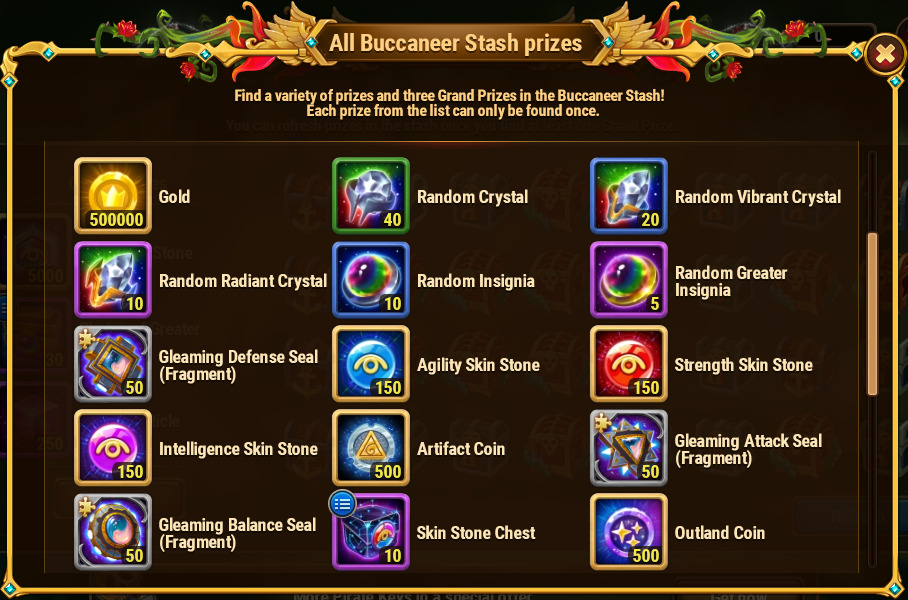 In 2021 – 2022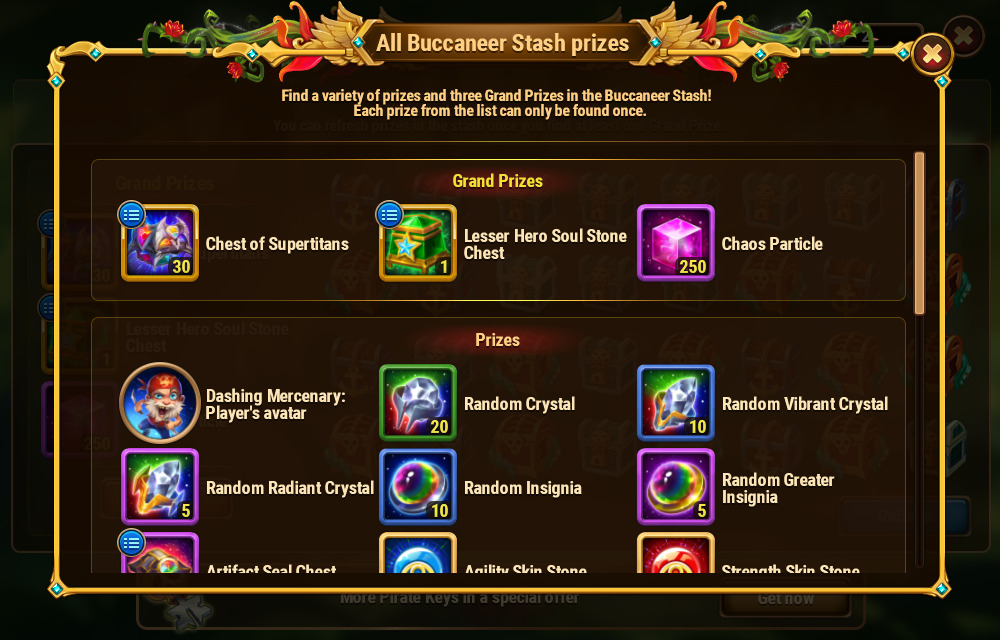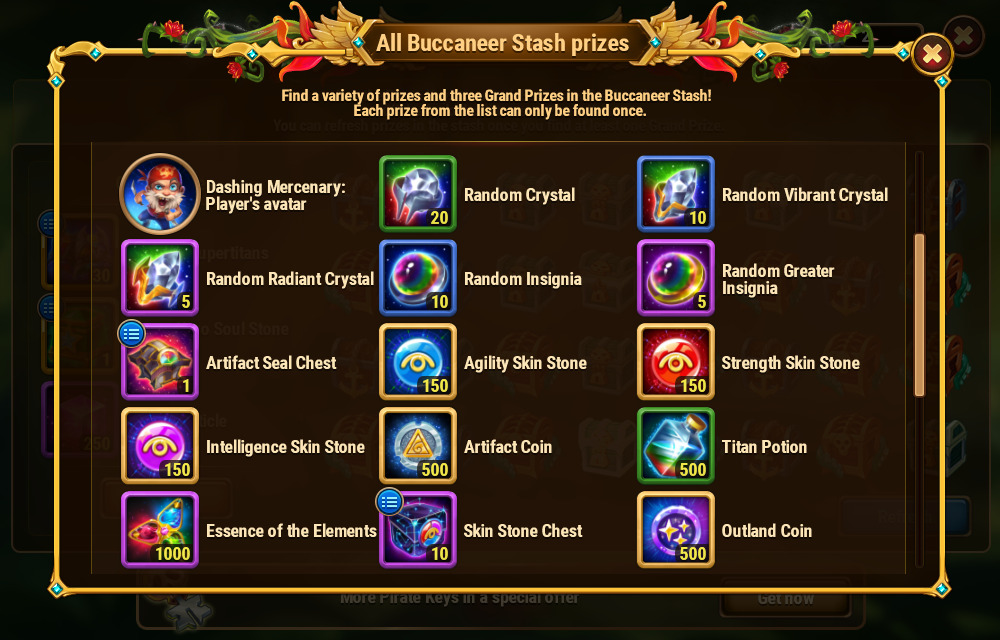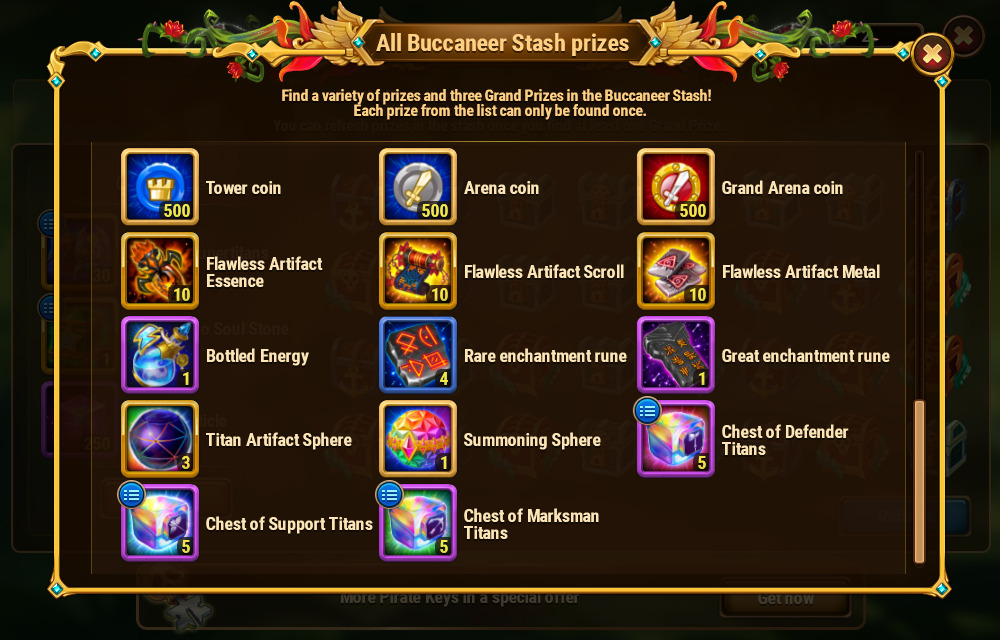 Pirate Key
Group Gift.
During this period, Pirate Keys may also be distributed for free at the Group Gift URL.
Please don't forget to get it.
The Frames
One frame available in the quest, and the rest appear in the Easter adventure, randomly replacing the Titan Potion.
Frames that you fail to obtain this year will have the same opportunity to be obtained at the same event the following year in the same Easter adventure.
Frames obtained through quests will be changed to Easter adventures from the following year onwards
List of Frames
Currently, two different frames are available for this event
Tropical Frame
Brave Captain Frame


Indication of frame appearance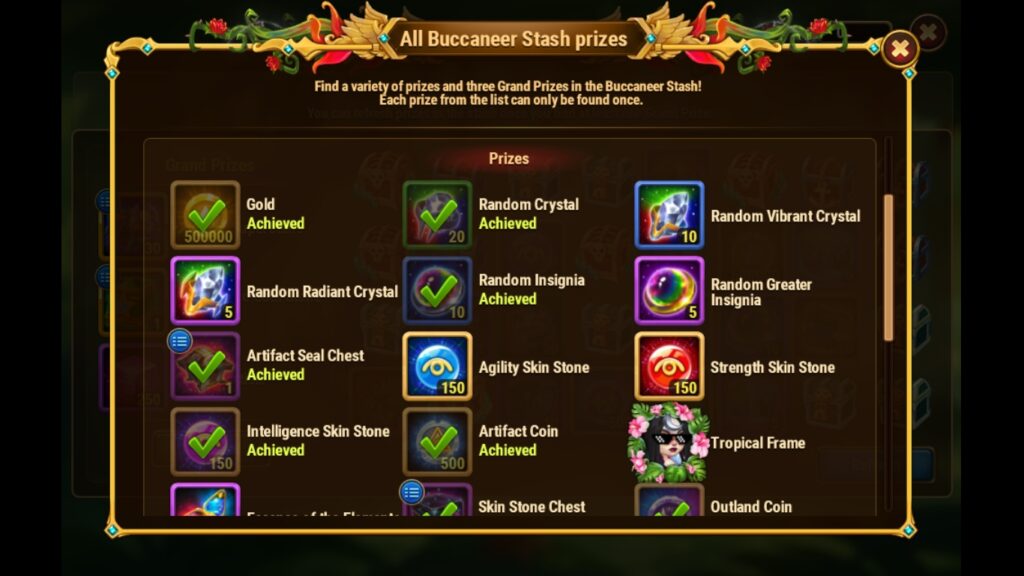 About Post-Event
Unclaimed bundle shares will remain available in your Mail for 30 days.
Unclaimed quest rewards will remain available in your Mail for 3 days.
If you have unused "Pirate Keys," they will be converted into the "Buccaneer Stash (Same Name Item)" when you reload your browser. You will receive this in your mail, and there is no expiration date.
Even if you receive a Pirate Key after the event, it will still be converted into a "Buccaneer Stash" when you reload your browser.
If you haven't received a "Pirate Key" in the Mail with an expiration date, you may want to convert it into a "Buccaneer Stash" with no expiration date. Please be cautious!
"Buccaneer Stash" can be opened by selecting "Use" from the consumables menu in your inventory.
The contents of the "Buccaneer Stash" are the same as those in the Buccaneer Stash but randomly selected.
The advantage of the "Buccaneer Stash" is that it can be used all at once, unlike the Buccaneer Stash (in event).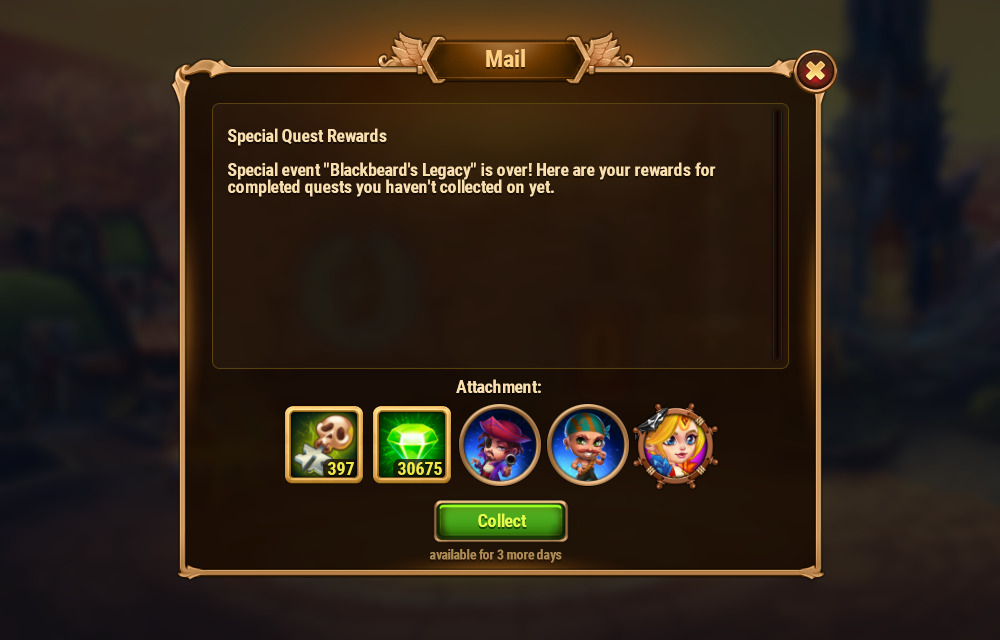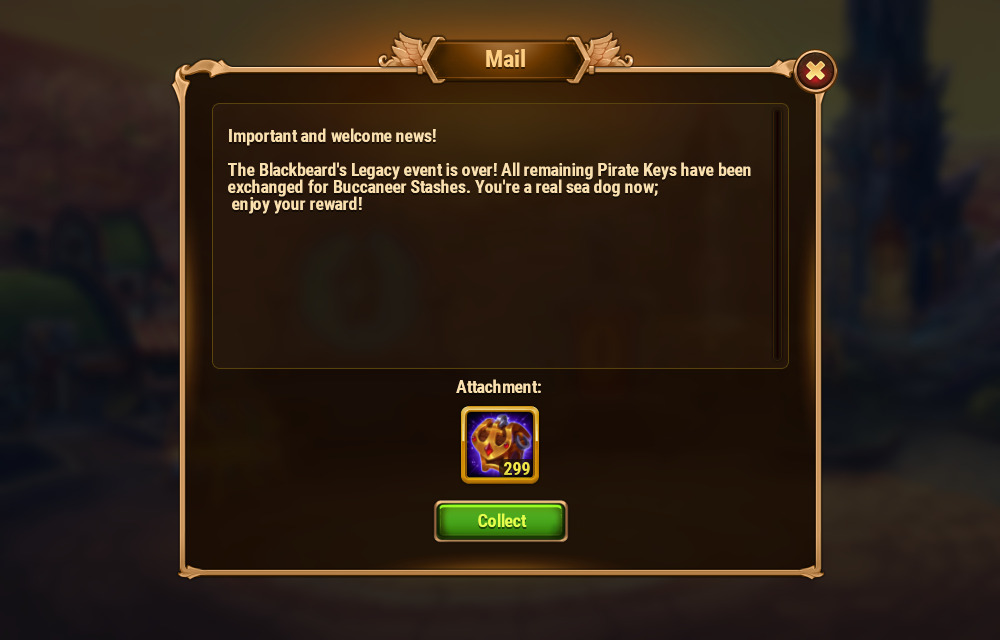 Treasure Island
This event is one of the three annual sale events held concurrently.
Please refer to the description and playing recommendations below.
Event History
Tuesday, July 20, 2021 (6 days)
Friday, May 06, 2022 (6 days) *This schedule for select servers only
Monday, June 13, 2022 (6 days)
Monday, June 9, 2023 (7 days)
Bundle
Concurrent Events
In 2023
Foundations of Power
Secret Wealth
Same Style Events
Cyber-con
Spring Rebirth!
Related Articles
Seasonal Events