What is the Blackbeard's Legacy?
The event started in 2021.
2021 will be held in conjunction with Sale Event and Treasure Island.
Cyber-Con, Spring Rebirth! Same style as.
Less difficult quests except those related to Emerald.
Flavor Text
Captain Blackbeard was a cruel and greedy fellow. The whole of the Dominion hated him! But ever since the Pirate King found his demise in the depths of the ocean, treasure hunters are finding more and more remnants of his legacy.
Blackbeard's Legacy Quest Details
1. Log in (MAX 6) : Achieved naturally by logging in to Hero Wars every day
2. VIP Level (MAX 7) : Achieved automatically when you meet the VIP level
3. Buy Emerald (MAX 90,000) : Basically through
4. Spend Emerald (MAX 150,000) : Efficient to use in Outland and Campaign
5. Spend Energy (MAX 3,500) : Use x50 Emeralds 2 every day.
6. Open Tower Chest (MAX 100): 6 days x 15 each & +15 for the time difference
7. Start or join 1 Adventure (MAX 6): Raids also count.
8. Arena/Grand Arena Battles (MAX 45): You don't have to win, just complete them.
All Quests
Blackbeard's Legacy Quest Playing
Forcing yourself to complete quests will not give you the enhancements you are looking for in the "Pirate Key".
It is not a cost-effective event. Recommended to proceed slowly and without overdoing it.
There are tower and adventure quests. On the day the event starts, we want to make sure that you don't finish your morning activities before the event begins.
By the way, there are 397 "Pirate Keys" that can be obtained by completing all quests.
Why is it recommended for those just starting out?
If you have been playing the game for about a year, you will naturally have the Super titans and Hero Soul Stones you want.
Collecting Super titans and Hero Soul Stones is a priority for the first 3-4 months of the game.
Since obtaining Soul stones for some heroes, such as Martha, is difficult in normal playing, obtaining treasure chests here and opening them in conjunction with events where soul stone quests exist will efficiently improve the strength of the game.
Two of the three grand prizes directly address these issues, the Chest of Supertitans and Lesser Hero Soul Stones Chest.
The one remaining grand prize winner is also a Chaos Particle that is important to all of us!
Buccaneer Stash
There are 3 Grand Prizes + 29 Prizes in place.
Grand Prize is worth approximately 1,000 emeralds or more.(Contains hypothesis)
Prize is worth approximately 100 to 300 Emeralds.(Contains hypothesis)
Avatars and frames are hobby elements that have no particular value in the game.
Prize avatars will be randomly changed each time the game is "Refresh".
If you pull all the avatars, you'll get 500,000 gold instead.
Avatars included in this update and the rest of the prizes will be visible on "All Prizes".
The event and bundle sales will last for 6 days, but the Buccaneer Stash itself will be available for 7 days.
Buccaneer Stash Playing
It's designed so that playing to collect avatars or whatever you can to build up your stock of items is likely to work.
You can play for avatars or for efficiency. There are different ways to play.
If you're aiming for avatars, you'll want to aggressively press refresh until you get the avatar you want.
If you want to be more efficient, theoretically it is more efficient to pull the remaining grand prizes when the ratio is 1/10 or less.
(This is a more profitable way to play!)
Playing for the item you want has a low probability of getting a good result.
The list of grand prizes and prizes are as follows.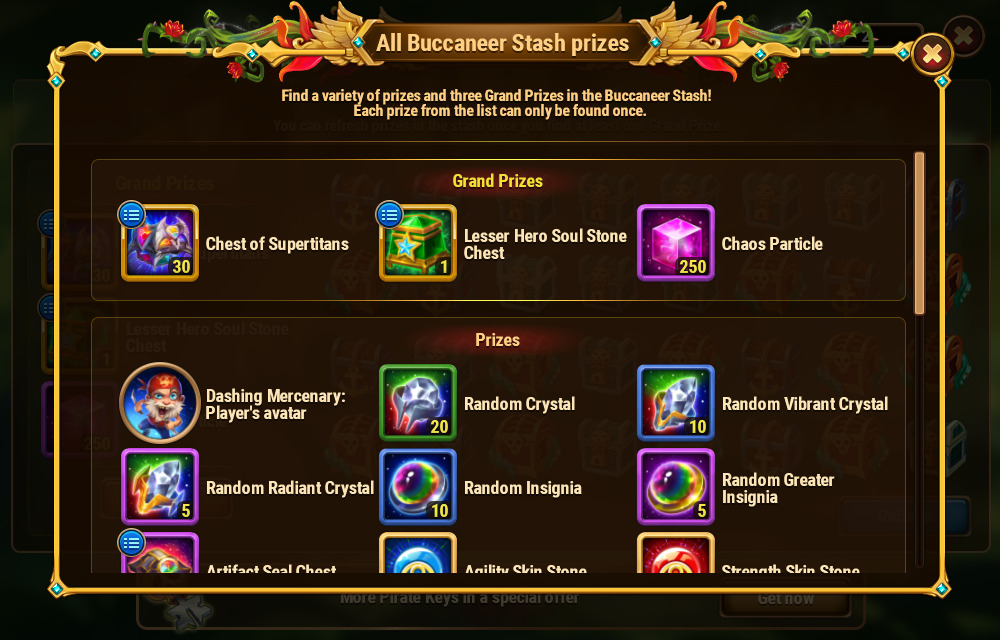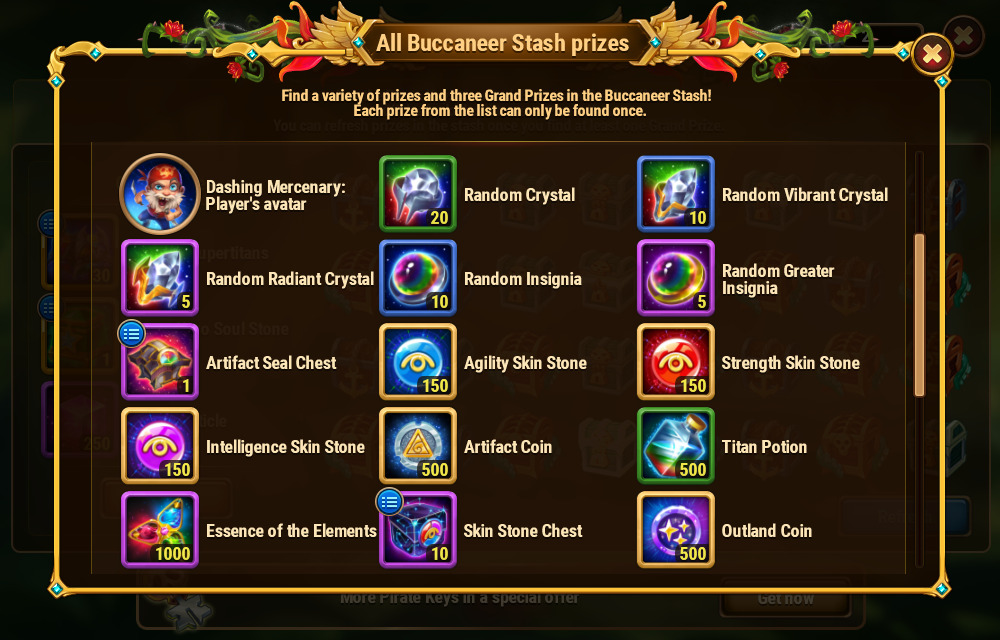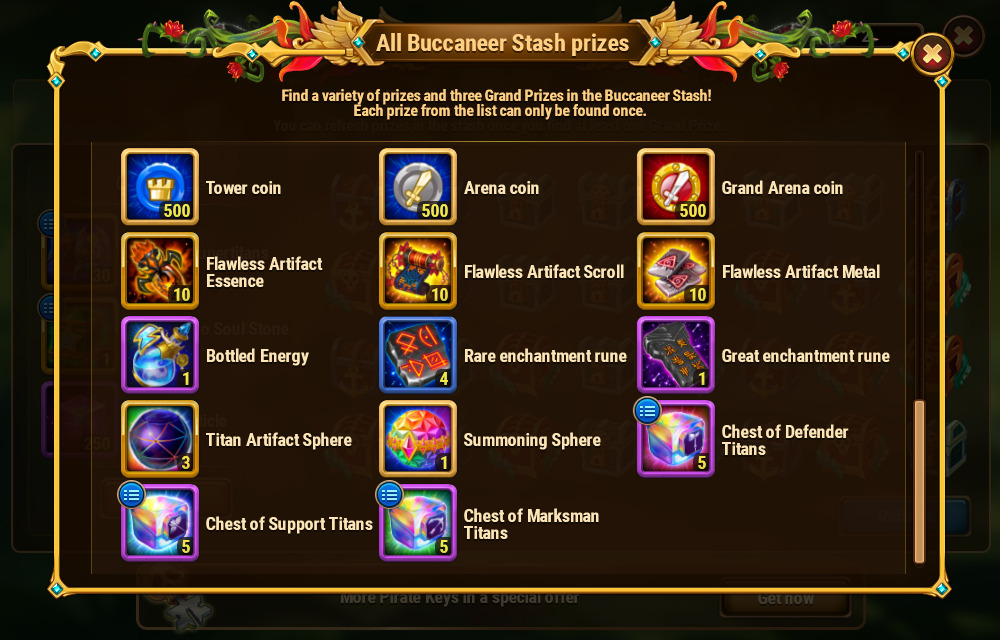 Pirate Key
Group Gift.
During this period, Pirate Keys may also be distributed for free at the Group Gift URL.
Please don't forget to get it.
The Frames
One frame available in the quest, and the rest appear in the Easter adventure, randomly replacing the Titan Potion.
Frames that you fail to obtain this year will have the same opportunity to be obtained at the same event the following year in the same Easter adventure.
Frames obtained through quests will be changed to Easter adventures from the following year onwards
List of Frames
Currently, two different frames are available for this event
Tropical Frame
Brave Captain Frame


Indication of frame appearance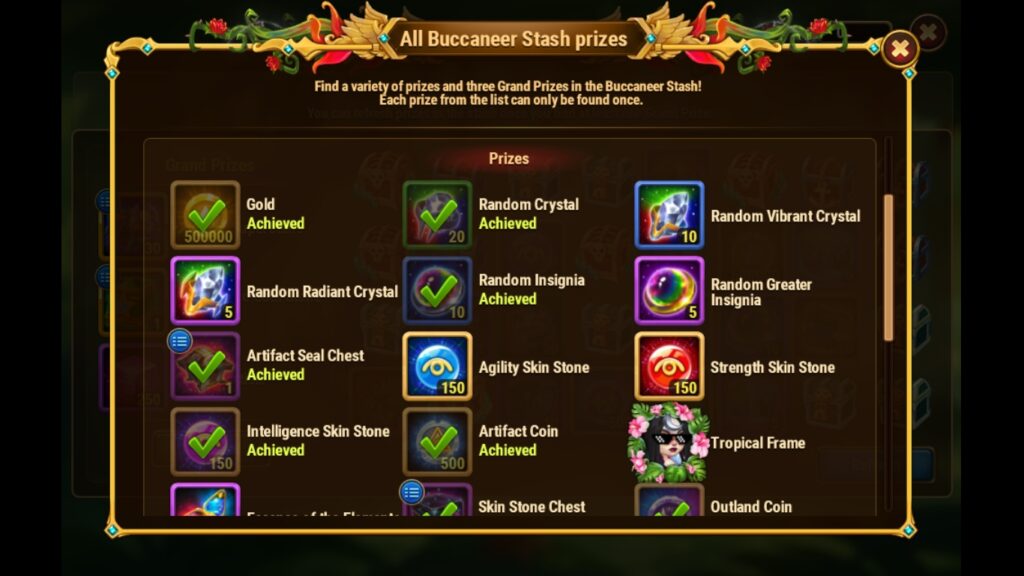 About Pirate Box?? and after the event
Unclaimed bundle shares will be available in your Mail for 30 days.
Unclaimed quest rewards will be available in your Mail for 3 days.
If you have unused "Pirate Key", they will be converted to "Pirate Box??" when you reload your browser.
You will receive this in your Mail. There is no expiration date.
If you receive a Pirate Key after the event, it will still be converted into a "Buccaneer Stashe" when you reload your browser.
If you haven't received a "Pirate Key" in the Mail with an expiration date, you may want to convert it to a "Buccaneer Stashe" with no expiration date. Please be careful!
"Buccaneer Stashe" can be opened by selecting "Use" from the consumables menu in your inventory.
The contents of the "Buccaneer Stashe" are the same as in the Easter Adventure, but randomly selected.
The advantage of the "Buccaneer Stashe" is that it can be operated in one go, unlike the Pirate Key.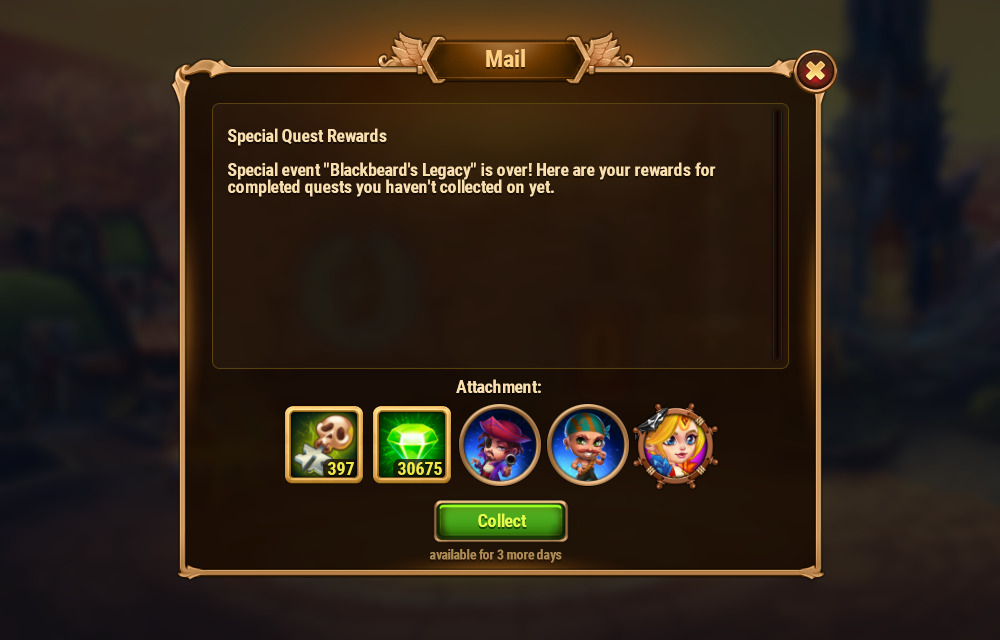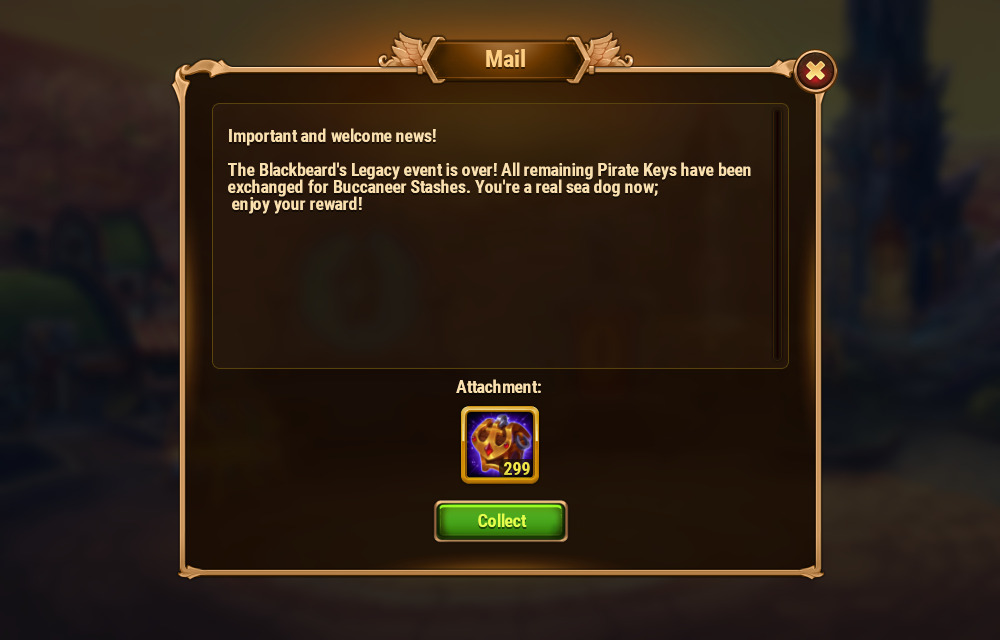 Treasure Island
One of three annual sale events to be held concurrently with this event.
See below for a description and playing recommendations.
Event History
Tuesday, July 20, 2021 (6 days)
Friday, May 06, 2022 (6 days) *This schedule for select servers only
Monday, June 13, 2022
Bundle
Same Style Event
Cyber-con
Spring Rebirth!