About the Pirate Bundle
Pirate event Bundle
In the first phase, you can efficiently advance Super Titan, targeted Hero's Soul Stone, and pet enhancement at the same time.
The amount of Emeralds and Key obtained has an added bonus because of the Emerald purchase in the quest
Pirate Bundle Concept
The cost-effectiveness of the bundle depends on whether you play efficiently or with all boxes open.
Estimated values on this page are calculated assuming efficient playing.
See the event page and the Pirate Key for an explanation of efficient playing.
This bundle sale period often overlaps with the Emerald x4 sale on some dates. Therefore, users with high VIPs are better off prioritizing the x4 sale in order to make targeted enhancements.
For low-VIP users just starting out in the game, there seems to be an advantage over x4. However, it is unclear whether they can experience the strength of the product, as targeted enhancements are not possible and the content is dispersed. Also, there is a large element of luck.
Event Page
Pirate Key
Estimated Emerald equivalent for each bundle
1,946JPY bundle = 15,016 Emeralds(x2.6)
3,891JPY bundle = 42,997 Emeralds(x3.7)
7,783JPY bundle = 91,245 Emeralds(x3.9)
13,620JPY bundle = 181,740 Emeralds(x4.4)
23,349JPY bundle = 337,479 Emeralds(x4.8)
Estimated Emerald equivalent for each bundle(in Guild will get)
1,946JPY bundle = 28,597 Emeralds(x4.9)
3,891JPY bundle = 69,579 Emeralds(x6)
7,783JPY bundle = 132,567 Emeralds(x5.7)
13,620JPY bundle = 237,077 Emeralds(x5.8)
23,349JPY bundle = 407,558 Emeralds(x5.8)
Estimated Emerald equivalent for each bundle(in Quests will get)
1,946JPY bundle = 20,116 Emeralds(x3.4)
3,891JPY bundle = 48,097 Emeralds(x4.1)
7,783JPY bundle = 98,644 Emeralds(x4.2)
13,620JPY bundle = 200,539 Emeralds(x4.9)
23,349JPY bundle = 356,279 Emeralds(x5.1)
Estimated Emerald equivalent for each bundle(in Quests will get & Guild will get)
1,946JPY bundle = 33,696 Emeralds(x5.8)
3,891JPY bundle = 74,678 Emeralds(x6.4)
7,783JPY bundle = 139,966 Emeralds(x6)
13,620JPY bundle = 255,877 Emeralds(x6.3)
23,349JPY bundle = 426,357 Emeralds(x6.1)
List of Pirate Bundle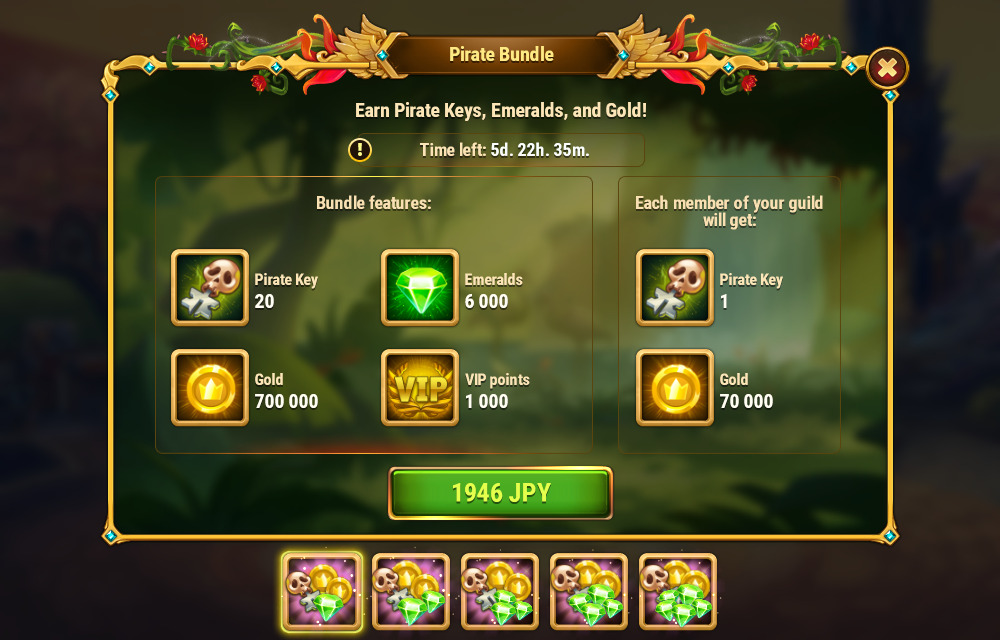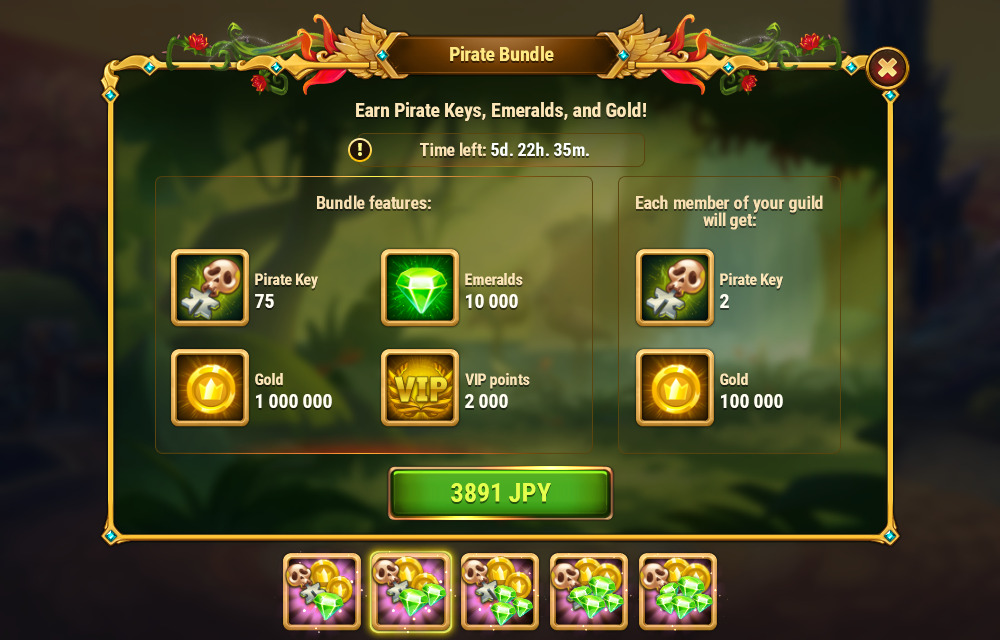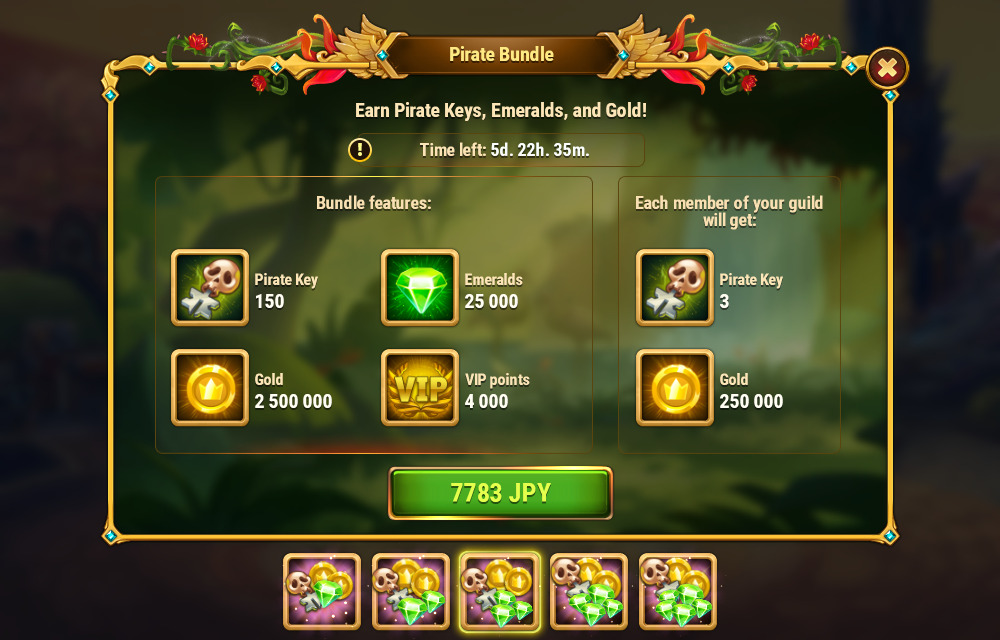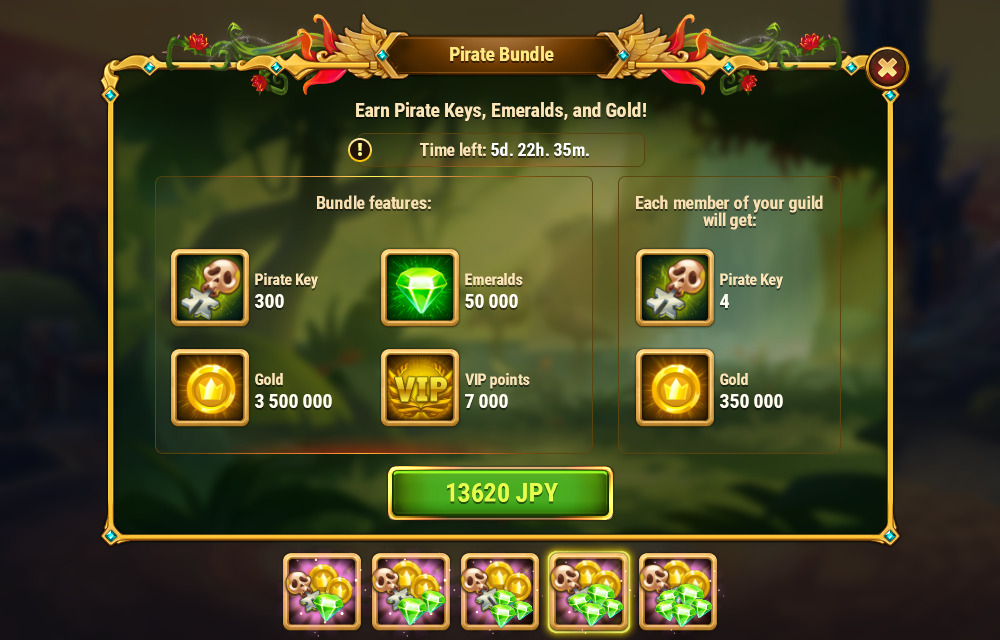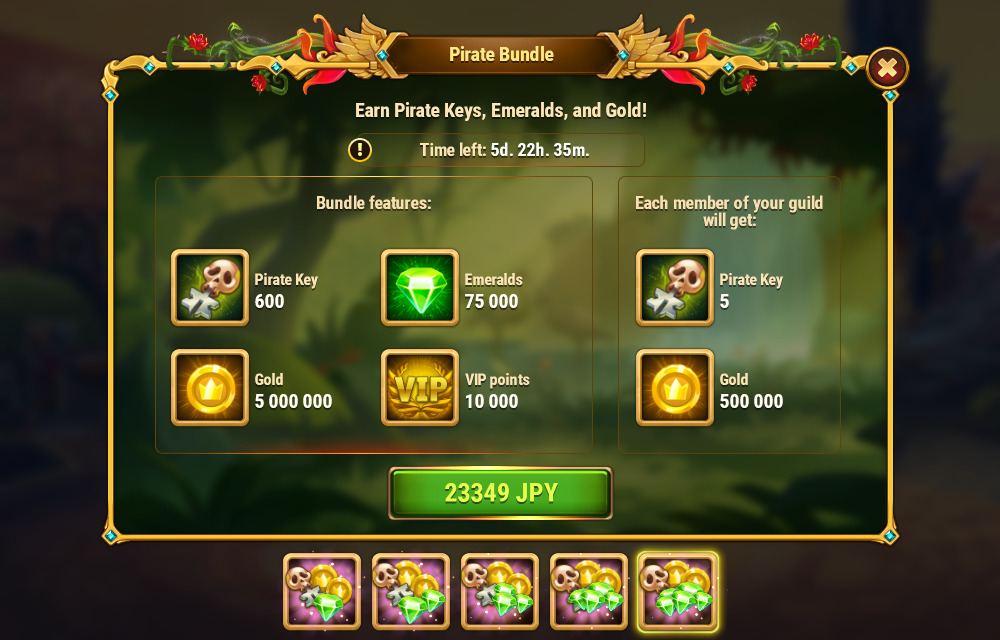 Bundle History
Monday, June 13, 2022 (6 days)