Regarding the Archaeologist's Bundle
Offered in conjunction with The Forgotten Treasury event.
Only the higher-priced options are assumed to provide cost-effectiveness.
You have no control over the specific content received. Moreover, the range of enhancements covered is extensive. As a result, achieving the expected level of strength might prove challenging. Nevertheless, it's excellent for gradually enhancing one's strength from the ground up.
The estimated value is based on the expected outcome of efficient gameplay. However, in reality, there can be a difference of more than double due to luck and player decisions. This is not guaranteed by anyone.
Many of the included items exhibit low efficiency in terms of strengthening impact, making it challenging to perceive tangible enhancements. However, there are multiple long-term strengthening themes that will be addressed. Thus, it falls into an excellent category from a prolonged perspective.
Based on the specifications of the archaeologist's tool, the upgrade primarily focuses on Dark Light Titans. Upgrades for Water, Fire, and Earth Titans are scarcely feasible. Moreover, Totems are not obtainable.
The Ascension of Heroes can be fortified; however, Eternal Seeds are not part of the package. Often, Eternal Seeds are left unused after ascending 20 or more heroes, presenting a favorable balance for those aiming for comprehensive success in CoW or guild raids.
Qualifies for VIP status.
Eligible for participation in Emerald Falls if it coincides with the event.
List
Bundle 1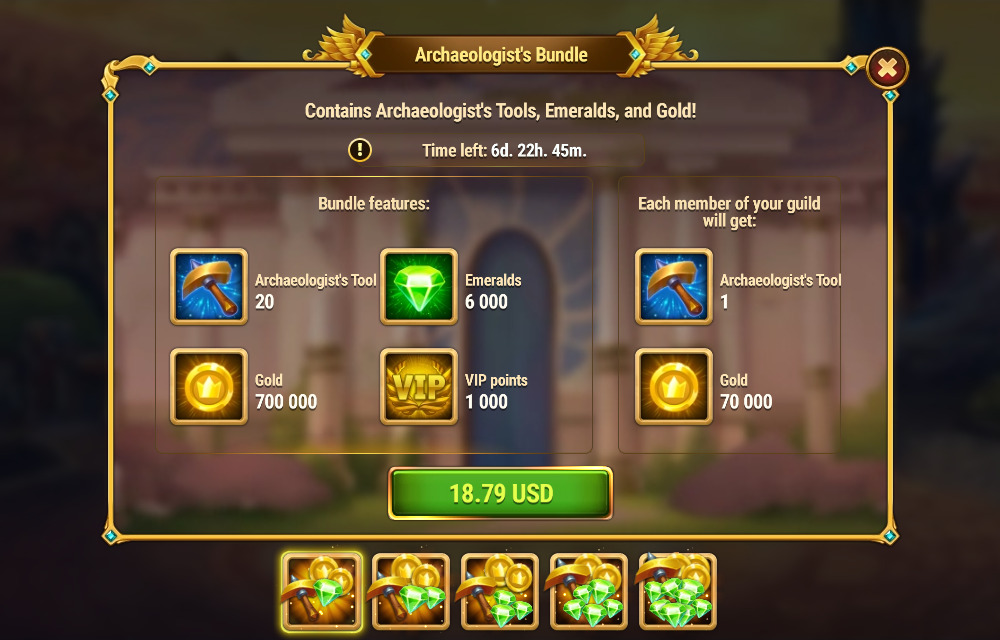 Bundle 2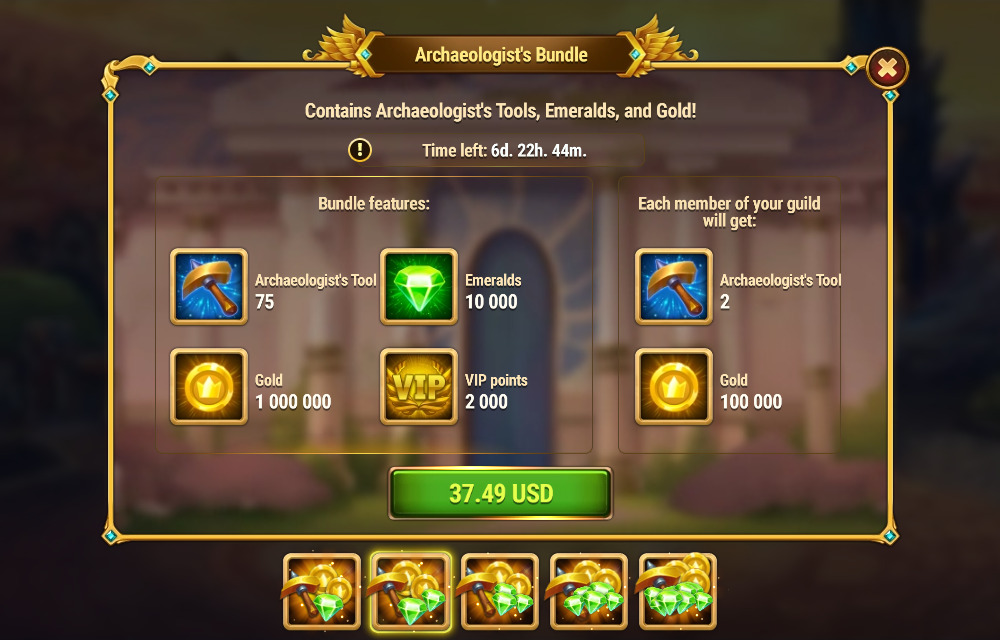 Bundle 3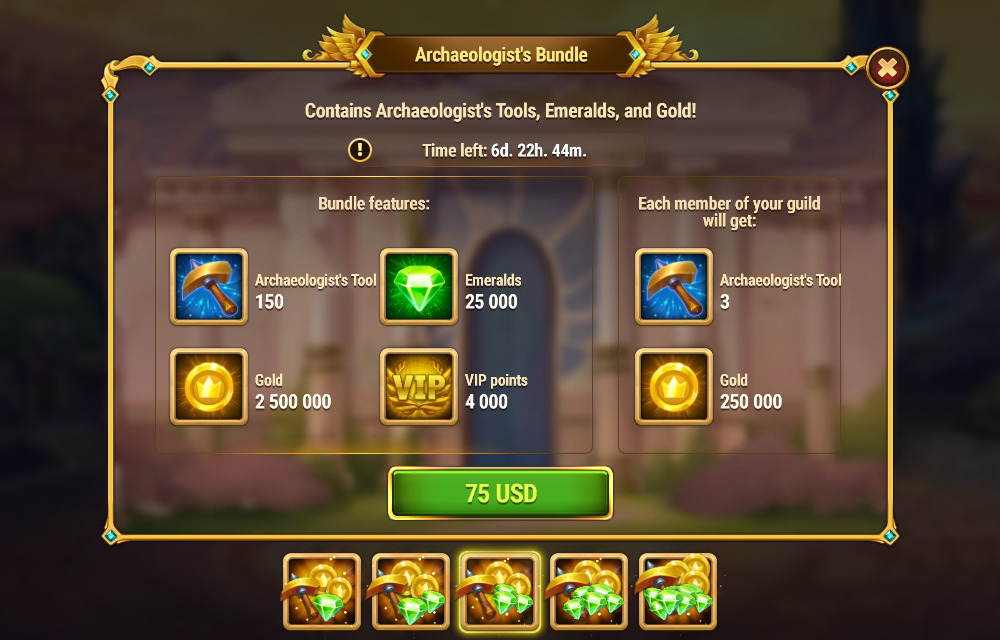 Bundle 4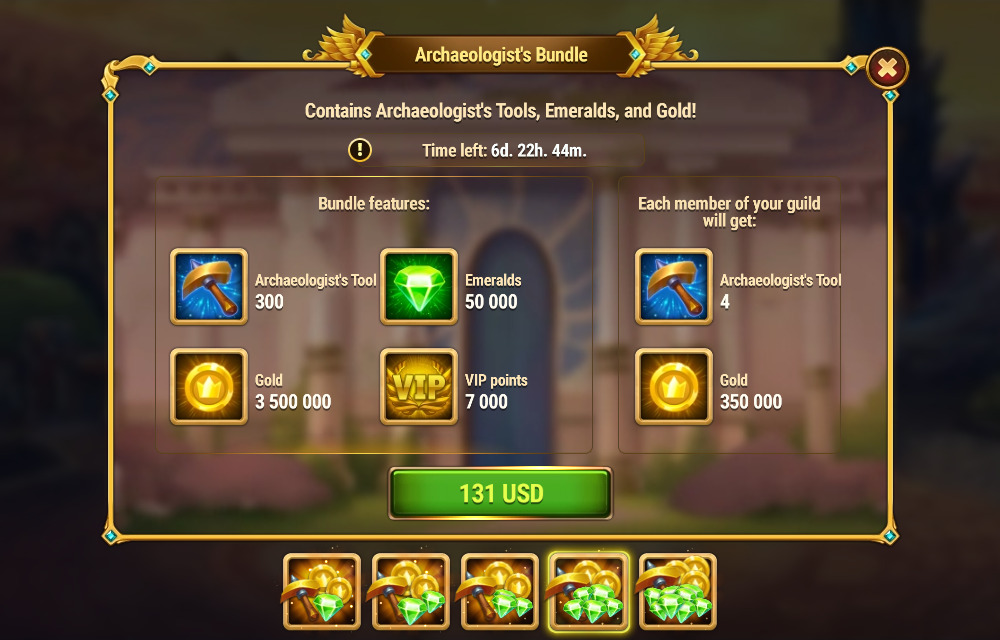 Bundle 5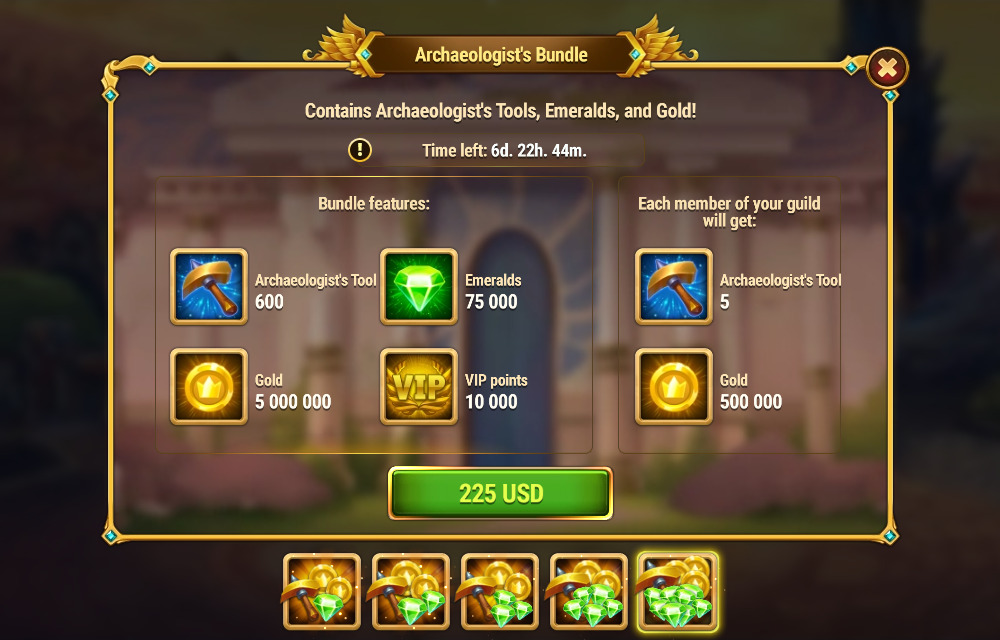 Estimated amount
Bundle 1 = 15,350 Emeralds(x2.6)
Bundle 2 = 44,250 Emeralds(x3.7)
Bundle 3 = 93,750 Emeralds(x4)
Bundle 4 = 186,750 Emeralds(x4.5)
Bundle 5 = 347,500 Emeralds(x4.9)
Estimated amount(in Guild will get)
Bundle 1 = 29,415 Emeralds(x5)
Bundle 2 = 71,800 Emeralds(x6.1)
Bundle 3 = 136,525 Emeralds(x5.8)
Bundle 4 = 244,025 Emeralds(x5.9)
Bundle 5 = 420,000 Emeralds(x5.9)
Estimated amount(in Quests will get)
Bundle 1 = 19,275 Emeralds(x3.3)
Bundle 2 = 50,125 Emeralds(x4.2)
Bundle 3 = 104,575 Emeralds(x4.4)
Bundle 4 = 201,025 Emeralds(x4.9)
Bundle 5 = 367,225 Emeralds(x5.2)
Estimated amount(in Quests will get & Guild will get)
Bundle 1 = 33,340 Emeralds(x5.6)
Bundle 2 = 77,675 Emeralds(x6.6)
Bundle 3 = 147,350 Emeralds(x6.2)
Bundle 4 = 258,300 Emeralds(x6.2)
Bundle 5 = 439,725 Emeralds(x6.2)
Quest to Earn VIP Points
If you haven't made any other purchases in the Special Event, you can earn the following Rewords through quests that grant Buy Emeralds.
Bundle 1: 1,675 Emeralds and 5 Archaeologist's Tool
Bundle 2: 3,175 Emeralds and 6 Archaeologist's Tool
Bundle 3: 7,675 Emeralds and 7 Archaeologist's Tool
Bundle 4: 10,675 Emeralds and 8 Archaeologist's Tool
Bundle 5: 15,675 Emeralds and 9 Archaeologist's Tool
In addition to this, quests for shopping frequency are also counted.
Event Guide
The Forgotten Treasury
The Forgotten Treasury Tasks and Returns
Archaeologist's Tool
The Forgotten Treasury Event: Your Expert Buying Guide for Maximized Benefits
Same Name (from Mini-Seasons)