Martha's Health Skin is Good or Bad?
An additional Health Skin has been introduced for Martha.
This addition brings both advantages and disadvantages.
Let's explore the positives and negatives in detail.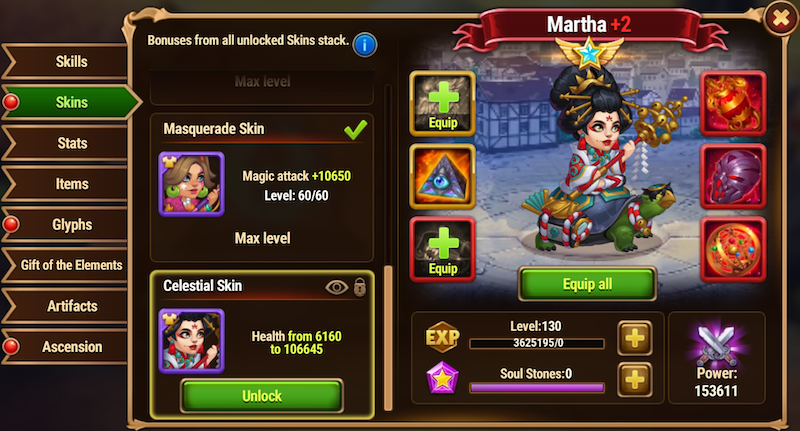 Advantages of Martha's Health Skin
Martha becomes less prone to being knocked down.
When distributing damage through Axel banding, the allocation of taken damage depends on remaining Health. Martha's high total Health makes it easier to shield vulnerable heroes from harm. This is particularly effective when daring to use Acceleration against Ishmael and rotating Martha's skills.
Both Martha's 2nd skill (self Health recovery) and 4th skill (weakest ally Health recovery) rely on Martha's maximum Health. Consequently, the amount of recovery can be increased.
The maximum value of the Health Skin is 106,645.
The 2nd skill increases recovery by 25%, resulting in 26,661 recovery (53,322 with 2 Health Skins).
The 4th skill increases recovery by 15%, resulting in 15,997 recovery (31,994 with 2 Health Skins).
The performance difference of this 4th skill can be a pivotal factor, potentially preventing the leading hero's demise.
In defense battles, Martha's enhanced durability increases instances where opponents fail to defeat Martha before time runs out. If Martha remains the last hero, she becomes an easy target in CoW for Iris or Yasmin. However, in guild battles, a series of such mistakes can significantly affect outcomes and rankings, making it particularly significant for defense.
A Martha focused on high durability excels in battles against human opponents and can be referred to as a "Defensive Martha."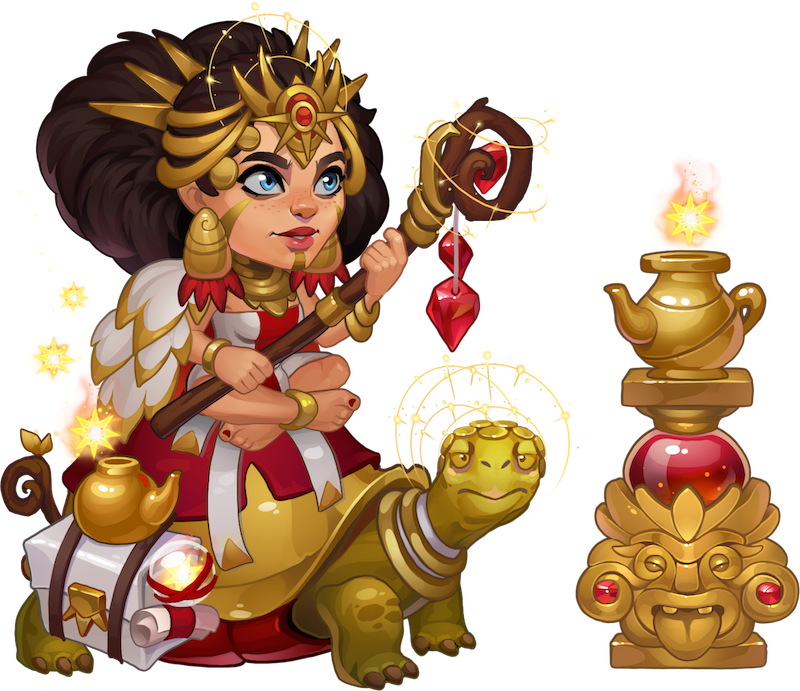 Disadvantages of Martha's Health Skin
While Martha is a powerful healer, she remains primarily a support hero. This is evident in her 250% acceleration from the first skill and the robust armor buff from the first artifact.
To expedite the activation of the first skill and first artifact, some players suggest maintaining Martha's Health at a lower level through prioritization. This approach aims to enhance the frequency of skill activation by leveraging the impact of damage on skill pacing.
Although Martha's base Health is already high, a minor increase in Health might not appear impactful. However, Martha's attack speed is one of the slowest among all heroes, and she lacks skills that deal damage. This means her ability to gain gauge through attacks is extremely limited, making gauge gain through damage more important for her than for other heroes.
Gauge gain from damage is determined as a percentage of maximum Health; hence, the Health Skin slows down this gauge gain.
The acceleration skill also targets Martha herself, increasing the turnover rate of Martha's recovery skills. Therefore, the overall Health recovery from the third skill tends to increase more without the Health Skin.
Strategies such as manually replicating this acceleration skill with Faceless are observed in campaigns. However, if Martha's Health is excessively elevated, players employing Martha might need to wait instead.
Understanding this skill-activation-oriented approach for Martha can enable practical operation even with relatively low power. This involves understanding and prioritizing 1. skill level, 2. first artifact, and 3. magical attack. With this knowledge and proper upgrading, she can be effective even with low power, earning her the title of "Offensive Martha."
Defensive Martha vs. Offensive Martha: Which is Good?
In terms of overall power, defensive Martha holds the advantage.
Offensive Martha is more focused on reducing upgrade costs, but due to her ability to trigger skills more frequently than defensive Martha, there are situations where offensive Martha is advantageous.
The impact on guild raids varies based on specific circumstances.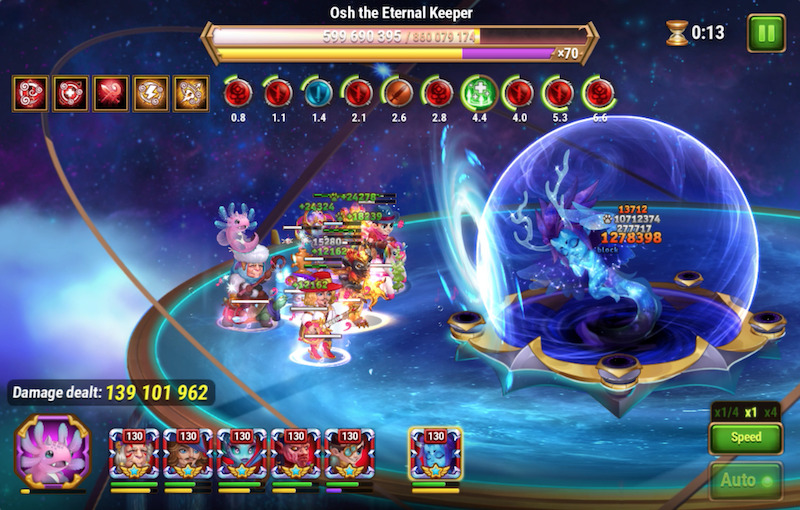 Impact on Guild Raids
The most significant impact of Martha's Health increase is seen in guild raids.
For the Lv160 Osh battle, completing one of Martha's Health Skins increases the number of meteor hits required to activate a skill by about one hit (exact training conditions may vary).
Consequently, there will be fewer instances where Martha can trigger the armor buff twice during a meteor attack and receive meteors with confidence in so-called template teams. This increases the likelihood of team wipes. Conversely, utilizing the fourth skill to safeguard Isaac and leveraging Acceleration will become more effective. Overall, there are both advantages and disadvantages.
Currently, there's a theory suggesting that slightly lower Health for Martha in a team designed to receive meteors with double armor buffs results in higher survival rates. Some top guilds remove Martha's elemental gifts during guild raid attacks, citing Health adjustment as the reason.
A theory exists that Martha's Health is optimal between 440,000 and 500,000 for teams designed to withstand meteors with double armor buffs. This theory is elaborated upon in the following video: Link to the YouTube video.
Related Articles
Martha
The Forgotten Treasury
Why is Heidi's Health skin considered risky?
Why do people say not to unlock Isaac's armor penetration skin?