About the Stellar Skin Chest
The root box appeared in The Secrets of the Dragon Mountains event.
There will be an opportunity to obtain this item once or twice a year in the future.
Grand prize is a limited Skin available only from this item.
Other than the limited Skin, other than the limited skin, this item is a hazmat item.
Limited Skins are substantially much more expensive than other Skins.
The description incorrectly stated that they were available at Winterfest, and an apology message was sent to all players.
Equivalent to Winter Skins in terms of treatment, but more expensive.
BLP(bad luck protection)
A fixed lottery (bad luck protection) is set once every 60 drawings for all Skins except for the limited skins.
As for the fixed draw (bad luck protection), which skin you get is also random.
Unconfirmed whether the status of the definite draw (bad luck protection) will be carried over to the next event.
Box of stellar skins, list of contents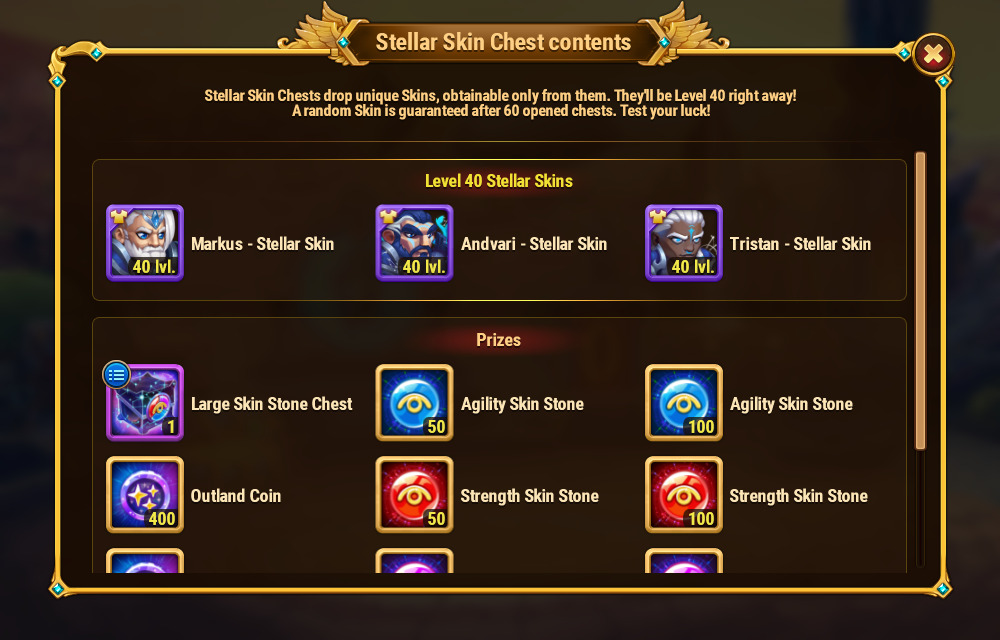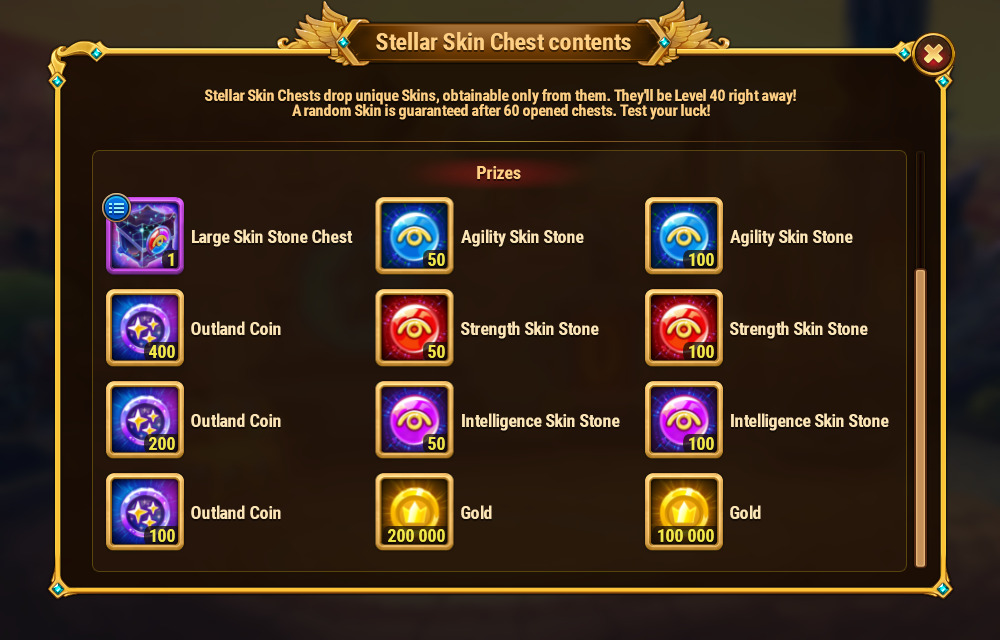 Limited skins
Other Stellar Skins are available through normal means.
Marcus Stellar Skin lvl 40
Rated S : Improved healer performance for Marcus.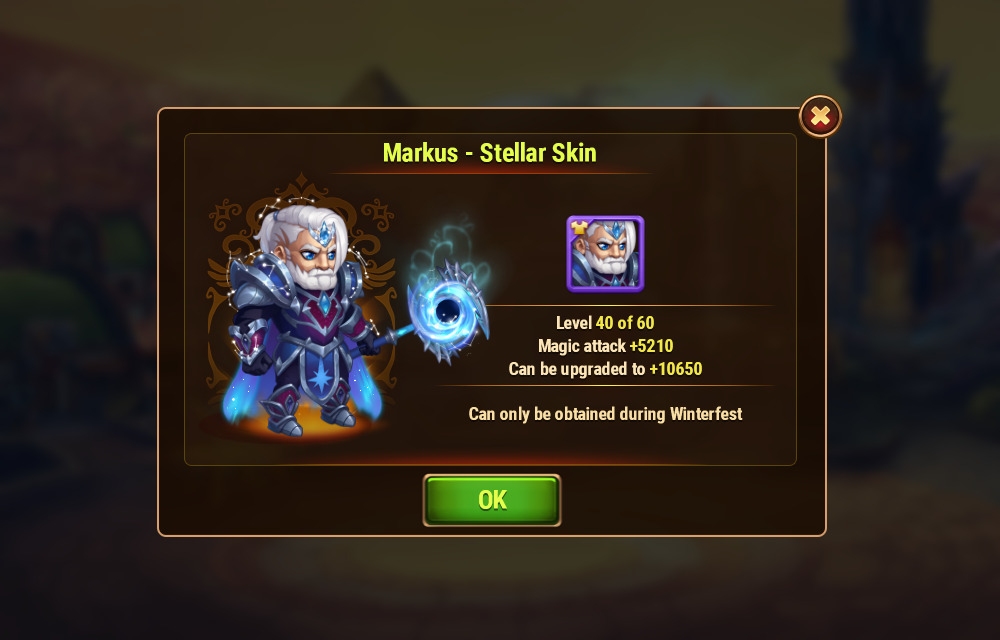 Andvari Stellar Skin lvl 40
Rated A : Andvari's Magic Defense is low. Still, it has certain effectiveness against Helios, Christa, Lian, and Amira.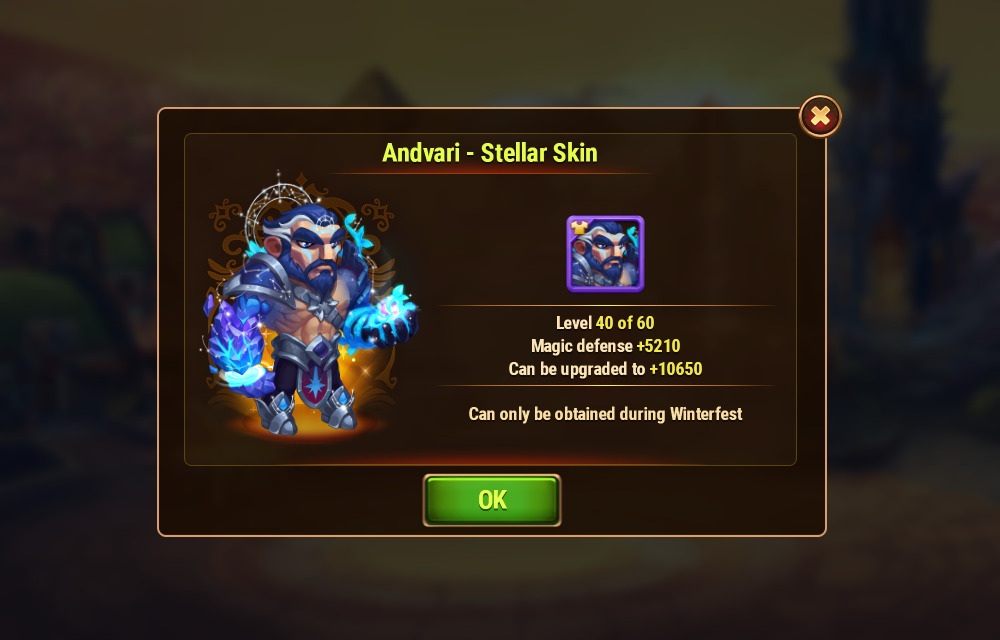 Tristan Stellar Skin lvl 40
Rated A : There are some scenes where you want it if you are using Tristan.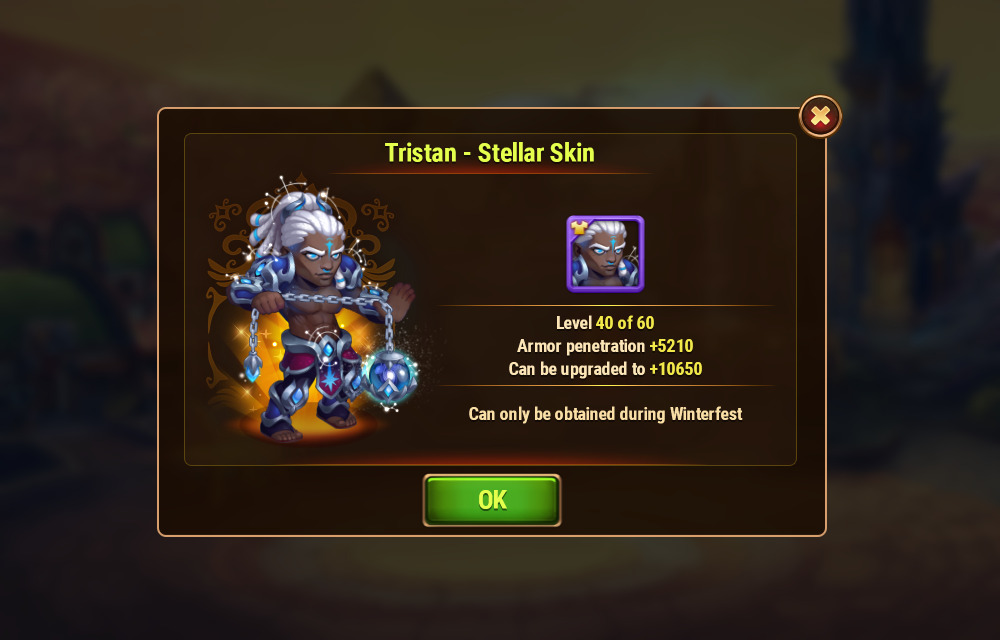 Apology Message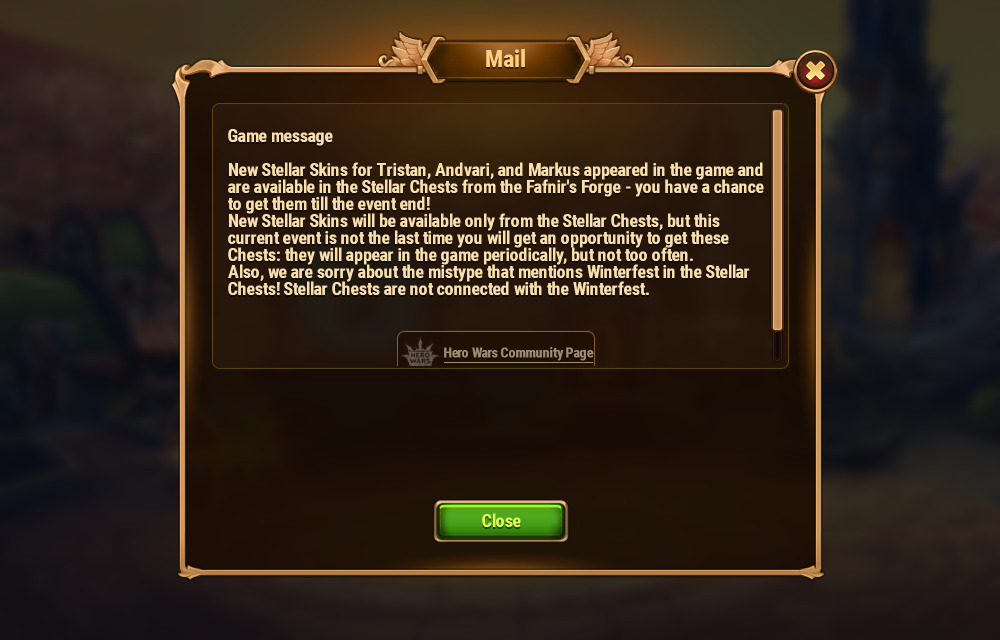 Opening Results
Stellar Skin Chest, 472 pieces opened. For your reference.
(Thanks to DASHIMAKI-TAMAGO and japanese-chat for their help!)
Markus Stellar Skin(lvl40) & 100,000 Gold x1 : 5 (1.1%)
Andvari Stellar Skin(lvl40) & 100,000 Gold x1 : 2 (0.4%)
Tristan Stellar Skin(lvl40) & 100,000 Gold x1 : 6 (1.3%)
Large Skin Stone Chest x1 : 18 (3.8%)
Outland Coin x400 : 55 (11.7%)
Outland Coin x200 : 44 (9.3%)
Outland Coin x100 : 32 (6.8%)
Intelligent Skin Stone x50 : 41 (8.7%)
Intelligent Skin Stone x100 : 39 (8.3%)
Streangh Skin Stone x50 : 41 (8.7%)
Streangh Skin Stone x100 : 42 (8.9%)
Agillity Skin Stone x50 : 41 (8.7%)
Agillity Skin Stone x100 : 32 (6.8%)
Gold x200,000 : 33 (7%)
Gold x100,000 : 41 (8.7%)
Estimated Value of Stellar Skin Chest
Including Gold: 1,066 Emerald
Without Gold: 1,062 Emerald
Stellar Skin Chest Value Ratio
Stellar Skin Get : 19%
Stellar Skin Upgrade(Lvl40) : 72.1%
Skin Stone : 5.1%
Outland Coin : 2.7%
Gold : 1.1%
History
Friday, September 16, 2022 (7 days)
Related Articles
One-off Events
The Secrets of the Dragon Mountains