About Titan Souls Bundle (Mort)
Titan "Mort" appears as a bundle of events for the implementation of the Titan
Mainly "Mort Dolls" root box with Mort Soul Stone available.
If you miss this limited event, the next opportunity to obtain Mort Soul Stone is unknown. Candidate for consideration if you want to make it to 6 Stars here but cannot achieve it with quest rewards.
Note , the more expensive items are on the left and the less expensive items are on the right.
Not eligible for Emerald Waterfalls.
Eligible for VIPs.
Eligible for Get VIP Quests (Special Event).
Values of Mort Doll are listed based on after specification changes.
List of Bundles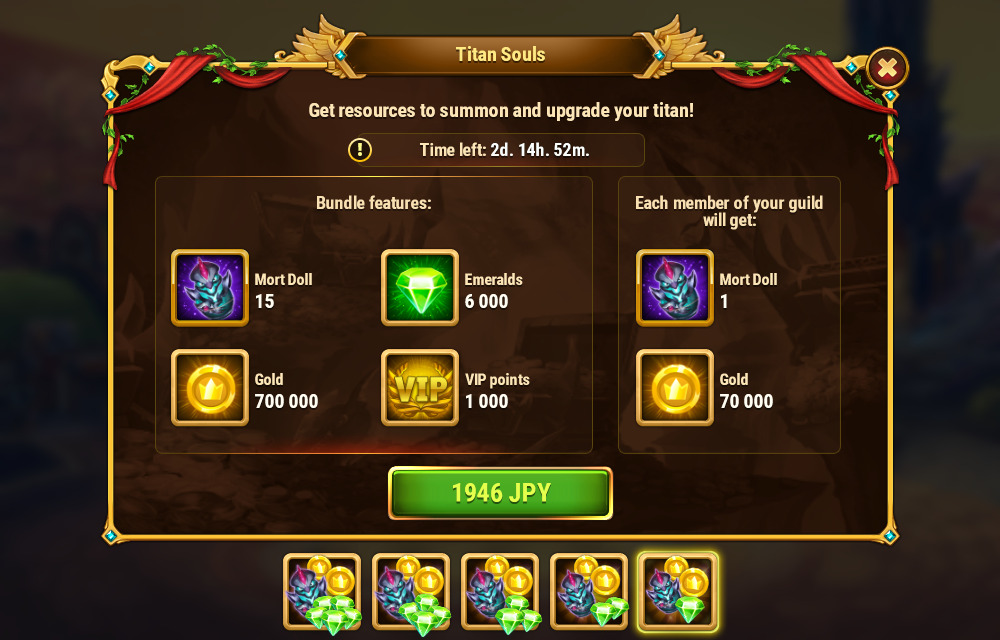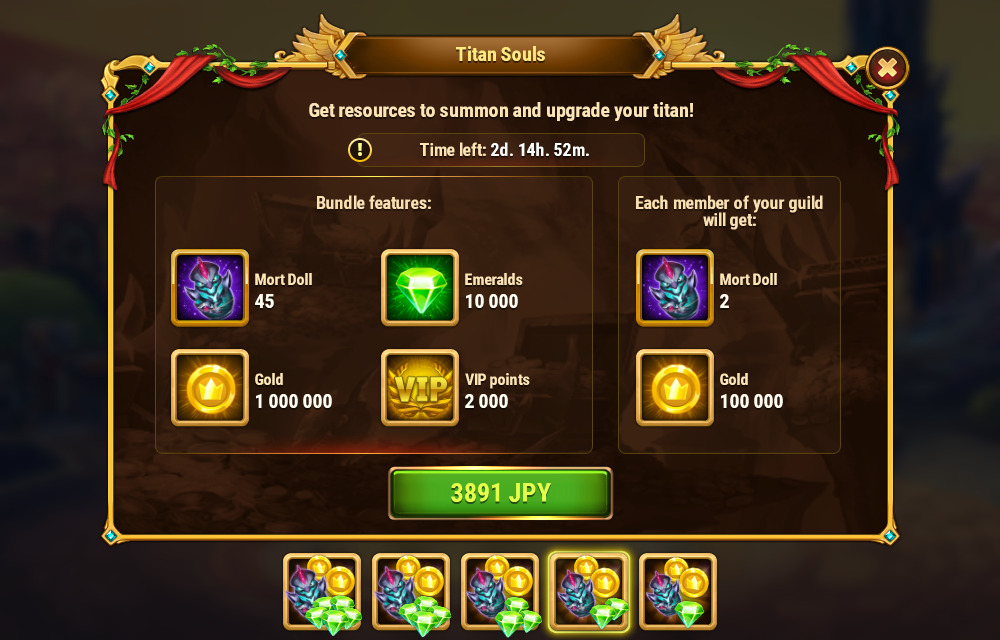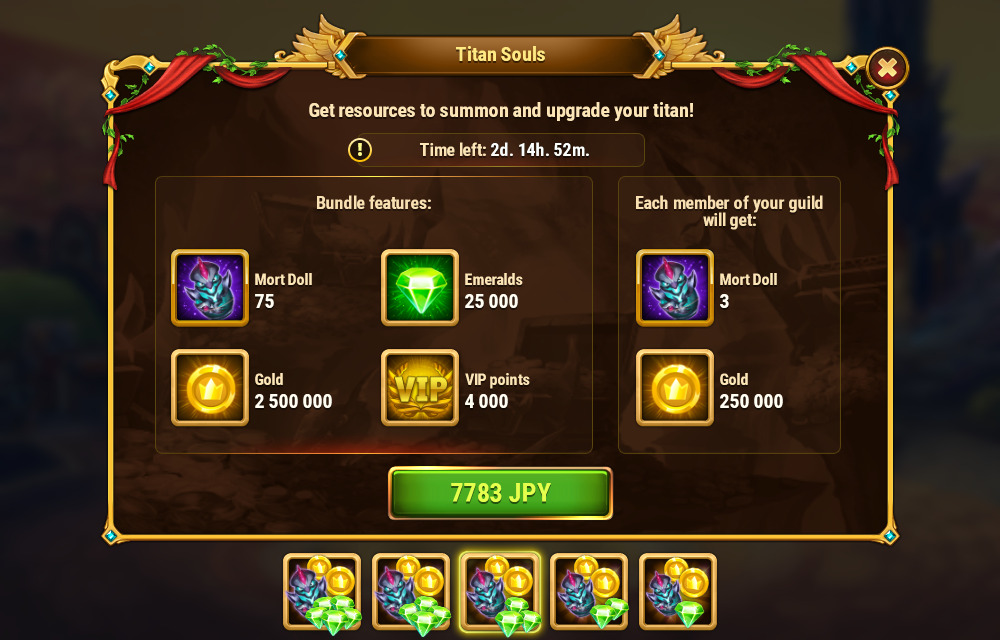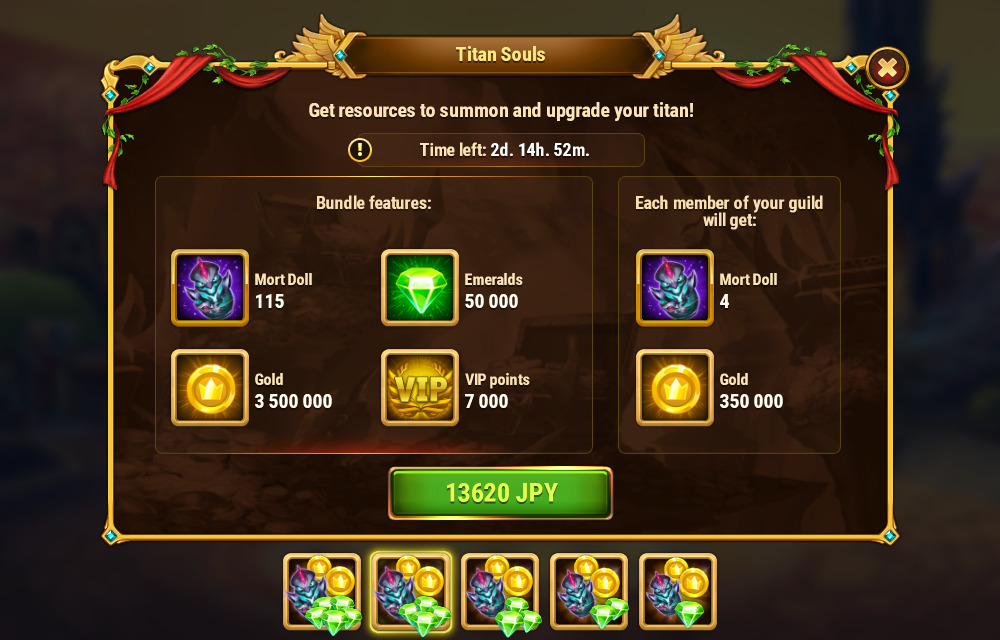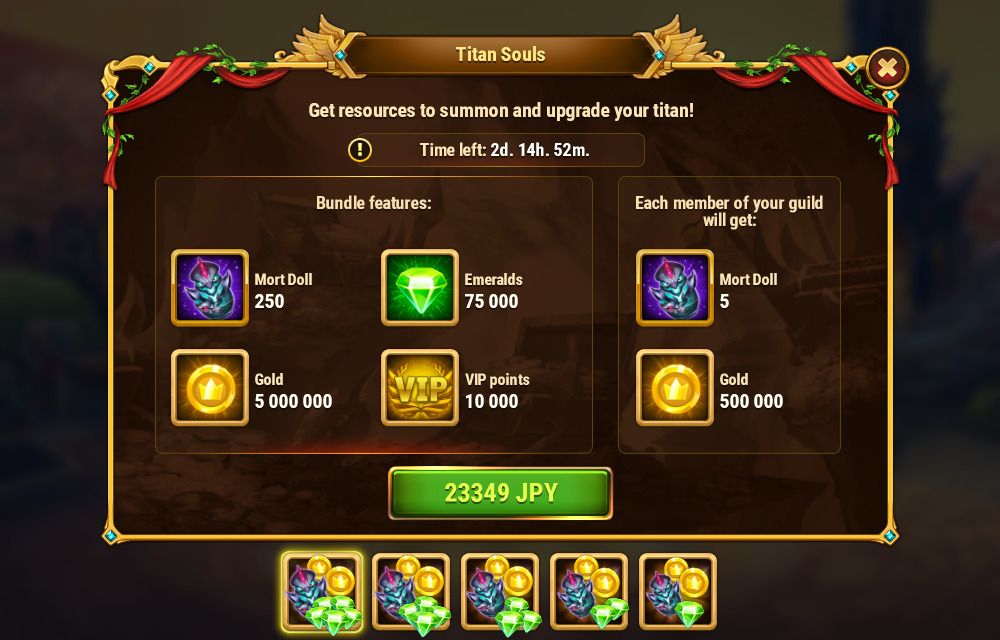 Estimated Emerald equivalent for each bundle
1,946JPY bundle = 9,397 Emeralds(x1.6)
3,891JPY bundle = 19,640 Emeralds(x1.6)
7,783JPY bundle = 41,483 Emeralds(x1.7)
13,620JPY bundle = 75,107 Emeralds(x1.8)
23,349JPY bundle = 128,275 Emeralds(x1.8)
Estimated Emerald equivalent for each bundle(in Guild will get)
1,946JPY bundle = 16,301 Emeralds(x2.7)
3,891JPY bundle = 32,869 Emeralds(x2.7)
7,783JPY bundle = 62,777 Emeralds(x2.6)
13,620JPY bundle = 103,741 Emeralds(x2.5)
23,349JPY bundle = 164,975 Emeralds(x2.3)
Estimated Emerald equivalent for each bundle(in Quests will get)
1,946JPY bundle = 10,322 Emeralds(x1.7)
3,891JPY bundle = 22,315 Emeralds(x1.8)
7,783JPY bundle = 46,158 Emeralds(x1.9)
13,620JPY bundle = 87,782 Emeralds(x2.1)
23,349JPY bundle = 157,950 Emeralds(x2.2)
Estimated Emerald equivalent for each bundle(in Quests will get & Guild will get)
1,946JPY bundle = 17,226 Emeralds(x2.9)
3,891JPY bundle = 35,544 Emeralds(x2.9)
7,783JPY bundle = 67,452 Emeralds(x2.8)
13,620JPY bundle = 116,416 Emeralds(x2.8)
23,349JPY bundle = 194,650 Emeralds(x2.7)
Event Guide
Grim Hunger
All Quests
About features
Mort Doll
Ancient Titan Artifact Chest
Related Bundles
Titan Souls
Titan Souls (Mort) with Skin Stone
Titan Souls Bundle (Iyari)
Titan Souls (Iyari) with Skin Stone
Titan Souls Bundle (Amon)
Titan Souls (Amon) with Skin Stone
Titan Souls Bundle (Keros)
Titan Souls (Keros) with Skin Stone
Other Titans Bundles
Titans of the Dominion x2 Bundle
Titans of the Dominion x2 Type2 Bundle
Titans of the Dominion(regular Ver.)
Titans of the Dominion(Titan Soul Event Ver.)
Titan Artifacts Bundle