About Titan Souls Bundle (Tenebris)
Limited 24-hour sale on the day after the event of the implementation of the titan "Tenebris".
Mainly "Tenebris Dolls" root box with Iyari Soul Stone available.
Content differs from bundles sold during the event
Different from the usual, price combination, with an eye on coordinated purchases
Note that expensive items are on the left and inexpensive items are on the right
Not eligible for Emerald Waterfalls.
Eligible for VIPs.
List of Bundles
Bundle 1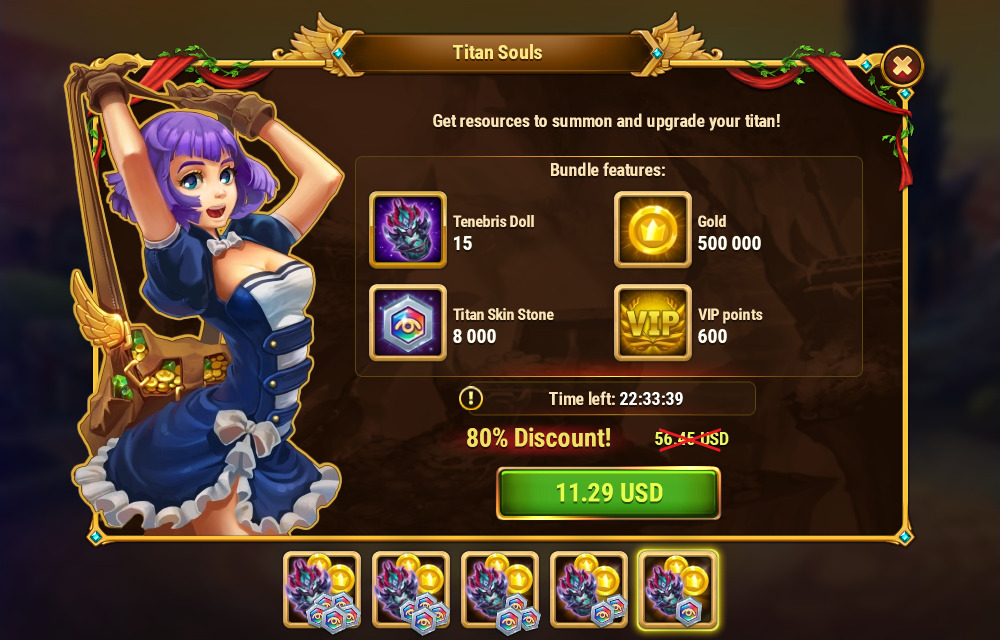 Bundle 2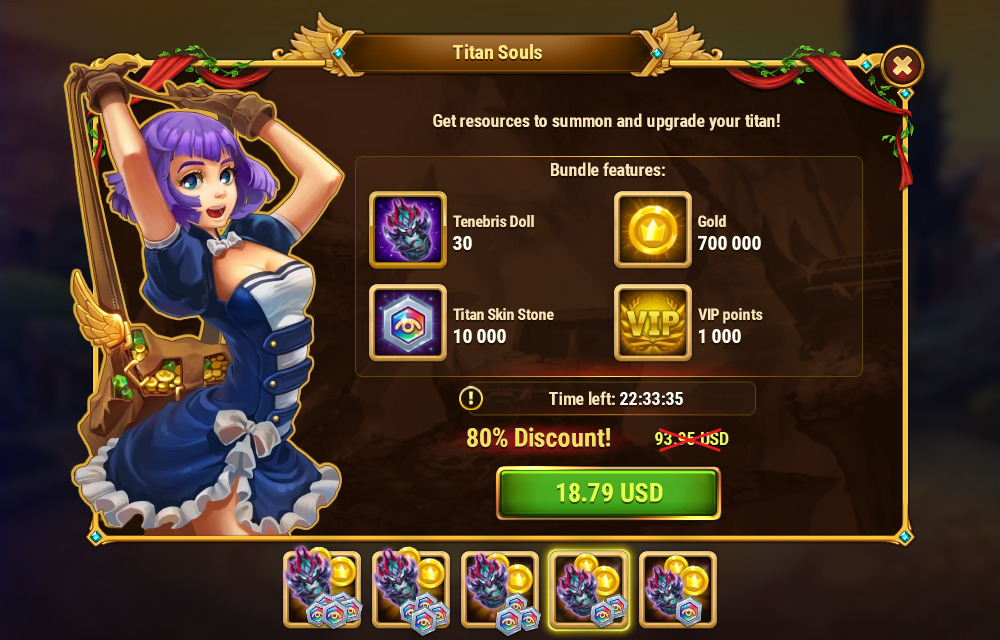 Bundle 3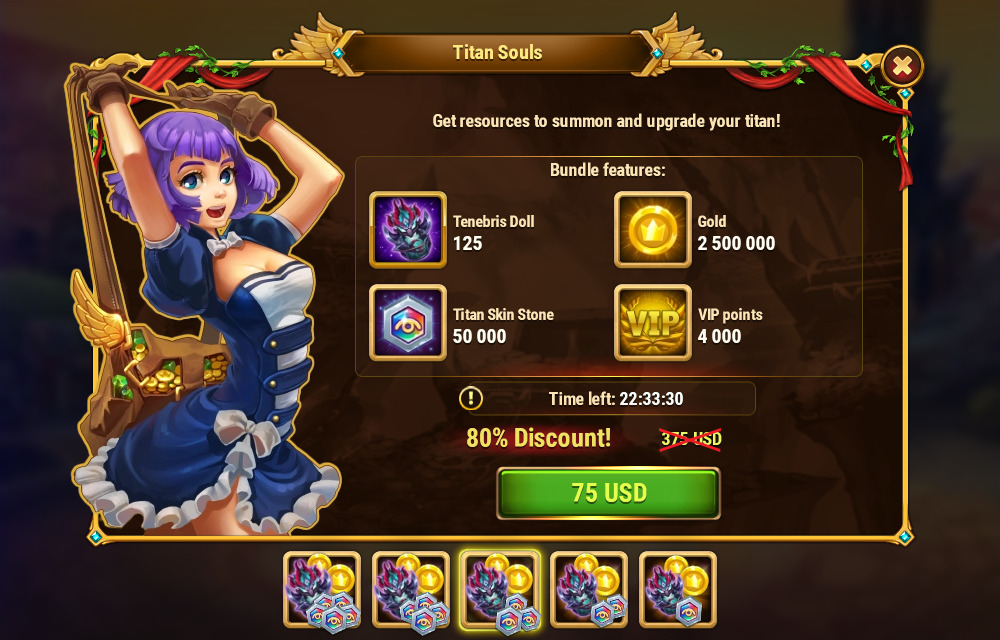 Bundle 4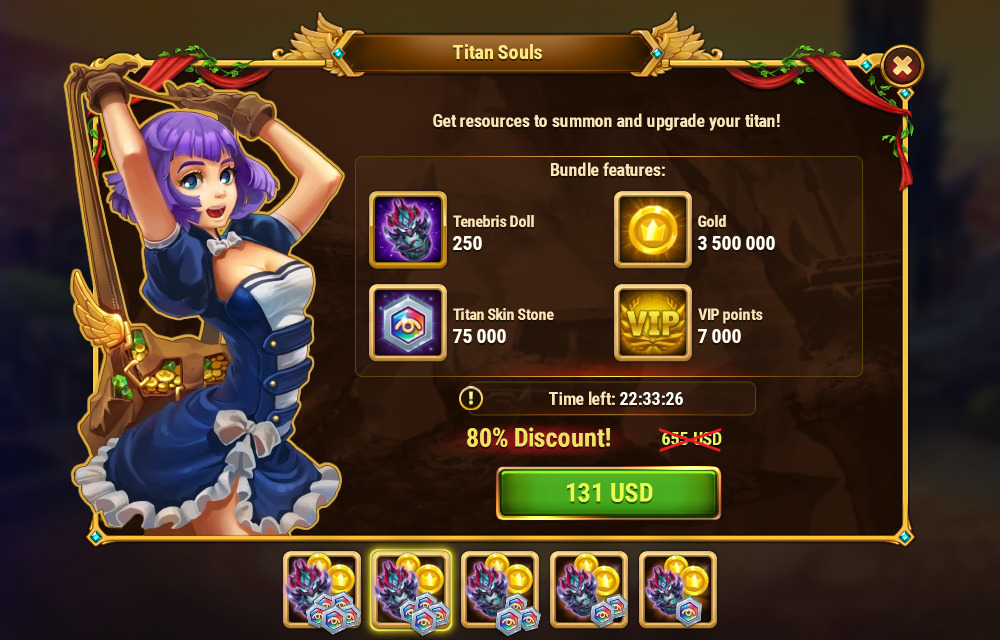 Bundle 5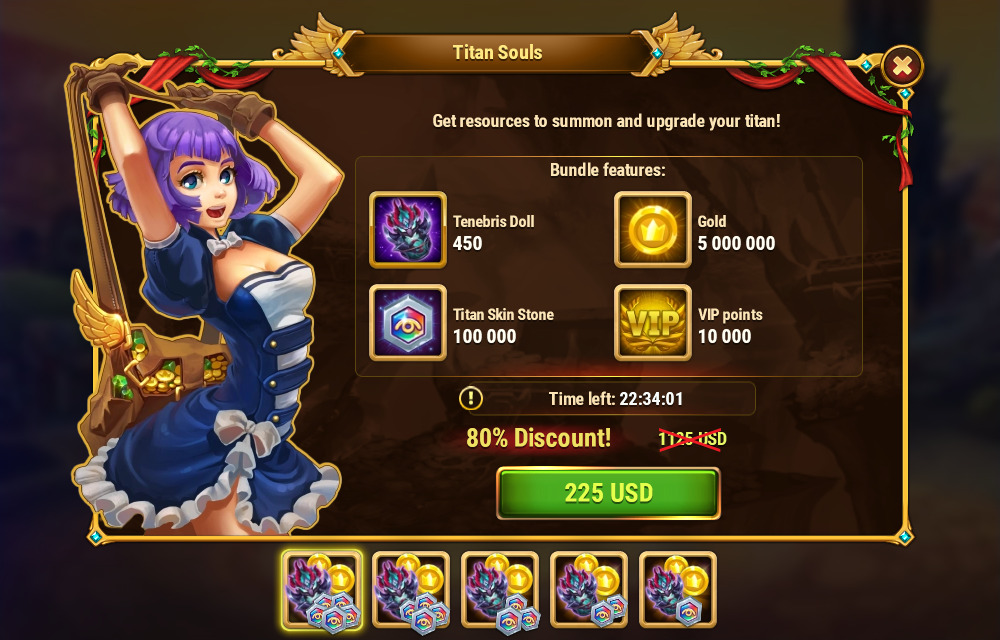 Estimated Emerald equivalent for each bundle
Bundle 1 = 5,697 Emeralds(x1.6)
Bundle 2 = 9,644 Emeralds(x1.6)
Bundle 3 = 42,196 Emeralds(x1.7)
Bundle 4 = 76,975 Emeralds(x1.8)
Bundle 5 = 128,572 Emeralds(x1.8)
About features
Tenebris Doll
Ancient Titan Artifact Chest
Bundle History
Monday, April 10, 2023 (24 hours)
Related Bundles
Titan Souls
Titan Souls Bundle (Tenebris)
Titan Souls Bundle (Iyari)
Titan Souls (Iyari) with Skin Stone
Titan Souls Bundle (Amon)
Titan Souls (Amon) with Skin Stone
Titan Souls Bundle (Rigel)
Titan Souls (Rigel) with Skin Stone
Titan Souls Bundle (Brustar)
Titan Souls (Brustar) with Skin Stone
Titan Souls Bundle (Mort)
Titan Souls (Mort) with Skin Stone
Titan Souls Bundle (Keros)
Titan Souls (Keros) with Skin Stone
Other Titans Bundles
Titans of the Dominion x2 Bundle
Titans of the Dominion x2 Type2 Bundle
Titans of the Dominion(regular Ver.)
Titans of the Dominion(Titan Soul Event Ver.)
Titan Artifacts Bundle
Light Titans Bundle
Dark Titans Bundle