About Festive Bundle
Almost Energy Bottle Bundle.
Sold in conjunction with Dominion Day event.
Very cosmetic bundle.
Buy Emeralds at the Emeralds x4 sale. Then use the emeralds to purchase the Energy Bottle for 300 emeralds from the town store, which is rather standard. However, buying this bundle is a better deal than that routine!
Thinking in terms of Town Shop pricing, Energy Bottle x1 is 300 Emeralds. We can say that the x35 Energy Bottles in this bundle are worth 10,500 Emeralds by themselves!
Estimated Emerald equivalent for each bundle
Within Gold
1,167JPY bundle = 20,500 Emeralds(x5.9)
Without Gold
1,167JPY bundle = 15,500 Emeralds(x4.4)
Emerald Falls and Festival Bundle
If nothing else is purchased, Emerald Falls will add x5 Energy Bottles on top.
This case is an increasingly good deal.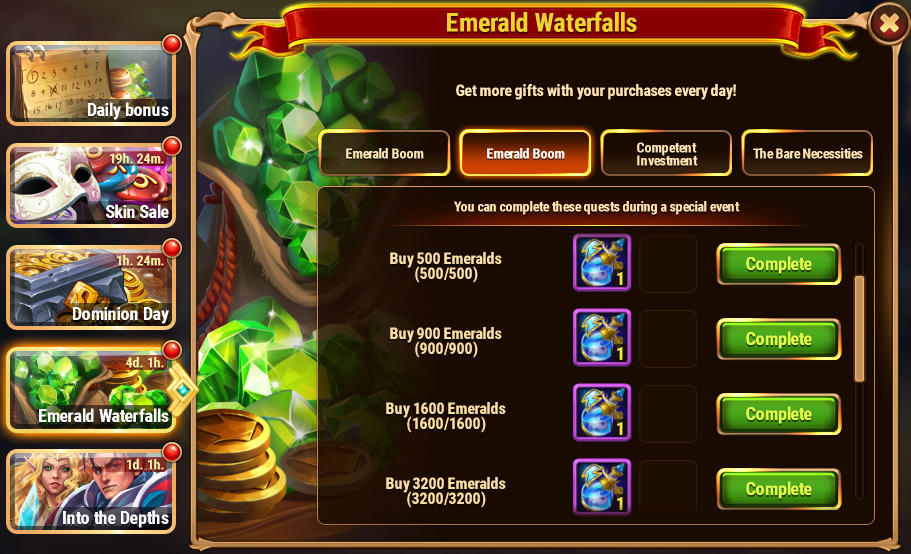 Bundle History
Fri, 24 June 2022 (3 days)
Event Page
Same name
Birthday event bundle with same name. Contents are different.