Report
Upcoming Events
About the New Hero Event
It has been announced that Mushy and Shroom's implementation event will be held.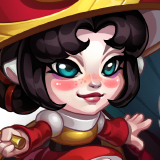 New Romantic Skins Revealed!
Keira is a good idea. Jorgen is only nice to have, and Amira looks like it would not be much of a problem without it.
Official description
Romantic Skins for Keira, Jorgen, and Amira will appear in the game next week!
With the new skins, Keira is granted bonus Health, Jorgen boosts his Magic Attack, and Amira increases her Magic Defense.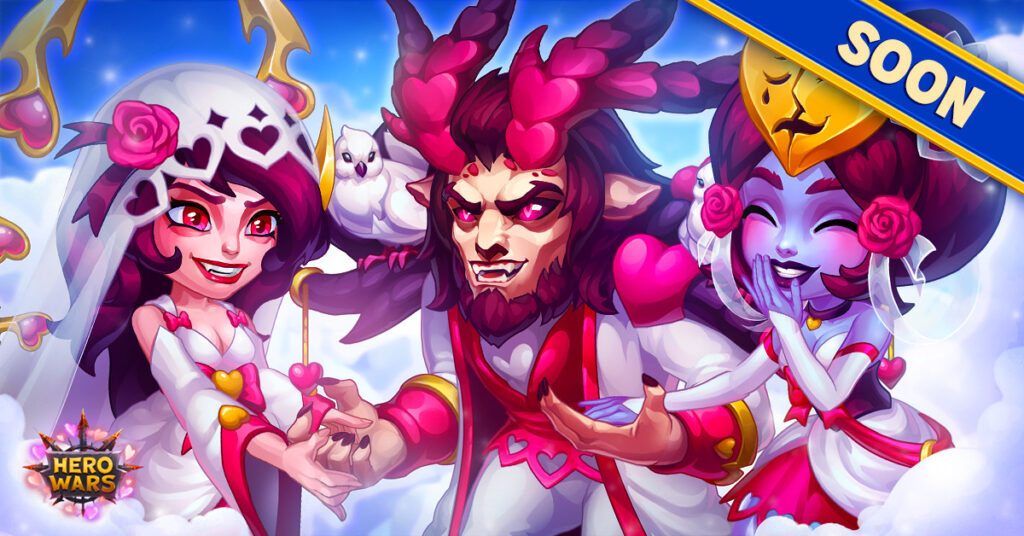 Guild Raid Rewards Not Received (continued)
Rewards and apologies were distributed, but the rewards were not in full.
Details of apology distribution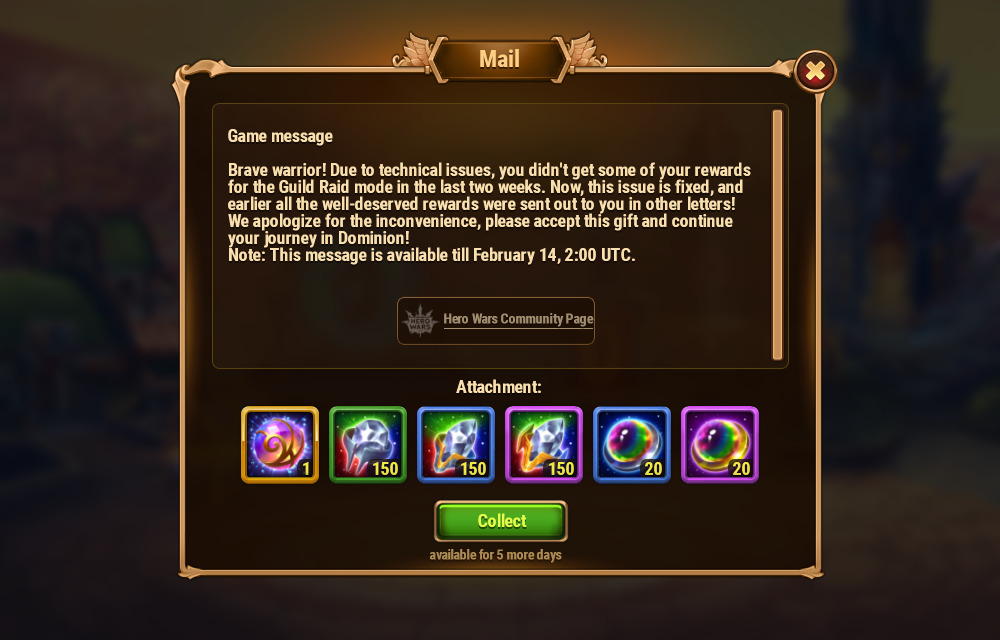 Official Community Manager, 2023.2.6
Clearly, things didn't go according to plan 🥲 We know that issue with Asgard rewards is still here, and our team is investigating this. I will update you on the matter as soon as we have more info on when you will get your rewards! Sorry for the delays!
We know that some players got their rewards, but not everyone, the developers are figuring out why is that.
Official Community Manager, 2023.2.7
Hi everyone! Update on Asgard situation. We are urging the developers to check what happened to your Guild Ranking rewards – did someone got them or no one got it, can we use the logs and generate the rewards you should have get, if they wasn't generated yesterday, etc.
Thank you all for your help and for your tickets – with that help we will identify the exact issue and make sure that everyone will get their rewards, and some more. I know that this is not an ideal case of a bug fix by far and you are justifiably irritated, but we are still here and making sure the rewards will find their owners!
Upd. You might have noticed that you got one letter with the Guild Ranking rewards – this one for the last week, we were making sure that we can send it and you will get it. From different messages it looks like it was successful, now we are digging into the rewards for the week before, so there will be one more letter with rewards for the Guild Ranking.
Official Community Manager FAQ
Titles are tailored to the content.
Another 'chat' tab for Guild Notifications
Q. Can we please get another 'chat' tab for Guild Notifications? (for important info that all guildmates should see)
The idea is only Officers (and higher) can post items to it and it won't be filled by the guild 'chatter'
A. Hi! We don't want to bloat the chat tabs menu too much, and we've got already a request for a dedicated Guild War chat similar to a Clash of Worlds chat, that is more likely to happen. But I will definitely share your suggestion with the team, maybe our developers will see a reason in that and we will be able to squeeze it there
Asgard QoL
Q. Please add the ability to exchange greater insignia (with the purple frame) into basic insignia (blue frame), and same for crystals. We have that option with resources for hero artifacts, so why can't it be the same for asgard?
A. Hey! We keep reminding our developers about all the main Asgard QoL-suggestions: fixed Osh level, minions unlocked at Monday and Crystals/Insignias exchange!
Hero Wars in facebook is blocked
Q. Hero Wars in facebook. This content is blocked.
A. Hey! Due to the issue on the Facebook platform, there are problems with logging in to Hero Wars and other games. Our devs are aware of that and currently investigating it. Thanks for your patience and sorry for the inconvenience!
Considering that players who can't log in to Hero Wars also can't log in to other games on the Facebook platform, it seems like it's a widespread platform issue. We've reached out to Facebook and trying to expedite the process of resolving this issue.
Lowered the odd of getting a totem
Q. Nexter secretly lowered the odd of getting a totem (outside of the bad luck protection)
lot of people noticed it (including me)
A. I will double-check that just in case, but I am pretty sure that is not true.
All these changes are documented for further use of other developers and different calculations. Look, it's not the first time players are coming up with conspiracy theories.
Have anyone noticed that if you get a Totem fragment in 10 pull – you are just lucky, surely nothing was changed on the game side, but if it takes you and a couple of your friends longer than you expected to get another fragment – surely there is some malicious intent behind that?
Frustration and extrapolation do wild things. I was once accused of personally lowering the drop rate of Campaign items because a player got unlucky with them the next day I was introduced as a community manager.
Main Updates
Addendum
Time to Love
New
White Hand
Guild DASHIMAKI-TAMAGO 2023.Week05
Guild War:Web31-Gold league,Place 1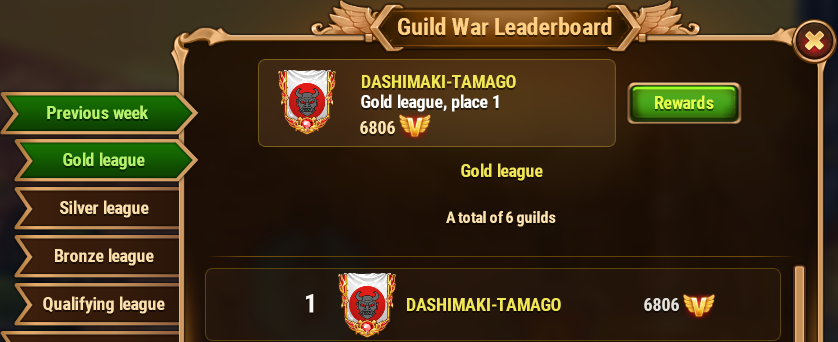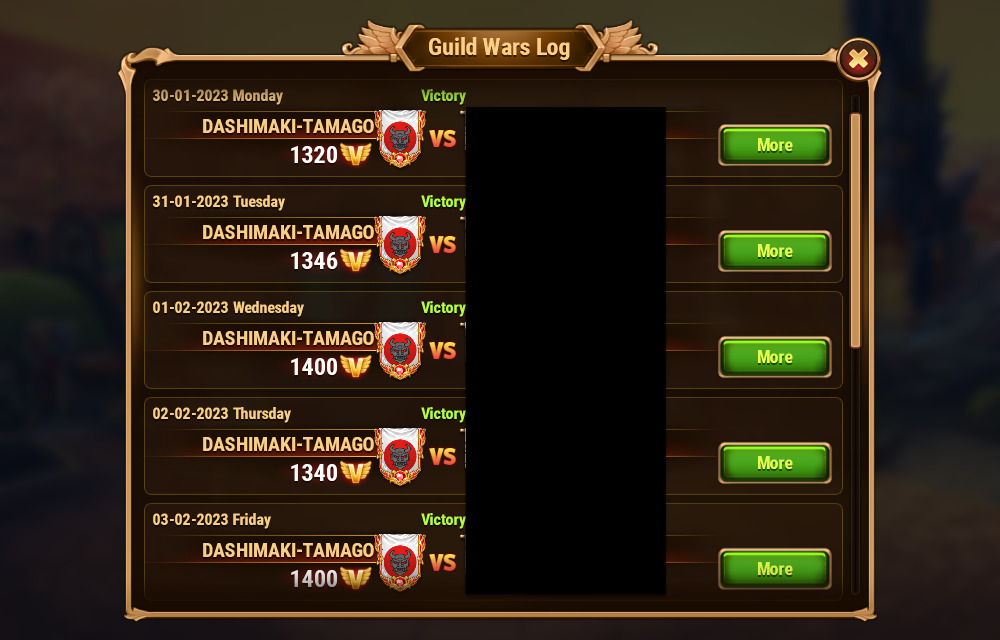 Guild Raid:Place 9

CoW: Season 2 Temporary Place 29