Cosmic Battle Overview
Event Flow
In the 24-hour preparation phase, every player casts their votes for heroes in each league. Unlike before, you now have 7 voting rights, but the voting is role-restricted.
The top 10 heroes with the most votes will be temporarily prohibited for use exclusively within this event.
Concurrently, cross-server player versus player battles will commence along with the event.
Unlike in other PVP events, you fight with your current power, but you won't have the option to select heroes that were prohibited in the voting phase (which may pose a disadvantage for those who primarily focus on renowned heroes like Dante).
Points accumulate for successful attacks or defenses in player versus player matches.
Utilize these accrued points for purchases at the event store.
Additionally, there's a standard quest known as the "The Pass of a Warrior" available alongside.
Difference from the first event
The event duration is now nearly half as long.
The quest content has been revamped.
The points required for league promotion have seen a significant increase.
Winning and ranking rewards have been substantially elevated. Store pricing remains consistent, resulting in a more streamlined approach to efficiently reward players in a shorter timeframe.
The cost of emeralds needed to purchase battle counts has been raised. In comparison to the previous event, this one can be considered higher risk, higher reward. Nonetheless, the maximum amount is approximately 100 emeralds cheaper. This is a significant benefit for those aiming for high rankings, without consideration for cosmetics.
Change opponents by using emeralds.
The best available Heroes vs. has been introduced.
Official Message
The previously announced PvP event "Cosmic Battle" will start this Friday — for 3 days, all players with team level 40 or higher will have the opportunity to battle against players within the same platform, using their heroes at their current power!
For victories and successful defenses, you will earn Ranking Points and Cosmic Battle Coins. The higher your rank is, the more Coins you get – it's that simple! As usual, you'll be able to spend the Coins on equipment items and other useful resources in the Event Store!
And tomorrow, the first stage of the "Cosmic Battle" starts in the game — the Hero Ban phase! You will decide which Heroes will be banned from the "Cosmic Battle". Here's how it works:
For one day, you will be voting for one hero from every game Role (such as Tank, Healer, etc.) you want to ban from the "Cosmic Battle";
Once the Ban phase is over, 10 Heroes (3 Heroes of the Mage role, 2 Heroes of the Tank role, and 1 Hero from each of the remaining roles) with the most votes against them will be excluded from participating in the "Cosmic Battle" — players won't be able to use them either in attacking or defending teams;
The hero ban system only applies to the "Cosmic Battle" event — you can continue to play with any heroes in other modes.
We have made changes to the Cosmic Battle matchmaking system. Now teams are more accurately matched according to your power level. (For example, pet power is now taken into account as well). Additionally, due to numerous requests, we have added the ability to refresh opponents.
Quest Order
The Pass of a Warrior
Voting Phase
Select 7 heroes within the 1day timeframe.
If you have multiple accounts, you can vote with each one.
Since each participant has only one vote, it's possible for heroes favored by top-tier players as well as those popular among newer players to be chosen.
Once you've voted, you can view the vote tally until the game commences.
You can strategize your offensive and defensive formations while observing the voting phases.
Voting Screen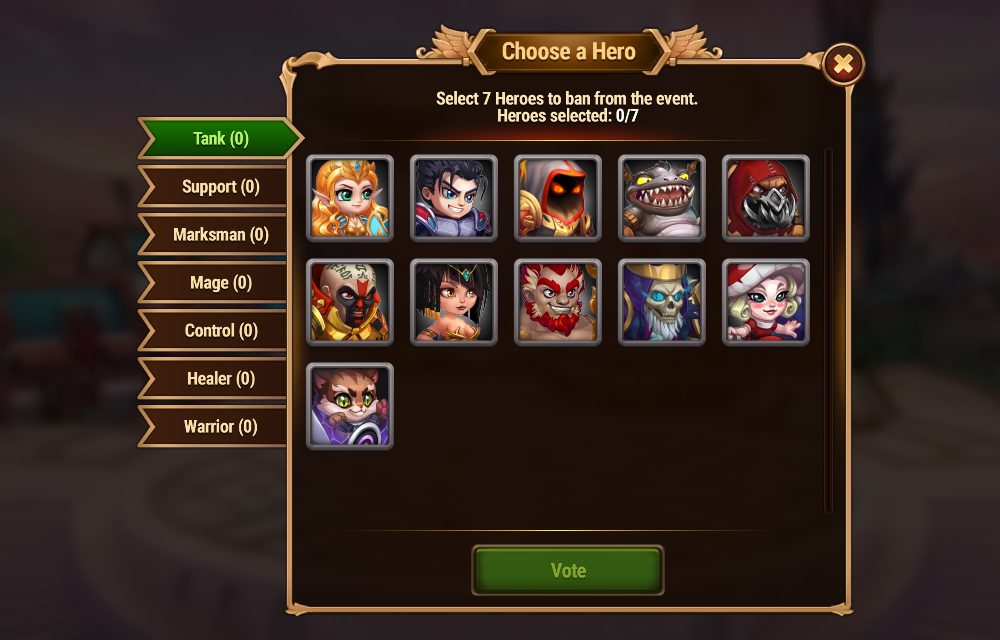 Vote Tallys
Tank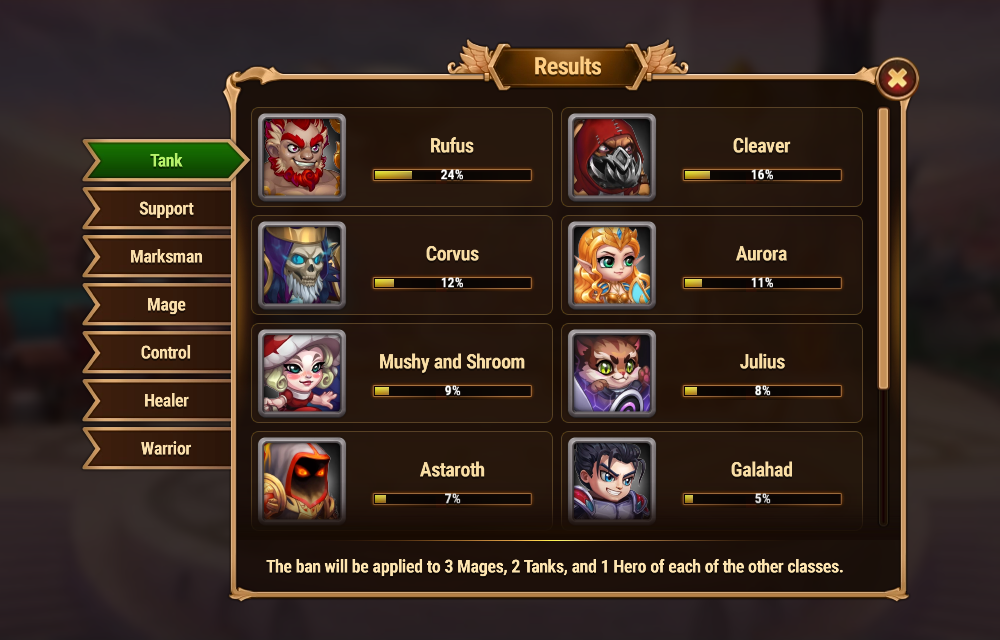 Support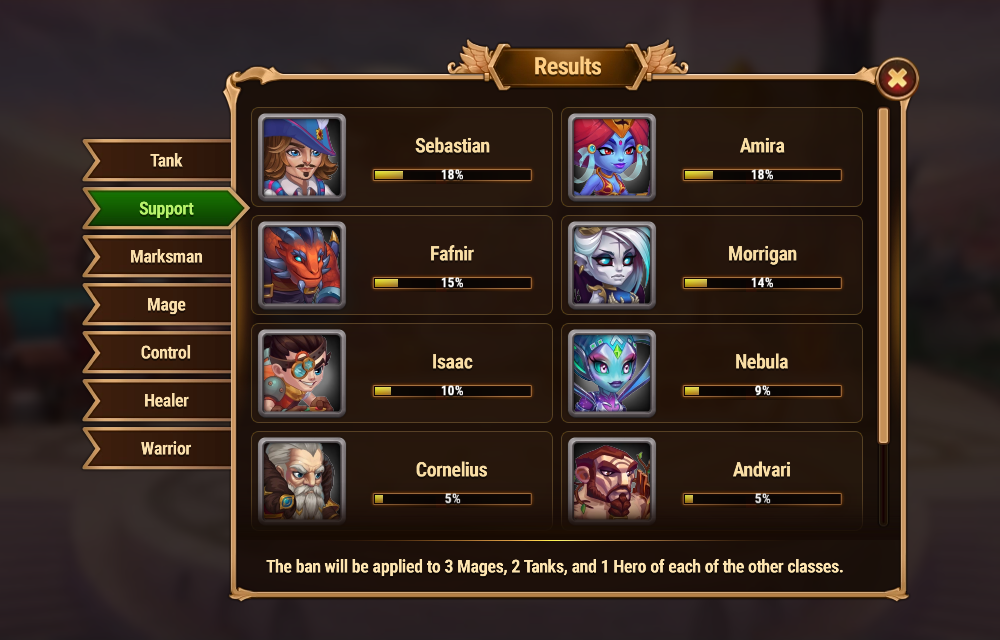 Marksman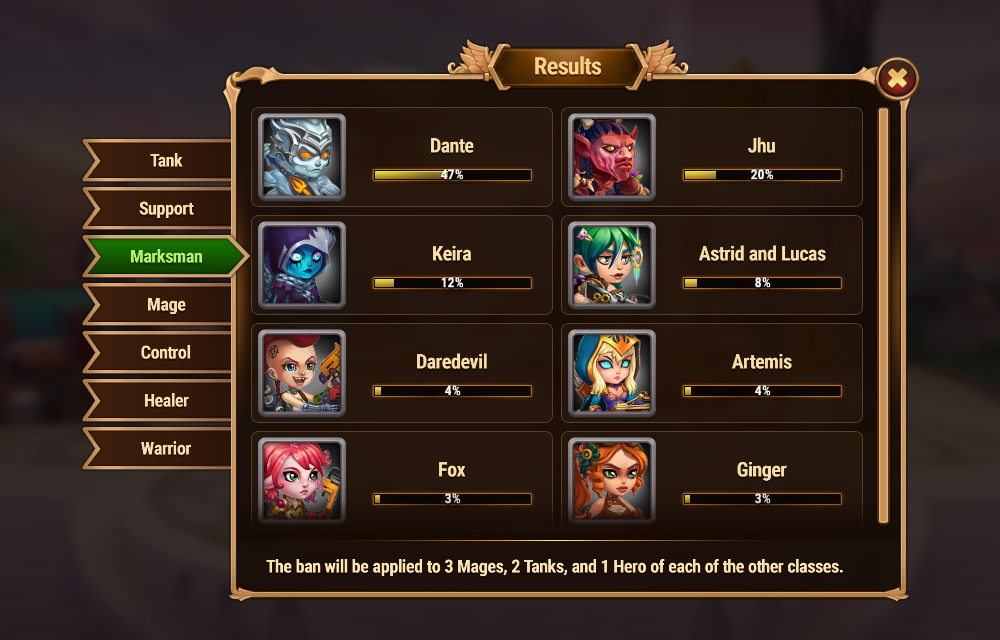 Mage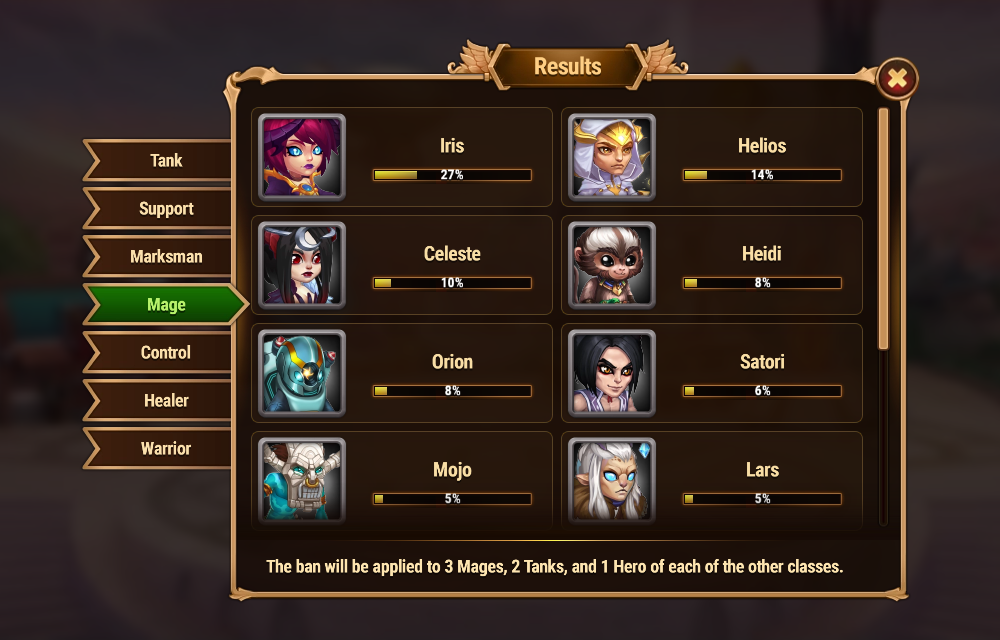 Control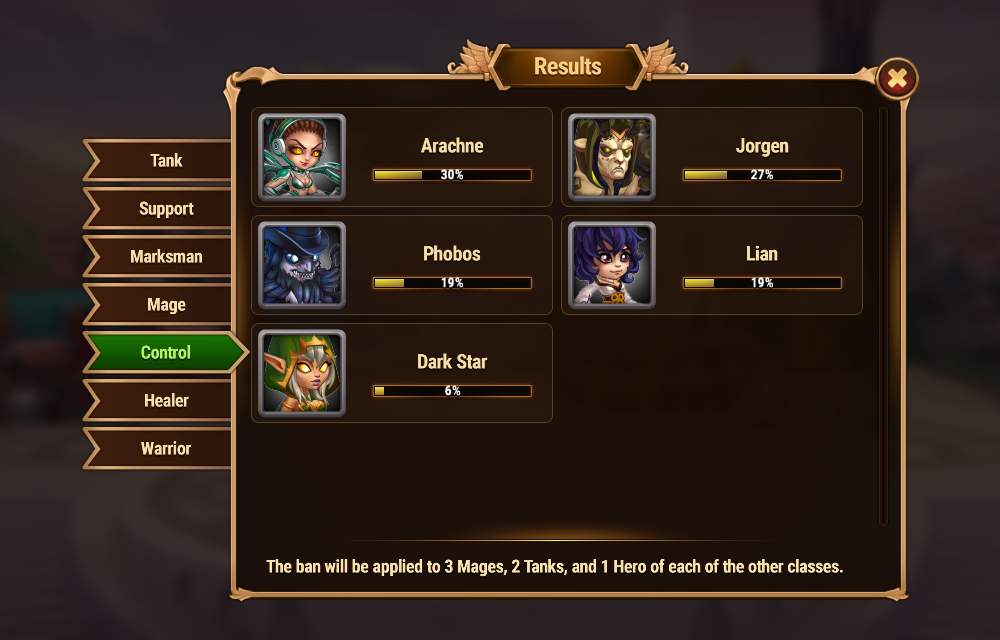 Healer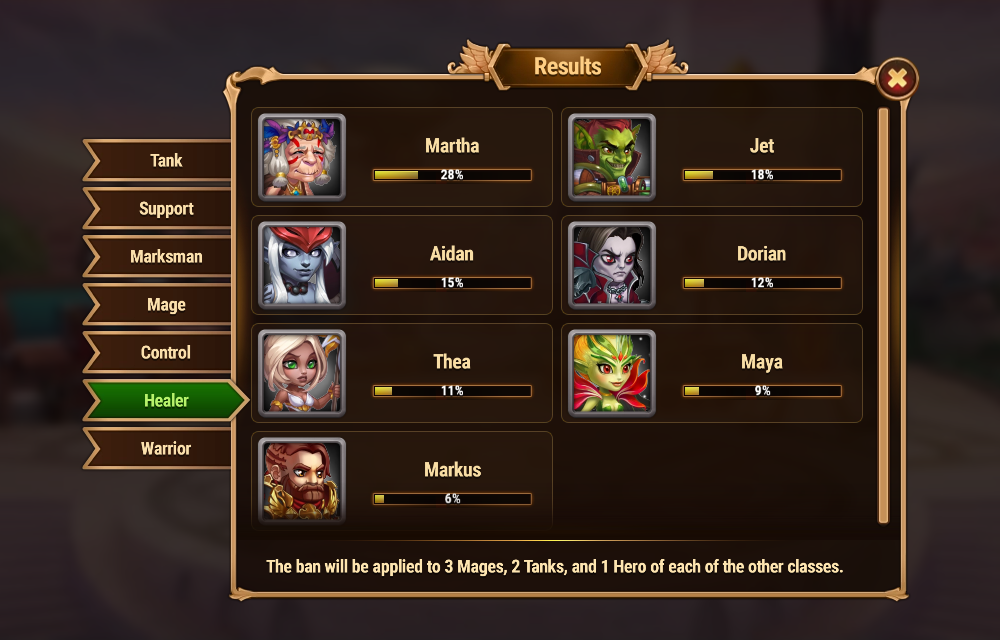 Warrior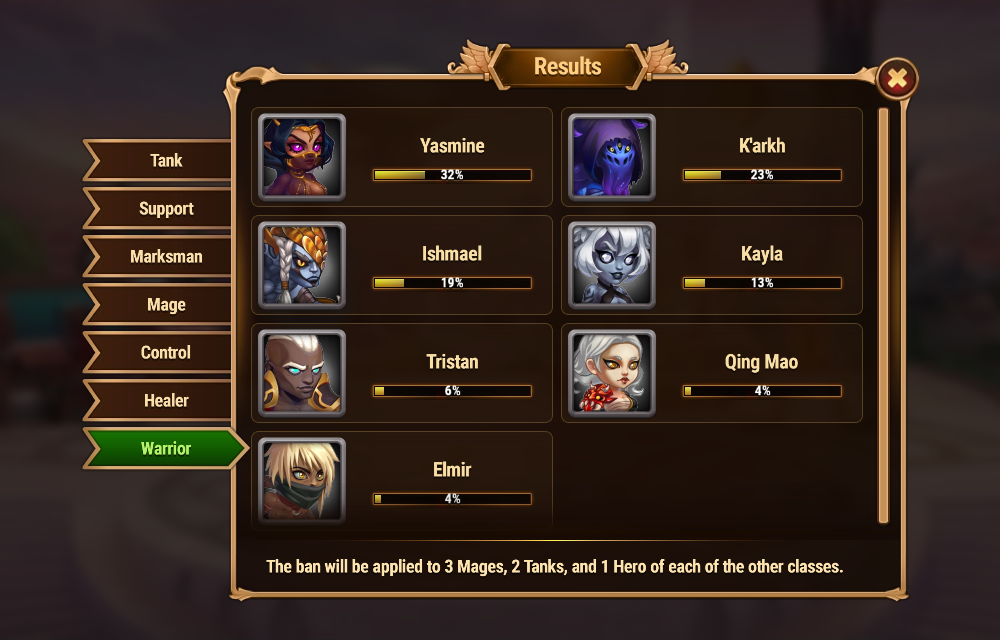 The Rules of the Cosmic Battle Run-Up
General Information
The Run-Up to the new event is here! The new event will be a cross-server arena for the players who set up their defense team on the main event screen.
The purpose of the Run-Up
This stage gives our community the chance to decide which Heroes will be part of the event. Once the Run-Up is over, we'll ban the 10 Heroes that get the most votes. Among the 10, there will be 3 Mages, 2 Tanks, and 1 Hero for each of the other classes.
You'll have one day to vote the Heroes you don't want out of the event.
In this event, players get to shape the Hero lineup. Everyone can pick 1 Hero they personally don't want there for every class.
The Main Event
Your Heroes will join the battles at their current power. You can always power them up to give your team a better fighting chance.
The battles will earn you points and event coins. Points determine your standing in the event rankings, which let you earn more coins as you progress. You can use those coins to get some unique stuff from the event shop.
Final Vote Results
You can view preliminary results in real-time mode as the voting goes on. Final results will be announced at the end of the Run-Up.
In the end, we will ban the 10 most voted-for Heroes from the event. Among the 10, there will be 3 Mages, 2 Tanks, and 1 Hero for each of the other classes. If there's a draw between the 10th and 11th places (or lower ones), it will be settled by random selection.
You'll still be able to play the banned Heroes in other modes-they just can't be part of any attack or defense teams in this event.
Player vs. Player (PvP)
Crucial Aspects of PvP
Success rates in both attacking and defending are of equal importance.
Achieving successful defenses against certain top-tier players can be challenging, but such opponents are a minority. It's advisable to consider defensive strategies that the majority of players cannot easily overcome.
Consecutive win rewards are available.
What to do when you can't win in PvP battles
1. Invest in Jorgen.
2. Try developing other heroes as well.
3. Lower the rank tier of your opponents. By weakening your defense and observing the situation, you can match up against weaker opponents.
The best available Heroes vs.
Ability to display counter heroes to opponent's hero
The content is considered controversial as to its validity.

List
Number of Attacks and Opponents
Automatic Recovery
One recovers automatically every hour, with a maximum limit of 5 times.
Attempts via Emeralds
You can replenish up to 5 attacks using the following amounts of Emeralds. It starts at 300 Emeralds, but eventually requires 2,000 Emeralds.
300
500
700
1,000
1,400
2,000
Updating your opponents
You can refresh your opponents using emeralds. It costs 50 emeralds initially, but eventually, it will require 250 emeralds.
1-4: 50
5-8: 100
9-12: 150
13-16: 200
17-20: 250
Unlimited Attempts Bundle
None at this time.
Top Rewards (Ranking Rewards)
The top 50 players across servers will receive top-tier rewards and exclusive frames. The frames follow a ranking system akin to CoW.
1st place: 20,000 coins
50th place: 10,000 coins
Reword Frames
1st Plase

2nd Plase

3rd Plase

4th Plase

5th Plase

Top 50

Rewards
Rewards vary depending on the league.
Leagues are divided by scores based on the outcome of offensive and defensive victories and change over time.
Consecutive Victory Rewards
While the rewards for victories vary depending on the rank, achieving consecutive wins can potentially multiply them by up to four times.
Matchmaking
Matchmaking is a system that selects players from the same league and Rank.
Leagues
Grand League, Ascendant League, Challenger League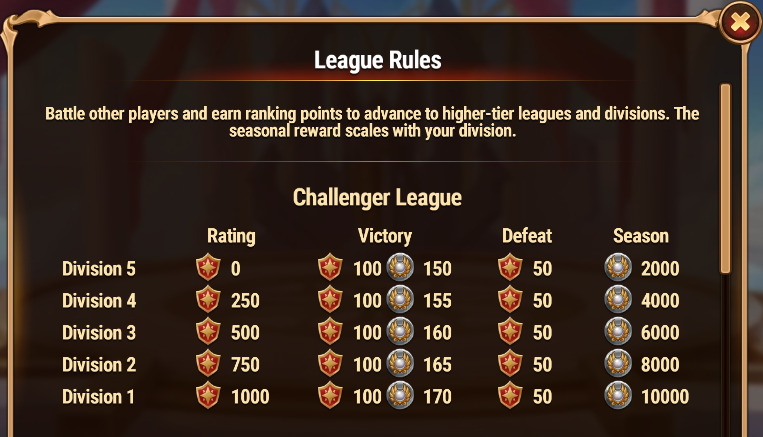 Play Styles
1. Aiming for Top Rankings
On the first day, consider purchasing the Unlimited Attempts Bundle (if available).
Continuously strategize to tackle high-difficulty defenses by adjusting your defensive setup and engaging in battles.
Utilize emeralds to buy additional attack chances daily, maximizing your progress.
2. Maximizing Rewards Style
During the initial two days, adjust your defense to a weaker setup, lower your league, and earn rewards through consecutive victories.
On days 1 and 2, the plan could be to win consecutively to secure a reward and then deliberately lose consecutively, but this does not seem to work very well.
On the third day, optimize your defense and aim to secure ranking rewards.
On the third day, depending on the situation, consider purchasing additional attack chances with emeralds (budget 800 emeralds).
3. Defense-Focused Style
If you have limited time to participate in the event, prioritize setting up your defense early.
Raise the league to the point where a match can be made.
Exchange ranking rewards for desired items in the shop. Gradually receive rewards for successful defense after the event, one by one.
Cosmic Battle Rules
General Information
The Cosmic Battle is a cross-server event where players battle each other using their Heroes at current power.
Players advance to higher-tier leagues by earning points. The higher you get, the greater your victory rewards and the final event reward.
Special Feature
You can pick any of your Heroes except the ones voted out of the event by the community. The banned Heroes have a lock icon on their avatars. Those characters are excluded from the lineup for the duration of the event.
Joining the Event
To participate in the event, you need to assemble a defense team. Matchmaking will become available once you do that. To set up your defense team, press the Defense button.
Defense
Once you've set up your defense team, you're officially part of the event and other similarly ranked players can attack you. No matter if you're defending or attacking, you'll get rewards and your ranking will change depending on how the battle goes.
Attacking
To start a battle, press the Find button. You'll get matched with an opponent of a similar ranking. Press Attack to assemble your attack team and enter the battlefield.
Win Streak
Win streaks net you an additional prize. As you rack up more wins, your win streak level goes up along with the value of the extra reward. Win streak resets when you lose a battle.
Retrying a Battle
If you've lost a defensive battle, you have the chance to make a comeback by pressing the Retry button. In that case, your win streak won't end and you won't go down in the rankings.
Rewards
All battle rewards and the final ranking rewards include coins that you can spend in the event shop.
The top 50 players get extra coins and a unique avatar frame.
Event Shop Guide
Cosmic Battle Shop Guide
Cosmic Battle Chest
After the event
Unused store coins will be converted to root boxes after the event.
Reload your browser after the event is over to receive them via Mail.
Please leave a small portion unused.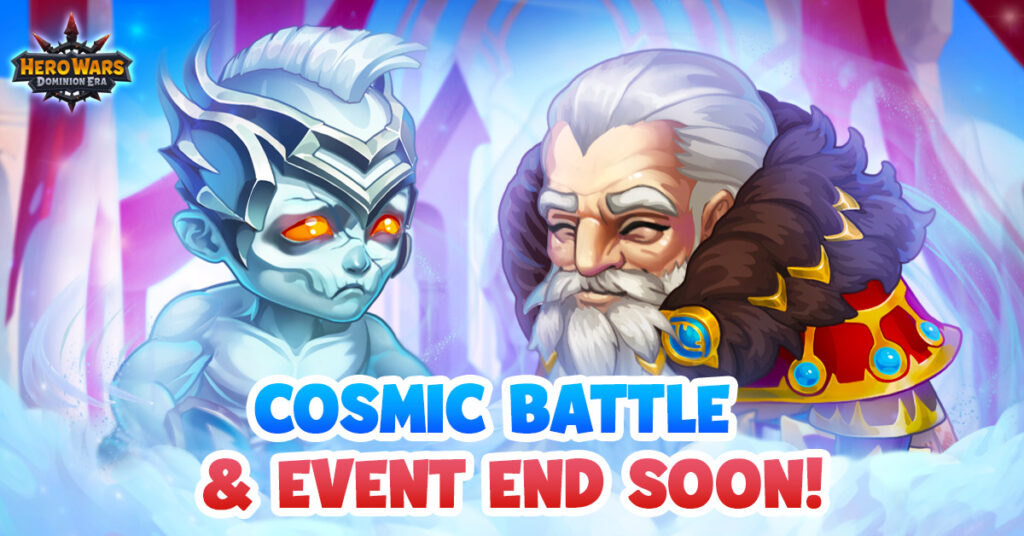 Utilizing Uncontested Victory Rewards
The method to any coins in savings
Since each defense success reward arrives by mail, the following deals may be possible.
This procedure allows you to get a Cosmic Battle Chest for 20-150 coins instead of 600 coins.
This allows you to exchange coins for defense success rewards at a discount.
Procedure for maximizing benefits
1. Keep the Mail unopened until after the event shop has closed.
2. Open only one Mail and reload your browser.
3. Collect the reward from the Mail.
4. Open the next Mail, and repeat the process.
5. Due to rounding up fractions, each Mail can be exchanged for one box.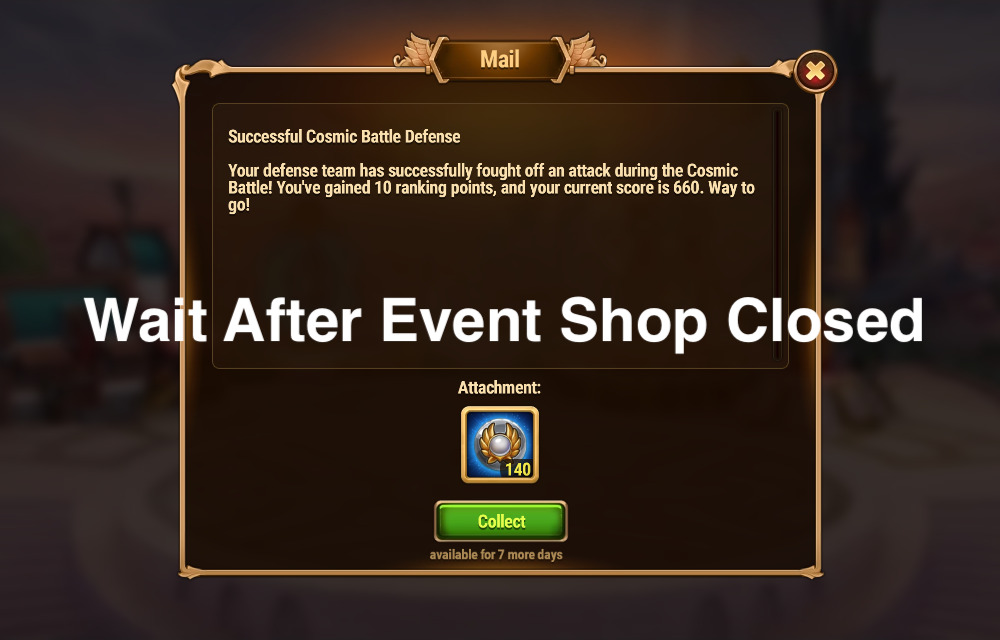 Points to note
It is eligible for batch receipt. While utilizing this technique, batch receipt cannot be used, including Friend Chips.
As it offers significant advantages, there is a possibility that countermeasures may be implemented to prevent the use of this technique.
Only for those who are willing to take the risk of countermeasures and proceed with caution.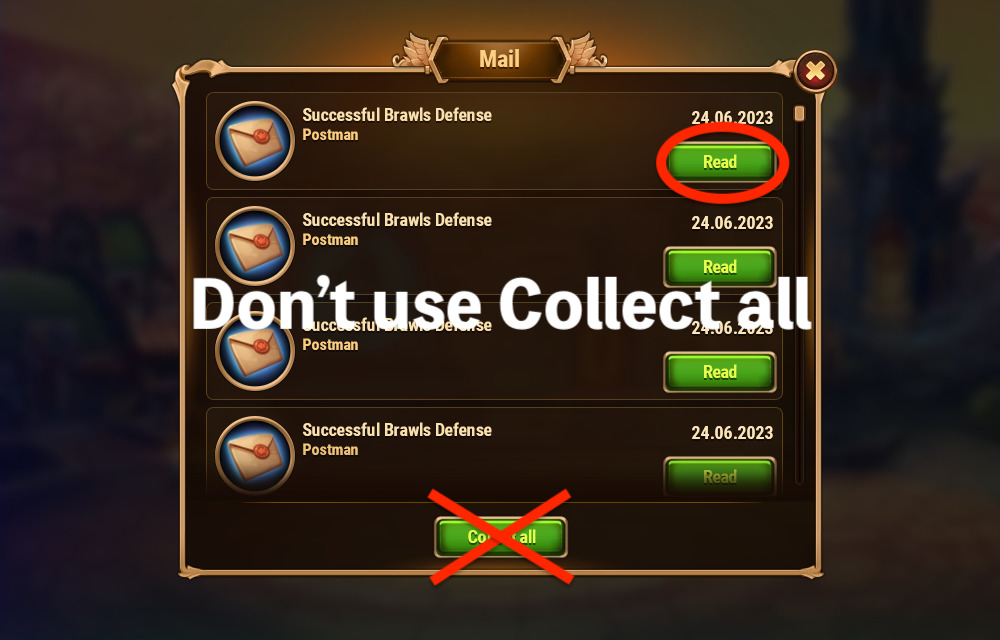 History
Friday, August 25, 2023 (7 days)
Thursday, October 05, 2023 (4 days)
Bundles
Champion's Treasure
Powerful Offer
Related Articles
The First Place: Cosmic Battle
Cosmic Battle Day 1: Jorgen's Dominance
Heroes That Could Possibly Save the Day in Cosmic Battle
Unveiling the Evolutions in Cosmic Battle: What's Changed?