Report
This is a contribution from Hayabusa of Shinkirou, one of the top guilds in Hero Wars Web version.
Hayabusa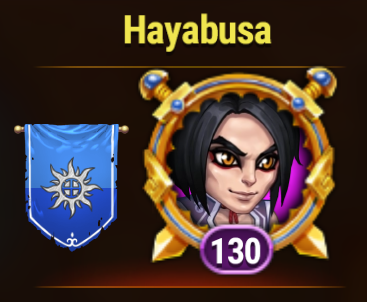 Cosmic Battle Frame – 1st Place
Before the event started
As the first cross-server individual PvP tournament in Hero Wars history, I was so much excited.
'Meta' heroes were to be banned.
In this world where Dante, Iris and Yasmine did not exist, I assumed Julius should have been powerful one for defence. Although I maxed him out, I rarely used Julius until this event. When I tested him for defence teams, I came to expect him to work very well.
On the first day – the game was on!
I soon started enjoying this parallel world of Hero Wars where Dante, Iris, Rufus, Sebastian, etc. did not exist. Many heroes that were not so widely used until then were hassled in both offence and defence. I soon decided to buy a ticket.
Before the game started, I assumed `Probably this would be a money game where whoever spends more emeralds wins.", but after the start, I got a different view "This is a competition of productivity by coming up with a strategy in a limited amount of time – a set of skills is highly required to win" and I started aiming at the top.
Whatsmore, like a dungeon, the more you won, the more coins you earned coins for a much better prize.
2nd day – the end
After the ticked expired, every day I refilled attempts tickets 3 to 4 times a day and used up the number of battles when I had time, such as during my lunch break.
From the second day, the Julius defence became widespread at the top of the rankings, and gradually tougher defence teams showed up
In order to stay the top, had to constantly generate new ideas both attack and defense.
defense trends
Defense trends moved as:
Day 1: Astharoth, Arachne, Ishmael, Lian, and Jorgen were widely used. As I expected Satori was doing great jobs.
Day 2: Julius' defense became widespread, and the opportunity of Satori's use gradually decreased.
Day 3: A tough defense was developed; Oliver to defend Julius. The averated difficulty level increased suddenly.
Day 4: A certain team was found that could defeat most of the majour Julius defense teams with a high probability. I considered other defens teams
Day 5: Several tough defenses were developped (I also made one) that worked well to the team above, and these desicoverlys changed the trend. Julius became tougher again
Day 6 – Day 7: Even just before the game ended, there were more new tough Julius formation appeared by using Aurora.
Great heroes who shined!
Julius, who seems to have not been used much until now, plays an active role in defense.
Kaira worked hard as a decoy to deal with Jorgan or as a hindrance to Martha's recovery
Satori was the first call attacker in this game
Daredevil was powerful to kill Julius with her debuffs and pure damage
Recommendation for stockpiling
I brokethrough troubles by using my stockpiling
Compared to other rankers, I had less cards in my hand (around 20 usable heroes including minor training).
Out of the 10 banned heroes, 8 of them other than Cleaver and Kirkh were max.
I came across some strong defenses – no matter how much considered, even if I took manual play into the account, the probability of win seemed to be below 90%.
However, there were breakthrohs against Julius in the heroes that I had not strengthened. The toghest one was Daredevil.
From this experience. I think one of the keys to win was "how many stockpiling you have."
Actual stockpile utilization
Daredevil:
Artefacts → from zero to max, Equipment → from purple to orange, Ascension Spires → from zero to 3rd stage completion
*Glyphs and Skins were zero.
I raised it without using any emeralds. Although it was a limited and quick upgrade, she became a great contributor to win
In addition, Qin Mao was strengthened during the event.
Ascension Spire → Max from 3rd stage completion
*Glyphs and skins are zero. Artifacts and Equipment are already maxed out
In advance, for defense, I also strengthened Jorgan before started. All armour and magic defence elements (Equipment Skins, Glyphs, Ascension) were fully equipped.
I did not use a large amount of emeralds.
Personally, I did not want to spend emeralds for this event – I saved my budget for Hero Wars recently.
I could run go through this event as the winner thanks to my stocks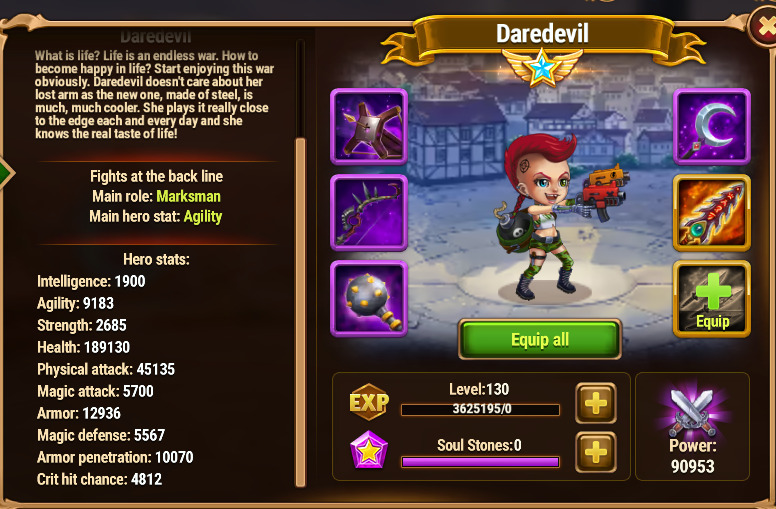 Looking back at the whole thing
I stayed enjoying this event until the end and ended up the game in 1st place.
The total amount of coins earned was approximately 530,000 coins.
My final score is 7,500 points.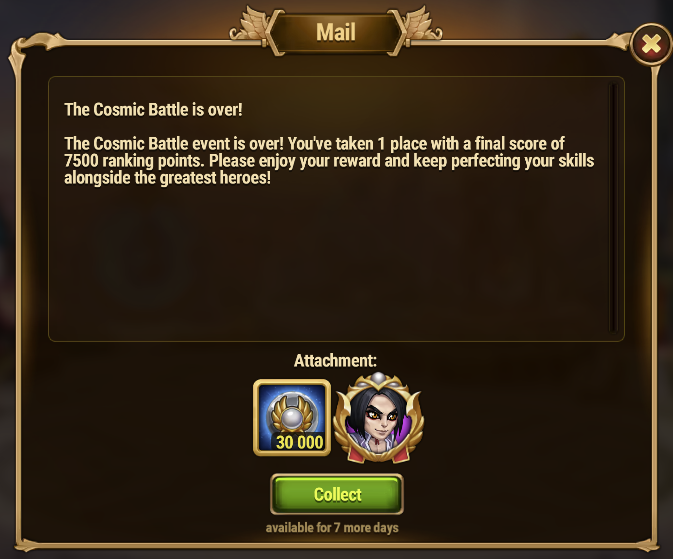 Tips
The following methods may be effective to win. I have summarized my experiences.
Defense study before started were effective even through the event
During the week, this gave me the power to run through the event. Thinking about defence also meant thinking about counters, which was useful for attack as well.
Be aware of all the factors related to productivity
Various factors affect the ranking, such as winning rate, speed of reaching good counters, memory ability to avoid redundancy, speed of mouse/keyboard use, etc. I think you need to improve all of these elements of our attack to raise your rank
Update yourself constantly throughout the period.
New defences were developed from time to time. Until just before the end of the war, unknown and difficult defences were developed. The situation in the war was changing, and in order to stay higher rank, we needed to catch up with the changes by changing ourselves.
Stock resources to quickly respond to environment changes
Since I started Hero Wars, I have had the habit of always having a stockpile of resources, and this helped me several times. For example, when Ishmael was upgraded to one of the strongest heroes on the same day as Fafnir arrived at Dominion, I used my resources and maxed out the two on the day with tens of thousands of emeralds. In this event, this habit helped me again.
The attaractive points of Cosminc Battles
I think the most attractive nature of this Cosmic Battles is that you can enjoy a parallel world and it can drastically change depending on banned heroes. Cosmic Battles seem to be a regular event, and I expect at each tournament, there are bound to be unexpected discoveries.
Let's enjoy the second tournament that should be another parallel world together.
If almost the same heroes will be banned, please refer to this content!
Related Articles
Cosmic Battle
Unveiling the Evolutions in Cosmic Battle: What's Changed?
Cosmic Battle Day 1: Jorgen's Dominance
Why I Love Satori: My Story