Emerald Chests! Bundle to be Held
Usually, the Emerald x4 sale is held for one day at the Summer Festival
But in 2022, this bundle was sold instead.
Some people are not eligible for this bundle, but for the x4 sale as in previous years. It is not yet clear what criteria are used to sort them. Perhaps an AB test type thing.
May only purchase once for each amount.
May be sold in the future.
Reference (Emerald x4 Sale)
Is the Emerald Chests! Bundle a good?
There is a 2x difference in cost performance between the low and high bundles.
The low bundle is equivalent to x2. In terms of estimated expected value, purchase is not recommended.
High bundle is equivalent to x3 to x4 emeralds.
If you consider sharing with guild members, the high bundle is better than x4 emeralds.
If the entire guild buys the most expensive bundle, the result is likely to be better than x4 sale. Not an easy decision to make.
If people with low VIPs buy the most expensive bundle, it is easier to give them advantages than the Emerald x4 Sale.
Easier for individuals to make a difference.
Not eligible for Emerald Falls.
Emerald Chest Bundle and Summer Bundle
Both have overlapping sale periods in terms of Summer Festival timing.
Both types of bundles are cost-effective only for the higher-priced bundles. Low budget considerations should not purchase either.
Summer Bundle is more cost-effective, though slightly. However, Gold is included. However, the Summer Bundle is more cost-effective, and the range of content choices is limited. Therefore, the pros and cons depend on the guy.
Neither is the subject of Emerald Falls.
No matter which one you choose, there is a game of luck. If you want to avoid that, you should not buy.
Summer Bundle
Individual Differences in Emerald Chest Bundles
The three people who bought the most expensive bundle had the following results
Player A : about 290k Emeralds (x4.2)
Player B : about 270k Emeralds (x3.8)
Player C : about 240k Emeralds (x3.5)
Estimated bundle value in emerald equivalent
Please consider this as an example, as a sufficient sample size was not taken for the sake of immediacy.
Estimated Emerald equivalent for each bundle
Bundle 1 = 12,210 Emeralds(x2)
Bundle 2 = 26,455 Emeralds(x2.2)
Bundle 3 = 56,980 Emeralds(x2.4)
Bundle 4 = 122,100 Emeralds(x2.9)
Bundle 5 = 264,550 Emeralds(x3.8)
Estimated Emerald equivalent for each bundle(in Guild will get)
Bundle 1 = 24,013 Emeralds(x4)
Bundle 2 = 50,061 Emeralds(x4.1)
Bundle 3 = 92,389 Emeralds(x3.8)
Bundle 4 = 169,312 Emeralds(x4)
Bundle 5 = 323,565 Emeralds(x4.7)
List of Emerald Chests! Bundle
Bundle 1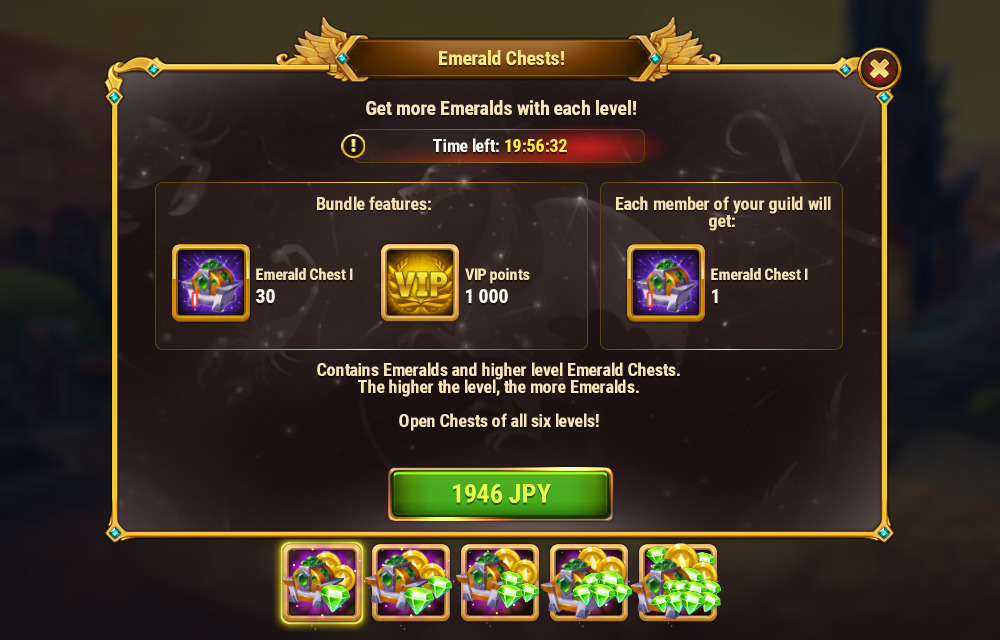 Bundle 2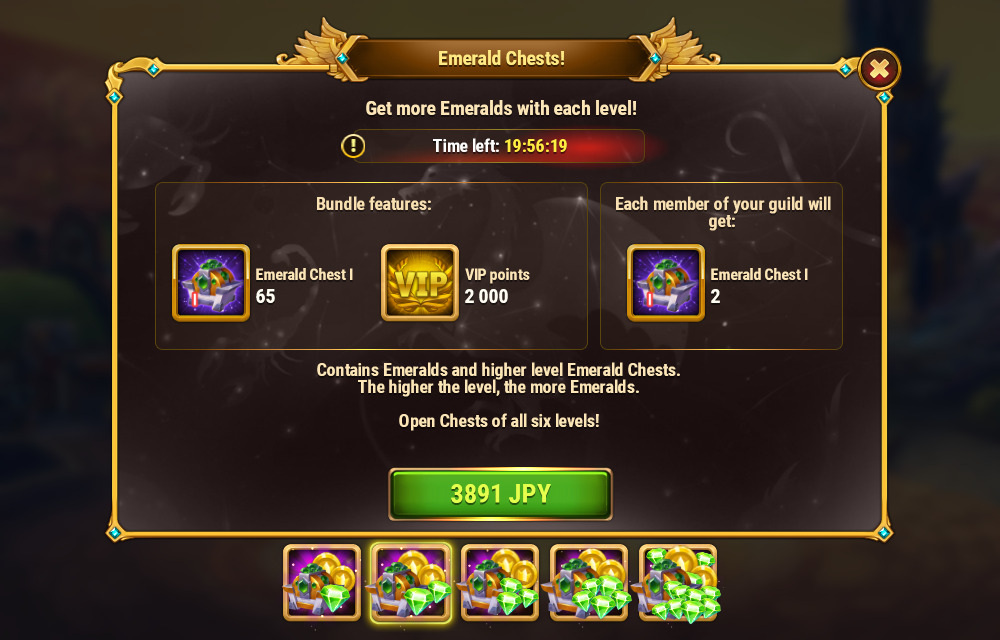 Bundle 3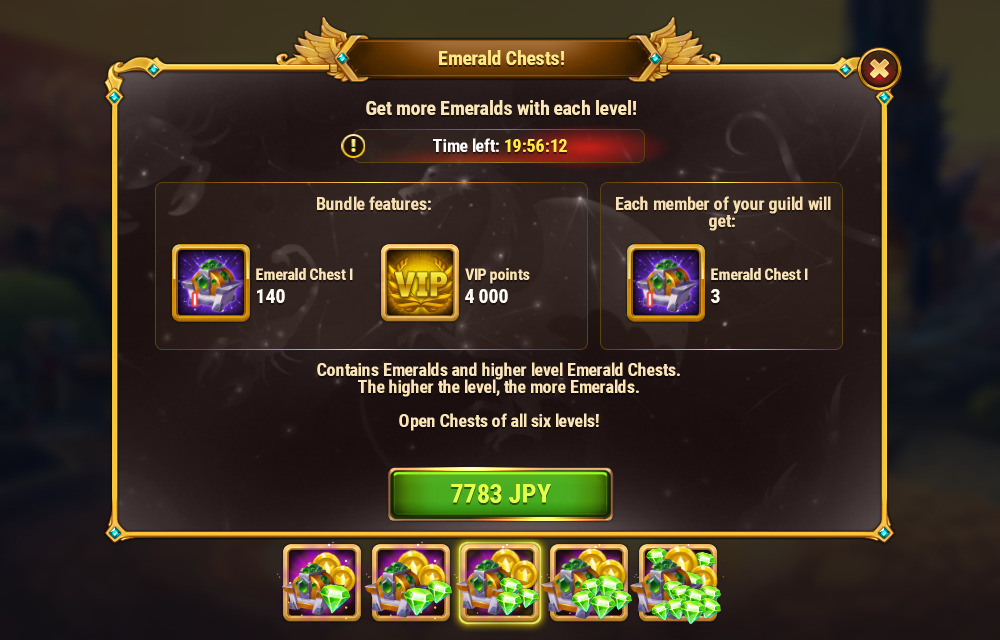 Bundle 4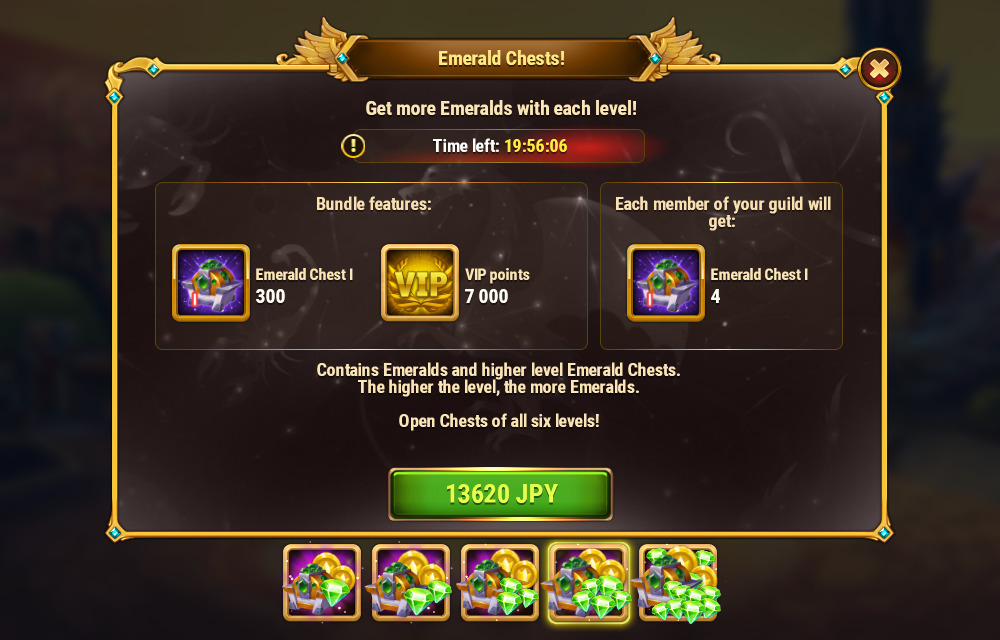 Bundle 5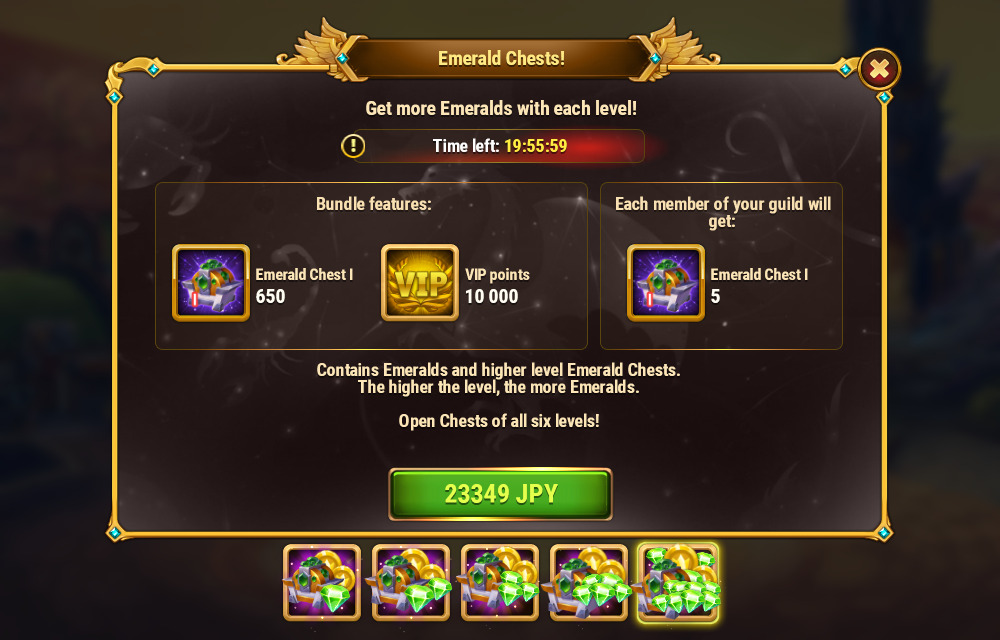 Opening Results (1,300+)
Bundle Holding History
Sunday, July 31, 2022 (24 hours)
Event Page
Event Shop