What is Energy Overload?
Appeared at the Festival of Traditions
Daily Event for 24 hours only.
A different Event every day for 7 consecutive days.
Only two Quests include a Log in.
The prize is one of a 7-Color Doll Series, the "Charged Doll".
Flavor Text
It's time to prove that you are the Dominion's most active warrior! Hurry to complete all quests and receive all gifts.
Charged Doll
Quest Contents
1. Log in (MAX 1): Achieved by logging in to Hero Wars every day.
2. Spend energy (MAX 8,500) : You can use Time Difference Technic.
All Quests
Welcome Guest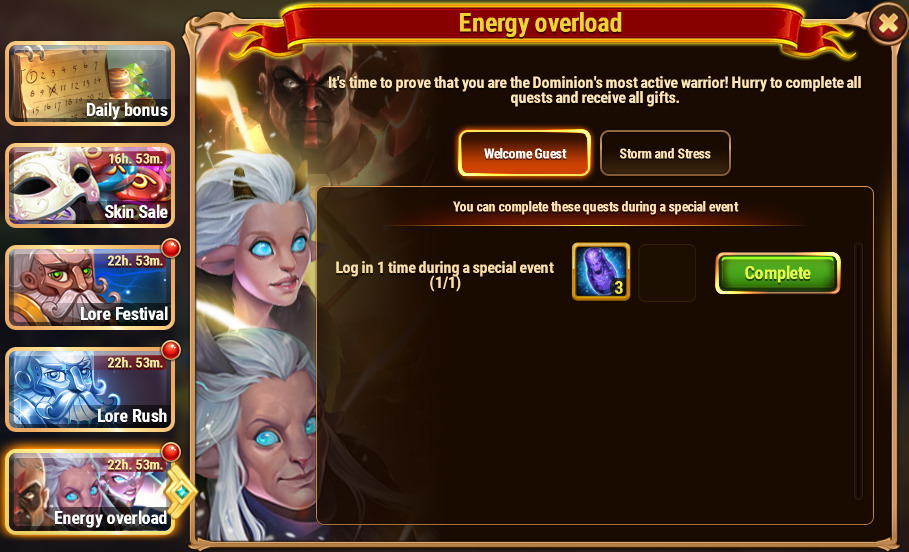 Storm and Stress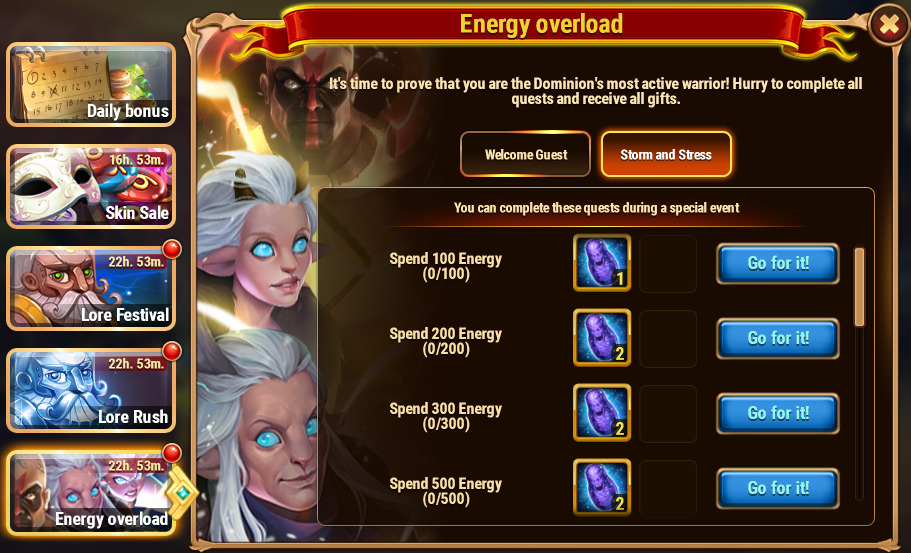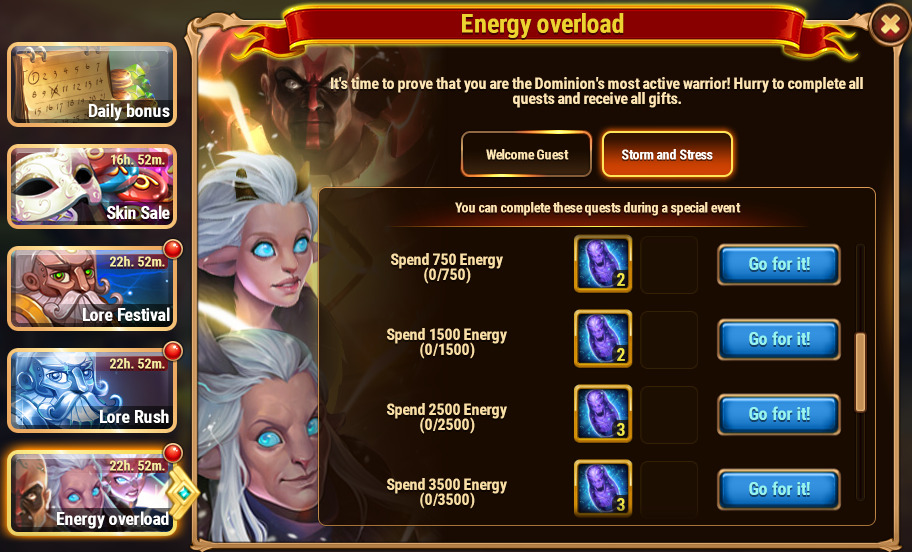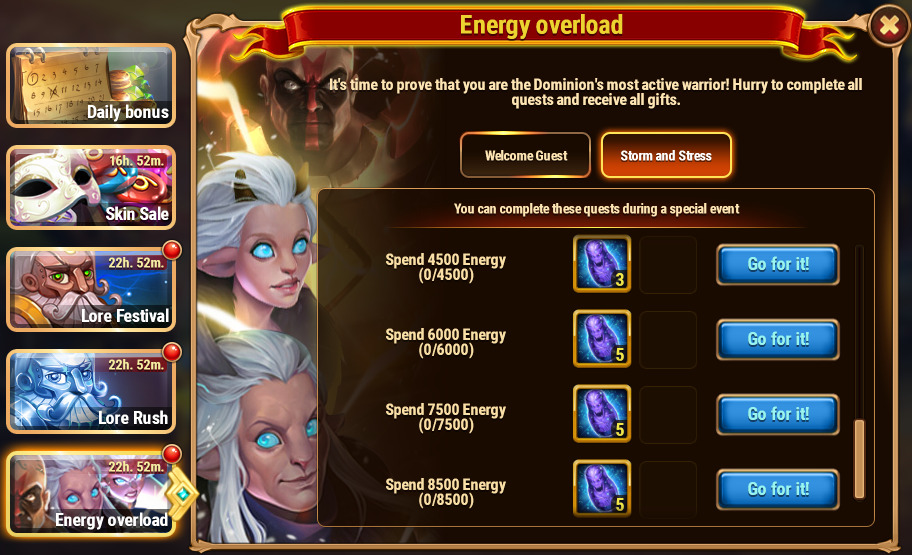 Optimal Achievement Guideline for Campaigns
Excluding gifts, etc., the following order is generally optimal
300 energy on Free recovery and Daily Quests
120 energy x2 for 50 Emeralds x2
120 energy x5 for 100 Emeralds x5
120 energy x6 for 150 Emeralds x6
200 energy for Bottled Energy(300 Emeralds)
Quest Efficiency Chart
Returns with rewards have been rearranged.
Regular rewards and Daily Quests are not included.
A summary of how much the +/- gained from this event return to the Emeralds spent.
This is a description of the expected value based on statistics. The individual difference is about twice as large as the total.
For details of the rewarded Dolls, please refer to the link above.
Emerald consumption is based on the aforementioned guidelines.
There is a game of luck in how much energy bottles can be obtained.
| | | | | |
| --- | --- | --- | --- | --- |
| Quest | Required Energy | Required Emeralds | Expected value of Dolls (estimated Emerald equivalent) | Expected value of Bottled Energy |
| 1 | 100 | | 1 (204 Emerald equivalent) | 0.4 (120 Emerald equivalent) |
| 2 | 200 | | 3 (613 Emerald equivalent) | 1.2 (360 Emerald equivalent) |
| 3 | 300 | | 5 (1,022 Emerald equivalent) | 2.1 (630 Emerald equivalent) |
| 4 | 500 | 100 | 7 (1,430 Emerald equivalent 1430.1%) | 2.9 (870 Emerald equivalent) |
| 5 | 750 | 300 | 9 (1,839 Emerald equivalent 612.9%) | 3.7 (1,110 Emerald equivalent) |
| 6 | 1,500 | 1,050 | 11 (2,247 Emerald equivalent 214%) | 4.5 (1,350 Emerald equivalent) |
| 7 | 2,500 | 2,550 | 14 (2,860 Emerald equivalent 112.2%) | 5.8 (1,740 Emerald equivalent) |
| 8 | 3,500 | 4,050 | 17 (3,473 Emerald equivalent 85.8%) | 7 (2,100 Emerald equivalent) |
| 9 | 4,500 | 5,550 | 20 (4,086 Emerald equivalent 73.6%) | 8.2 (2,460 Emerald equivalent) |
| 10 | 6,000 | 7,650 | 25 (5,108 Emerald equivalent 66.8%) | 10.3 (3,090 Emerald equivalent) |
| 11 | 7,500 | 10,050 | 30 (6,129 Emerald equivalent 61%) | 12.4 (3,720 Emerald equivalent) |
| 12 | 8,500 | 11,550 | 35 (7,151 Emerald equivalent 61.9%) | 14.4 (4,320 Emerald equivalent) |
History
Wed, 01 September 2021 (1 day)
Wed, 07 September 2022 (1 day)
Concurrent Events
Lore Festival
Lore Festival All Quests
Lore Rush
Lore Rush All Quests
Strongford Quiz
Event Bundles
Energy Recovery x2 Bundle