Strongford Quiz Overview
The event is held in March and September. The quiz contents are the same.
Competing for scores in the HeroWars quiz event (Strongford Quiz).
Quiz tickets are available at concurrent events and at the official distribution URL.
Real-time ranking within the server.
Each quiz ticket allows you to solve one question.
Quiz is in 4-choice format with a 30-second time limit.
You can choose between a single question format or a series of 10 questions.
You can choose 10 consecutive questions only when you have 10 quiz tickets.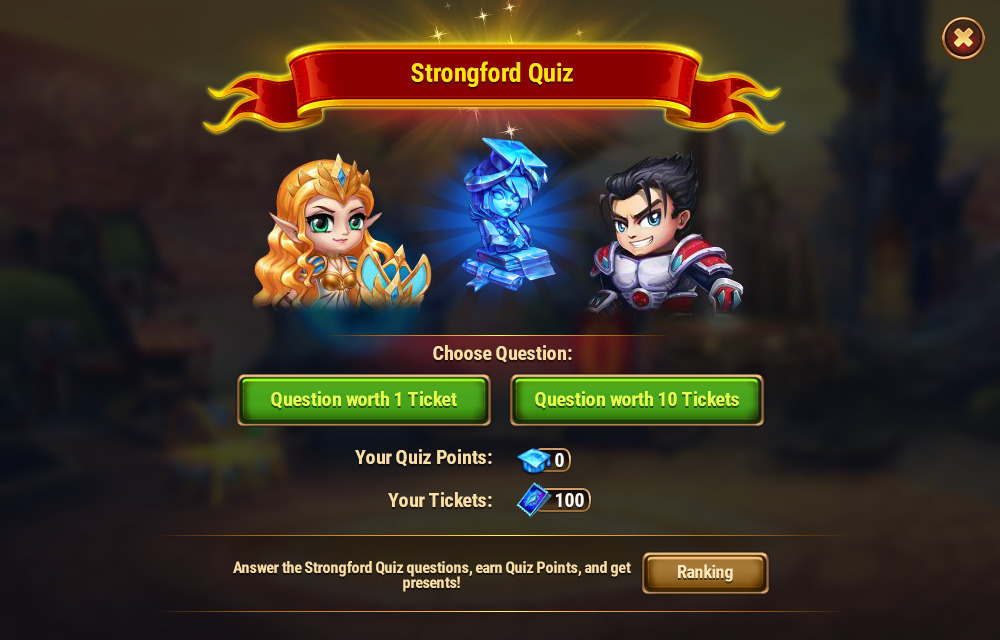 Strongford Quiz Explanation
Strongford Quiz Strategy
Because of the Dominion Chronicles, you want to get a head start if possible.
Most of the questions are the same ones used every year. Preparation is effective.
Once a certain number of correct answers are received, the question becomes almost exclusively an image question (considered to be a measure for past questions).
Image questions often follow the following pattern:
1. You see an image of a skill icon and answer the name of the skill or hero.
2. You are shown the name of the skill and choose its icon in the image.
3. You see an image of an artifact icon and answer its name or hero name.
4. When the name of the artifact is shown, the player selects its icon by its image.
5. When the icon image of the hero is shown, the player selects its name or the name of the artifact.
Quiz Rewards
Quiz Points +20 for correct answers within 30 seconds.
Quiz Points +15 for correct answers within 60 seconds.
Quiz Points +12 for correct answers within 180 seconds.
Quiz Points +10 for correct answers within 180 seconds.
Quiz Points +5 for incorrect answers.
Lore Seeker's Bag x5 for each challenge, regardless of correct or incorrect answers. (previously varied between x1, x3, x5 depending on the contestant, but fixed at x5 for September 2022)
Quiz Points +20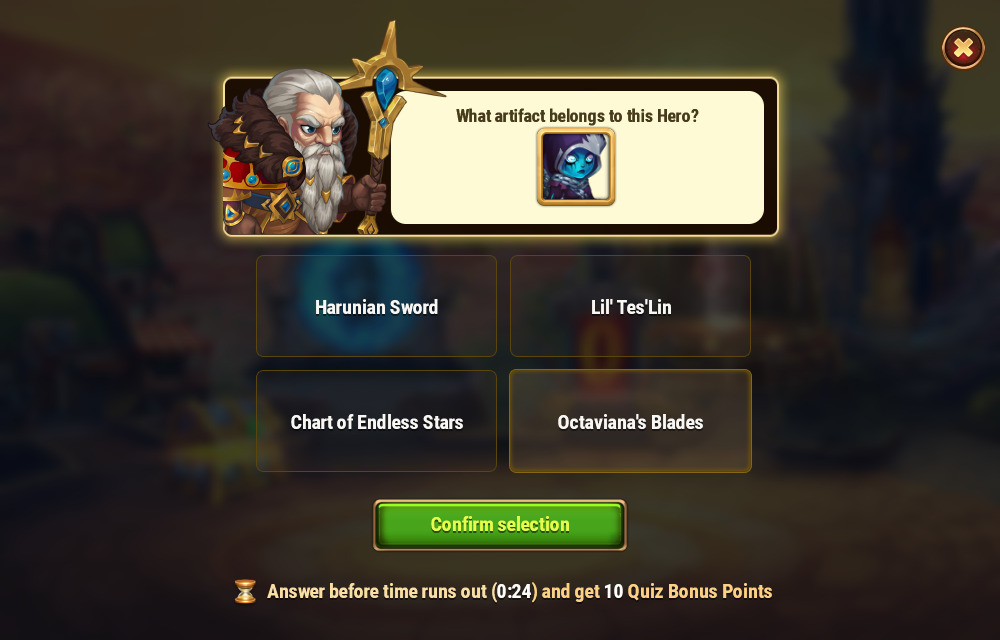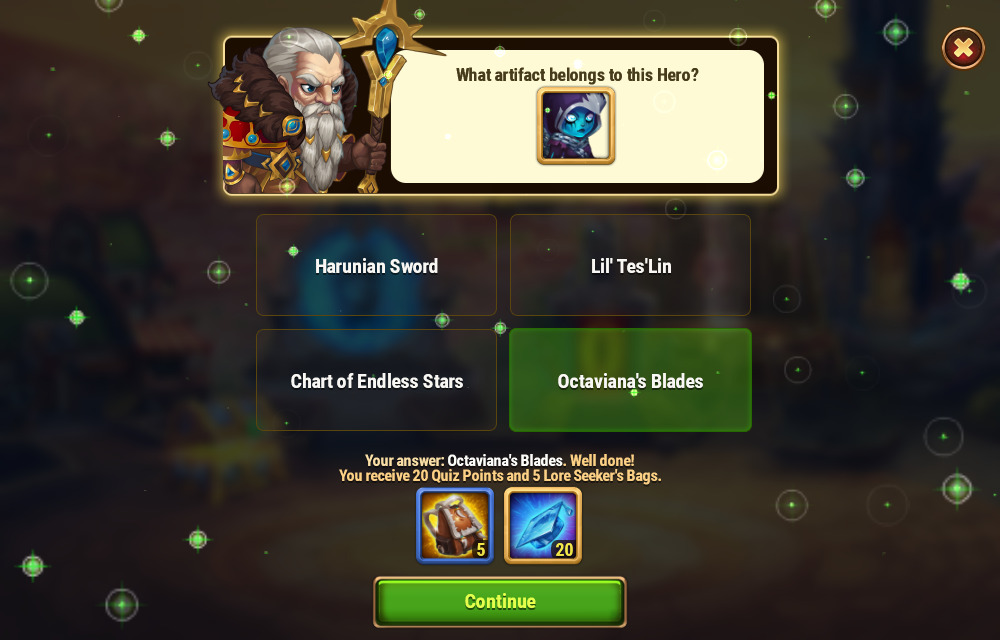 Quiz Points +15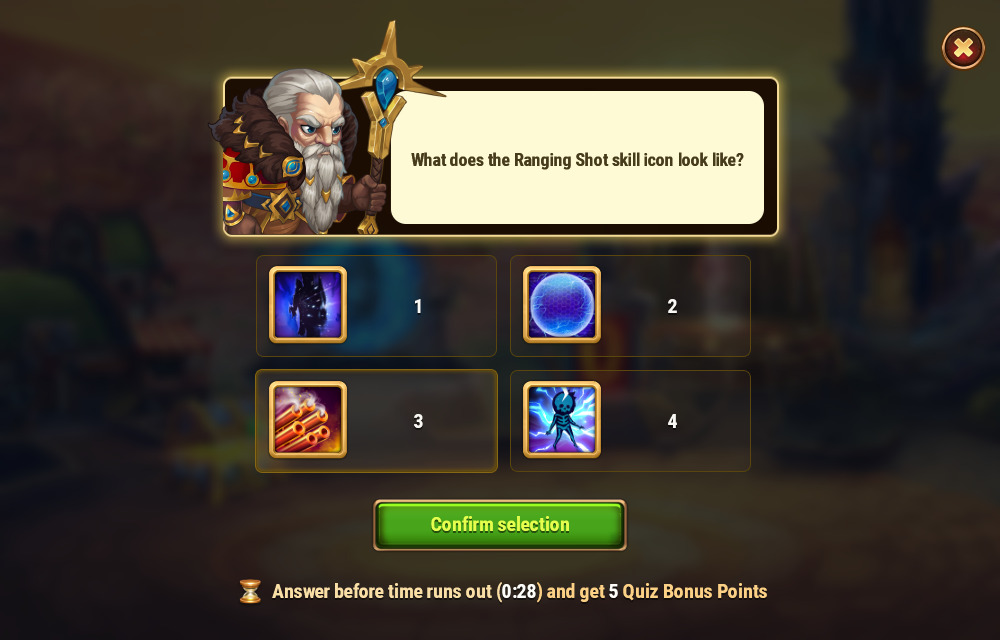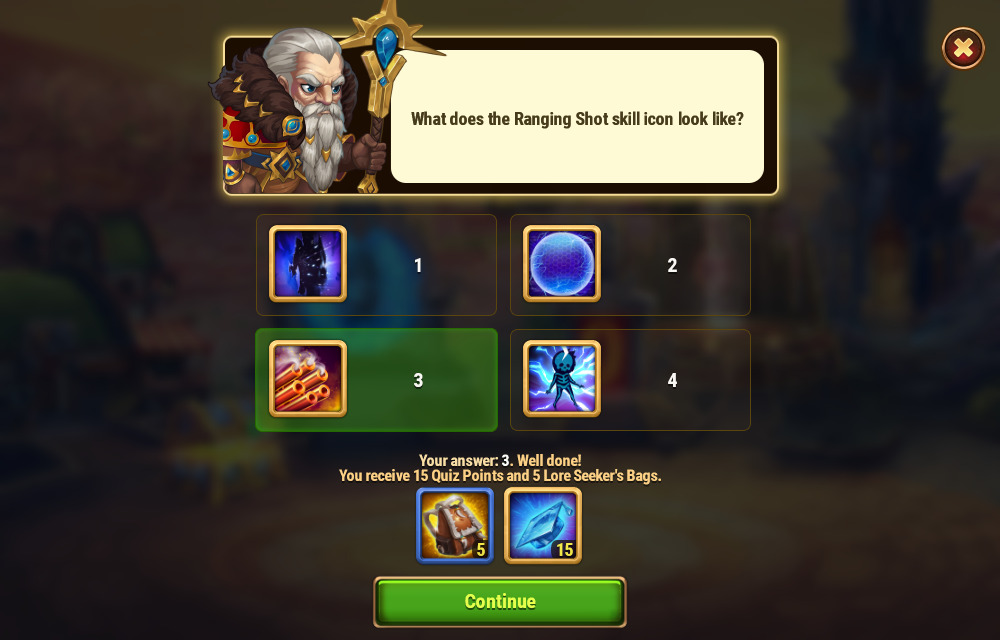 Quiz Points +12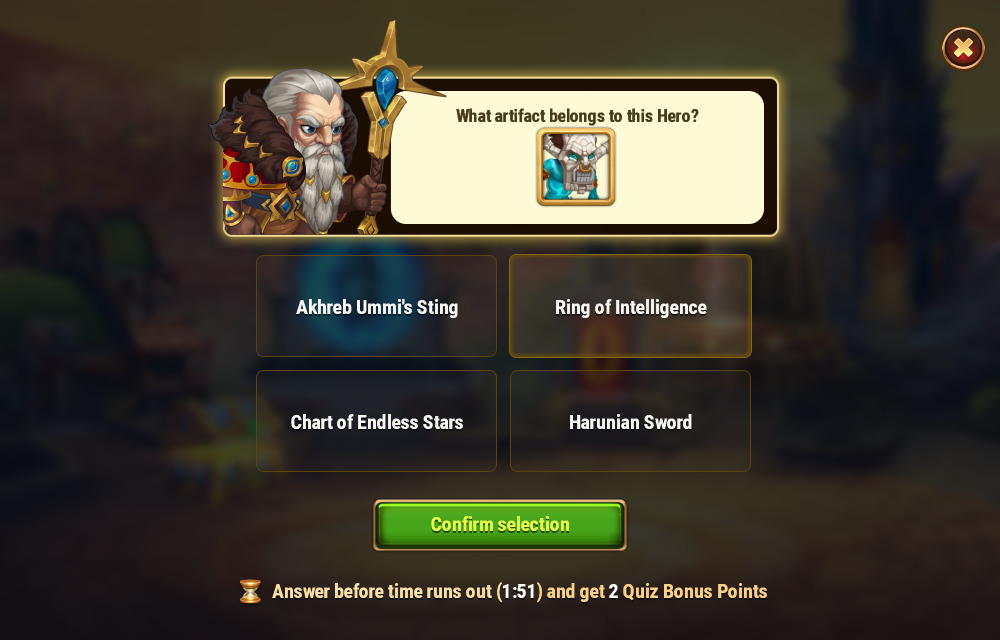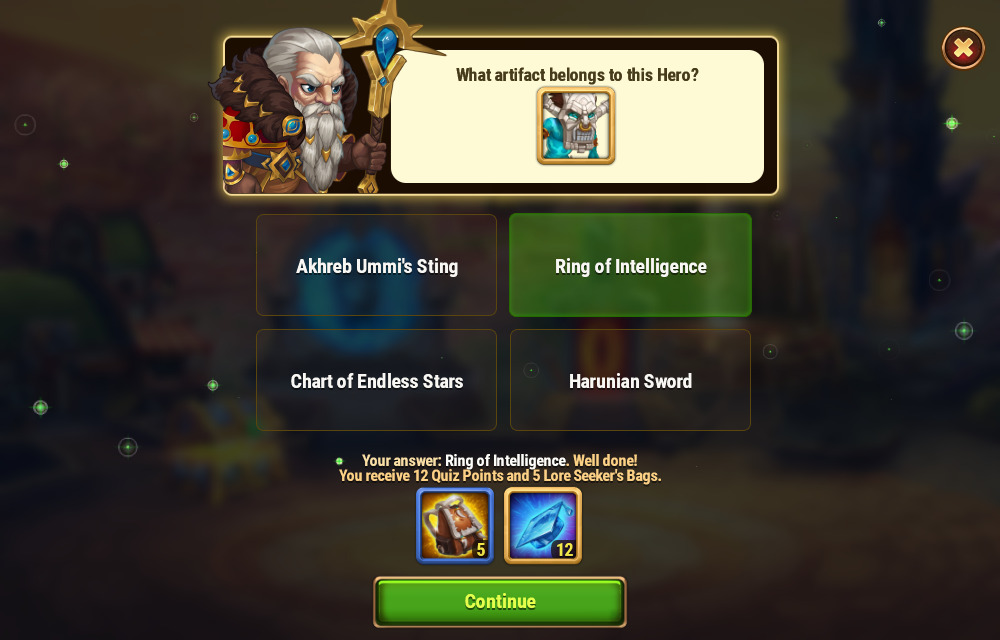 Quiz Points +10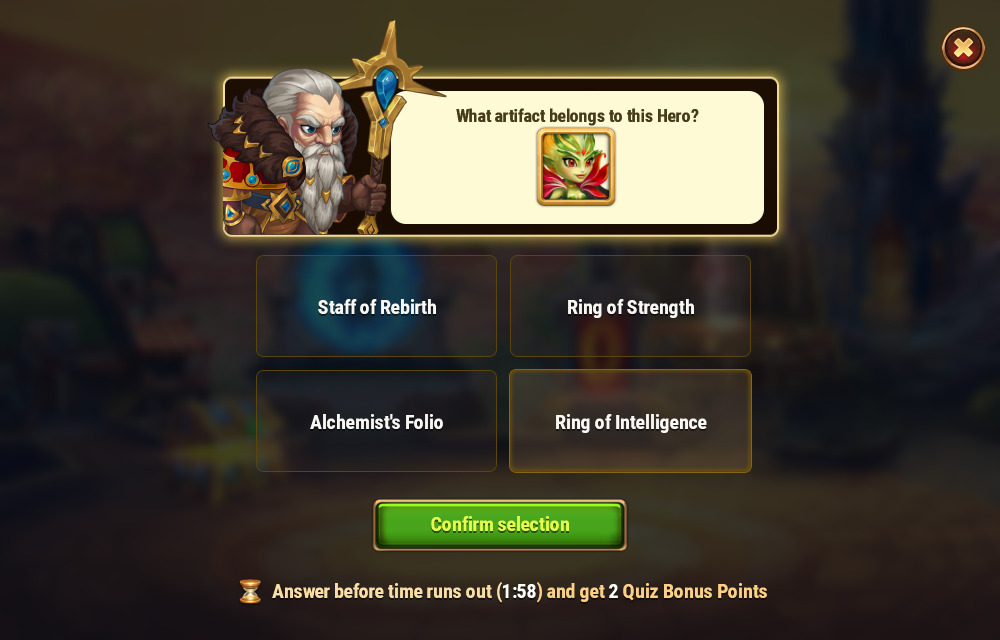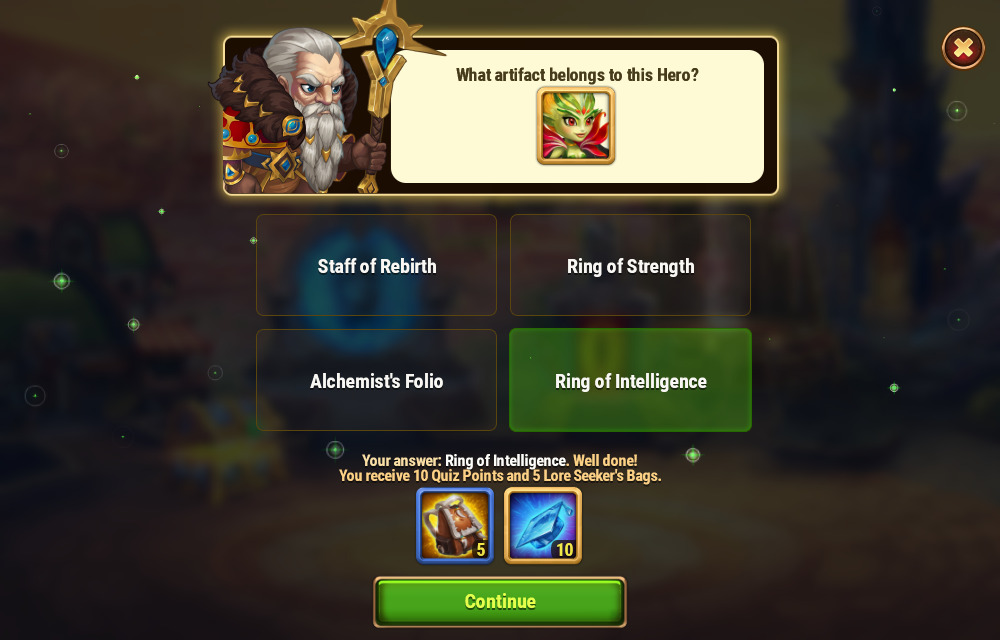 Quiz point +5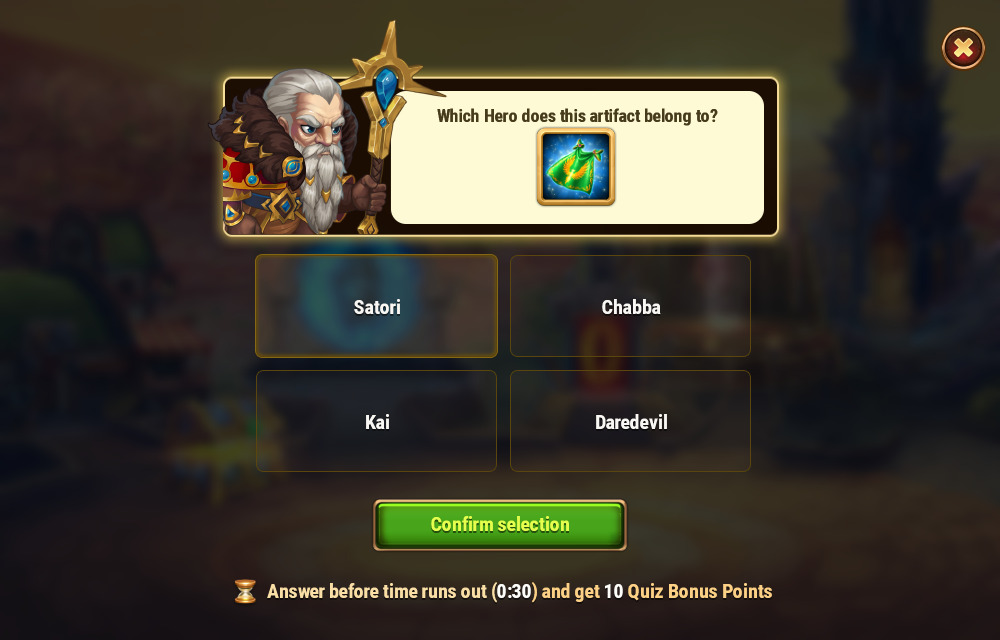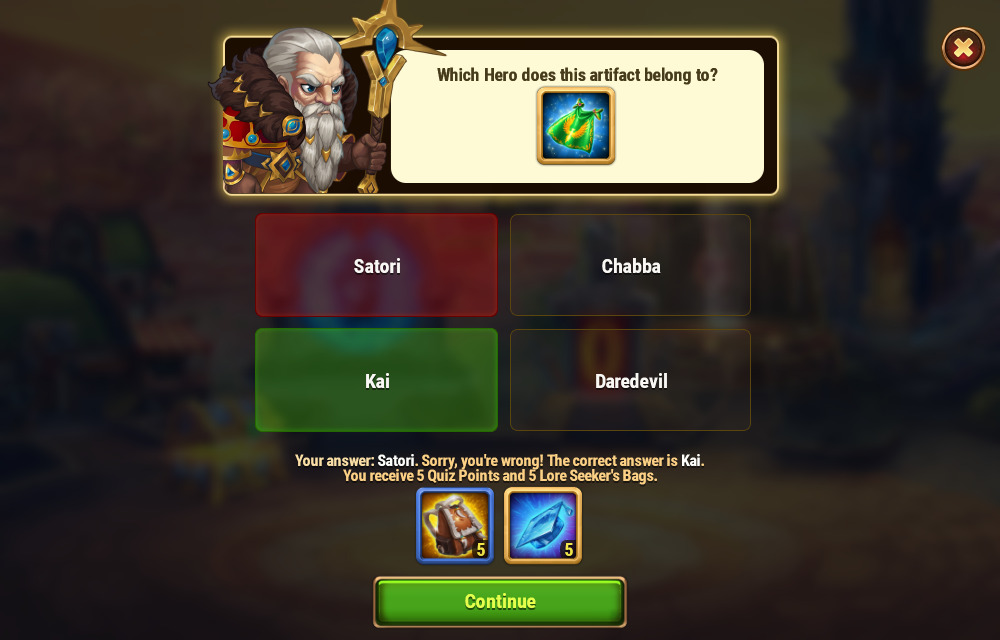 Lore Seeker's Bag
Quiz Points
There is no reward in quiz points themselves. You can complete the Chronicles of Dominion (March event) and Lore Rush (September event) quests according to your ranking in the server based on quiz points.
The highest reward for each quest is obtained by finishing in the top 3 in the ranking.
This ranking is evaluated on the ranking at that moment. Start dash is effective.
Because of this specification, there is a culture of stopping once the reward is confirmed in a tie for 3rd place on servers with many people who are willing to give in.
If you are not interested in Avatars, there is no big problem in digesting the number of times.
To answer the quiz correctly
You can view other screens of the game within the time limit even after the quiz starts.
Press the X in the upper right corner of the quiz screen, or press the esc key to go to the heroes' explanation page, etc.
The quiz time limit is 30 seconds, but if it is exceeded, the quiz taker gets another 30 seconds with 5 fewer points. For this reason, it is better to choose to exceed the time than to answer incorrectly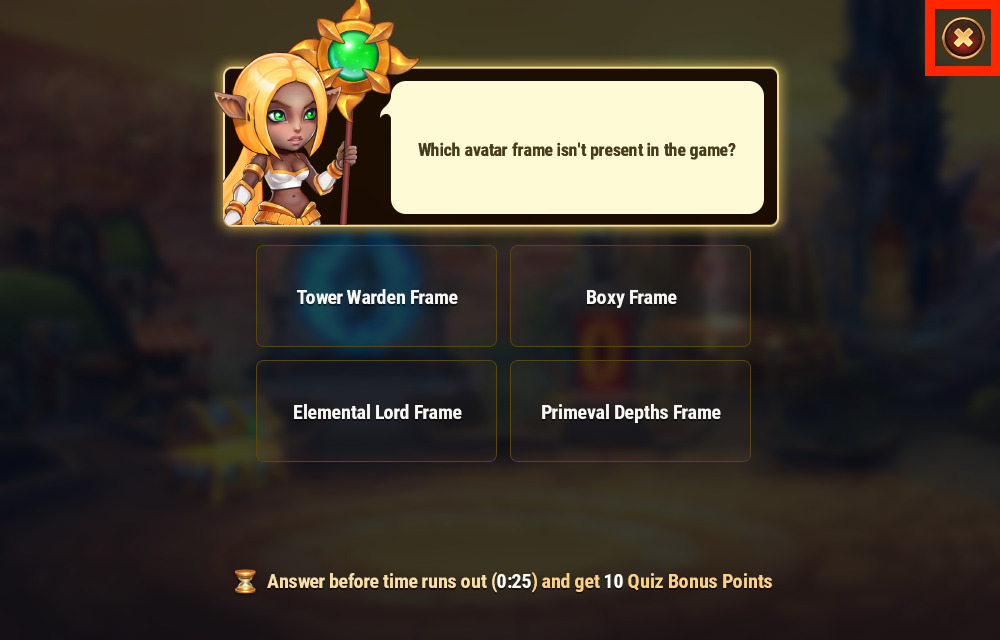 Group Gift Preservation Strategies
(2022.9.1 no longer available)
Quiz tickets for the Group Gift can be diverted to the next time by Mail storage.
Quiz tickets are the same for both the March and September distributions. The quiz tickets distributed in March and September are the same.
Useful for starting out and aiming for ranking.
It is recommended to give up the first time and bet on the second time.
Tickets received by hand may not be saved. Not verified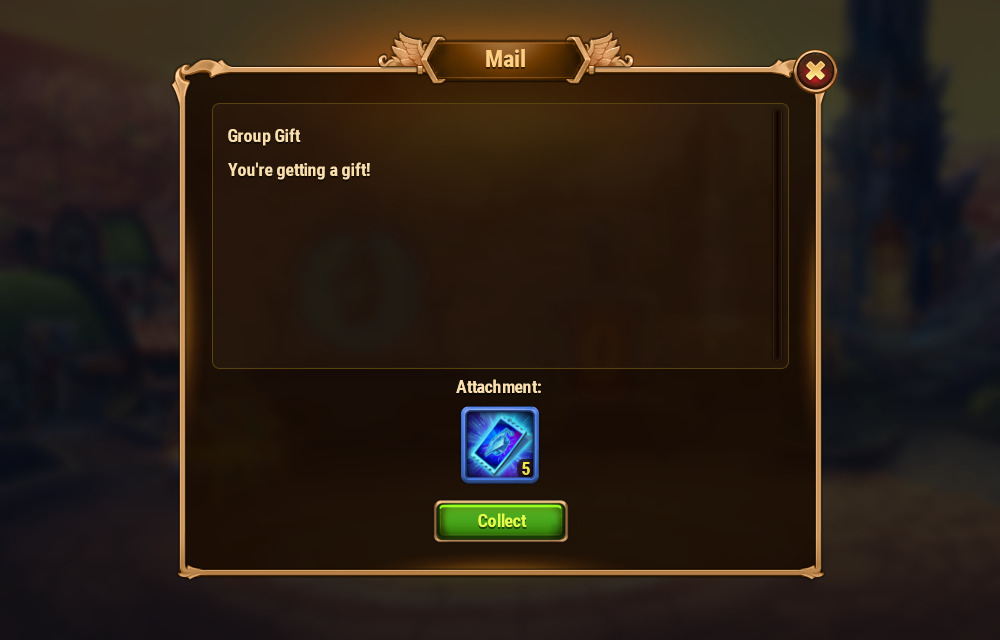 Practice
I couldn't find time for a start dash, so I tried the update time on the third day, which was the weekend.
Since only the image questions about artifacts and skills are shown from around the 100th question, I tried only the list page from that point on.
Open the aforementioned Skill List page and Artifact List page in separate tabs, and use the browser function to search for questions as they appear.
I tied for third place and secured a reward avatar in fourth place!
If you're not too interested in Avatar, I'd say you can go lighter on it.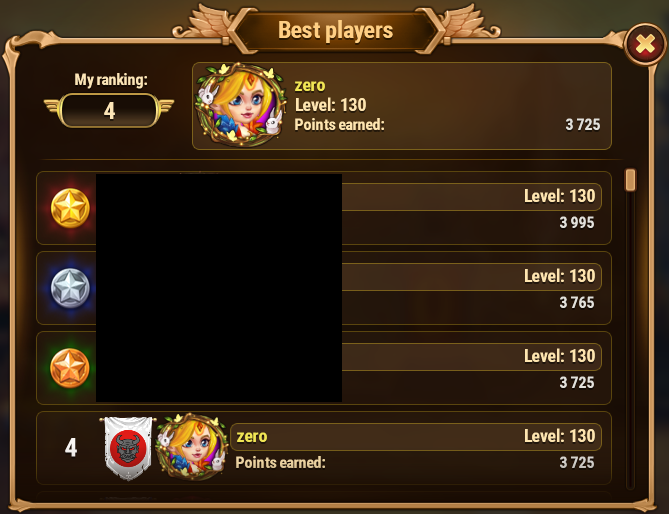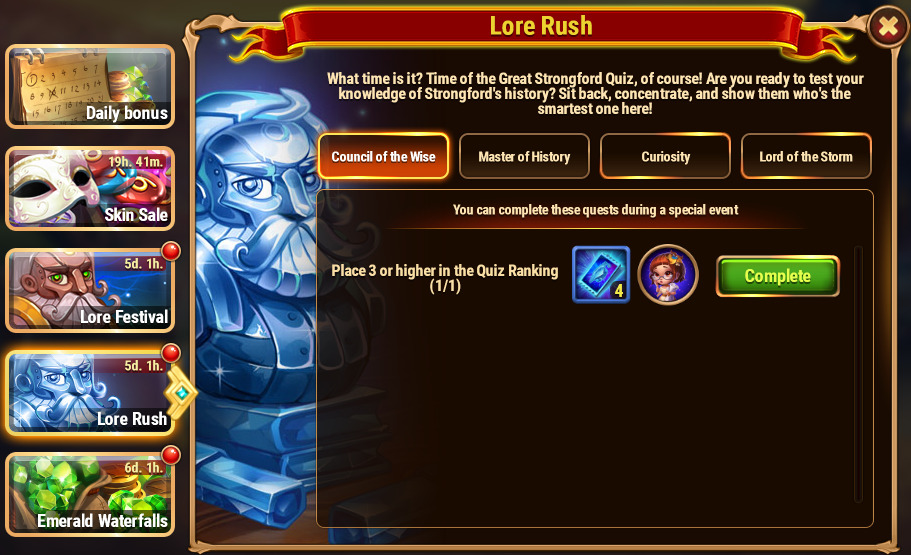 History
Sat, 23 March 2019 (2 days)
Sat, 31 August 2019 (2 days)
Sat, 21 March 2020 (2 days)
Wed, 02 September 2020 (3 days)
Sat, 20 March 2021 (2 days)
Thu, 02 September 2021 (6 days)
Fri, 18 March 2022 (3 days)
Fri, 02 September 2022 (6 days)
Concurrent Events
Anniversary!(Held in March)
Chronicles of Dominion
Happy Birthday, Dominion!
Archdemon Returns
Archdemonle
Festive Diversion
Lore Festival(Held in September)
Lore Festival All Quests
Lore Rush
Lore Rush All Quests
Sale Event (Held in March andSeptember)
This event is usually held at the same time as the annual sale events.If you spend emeralds on totems (altars of the elements) or artifacts, you should definitely consider holding back and carrying over for three months.