Archdemon Returns Explanation
HeroWars Founders' Day Event
One element of the next big event after the Holiday event
Happy Birthday, Dominion! is for 3 days, but this event is for 7 days
Fight the Big Devil every day and earn daily rewards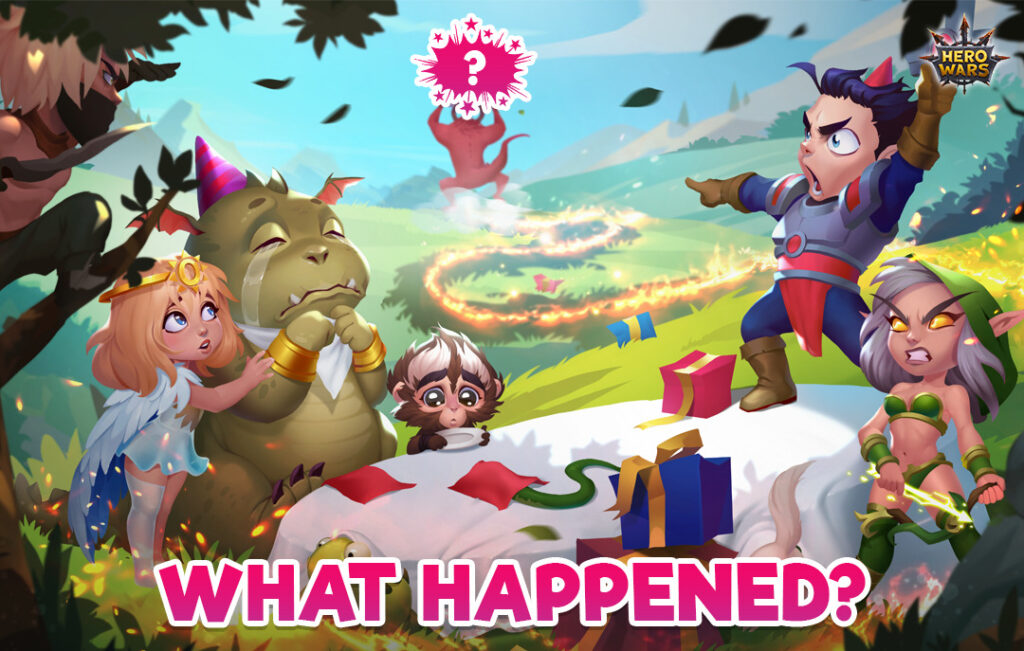 Archdemon Returns Play Guide
Basically as described by the official description
You can use any heroes and pets you own. You can only summon heroes for which you can get soul stones from the store.
Only for this event, pets can be patronized without having to color up.
As long as you have it in your possession, it will be organized with maximum power.
The effective composition varies from day to day. Because the buffs of the day are different.
Note that there are daily buffs for daemons, such as net damage nullification.
It is faster to copy an organization that is high in the rankings.
The ranking is based on the maximum damage in one battle for all servers. There are no rewards.
Once you've done 300 million in damage, you're done for the day.
Official Description
The Archdemon stole the birthday cake and fled to his lair. Show him the true power of the Guardians so that festivities in the Dominion can continue!
Deal as much damage as possible to the Archdemon to put him in his place! The more damage you deal, the more of the Archdemon's treasures you receive. All damage dealt over the course of the day accumulates. You'll get a slice of cake for the first battle of the day. Collect 7 slices and receive a generous reward from the Emperor!
Each hero can participate in the battle with the Archdemon once per day. All heroes and pets are upgraded to the max.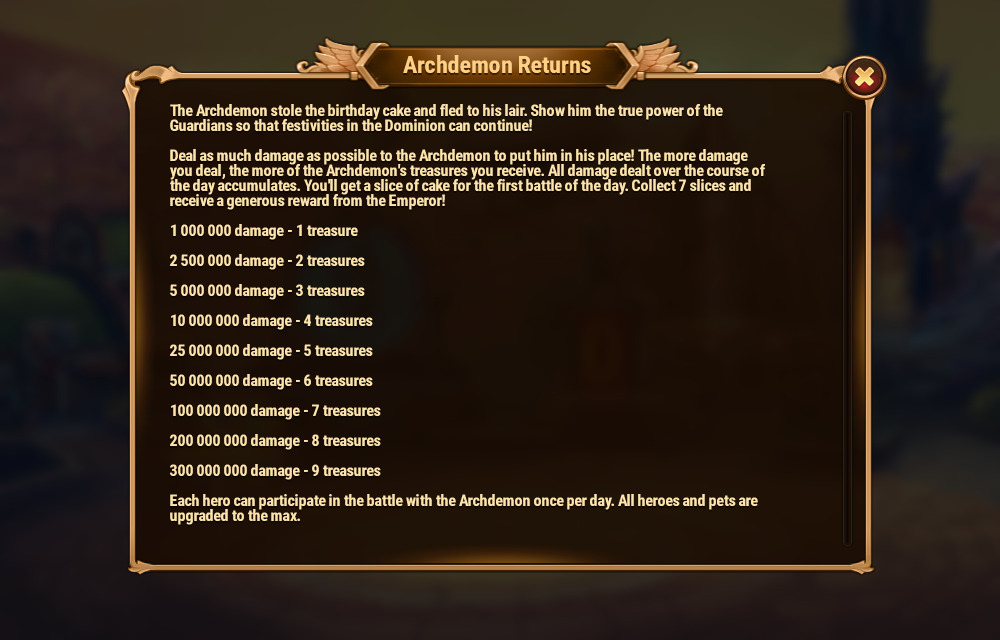 How to Check Daily Buffs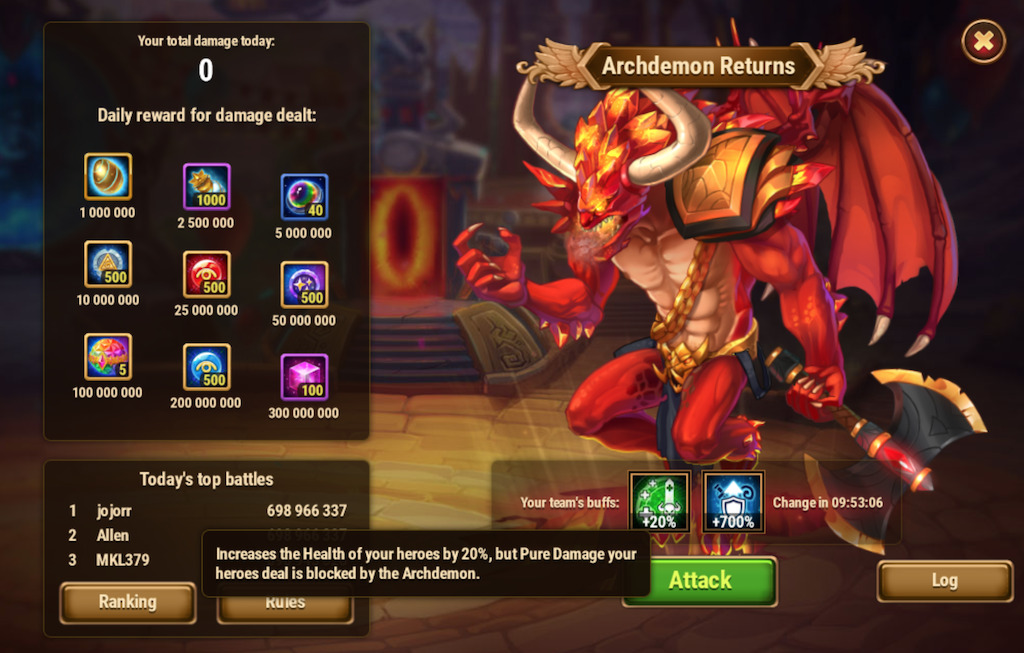 Once you've done 300 million damage, you're done for the day
No need to use up all heroes, especially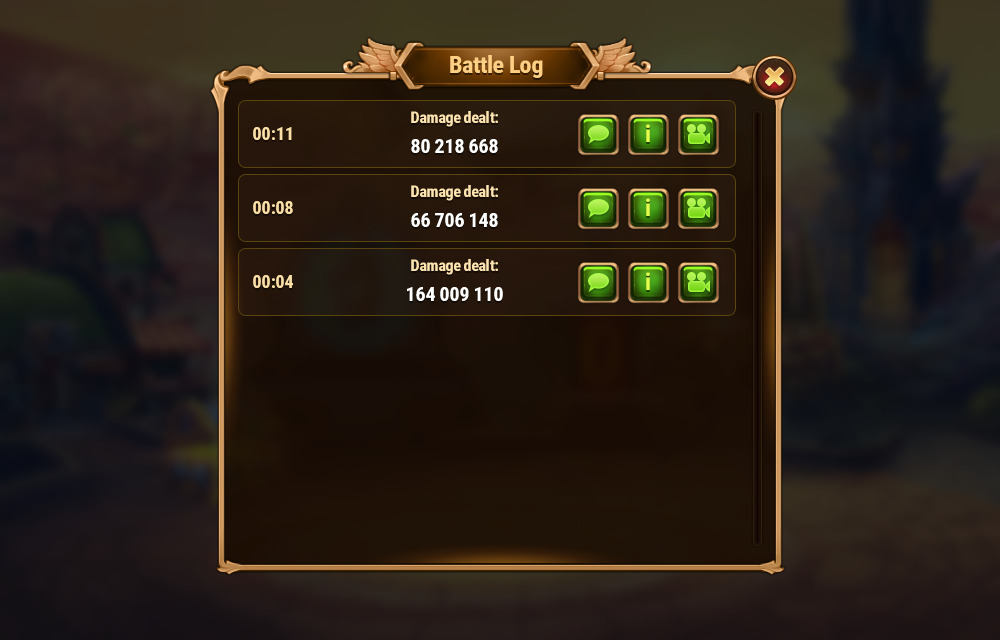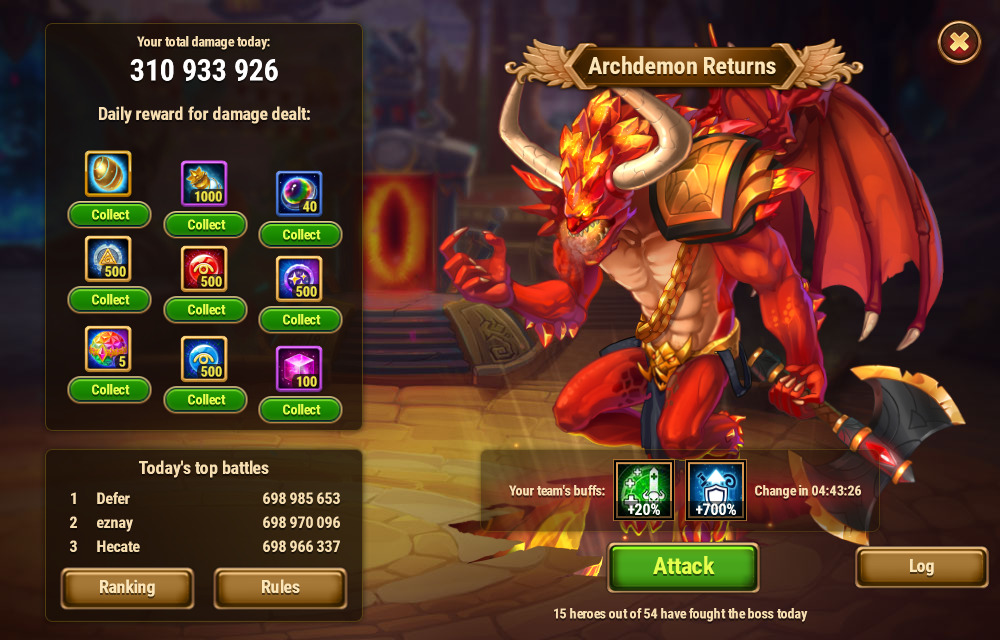 Reword for the Cake
Comprehensive Reward for Attacking All Day.
In fact, as long as you attack on the last day, you get 7 cakes.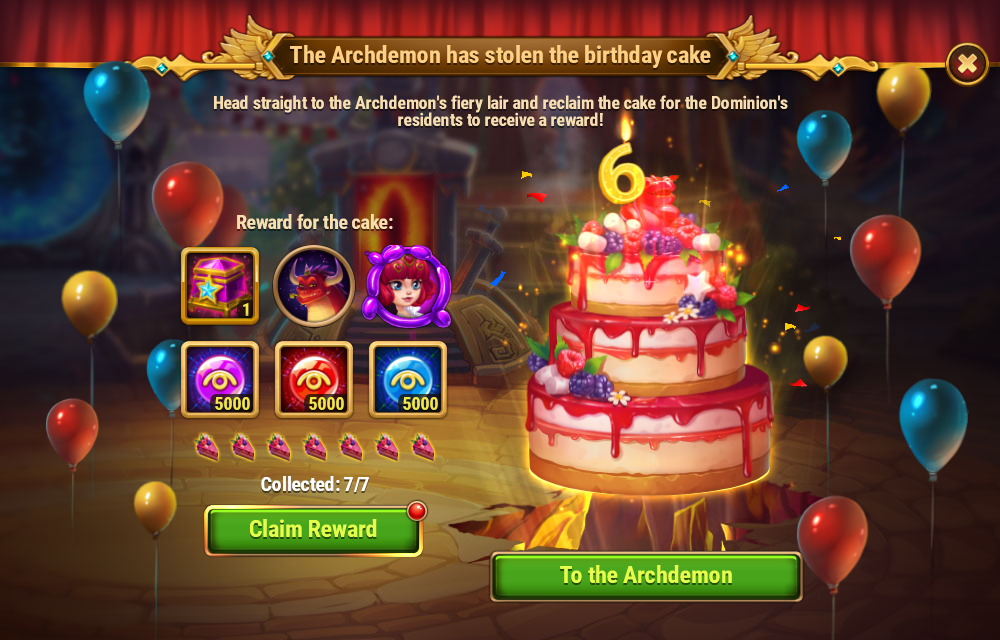 Archdemon Returns Lines
Team Up
Jhu is easy to use on all dates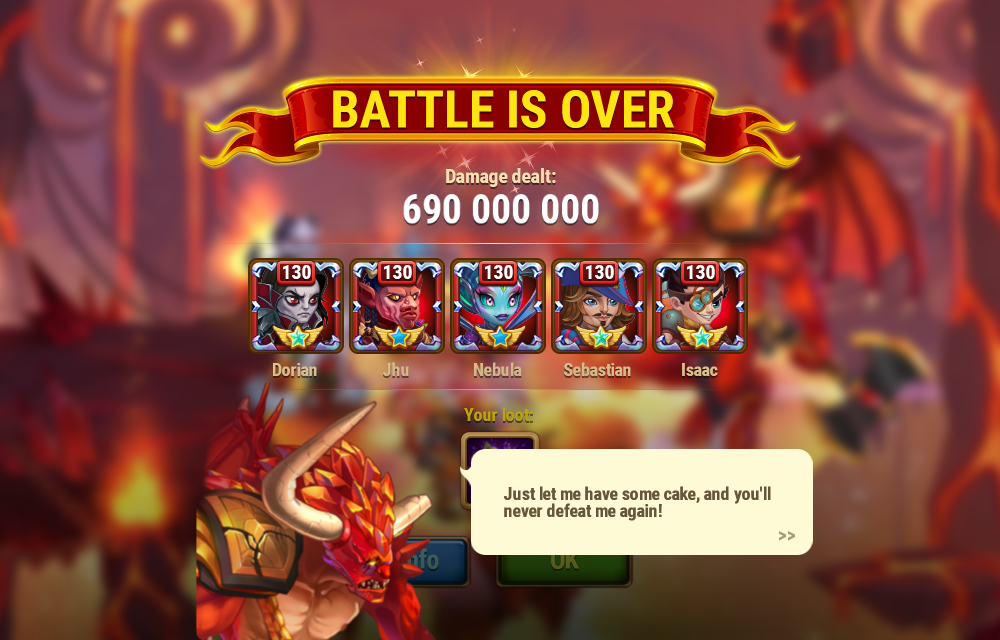 Buffs: Tank push
Corvus' team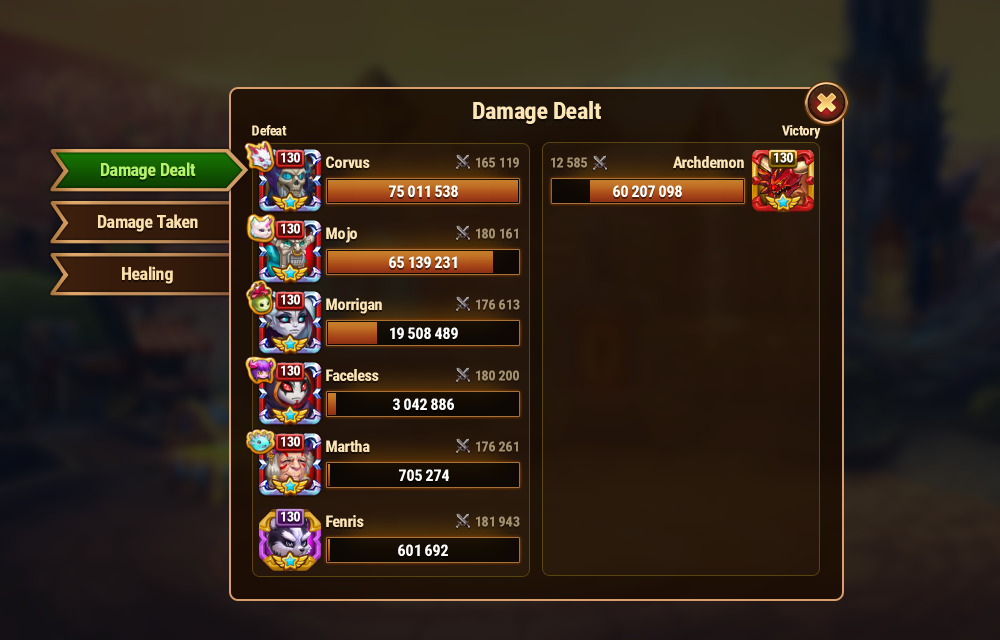 Aurora's team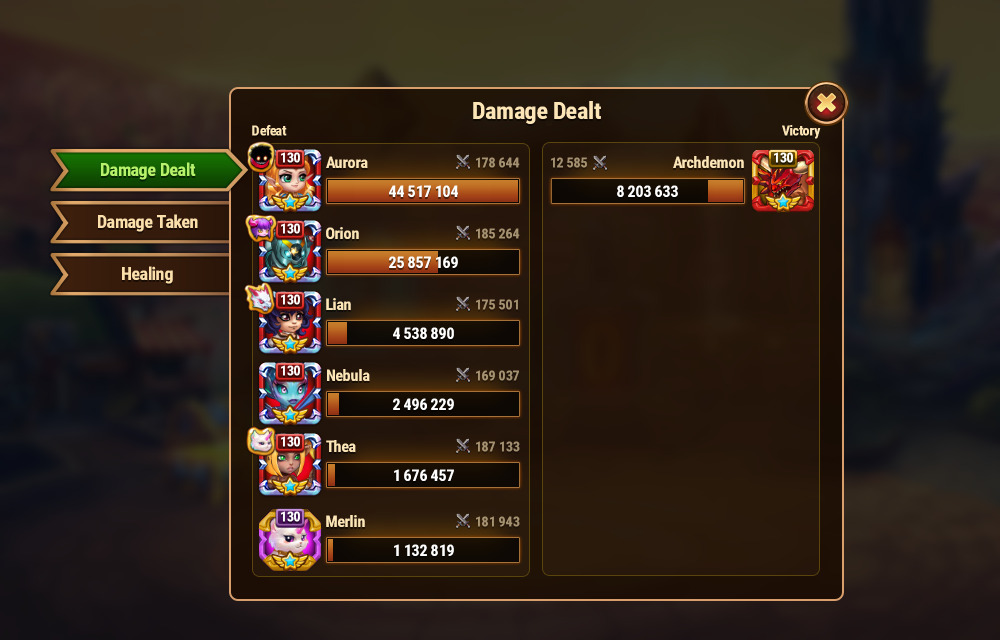 The Archdemonle
Hints of the Archdemonle
The statements of the Archdemon at this event indicate where the Archdemonle of the day is located.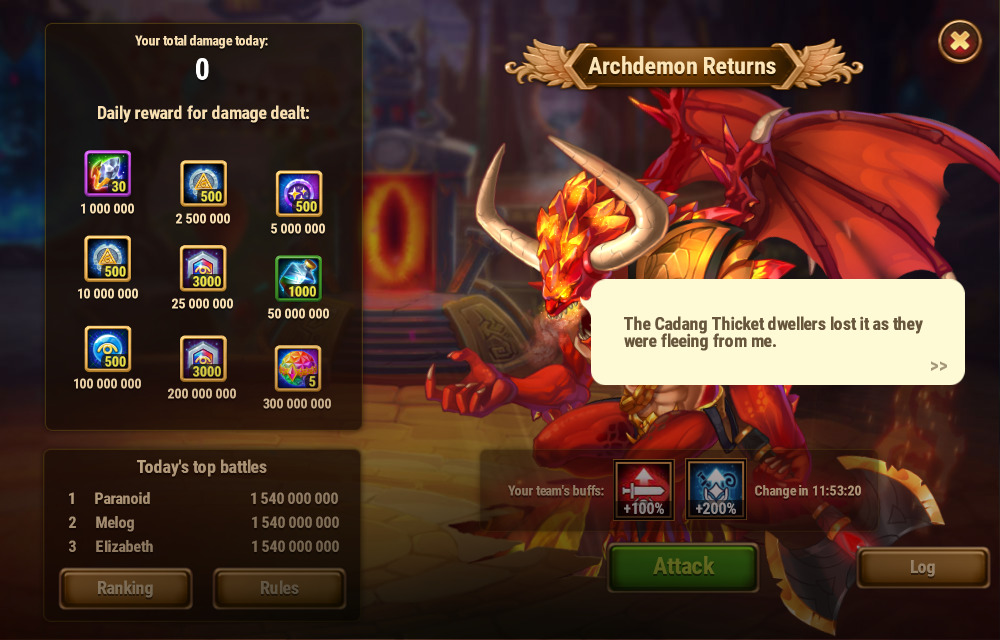 Archdemon Hidden Quests Hints
Archdemonle
History
Fri, 23 March 2018 (7 days)
Fri, 22 March 2019 (7 days)
Fri, 20 March 2020 (7 days)
Fri, 19 March 2021 (7 days)
Fri, 18 March 2022 (7 days)
Mon, 20 March 2023 (7 days)
Anniversary Festival Summary
Concurrent Events
Happy Birthday, Dominion!
Chronicles of Dominion
Strongford Quiz