Happy Birthday, Dominion! Overview
HeroWars Founders' Day Event
One element of the big event after the Holiday event
This event lasts for 3 days, while the concurrent "Festive Diversion" lasts for 7 days.
Concurrent "Chronicles of Dominion" will run for two days (starting on the second day of this event).
Quiz questions are important and challenging
The quest itself is less difficult and requires almost no emeralds in that regard.
One of the three annual sale events, with discounted emerald usage Depending on your enhancement goals, such as wanting a totem, you may want to spend your emeralds here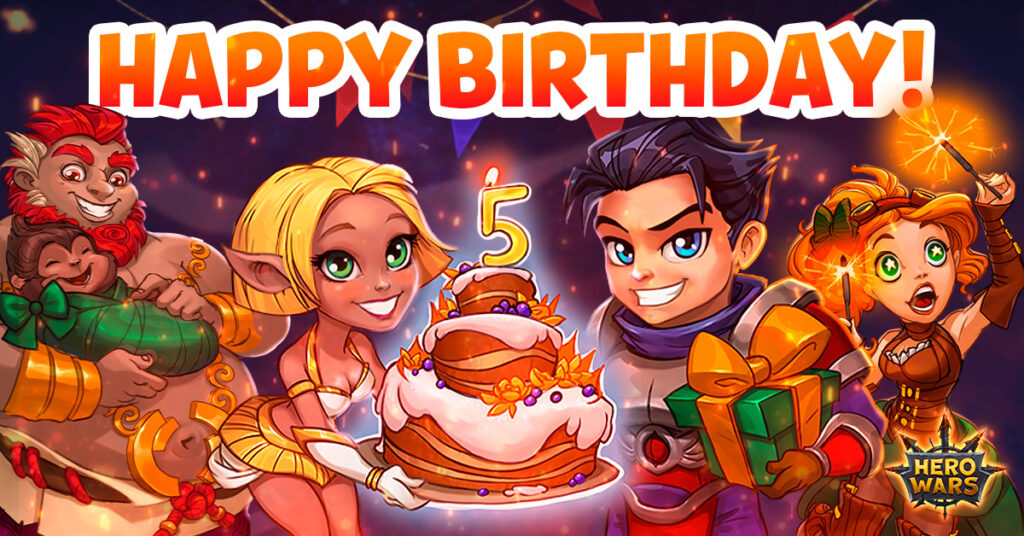 Happy Birthday, Dominion! Explanation
Happy Birthday, Dominion! How to proceed
Get "Quiz Tickets" by conquering quests.
Take the Strongford Quiz and use your "quiz tickets" to take the quiz.
Compete for quiz scores on the server.
Earn rewards according to your quiz performance at Chronicles of Dominion.
Happy Birthday, Dominion! Quests Order
1. Complete Event Quest (MAX 45)
2. Log in (MAX 3)
3. Open Outland Chest (MAX 12)
4. Spend Energy (MAX 2,800)
5. Start or join Adventure (MAX 7)
6. Collect Titanium (MAX 300)
7. Open chests in Tower (MAX 50)
8. Start Expedition (MAX 20)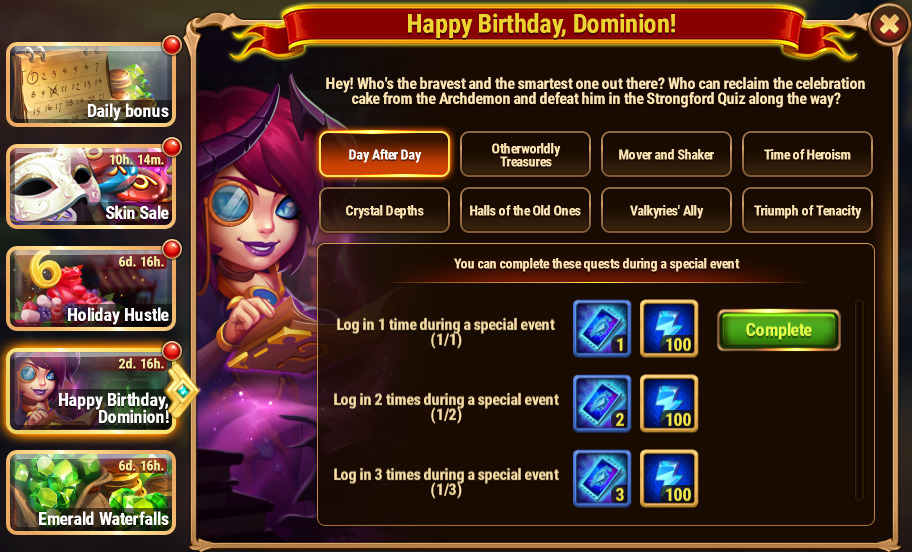 Happy Birthday, Dominion! All Quests
About Quiz Tickets
Complete all the quests and you will get 100 quiz tickets.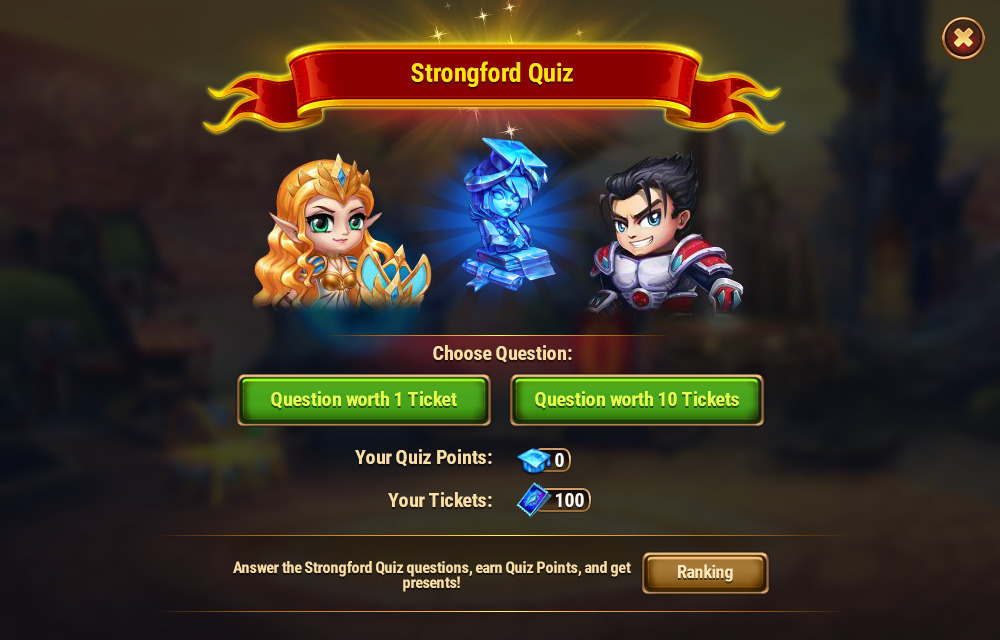 History
Fri, 23 March 2018 (3 days)
Fri, 22 March 2019 (3 days)
Fri, 20 March 2020 (3 days)
Fri, 19 March 2021 (3 days)
Fri, 18 March 2022 (3 days)
Mon, 20 March 2023 (3 days)
Anniversary Festival Summary
Concurrent Events
Strongford Quiz
Chronicles of Dominion
Archdemon Returns
Archdemonle
Holiday Hustle
Sale Event
This event is usually held at the same time as the three annual sale events.
If you spend emeralds on totems (altars of the elements) or artifacts, you should definitely consider holding back and carrying over for three months.