Julius's Cybertech Overview
Limited Time Shop for the Hero Wars "Interplanetary Travel" Special Event.
You can use the event prize "Julius Coins" to make purchases.
You can get materials to Upgrade Julius. Materials can be used for other Heroes.
List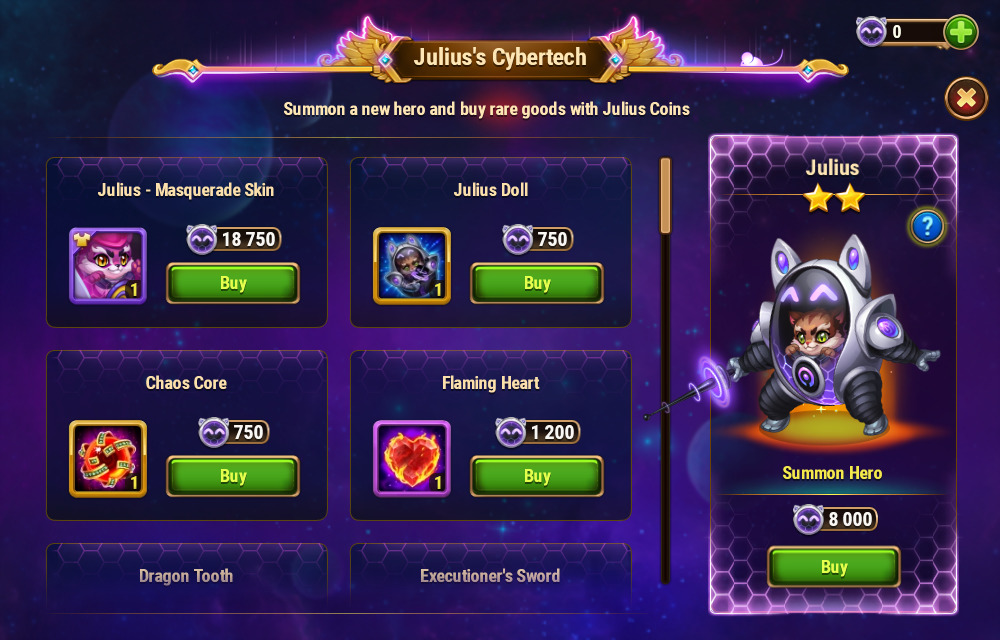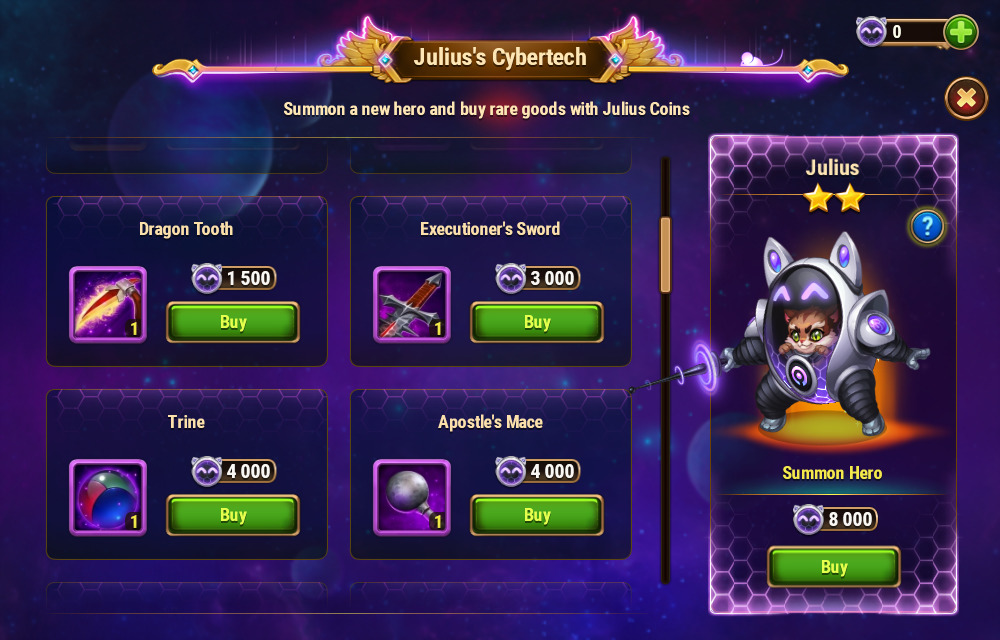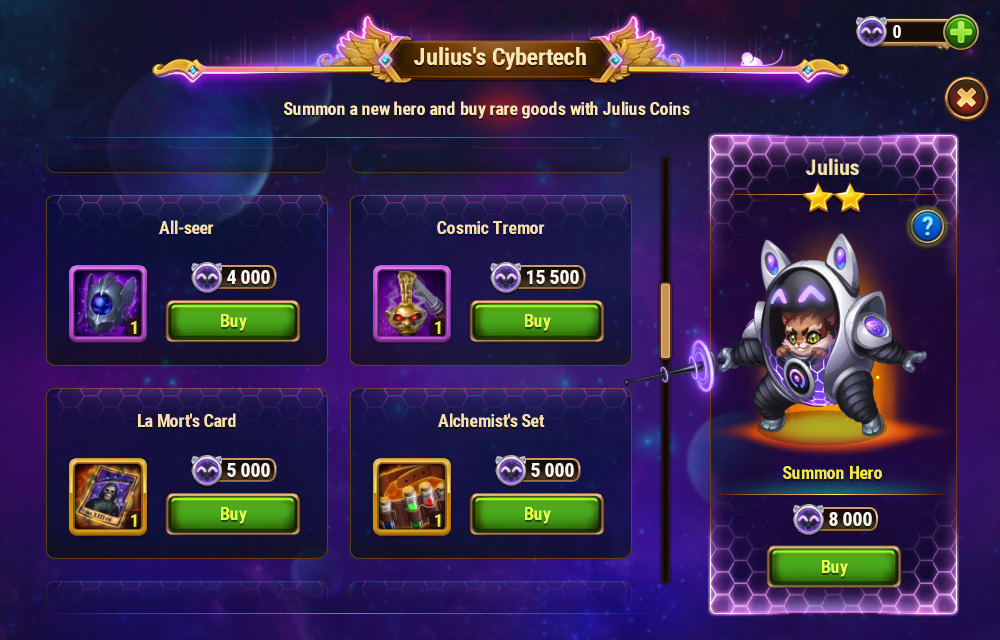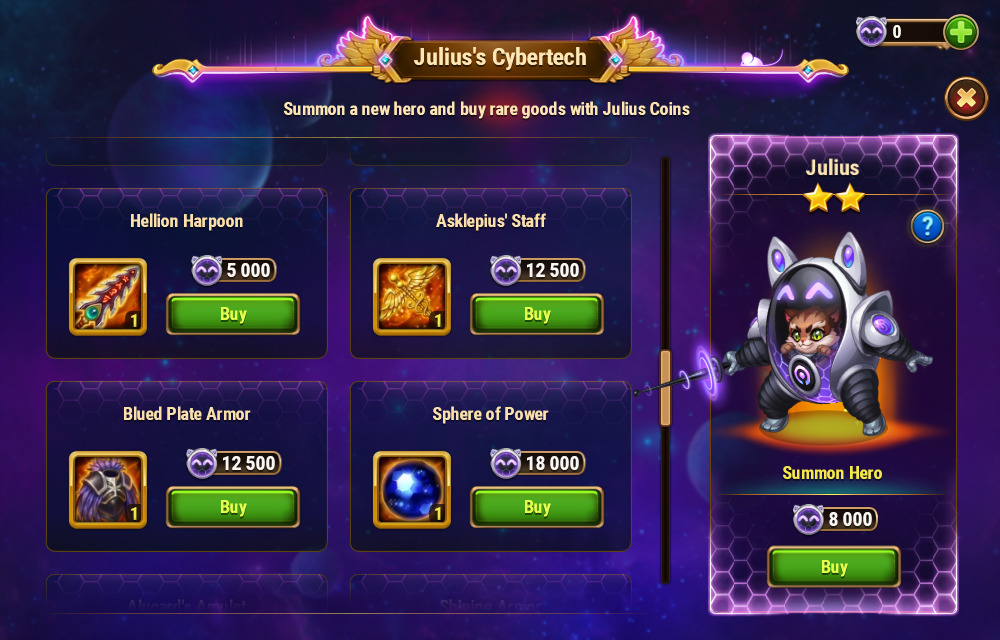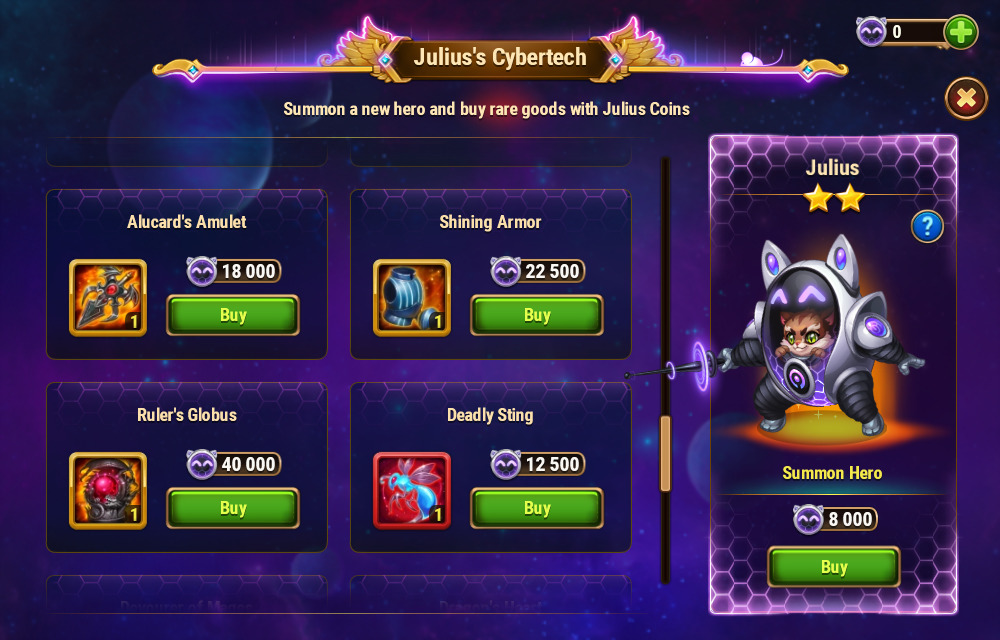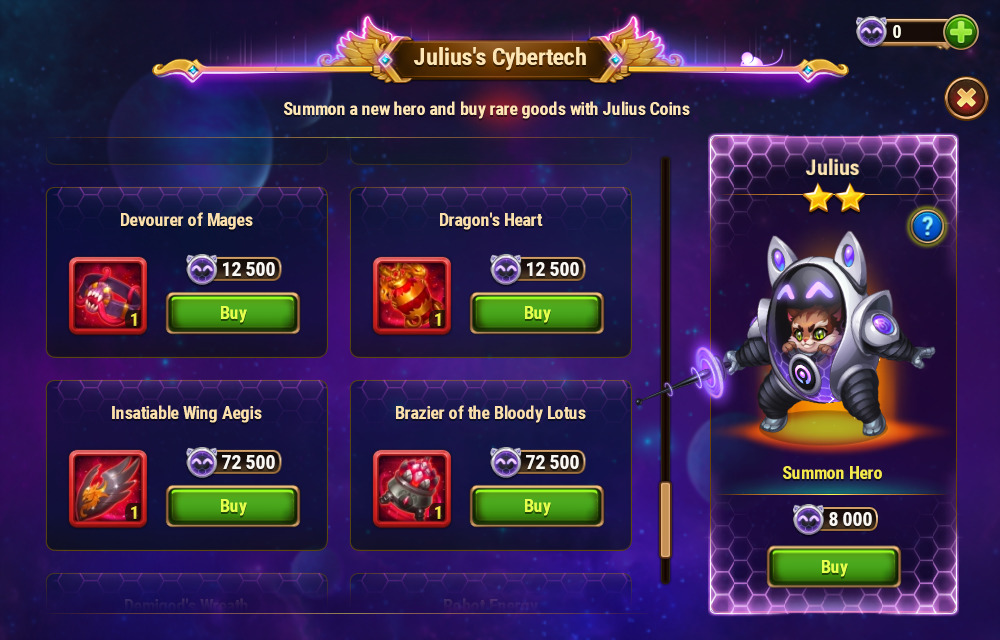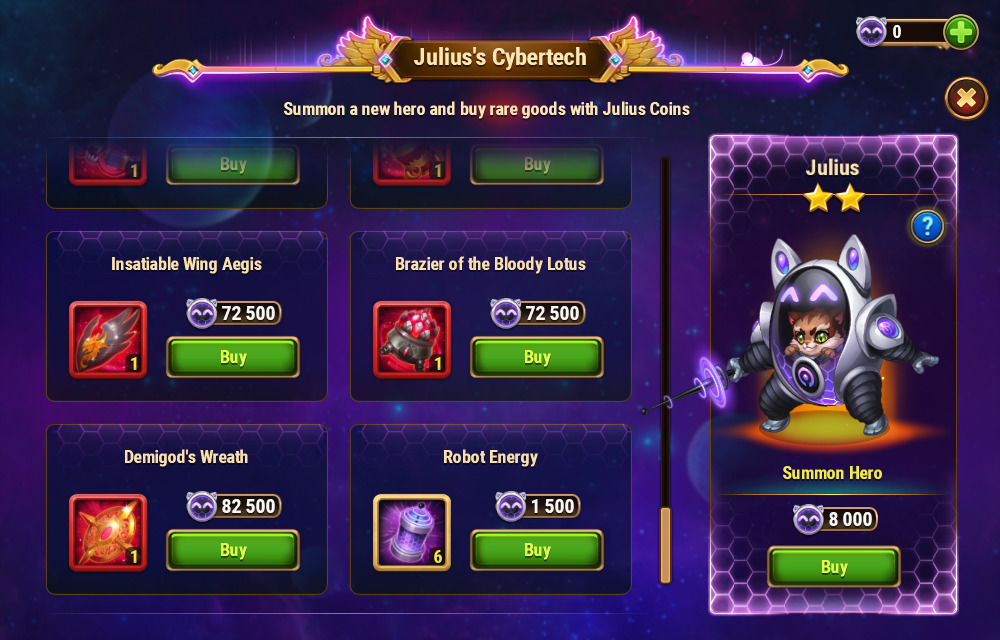 Julius's Cybertech Pricing
Anything over 100% is worth more than the usual means.
Anything less than 100% is a loss over normal means.
Summon Hero : 8,000 Julius Coin(worth 1,200 Emerald / 46.9%)
1 Julius Doll : 750 Julius Coin(worth 374 Emerald / 155.9%)
1 Julius skin : 18,750 Julius Coin(worth 5,000 Emerald / 83.3%)
1 Chaos Core : 750 Julius Coin(worth 192 Emerald / 80%)
1 Flaming Heart : 1,200 Julius Coin(worth 400 Emerald / 104.2%)
1 Dragon's Tooth : 1,500 Julius Coin(worth 480 Emerald / 100%)
1 Executioner's Sword : 3,000 Julius Coin(worth 880 Emerald / 91.7%)
1 Trine : 4,000 Julius Coin(worth 1,200 Emerald / 93.8%)
1 Apostle's Mace : 4,000 Julius Coin(worth 1,280 Emerald / 100%)
1 All-Seer : 4,000 Julius Coin(worth 1,280 Emerald / 100%)
1 Cosmic Tremor : 15,500 Julius Coin(worth 5,000 Emerald / 100.8%)
1 La Mort's Card : 5,000 Julius Coin(worth 1,600 Emerald / 100%)
1 Alchemist's Set : 5,000 Julius Coin(worth 1,600 Emerald / 100%)
1 Hellion Harpoon : 5,000 Julius Coin(worth 1,600 Emerald / 100%)
1 Asklepius's Staff : 12,500 Julius Coin(worth 4,160 Emerald / 104%)
1 BLued Plate Armor : 12,500 Julius Coin(worth 4,160 Emerald / 104%)
1 Sphere of Power : 18,000 Julius Coin(worth 5,600 Emerald / 97.2%)
1 Alucard's Amulet : 18,000 Julius Coin(worth 5,600 Emerald / 97.2%)
1 Shining Armor : 22,500 Julius Coin(worth 7,200 Emerald / 100%)
1 Ruler's Globus : 40,000 Julius Coin(worth 12,800 Emerald / 100%)
1 Deadly Sting : 12,500 Julius Coin(worth 4,000 Emerald / 100%)
1 Devourer of Mages : 12,500 Julius Coin(worth 4,000 Emerald / 100%)
1 Dragon's Heart : 12,500 Julius Coin(worth 4,000 Emerald / 100%)
1 Insatiable Wing Aegis : 72,500 Julius Coin(worth 23,200 Emerald / 100%)
1 Brazier of Bloody Lotus : 72,500 Julius Coin(worth 23,200 Emerald / 100%)
1 Demigod's Wreath : 82,500 Julius Coin(worth 26,400 Emerald / 100%)
6 Robot Energy : 1,500 Julius Coin(worth 480 Emerald / 100%)
Cost Performance Ranking
1 Julius Doll : 750 Julius Coin(worth 374 Emerald / 155.9%)
1 Flaming Heart : 1,200 Julius Coin(worth 400 Emerald / 104.2%)
1 Asklepius's Staff : 12,500 Julius Coin(worth 4,160 Emerald / 104%)
1 BLued Plate Armor : 12,500 Julius Coin(worth 4,160 Emerald / 104%)
1 Cosmic Tremor : 15,500 Julius Coin(worth 5,000 Emerald / 100.8%)
Worst Ranking
Summon Hero : 8,000 Julius Coin(worth 1,200 Emerald / 46.9%)
1 Chaos Core : 750 Julius Coin(worth 192 Emerald / 80%)
1 Julius skin : 18,750 Julius Coin(worth 5,000 Emerald / 83.3%)
1 Executioner's Sword : 3,000 Julius Coin(worth 880 Emerald / 91.7%)
1 Trine : 4,000 Julius Coin(worth 1,200 Emerald / 93.8%)
1 Sphere of Power : 18,000 Julius Coin(worth 5,600 Emerald / 97.2%)
1 Alucard's Amulet : 18,000 Julius Coin(worth 5,600 Emerald / 97.2%)
Julius's Cybertech playing concept
Play Guide
Event Guide
Event Quests
Julius Doll
Event Bundle
Julius