About the Nature Box
Root Boxes available during the Natural Season.
156 obtained by completing all quests after purchasing Gold Ticket.
Some may be available without purchasing a Gold Ticket, if all quests are completed.
Also available with purchase of Nature Season Bundle.
Titan enhancement materials other than Totems can be obtained.
Not in Matryoshka format.
Not a good way to target specific prizes due to the variety of items released.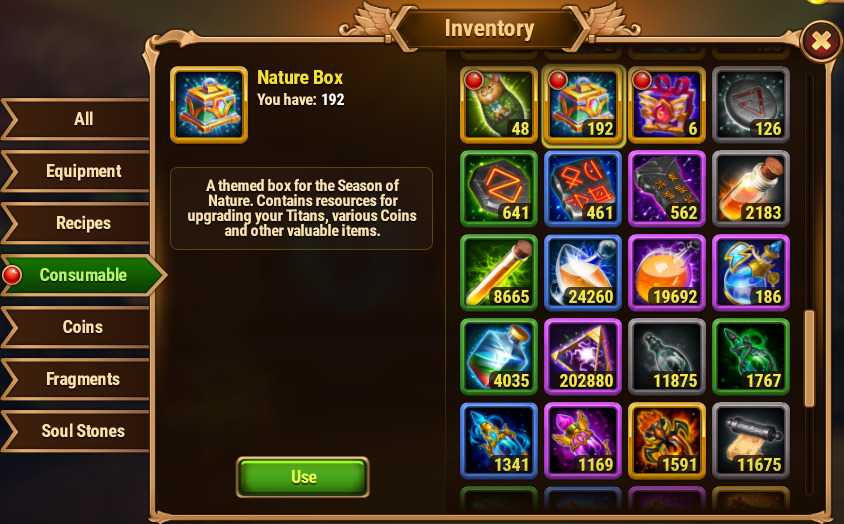 Update
In 2023, Explorer moves have been incorporated into the drop items.
Owing to the considerable abundance of exhaust items in the root box, the availability rate is not anticipated to be very high.
Nevertheless, the significance of the item has escalated.
Explorer's Move
Nature Box Rewords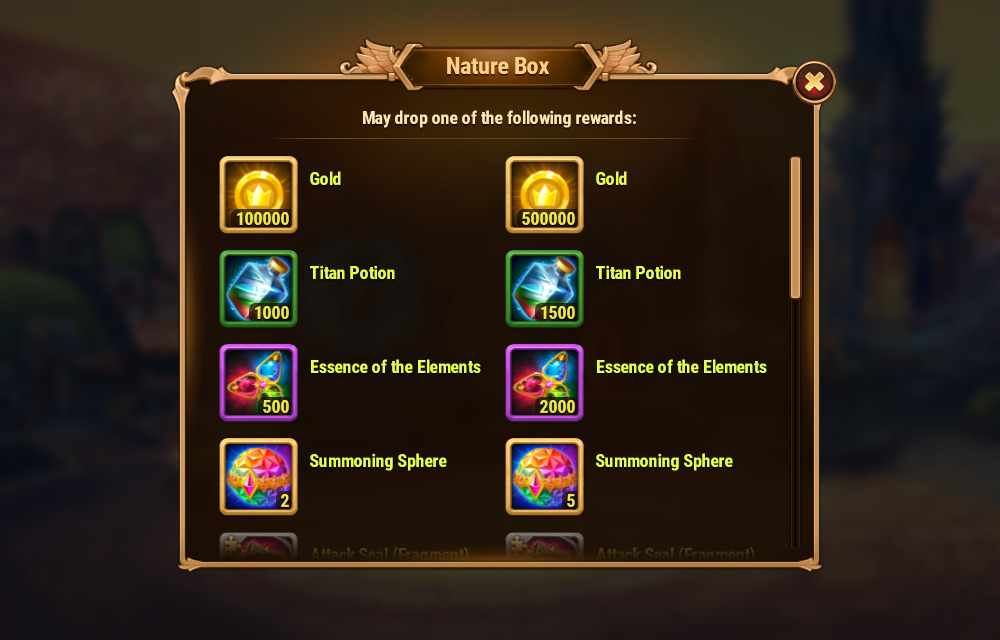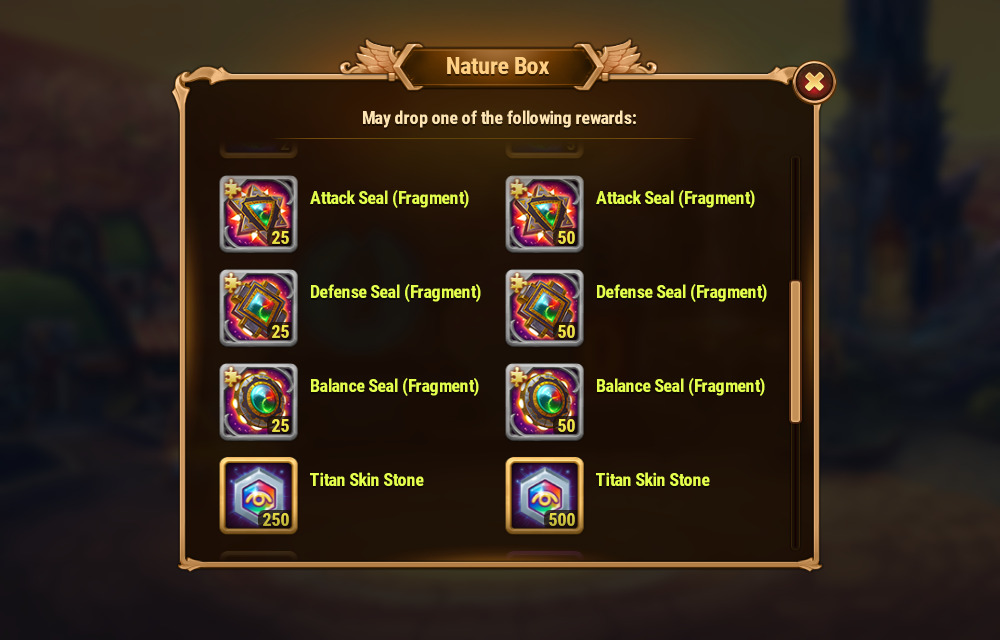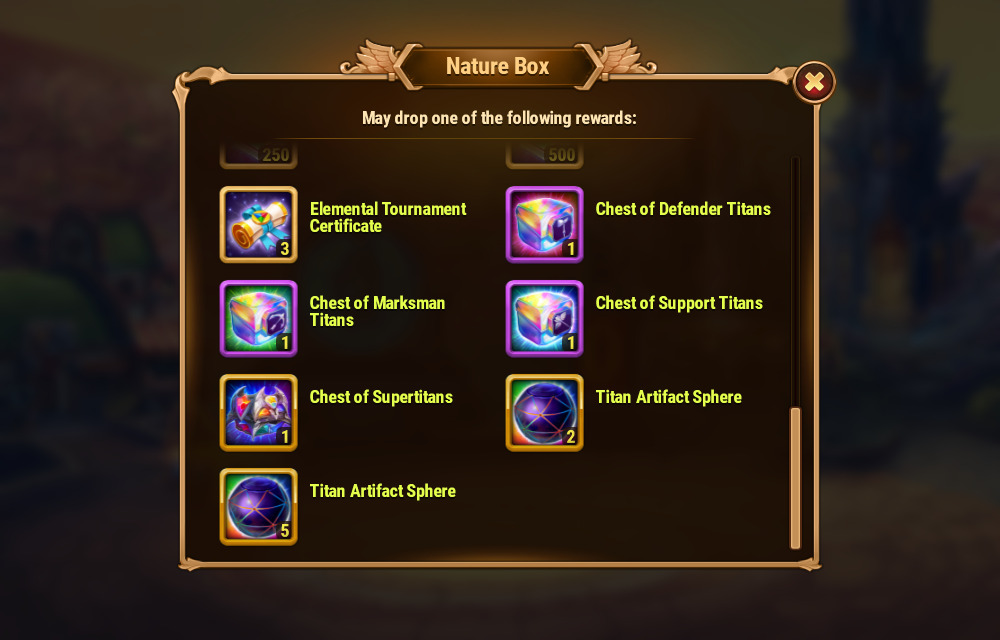 Root box discharge rate
Nature Box, 3,072 pieces opened. For your reference.
(Thanks to DASHIMAKI-TAMAGO and japanese-chat for their help!)
Gold x100,000 : 210 (6.8%)
Gold x500,000 : 81 (2.6%)
Titan Potion x1,000 : 199 (6.5%)
Titan Potion x1,500 : 64 (2.1%)
Essence of the Elements x500 : 204 (6.6%)
Essence of the Elements x2,000 : 58 (1.9%)
Summoning Sphere x2 : 194 (6.3%)
Summoning Sphere x5 : 57 (1.9%)
Attack Seal x25 : 228 (7.4%)
Attack Seal x50 : 74 (2.4%)
Balance Seal x25 : 192 (6.3%)
Balance Seal x50 : 52 (1.7%)
Defense Seal x25 : 208 (6.8%)
Defense Seal x50 : 68 (2.2%)
Titan Skin Stone x250 : 214 (7%)
Titan Skin Stone x500 : 49 (1.6%)
Elemental Tournament Certificate x3 : 217 (7.1%)
Chest of Marksman Titans x1 : 121 (3.9%)
Chest of Defender Titans x1 : 116 (3.8%)
Chest of Support Titans x1 : 95 (3.1%)
Chest of Supertitans x1 : 110 (3.6%)
Titan Artifct Sphere x2 : 199 (6.5%)
Titan Artifct Sphere x5 : 62 (2%)
Estimated Value of Nature Box
Including Gold: 164 Emerald
Without Gold: 154 Emerald
Nature Box Value Ratio
Titan Soul Stone : 3.5%
Titan Skin Stone : 4.1%
Titan Potion : 11.8%
Essence of the Elements : 4.3%
Titan Seal : 30.3%
Summoning Sphere : 8.8%
Titan Artifct Sphere : 6.3%
Elemental Tournament Certificate : 24.9%
Gold : 6%
Expected value: 100 Nature Box
Titan Soul Stone : 72
Titan Skin Stone : 2,550
Titan Potion : 9,650
Essence of the Elements : 7,100
Titan Seal : 828
Summoning Sphere : 22
Titan Artifct Sphere : 23
Elemental Tournament Certificate : 21
Gold : 1,980,000
Nature Season Bundle List
Nature Season All Quests
Play Guide for Season Events