About the Winterfest Skin Gifts
Random Winter Skins will be discharged.
The Winter Skin you have already obtained will not be discharged.
If you have already collected all Winter Skins, you can get 1,500 Skin Stones (3 types x 500 each)
The cost performance is completely different between the case when Winter Skins are not collected and the case after winter skins are collected.
Even after the Winter Skins have been collected, the daily mutual exchange is still worth it. If you are aiming for the top ranking rewards, it is almost essential.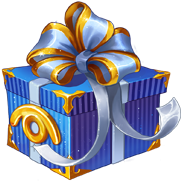 Is it possible to obtain Winter Skins without paying?
There are quite a few kinds of Skins, but it is possible to collect about 10 skins every year by using mutual exchange and guild-wide rewards from the Guild Tree.
It is impossible to collect all kinds of skins in one year by playing without paying. Therefore, it is not always possible to get what you are aiming for in the first year.
If you carefully select your guild and continue to play for 2 to 3 years, you can aim to complete the collection.
In reality, there are many such players, so it is possible to consider it from a long-term perspective.
Whether it is worth the effort depends on the heroes you are raising. If it is Heidi, for example, it is almost a must.
Cost-effectiveness of Winterfest Skin Gifts
Soul stone included is Hero of the Day. Percentages are compared to the expected cost of buying Emeralds at the Emeralds x4 sale and obtaining the Skin Stone at Outland.
Winter Skin (gift contents only): Emeralds x7,250 (181.3 %)
Winter Skin (including soul stone): Emerald x8,850( 221.3%)
Winter Skin (including soul stones and using mutual exchange): Emerald x16,130( 403.3%)
Skin Stone (gift contents only): Emerald x1,920( 48 %)
Skin Stone (with Soul Stone): Emerald x3,520( 88 %)
Skin Stone (including Soul Stone, using mutual exchange): Emerald x5,470( 136.8 %)
Related Articles
Winterfest
What is the Winterfest Mutual Exchange?
Hero Upgrade Gift Box
Pet Gift
Titan Upgrade Gift Box
Ascension Resource Gift
Winterfest Gift Open
Winter Skin List