Spooky Festival Store Overview
Shop that appears every year in conjunction with the Spooky Festival
You can make purchases using the Spooky Festival coins that appear as the grand prize of Honey.
Each Spooky Festival Coin is worth 5,000 emeralds.
(However, Spooky Festival coins can only be obtained at the Spooky Festival, so the only way to replenish after the event is to wait a year.)
Rates vary. Some are good value and some are bad value. Caution.
It is recommended to be aware of the difference in growth speed of about 1.5 times for the same resource investment, depending on whether you act with cost-effectiveness in mind or not.
Same specifications as the Summer Festival Shop.
The only item available only here is the Spooky Festival Doll, but it is not a must-have item.
Spooky Festival Store Description
List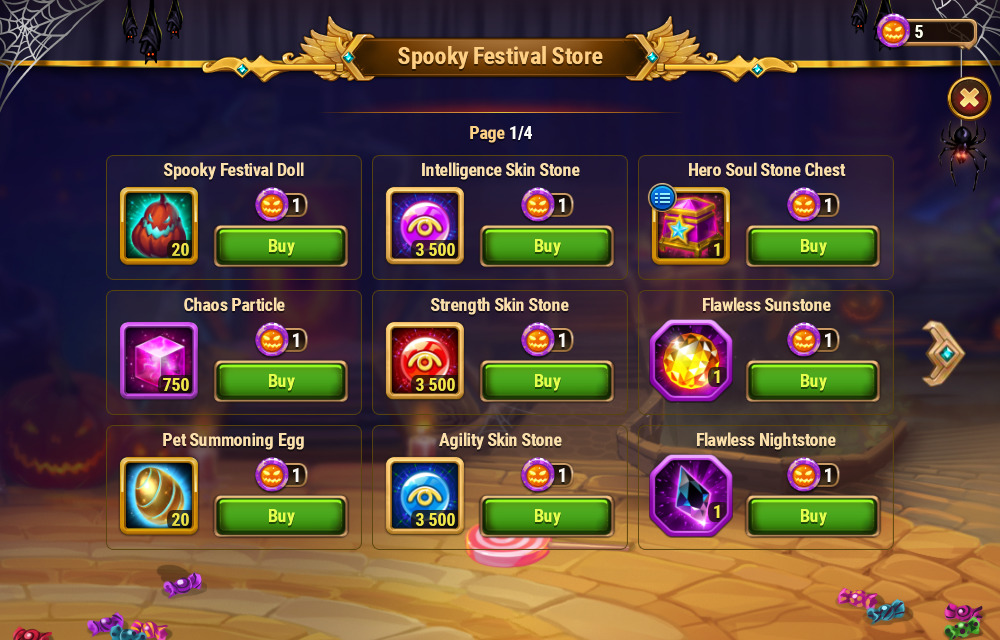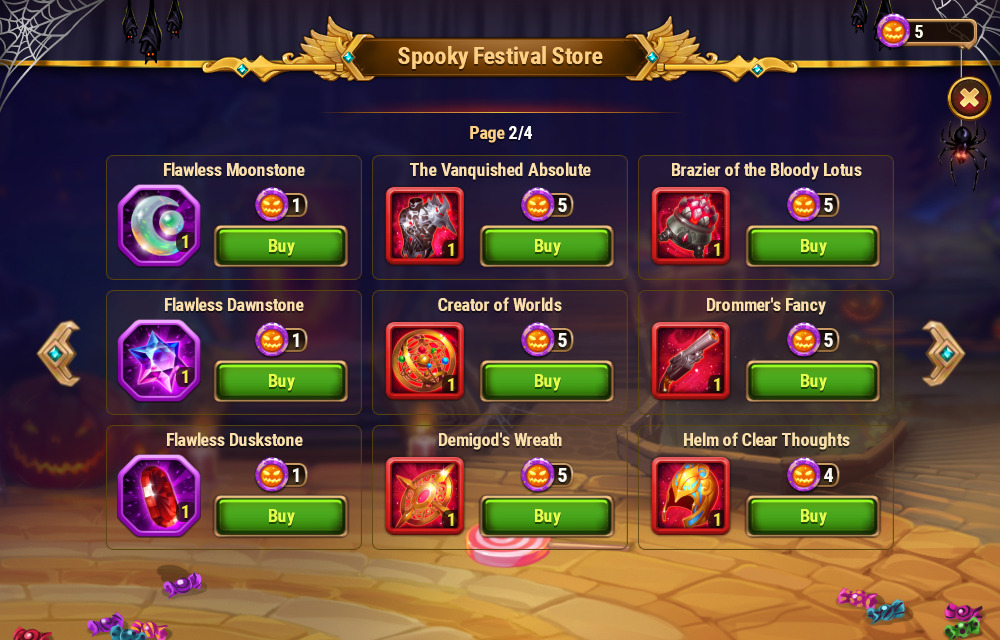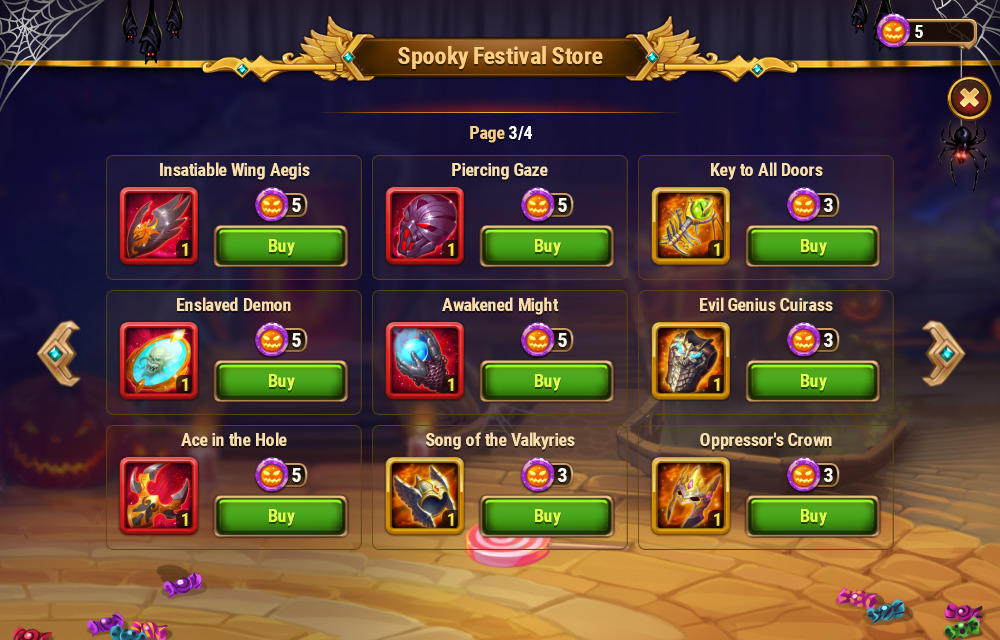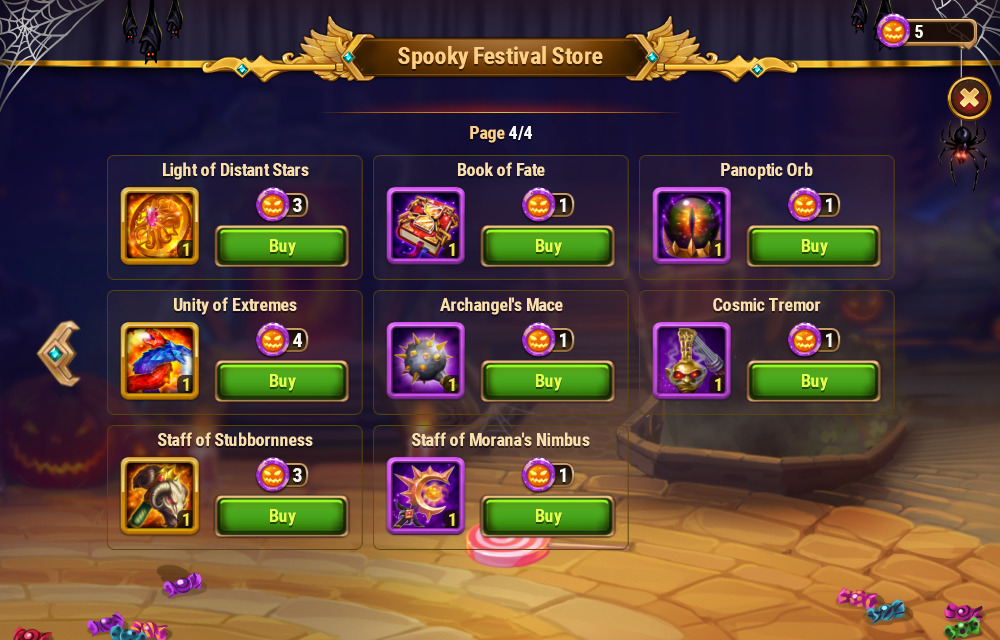 Spooky Festival Store Pricing
Here, a rate of 100% is equivalent to a Rare Fair.
20 Spooky Festiva Doll : 1 Spooky Festiva Coin(worth 6,422 Emerald / 128.4%)
Hero Soul Stone Chest : 1 Spooky Festival coin(worth 4,000 Emerald / 80%)
20 Pet Summoning Egg : 1 Spooky Festival coin(worth 5,000 Emerald / 100%)
3500 Intelligent Skin Stone : 1 Spooky Festival coin(worth 4,480 Emerald / 89.6%)
3500 Streangh Skin Stone : 1 Spooky Festival coin(worth 4,480 Emerald / 89.6%)
3500 Agillity Skin Stone : 1 Spooky Festival coin(worth 4,480 Emerald / 89.6%)
750 Chaos Particle : 1 Spooky Festival coin(worth 5,250 Emerald / 105%)
Flawless Sunstone : 1 Spooky Festival coin(worth 945 Emerald / 18.9%)
Flawless Nightstone : 1 Spooky Festival coin(worth 945 Emerald / 18.9%)
Flawless Moonstone : 1 Spooky Festival coin(worth 945 Emerald / 18.9%)
Flawless Dawnstone : 1 Spooky Festival coin(worth 945 Emerald / 18.9%)
Flawless Daskstone : 1 Spooky Festival coin(worth 945 Emerald / 18.9%)
Book of Fate : 1 Spooky Festival coin(worth 6,600 Emerald / 132%)
Archangel's Mace : 1 Spooky Festival coin(worth 6,920 Emerald / 138.4%)
Staff of Morana's Nimbus : 1 Spooky Festival coin(worth 5,000 Emerald / 100%)
Panoptic Orb : 1 Spooky Festival coin(worth 5,000 Emerald / 100%)
Cosmic Tremor : 1 Spooky Festival coin(worth 5,000 Emerald / 100%)
Song of the Valkyries : 3 Spooky Festival coin(worth 17,400 Emerald / 116%)
Key to All Doors : 3 Spooky Festival coin(worth 17,400 Emerald / 116%)
Evil Genius Cuirass : 3 Spooky Festival coin(worth 17,400 Emerald / 116%)
Light of Distant Stars : 3 Spooky Festival coin(worth 15,400 Emerald / 102.7%)
Staff of Stubbornness : 3 Spooky Festival coin(worth 15,960 Emerald / 106.4%)
Oppressor's Crown : 3 Spooky Festival coin(worth 13,400 Emerald / 89.3%)
Unity of Extremes : 4 Spooky Festival coin(worth 21,400 Emerald / 107%)
Helm of Clear Thoughts : 4 Spooky Festival coin(worth 18,400 Emerald / 92%)
The Vanquished Absolute : 5 Spooky Festival coin(worth 26,400 Emerald / 105.6%)
Creator of Worlds : 5 Spooky Festival coin(worth 26,400 Emerald / 105.6%)
Demigod's Wreath : 5 Spooky Festival coin(worth 26,400 Emerald / 105.6%)
Brazier of Bloody Lotus : 5 Spooky Festival coin(worth 23,200 Emerald / 92.8%)
Drommer's Fancy : 5 Spooky Festival coin(worth 23,200 Emerald / 92.8%)
Insatiable Wing Aegis : 5 Spooky Festival coin(worth 23,200 Emerald / 92.8%)
Enslaved Demon : 5 Spooky Festival coin(worth 23,200 Emerald / 92.8%)
Ace in the Hole : 5 Spooky Festival coin(worth 23,360 Emerald / 93.4%)
Piercing Gaze : 5 Spooky Festival coin(worth 23,200 Emerald / 92.8%)
Awakened Might : 5 Spooky Festival coin(worth 24,000 Emerald / 96%)
Spooky Festival Store Cost Performance Ranking
Archangel's Mace : 1 Spooky Festival coin(worth 6,920 Emerald / 138.4%)
Book of Fate : 1 Spooky Festival coin(worth 6,600 Emerald / 132%)
20 Spooky Festiva Doll : 1 Spooky Festiva Coin(worth 6,422 Emerald / 128.4%)
Key to All Doors : 3 Spooky Festival coin(worth 17,400 Emerald / 116%)
Evil Genius Cuirass : 3 Spooky Festival coin(worth 17,400 Emerald / 116%)
Song of the Valkyries : 3 Spooky Festival coin(worth 17,400 Emerald / 116%)
Unity of Extremes : 4 Spooky Festival coin(worth 21,400 Emerald / 107%)
Staff of Stubbornness : 3 Spooky Festival coin(worth 15,960 Emerald / 106.4%)
The Vanquished Absolute : 5 Spooky Festival coin(worth 26,400 Emerald / 105.6%)
Creator of Worlds : 5 Spooky Festival coin(worth 26,400 Emerald / 105.6%)
Demigod's Wreath : 5 Spooky Festival coin(worth 26,400 Emerald / 105.6%)
750 Chaos Particle : 1 Spooky Festival coin(worth 5,250 Emerald / 105%)
Spooky Festival Store Worst Ranking
Flawless Sunstone : 1 Spooky Festival coin(worth 945 Emerald / 18.9%)
Flawless Nightstone : 1 Spooky Festival coin(worth 945 Emerald / 18.9%)
Flawless Moonstone : 1 Spooky Festival coin(worth 945 Emerald / 18.9%)
Flawless Dawnstone : 1 Spooky Festival coin(worth 945 Emerald / 18.9%)
Flawless Daskstone : 1 Spooky Festival coin(worth 945 Emerald / 18.9%)
Hero Soul Stone Chest : 1 Spooky Festival coin(worth 4,000 Emerald / 80%)
Oppressor's Crown : 3 Spooky Festival coin(worth 13,400 Emerald / 89.3%)
3500 Intelligent Skin Stone : 1 Spooky Festival coin(worth 4,480 Emerald / 89.6%)
3500 Streangh Skin Stone : 1 Spooky Festival coin(worth 4,480 Emerald / 89.6%)
3500 Agillity Skin Stone : 1 Spooky Festival coin(worth 4,480 Emerald / 89.6%)
Helm of Clear Thoughts : 4 Spooky Festival coin(worth 18,400 Emerald / 92%)
Brazier of Bloody Lotus : 5 Spooky Festival coin(worth 23,200 Emerald / 92.8%)
Drommer's Fancy : 5 Spooky Festival coin(worth 23,200 Emerald / 92.8%)
Insatiable Wing Aegis : 5 Spooky Festival coin(worth 23,200 Emerald / 92.8%)
Enslaved Demon : 5 Spooky Festival coin(worth 23,200 Emerald / 92.8%)
Piercing Gaze : 5 Spooky Festival coin(worth 23,200 Emerald / 92.8%)
Ace in the Hole : 5 Spooky Festival coin(worth 23,360 Emerald / 93.4%)
Gain some but lose some
Light of Distant Stars : 3 Spooky Festival coin(worth 15,400 Emerald / 102.7%)
20 Pet Summoning Egg : 1 Spooky Festival coin(worth 5,000 Emerald / 100%)
Staff of Morana's Nimbus : 1 Spooky Festival coin(worth 5,000 Emerald / 100%)
Panoptic Orb : 1 Spooky Festival coin(worth 5,000 Emerald / 100%)
Cosmic Tremor : 1 Spooky Festival coin(worth 5,000 Emerald / 100%)
Awakened Might : 5 Spooky Festival coin(worth 24,000 Emerald / 96%)
Event Guide
Spooky Festival
All Quests
The Furnace of Souls
Ghost Candy
Spooky Festival Doll
Mini Game
Hidden Quest
Same Style Store
Summer Festival Shop