What is Top of the Tower?
Daily Event at the Lore Festival.
Completion of the race is contingent on the use of emeralds.
A different Event every day for 7 consecutive days.
Only two Quests include a Log in.
The prize is one of a 7-Color Doll Series, the "Imprisoned Doll".
Flavor Text
Climb up to the very top of the Tower and receive gifts for your activity.
Imprisoned Doll
Quest Contents
1. Log in (MAX 1): Achieved by logging in to Hero Wars every day.
2. Open chest in the Tower (MAX 45) : You can use Time Difference Technic.
All Quests
Welcome Guest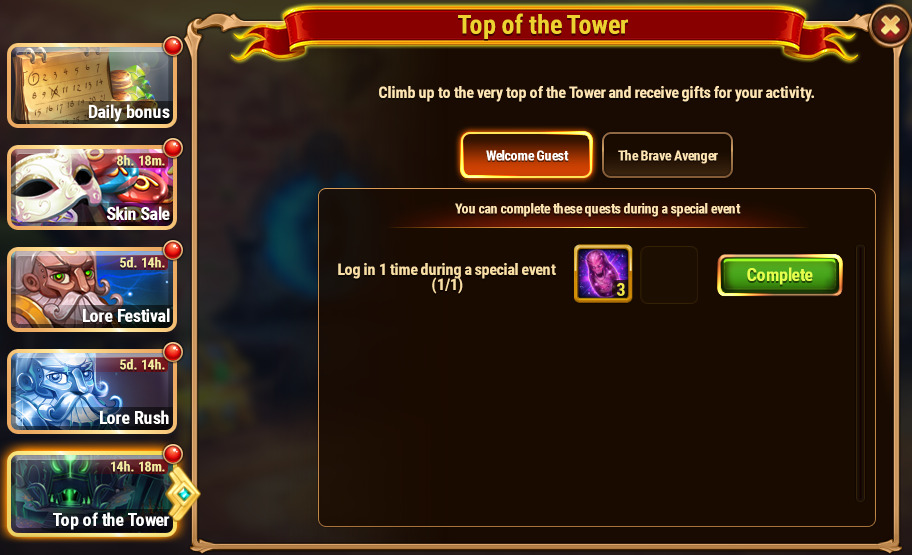 The Brave Avenger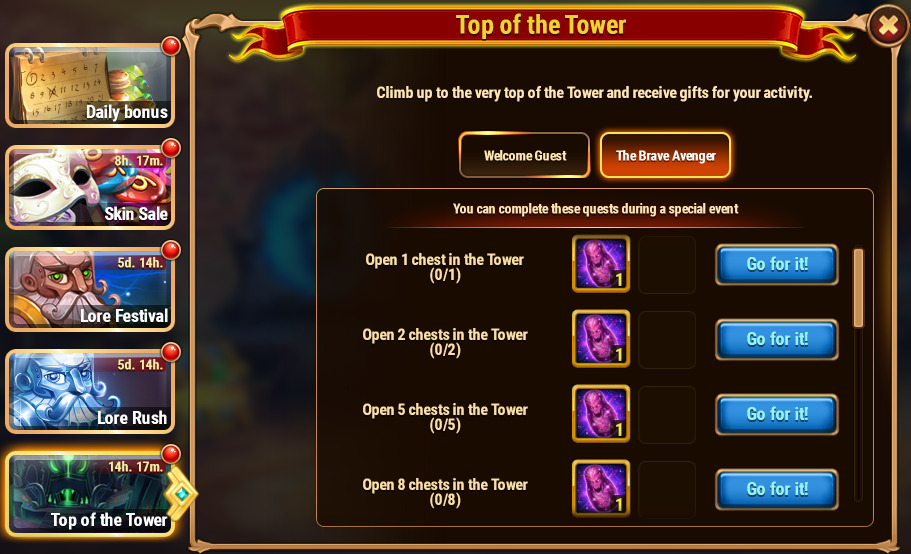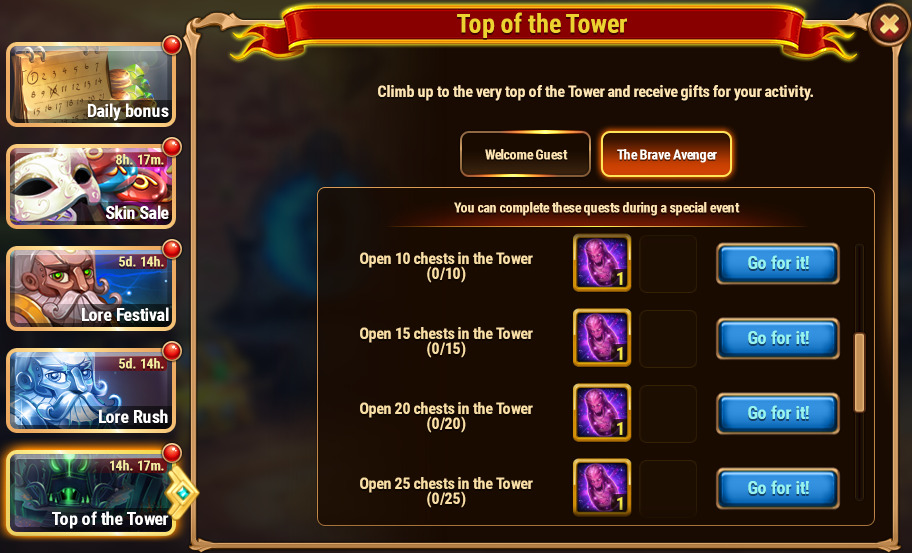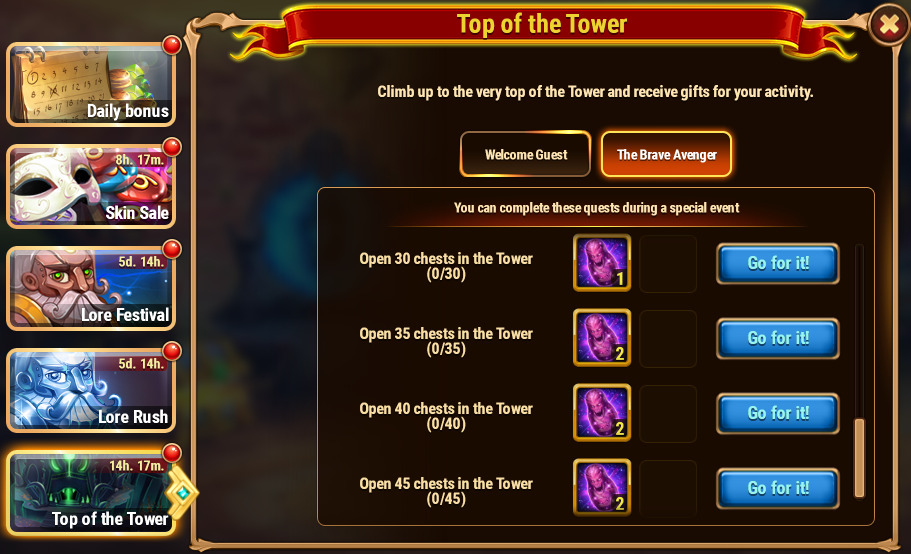 How to use the Tower technique
Do not play the Tower before the event starts on the day of the event.
15 Chests at the Tower after the event starts on the day of the event.
15 chests for the Tower in the morning before the event ends the next day.
Total up to x30 free.
Chests in the lower floor can be opened for 50 emeralds, so if you are aiming for 45 Chests, that is your priority.
Quest Efficiency about
Returns with rewards have been rearranged.
Regular rewards and Daily Quests are not included.
Returns under conditions that do not include time difference techniques.
A summary of how much the +/gained from this event return to the Emeralds spent.
This is a description of the expected value based on statistics. The individual difference is about twice as large as the total.
For details of the rewarded Dolls, please refer to the link above.
In both cases, the expected return is high, even if all tower rewards are disposable.
Quest Efficiency List (Time difference techniques.)
1 chests (Free) -> 1 Dolls (255 Emeralds worth)
2 chests (Free) -> 2 Dolls (509 Emeralds worth)
5 chests (Free) -> 3 Dolls (764 Emeralds worth)
8 chests (Free) -> 4 Dolls (1,018 Emeralds worth)
10 chests (Free) -> 5 Dolls (1,273 Emeralds worth)
15 chests (Free) -> 6 Dolls (1,528 Emeralds worth)
20 chests (Free) -> 7 Dolls (1,782 Emeralds worth)
25 chests (Free) -> 8 Dolls (2,037 Emeralds worth)
30 chests (Free) -> 9 Dolls (2,291 Emeralds worth)
35 chests(250 Emeralds) -> 11 Dolls (2,801 Emeralds worth、1120.2%)
40 chests(500 Emeralds) -> 13 Dolls (3,310 Emeralds worth、662%)
45 chests(750 Emeralds) -> 15 Dolls (3,819 Emeralds worth、509.2%)
Quest Efficiency List (Use Open all chests)
45 chests(2,300 Emeralds) -> 15 Dolls (3,819 Emeralds worth、166%)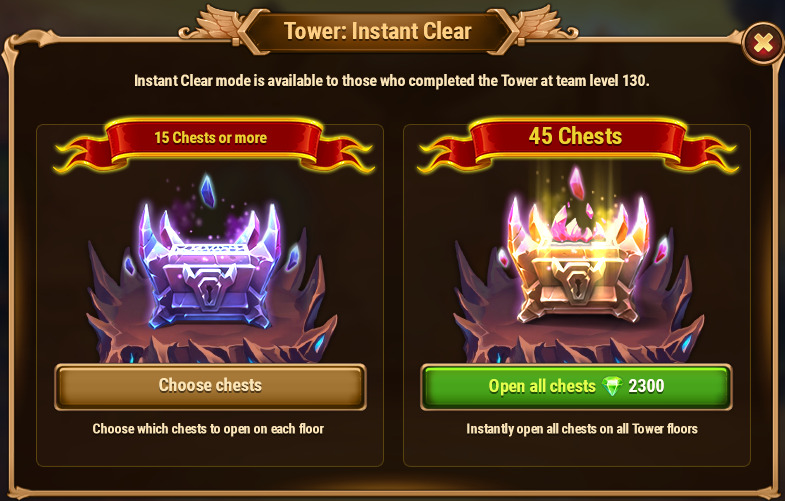 History
Tue, 07 September 2021 (1 day)
Fri, 02 September 2022 (1 day)
Concurrent Events
Lore Festival
Lore Rush
Strongford Quiz