What is Otherworldly Call?
Daily Event at the Lore Festival.
Completion of the race is contingent on the use of emeralds.
A different Event every day for 7 consecutive days.
Only two Quests include a Log in.
The prize is one of a 7-Color Doll Series, the "Otherworldly Doll".
Flavor Text
For a brief moment, the Other Worlds have unveiled their secrets and rarities. Do you have the stubbornness and determination to earn all of their cosmic treasures? Dare to try, and it'll all work out!
Otherworldly Doll
Quest Contents
1. Log in (MAX 1): Achieved by logging in to Hero Wars every day.
2. Open chests in Outland (MAX 55) : You can use Time Difference Technic.
All Quests
Welcome Guest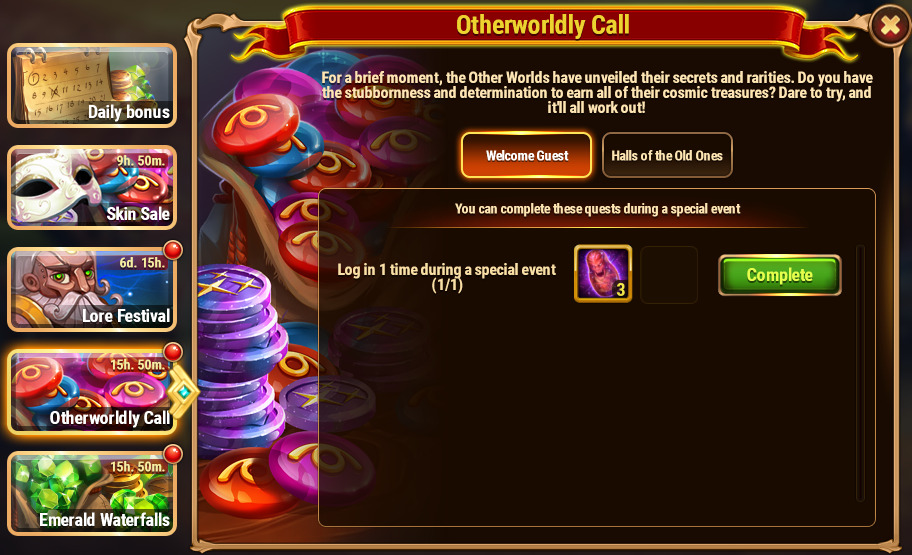 Halls of the Old Ones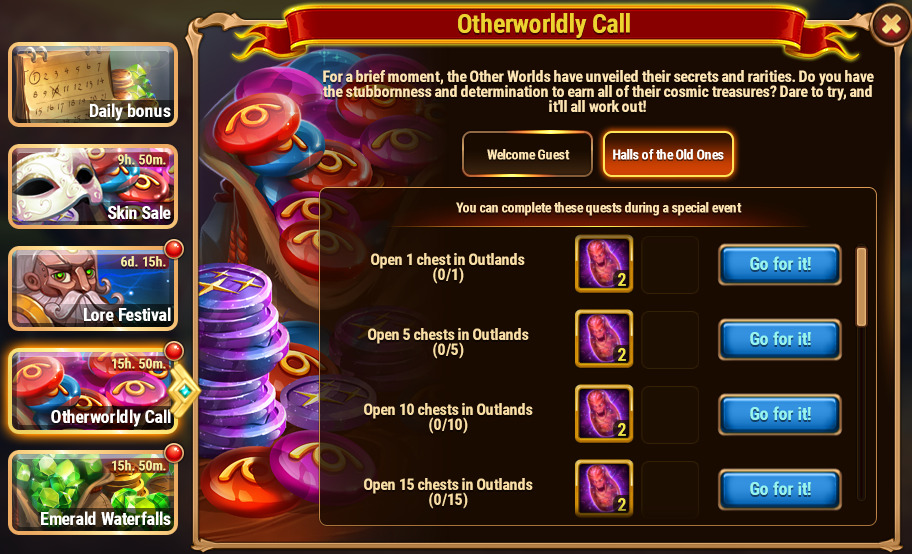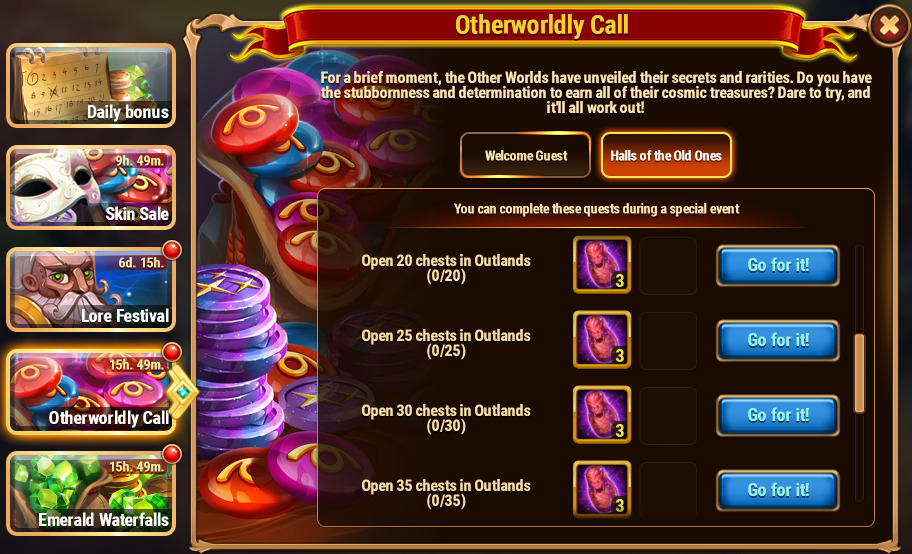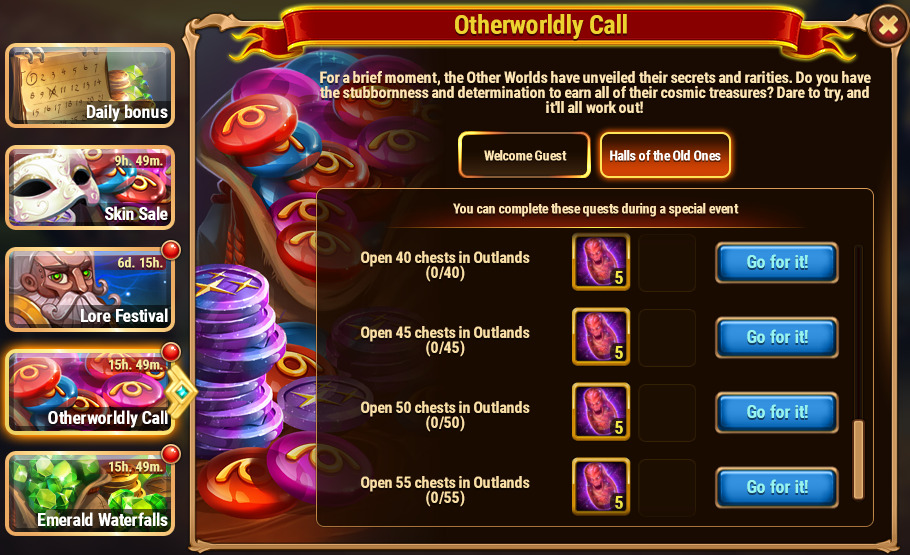 Outland Optimal Achievement Guideline
Generally, they are optimized in the following order.
3 types of free.
90 Emeralds x2 + free * 3 types, total 9 opens.
200 Emeralds x2 + free * 3 types, total 9 opens.
(however, the Emerald efficiency is less than 4,500; if going to 4,500, any one type)
Add 15 open for 4,500 emeralds.
Quest Efficiency about
Returns with rewards have been rearranged.
Regular rewards and Daily Quests are not included.
Returns under conditions that do not include time difference techniques.
A summary of how much the +/gained from this event return to the Emeralds spent.
This is a description of the expected value based on statistics. The individual difference is about twice as large as the total.
For details of the rewarded Dolls, please refer to the link above.
With 55 boxes, you can expect to get about 1.5 times more Skin Stones than usual.
Quest Efficiency List
1 chests (Free) -> 2 Dolls (593 Emeralds worth)
5 chests(180 Emeralds) -> 4 Dolls (1,186 Emeralds worth、658.9%)
10 chests(740 Emeralds) -> 6 Dolls (1,779 Emeralds worth、240.4%)
15 chests(940 Emeralds) -> 8 Dolls (2,372 Emeralds worth、252.3%)
20 chests(1,740 Emeralds) -> 11 Dolls (3,262 Emeralds worth、187.4%)
25 chests(5,440 Emeralds) -> 14 Dolls (4,151 Emeralds worth、76.3%)
30 chests(5,440 Emeralds) -> 17 Dolls (5,041 Emeralds worth、92.7%)
35 chests(9,940 Emeralds) -> 20 Dolls (5,930 Emeralds worth、59.7%)
40 chests(9,940 Emeralds) -> 25 Dolls (7,413 Emeralds worth、74.6%)
45 chests(9,940 Emeralds) -> 30 Dolls (8,895 Emeralds worth、89.5%)
50 chests(14,440 Emeralds) -> 35 Dolls (10,378 Emeralds worth、71.9%)
55 chests(14,440 Emeralds) -> 40 Dolls (11,860 Emeralds worth、82.1%)
Relationship to the Lore Festival
When you complete this quest, you will also automatically complete the Outland Quest for the Lore Festival!
Even if you do not have much of a budget, it is better to advance a little so that you can get Portal at the Lore Festival. If you use the Portal in Adv13, you can expect to receive the equivalent of 4,000 Emeralds each!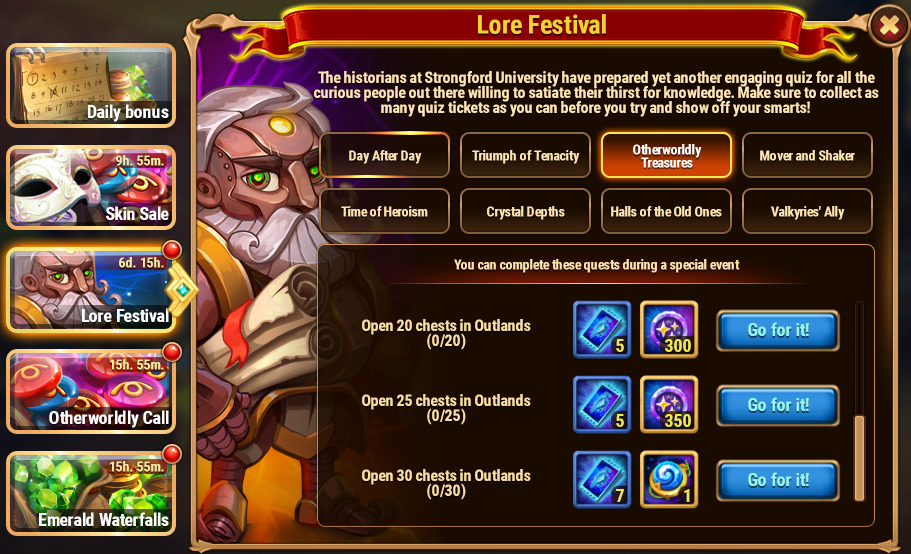 History
Mon, 26 July 2021 (3 days)
Thu, 02 September 2021 (1 day)
Thu, 01 September 2022 (1 day)
Concurrent Events
Lore Festival
Lore Festival All Quests
Lore Rush
Strongford Quiz