Seasonal Adventure Subscriptions
A subscription that allows you to receive two Explorer's Move every day.
Choose desired items in the Mystery Island area.
The worth Emeralds is calculated based on the average emerald conversion rate for each square on Mystery Island, along with the expected value of the explorer's moves. It doesn't take into account individual variations in needed or desired items.
Eligible for VIPs.
If an Emerald Falls event is being held, you will be eligible to participate.
Emerald Conversion of Mystery Island
Estimated value.
If all squares are completed, the estimated value is equivalent to 416,874 emeralds. This total is irrespective of whether the items are wanted or not, so individuals with many unwanted items may need to consider this in their calculations.
There are 8 squares where emeralds can be obtained directly, totaling 72,700 emeralds.
Subscription Specifications
The same subscription can be purchased multiple times.
Multiple purchases do not increase the number of units received per day. The validity period will be extended.
If there is a day you forget to claim your explorer's moves, they will be sent to your in-game Mail.
List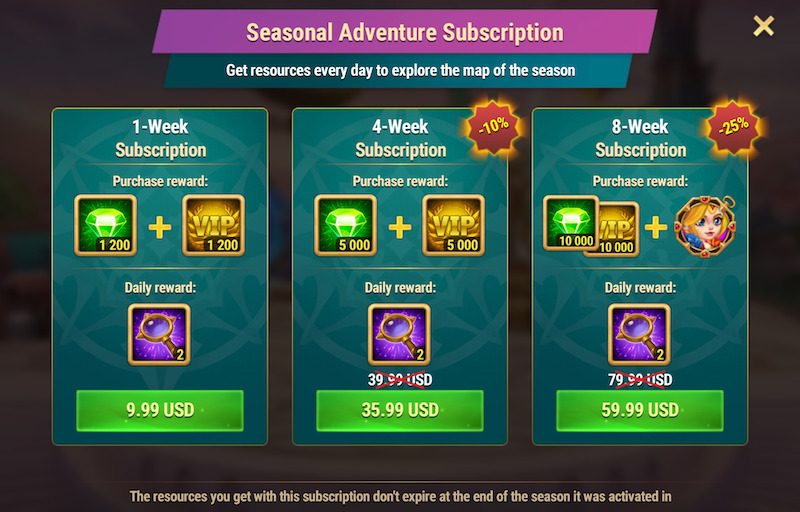 Estimated Emerald equivalent for each Subscriptions
1-Week Subscription = 45,500 Emeralds(x13.7)
4-Week Subscription = 182,000 Emeralds(x15.3)
8-Week Subscription = 364,000 Emeralds(x18.4)
Benefit Frame (8-Weeks)

Related Articles
Mysterious Island
Explorer's Move
Pet Season All Quests
Pet Season All Rewords