Pet Season Rewards
It's the pet-themed The Season event.
28 days.
The standout reward is the gift of the sanctuary.
There is a change rewards just before release.
From the description
The Pet Season has started in the Dominion! Complete quests, gain special event experience, and earn rewards!
Level up, get Pet Boxes, and earn Emeralds!
Soon you'll be able to explore a new map with Explorer's Moves!
Get unique bonuses and access to all rewards!
List
Level
Free
Gold Ticket
1
Energy Recovery x3 (24 H)
Energy Recovery x3 (5 days)
2
250 Emerald
1,000 Emerald
3
5 Lesser Pet Soul Chest
20 Lesser Pet Soul Chest
4
1 Chaos Core
5 Chaos Core
5
50 Chaos Particle
200 Chaos Particle
6
20 Skin Stone Chest
100 Skin Stone Chest
7
1 Bottled Energy
4 Bottled Energy
8
300 Intelligence Skin Stone
1,000 Intelligence Skin Stone
9
5 Pet Summoning Egg
5→1 Explorer's Move
10
50 Random Crystal
300 Choice of Crystal
11
5 Lesser Pet Soul Chest
20 Lesser Pet Soul Chest
12
1 Explorer's Move
5 Chaos Core
13
30 Skin Stone Chest
100 Skin Stone Chest
14
40 Random Vibrant Crystal
3→1 Explorer's Move
15
50 Chaos Particle
200 Chaos Particle
16
200 Strength Skin Stone
1,000 Strength Skin Stone
17
1 Explorer's Move
1,000 Emerald
18
5 Pet Summoning Egg
1 Pet Souls of your choice
19
30 Random Insignia
100 Random Insignia
20
50 Chaos Particle
200 Chaos Particle
21
30 Skin Stone Chest
3→1 Explorer's Move
22
5 Lesser Pet Soul Chest
25 Lesser Pet Soul Chest
23
1,000 Artifact Coin
5,000 Artifact Coin
24
1 Explorer's Move
1,000 Agility Skin Stone
25
150 Chaos Particle
1,300 Chaos Particle
26
15 Random Greater Insignia
50 Choice of Greater Insignia
27
1 Chaos Core
3→1 Explorer's Move
28
20 Random Radiant Crystal
50 Choice of Radiant Crystal
29
1 Explorer's Move
20 Flawless Artifact Essence
200 Chaos Particle
30
5 Lesser Pet Soul Chest
25 Lesser Pet Soul Chest
31
10 Rare enchantment rune
25 Rare enchantment rune
32
250 Emerald
3→1 Explorer's Move
33
20 Skin Stone Chest
1,000 Emerald
34
10 Lesser Pet Soul Chest
25 Lesser Pet Soul Chest
35
1 Explorer's Move
5 Chaos Core
36
70 Chaos Particle
200 Chaos Particle
37
30 Skin Stone Chest
3→1 Explorer's Move
38
1 Bottled Energy
4 Bottled Energy
39
300 Intelligence Skin Stone
1,000 Intelligence Skin Stone
40
5 Pet Summoning Egg
Energy Recovery x3(8 days)
41
1 Explorer's Move
20 Flawless Artifact Essence
250 Choice of Crystal
42
10 Lesser Pet Soul Chest
25 Lesser Pet Soul Chest
43
2 Chaos Core
3→2 Explorer's Move
44
30 Skin Stone Chest
100 Skin Stone Chest
45
25 Random Radiant Crystal
100 Choice of Vibrant Crystal
46
1 Bottled Energy
4 Bottled Energy
47
300 Strength Skin Stone
1,000 Strength Skin Stone
48
1 Explorer's Move
1,000 Emerald
49
5 Pet Summoning Egg
1 Pet Souls of your choice
50
30 Random Insignia
100 Random Insignia
51
10 Lesser Pet Soul Chest
30 Lesser Pet Soul Chest
52
30 Skin Stone Chest
3→2 Explorer's Move
53
10 Lesser Pet Soul Chest
25 Lesser Pet Soul Chest
54
2,000 Artifact Coin
5,000 Artifact Coin
55
1 Explorer's Move
1,000 Agility Skin Stone
56
150 Chaos Particle
1,300 Chaos Particle
57
15 Random Greater Insignia
50 Choice of Greater Insignia
58
2 Chaos Core
5 Chaos Core
59
1 Explorer's Move
50 Choice of Radiant Crystal
60
1 Bottled Energy
4 Bottled Energy
61
10 Lesser Pet Soul Chest
25 Lesser Pet Soul Chest
62
10 Rare enchantment rune
30 Rare enchantment rune
63
1,000 Emerald
3→2 Explorer's Move
64
150 Chaos Particle
1,300 Chaos Particle
65
1 Explorer's Move
5 Chaos Core
66
30 Skin Stone Chest
100 Skin Stone Chest
67
40 Random Vibrant Crystal
3 Explorer's Move
68
70 Chaos Particle
200 Chaos Particle
69
300 Strength Skin Stone
1,000 Strength Skin Stone
70
500 Chaos Particle
1 Gift of the Sanctuary
71 –
2 Pet Box
10 Pet Box
Avator and Frame

Visual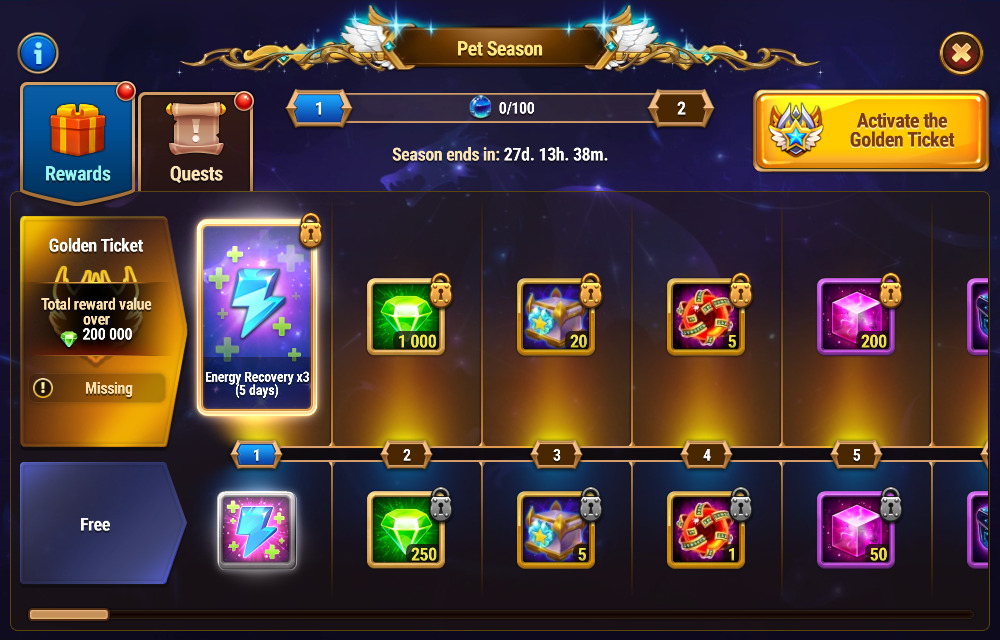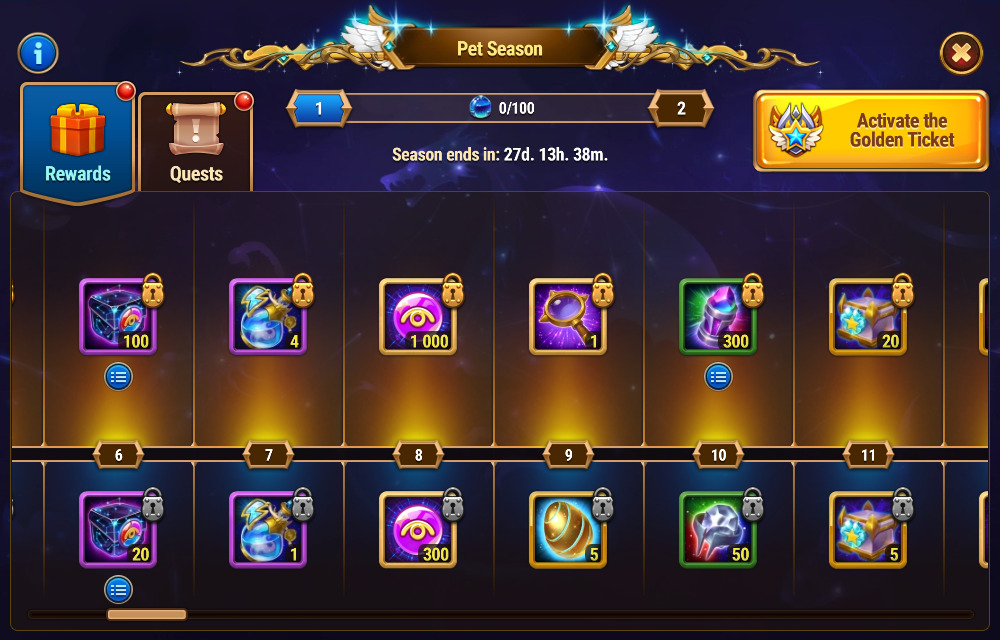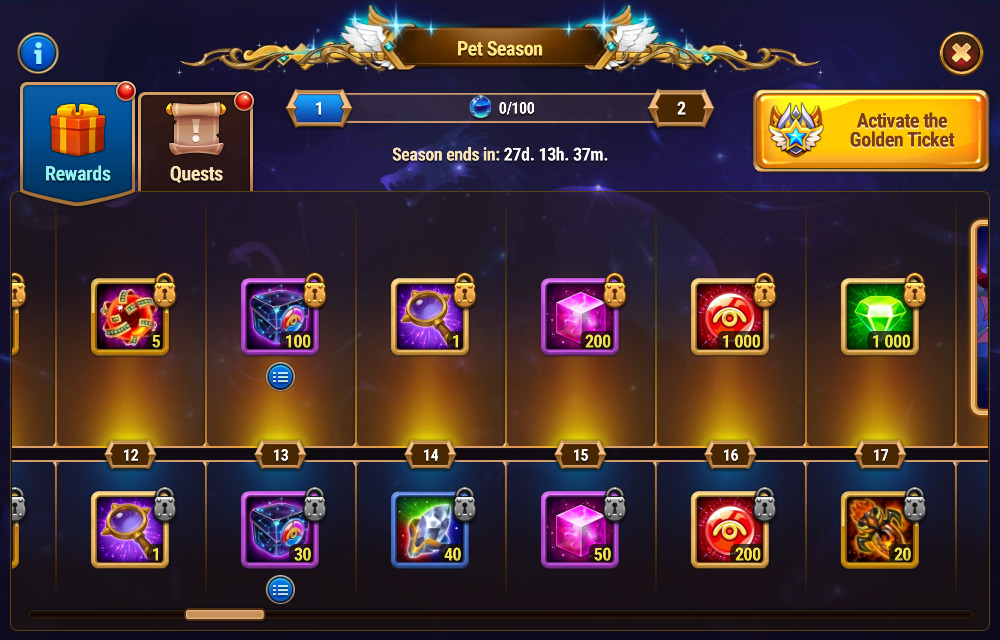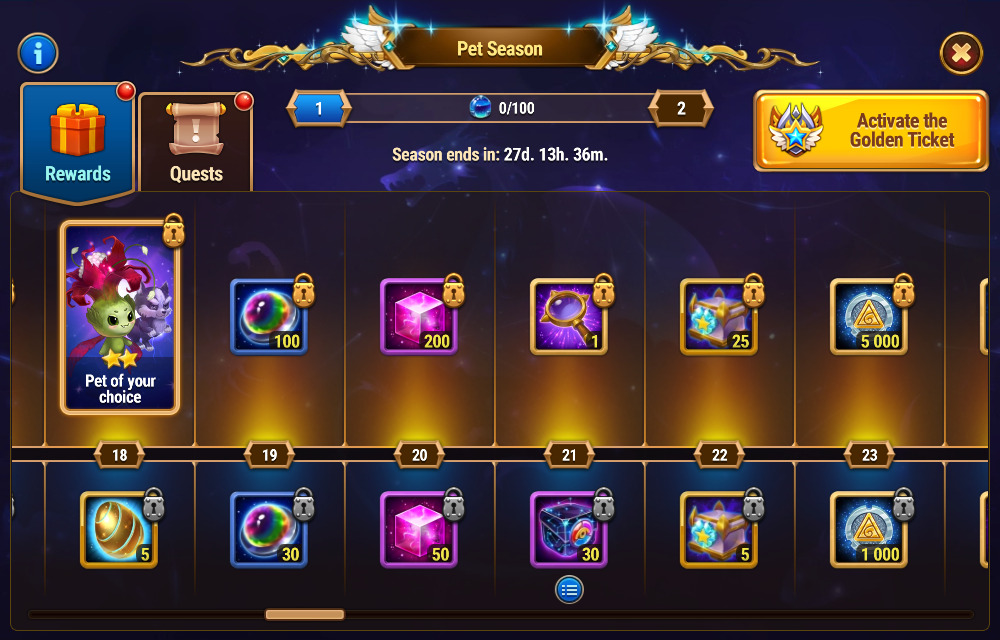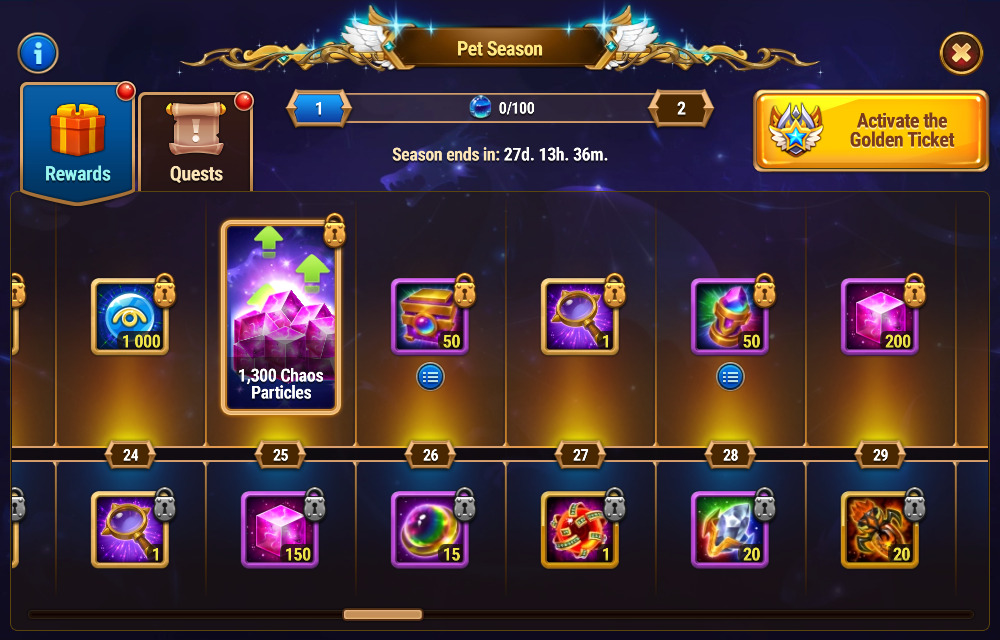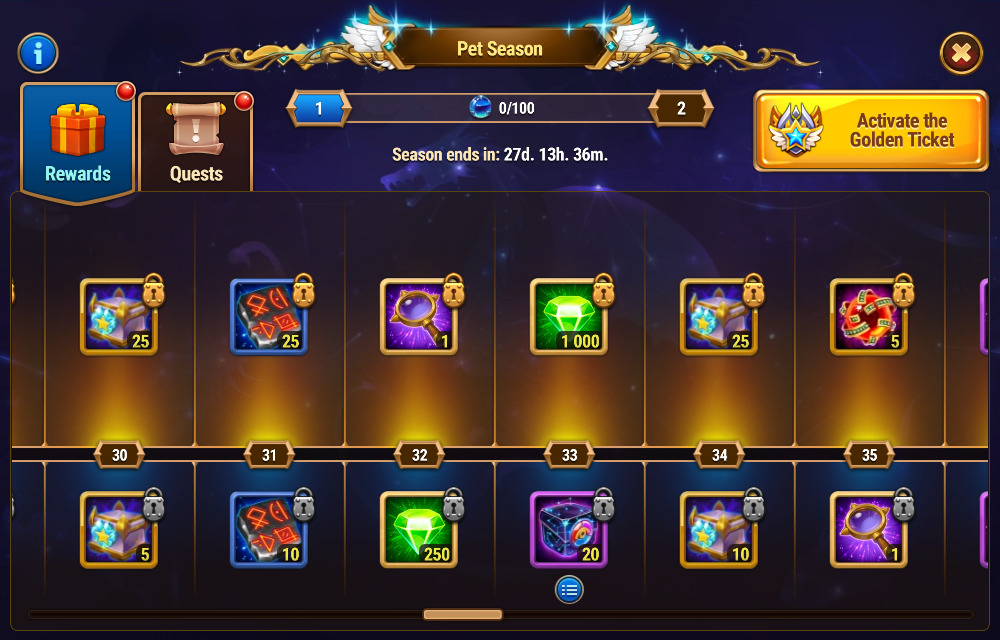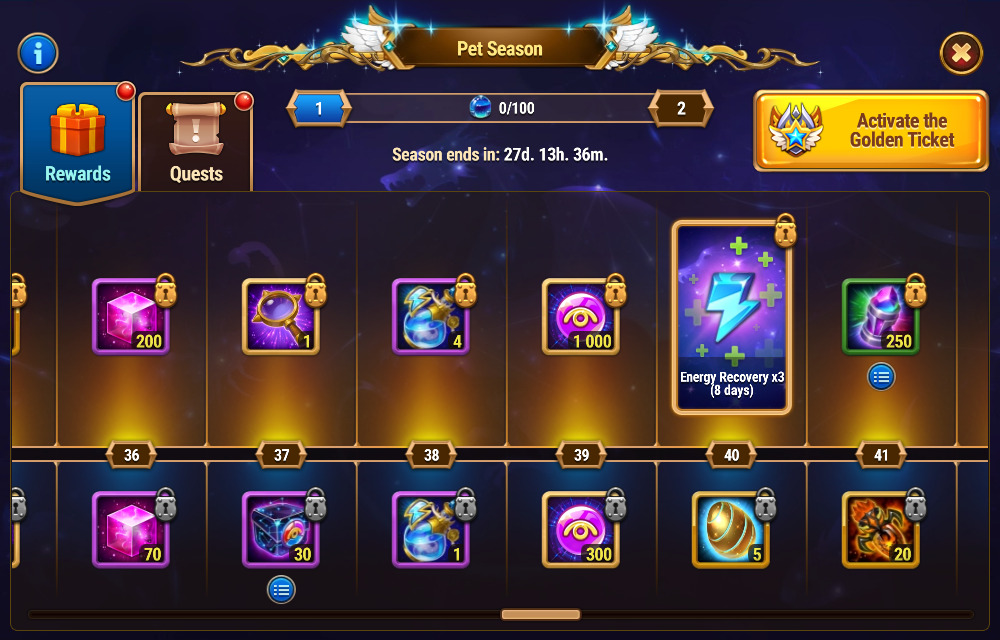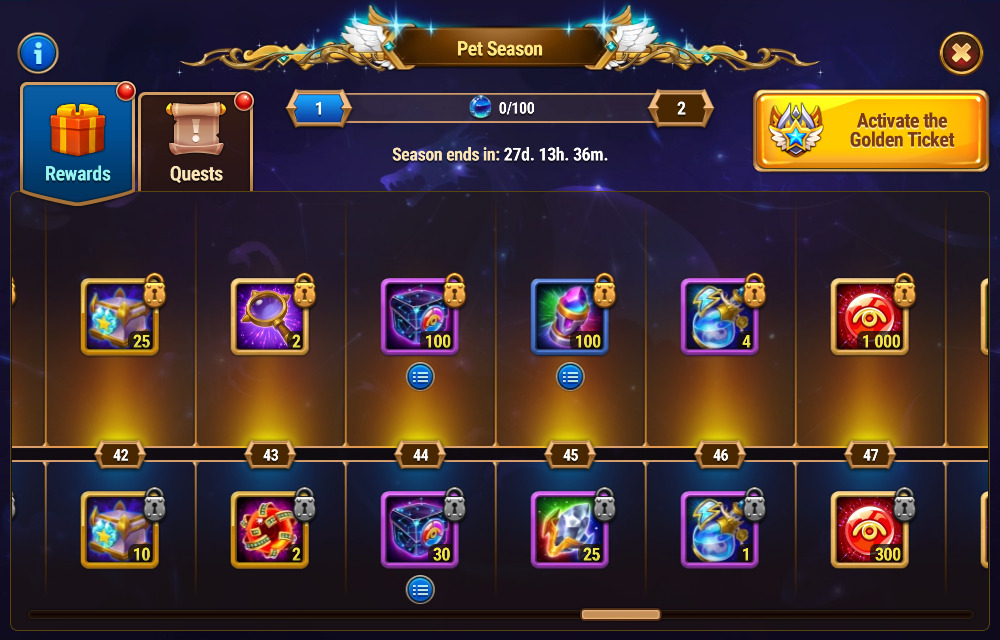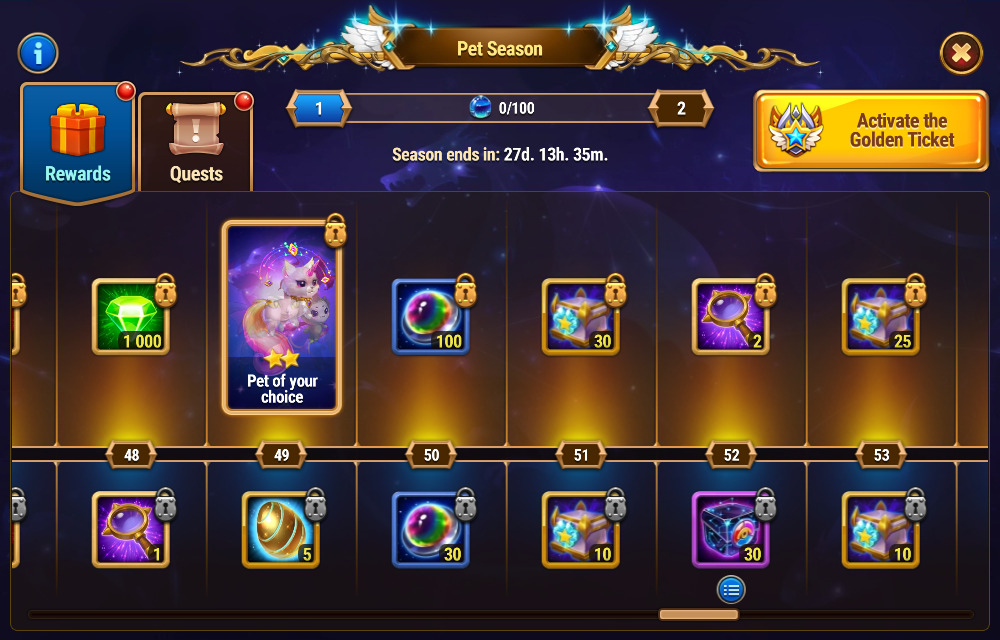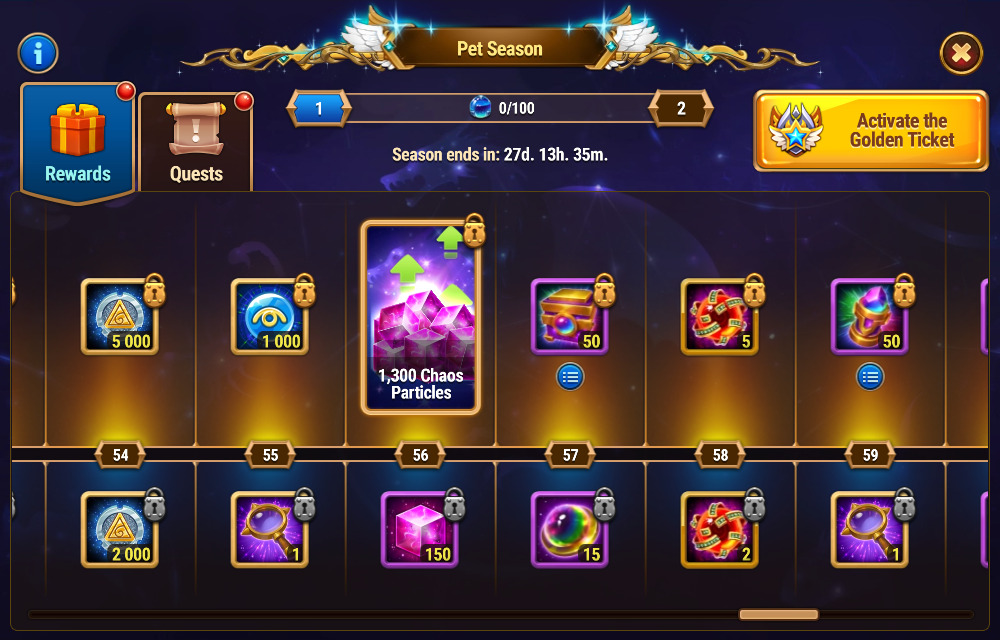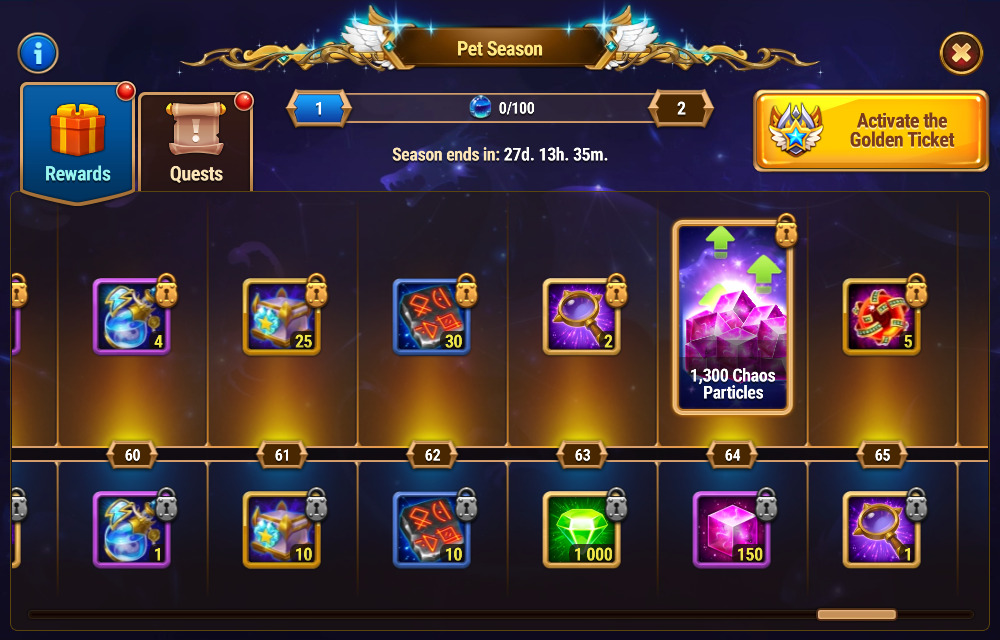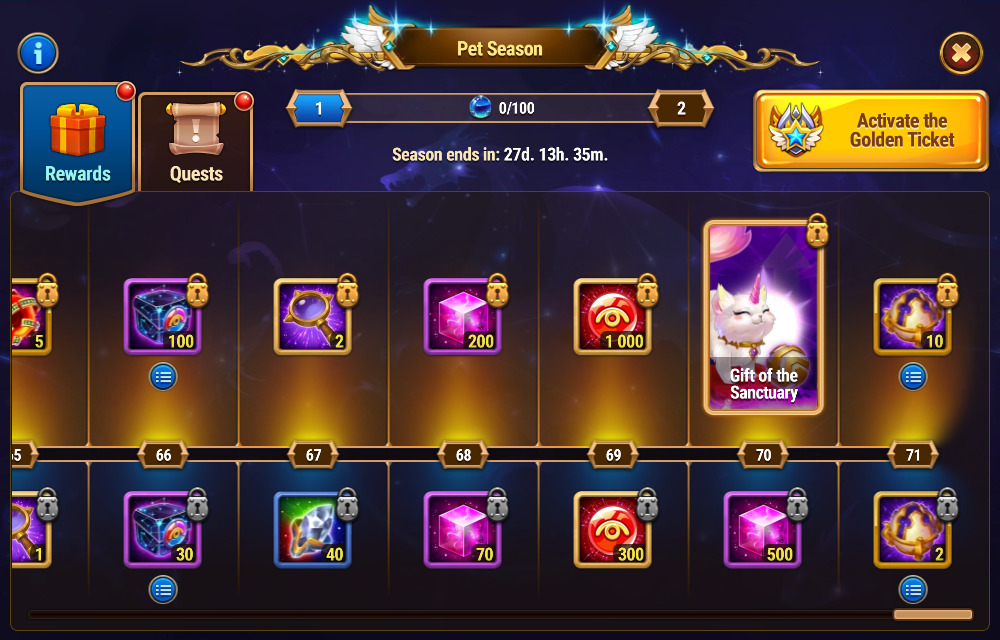 Explorer's Move
Choice of Crystal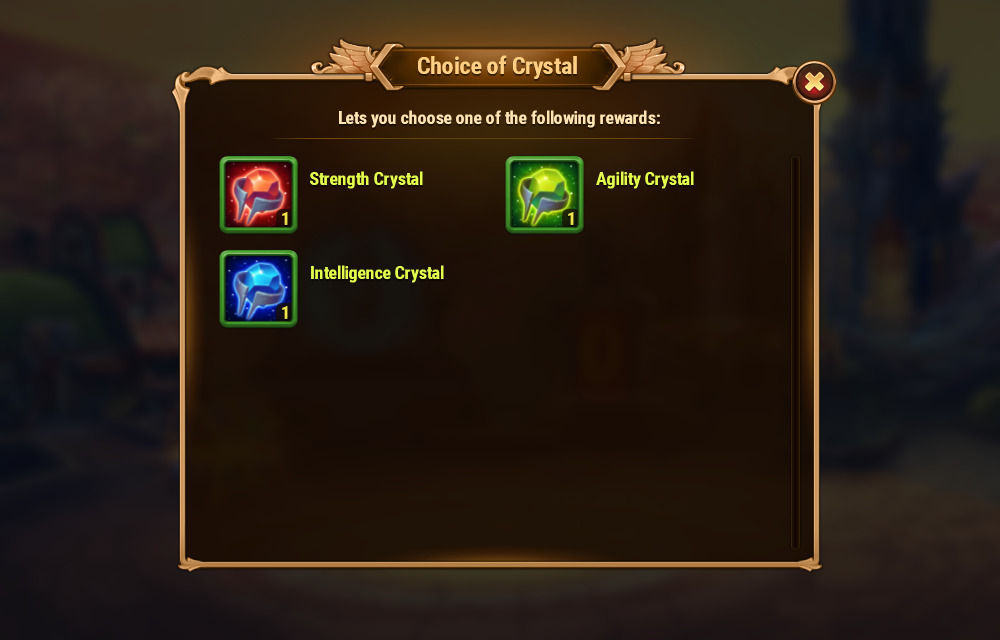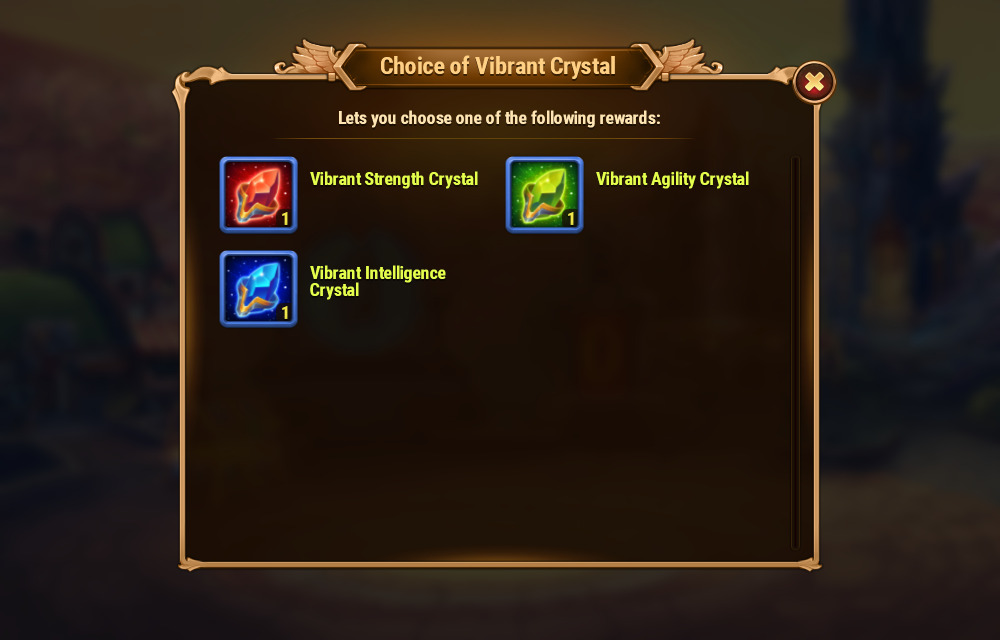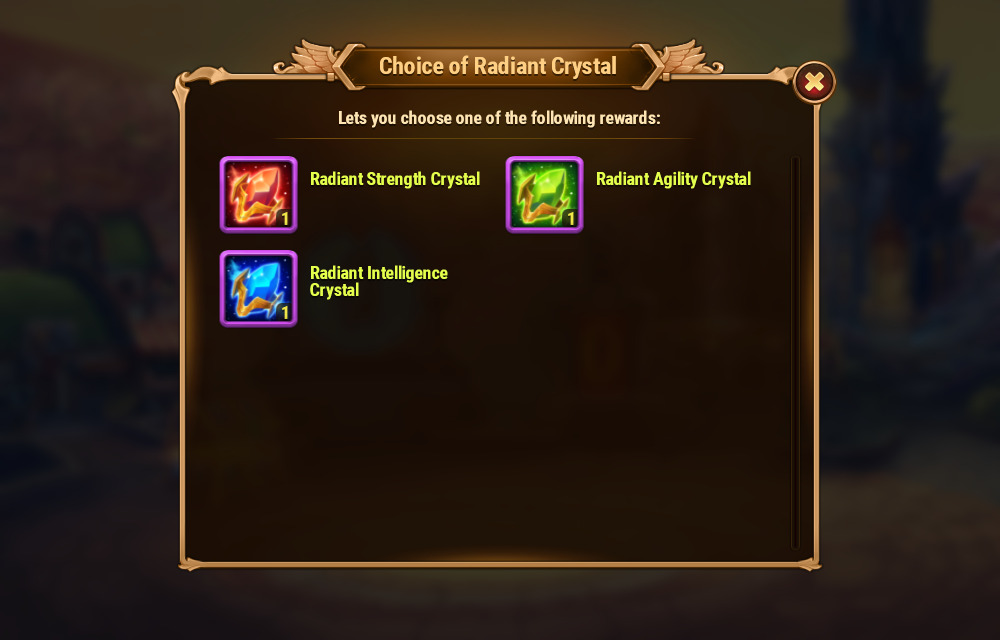 Choice of Insignia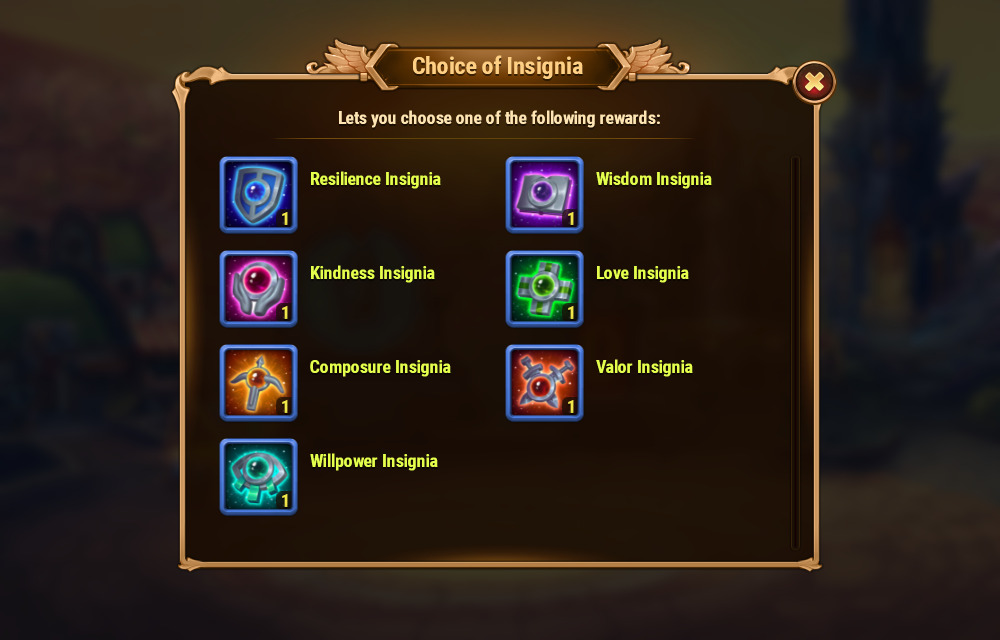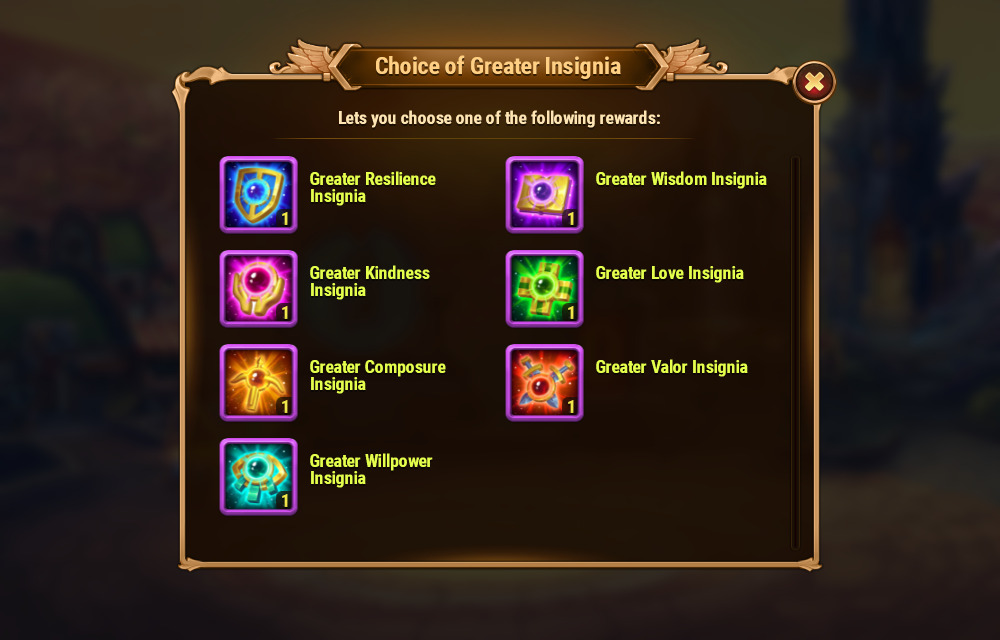 Lesser Pet Soul Chest
Pet Soul Chest
Chaos Particle
Skin Stone Chest
Skin Stones
Gift of the Sanctuary
Over Run Reward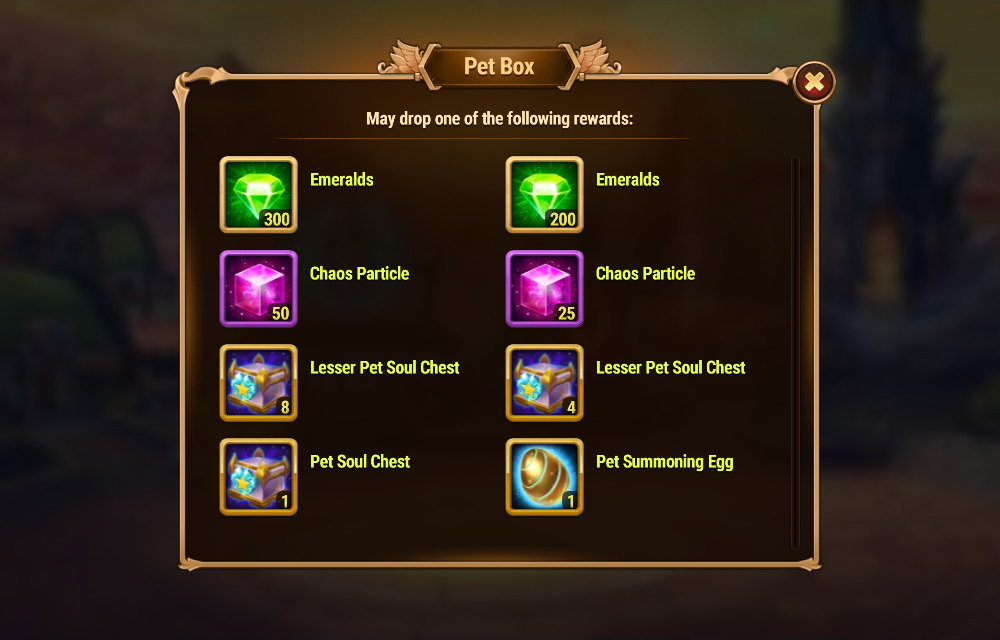 Pet Box
Play Guide
All Quests (Task List)
Same Name Season
Seasonal Adventure
Mysterious Island
Seasonal Adventure Subscription