Overview of Winter Tail
Contents of the annual New Year's Eve and New Year's Day events held at the beginning of each year.
Each day runs parallel to the second half of the "Holiday Everyday".
Make sure you have plenty of room for Portal and Bottled Energy.
"Waiting for the Holiday" is a series of events. As much as possible, I'd like to figure out which event to devote resources to that day.
VIP rewards removed from 2021. Ranking rewards added.
Winter Tail Quest Contents
1. Log in (MAX 7) : Achieved naturally by logging in to Hero Wars every day.
2. Spend Emeralds (MAX 90,000) : Spend Emeralds in Campaign and Fireworks for efficiency.
3. Open Artifact Chests (MAX 200) : Release the keys you have saved.
4. Spend Energy (MAX 14,000) : 2,000 energy per day. If you don't have enough, it's tough.
5. Open chests in Adventure (MAX 21) : Raiding with portals stored in Mail is easy.
6. Purchases (MAX 7) : Valkyrie's Favor counts as one.
7. Take position in Sender Ranking : It's easiest to slip in on the first day
8. Take position in Receiver Ranking : It's easiest to slip in on the first day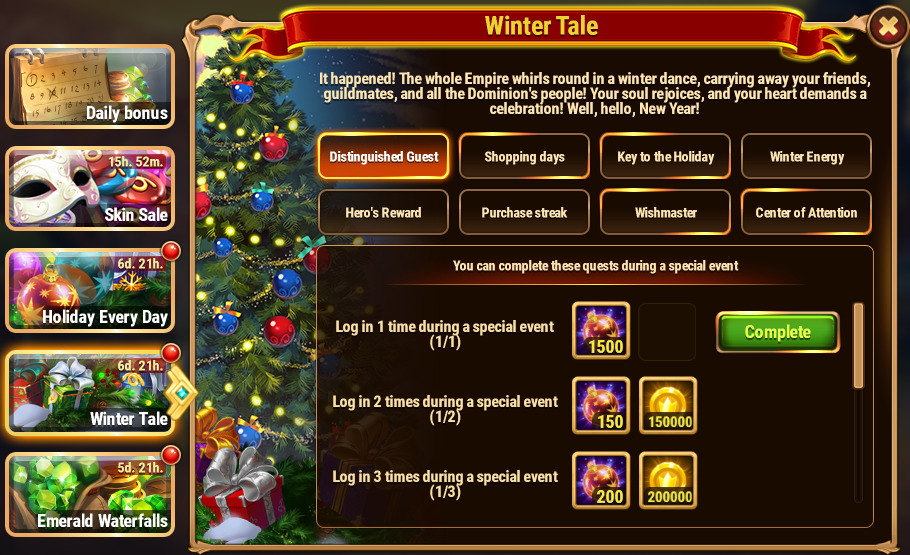 Winter Tail is all about the last spurt
On the last day of Winter Tail, it is easier to collect Soul Stone for new Hero due to the Hero of the Day specification.
If the last day of Winter Tail falls on a Friday, it will be held at the same time as another event. In this case, you may be able to use emeralds and energy consumption quests at the same time.
(Elemental Synergy was held at the same time in 2022)
Event History
Tue, 01 January 2019 (7 days)
Wed, 01 January 2020 (7 days)
Fri, 01 January 2021 (7 days)
Sat, 01 January 2022 (7 days)
Related pages
Concurrent Events