Overview of Waiting Holiday
Year-end content of the annual holiday events.
Each day is held in parallel with the first half of the "Holiday Everyday".
"Letter to Winter Claus" will be held during the same period.
You'll need to make sure you have enough Equipment and Bottled Energy.
There are quests that consume emeralds in "Winter Tail" at the beginning of the year as well. You'll regret it if you use them up here.
The Emerald x4 Sale, which is usually held only on the last day of the year, is held at the same time.
Flavor Text
Anticipation is sometimes better than the celebration itself. The world around you scatters in a thousand lights, bestowing the true feeling of Winterfest. The Dominion's people are preparing for the traditional celebrations. Don't miss out on the delightful bustle!
Quests order
1. Log in (MAX 7)
2. VIP Level (MAX 7)
3. Spend Winter Festival Coins on Gifts (MAX 400,000)
4. Spend Emeralds (MAX 90,000)
5. Complete Campaign missions (MAX 1,700)
6. Open chests in Tower (MAX 120)
7. Start or join Adventure (MAX 7)
8. Purchases (MAX 7)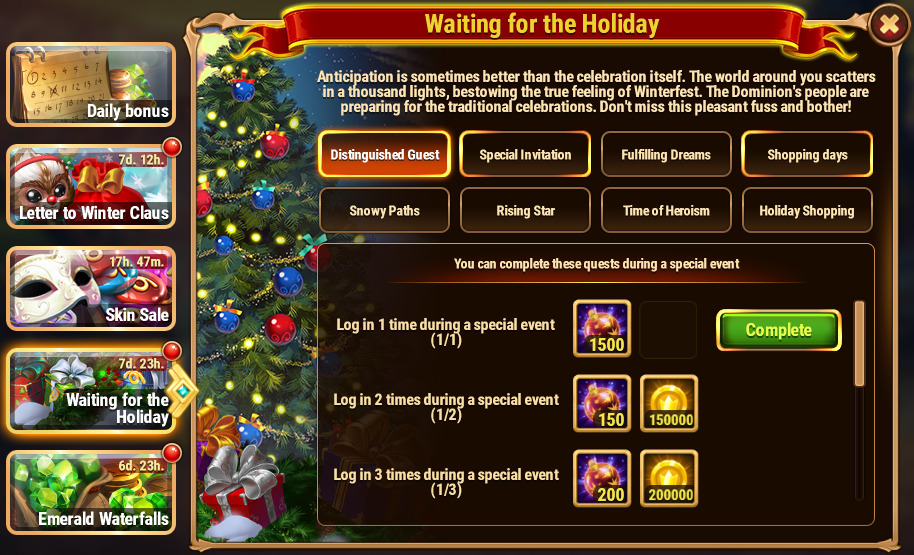 About the Campaign's mission quests
If your priority is to complete as many missions as possible, I recommend Chapters 5-6, which consume 6 AP.
Especially Chapter 6, "Morth Chrone's Lands" and "Eternal Night" have excellent drops.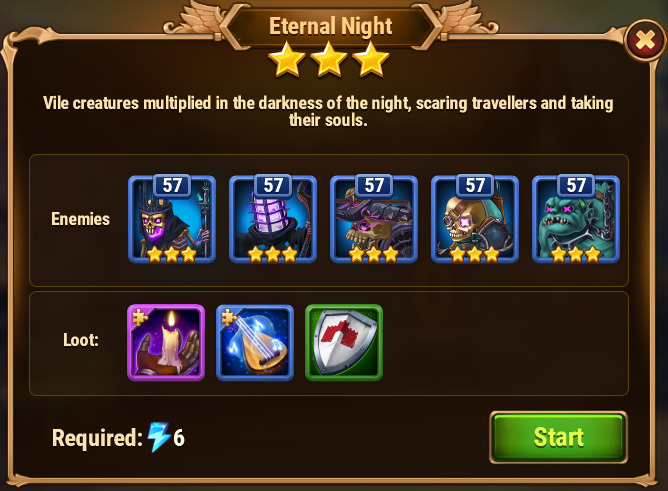 All Quests
Event History
Tuesday, December 25, 2018 (7 days)
Wednesday, December 25, 2019 (7 days)
Friday, December 25, 2020 (7 days)
Friday, December 24, 2021 (7 days)
Friday, December 16, 2022 (7 days)
Related pages
Concurrent Events
Winterfest
Holiday Everyday
Letter to Winter Claus
x4 Sale
Kayla's Ascension