Holiday Everyday Overview
Annual New Year's Eve and New Year's Day events
14-day long run
Mostly daily quests
Every year, there are updates to the quest content
The main goal is to exchange gifts with guild mates
Happy to have a bulletin board in the guild beforehand
Happy if you reserve resources in advance
The first half will be held at the same time as "Waiting for the Holiday".
The second half will be held concurrently with "Winter Tail".
"A Letter to Winter Claus" will be held during the same period.
Flavor Text
There's no need for limitations when you can celebrate every day! Fireworks, presents, dances around a well-decorated tree, and the merry laughter of your closest friends! Happy holidays, Guardians!
Quests order
1. Send Gifts Daily: Daily. Get the same gift as the one you gave. You can get one of each type.
2. Decorate the Tree (MAX 400): Daily.
3. Fight in Arena (MAX 5): Daily.
4. Open chests in the Tower (MAX 15): Daily.
5. Earn Hero Soul Stones (MAX 25): Daily.
6. Use Pet Summoning (MAX 15): Daily.
7. Complete Quests of this event (MAX 24): Daily.
8. Send Gifts (MAX 50): Not a daily.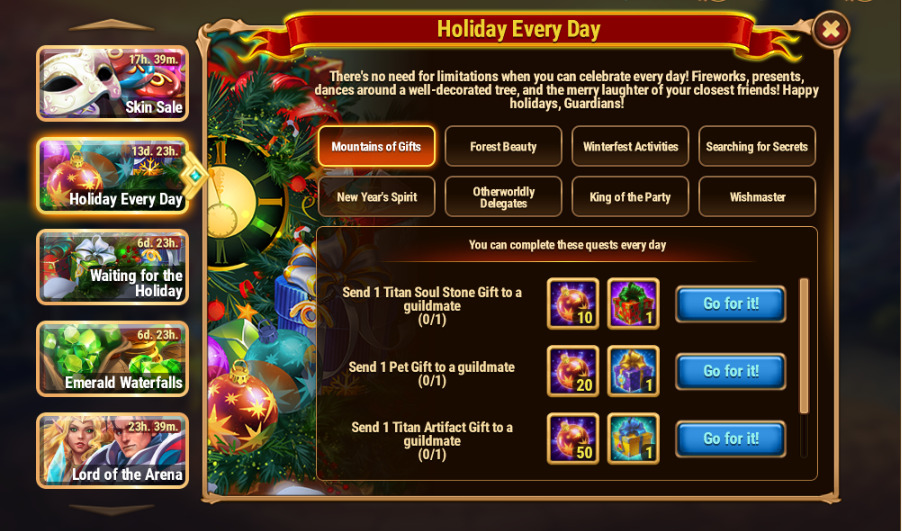 All Quests
Holiday Everyday prize concept.
You can get the Bubbles you need for the Winter Festival in 2. – 7.
Collect Bubbles from concurrent events and official gifts as well.
Use the Bubbles to obtain Winter Festival Coins and proceed with the gift in 1.
At the time of the gift, the Hero of the Day will give you the Soul Stone of the target hero for that day. Proceed with the exchange on the day of the hero you want.
Event Start Date and Event End Date
On the first day of the event, daily quests are available only from 11am to 5am (Japan time, GMT+9).
On the last day of the event, daily quests will be available for an extra day from 5am to 11am (Japan time, GMT+9).
On the first day of the event, be careful not to proceed with towers, etc. before the Holiday Everyday. There is no recovery method.
On the last day of the event, if you log in early in the morning, you can complete one extra quest before the event ends.
Event History
Tuesday, December 25, 2018 (14 days)
Wednesday, December 25, 2019 (14 days)
Friday, December 25, 2020 (14 days)
Friday, December 24, 2021 (15 days)
Friday, December 16, 2022 (14 days)
Related pages
Concurrent Events
Winterfest
Letter to Winter Claus
Waiting for the Holiday
Winter Tale
x4 Sale
Kayla's Ascension