Cosmic Box
Obtainable Loot Boxes during the Cosmic Season.
Materials for upgrade Titans and Ascensions are accessible.
Please be aware that the Gleaming Defense Seal is not among the available materials.
Please take note that the Eternal Seed are not part of the available materials.
Due to the extensive range of items, it may not be ideal for pinpointing specific rewards.
List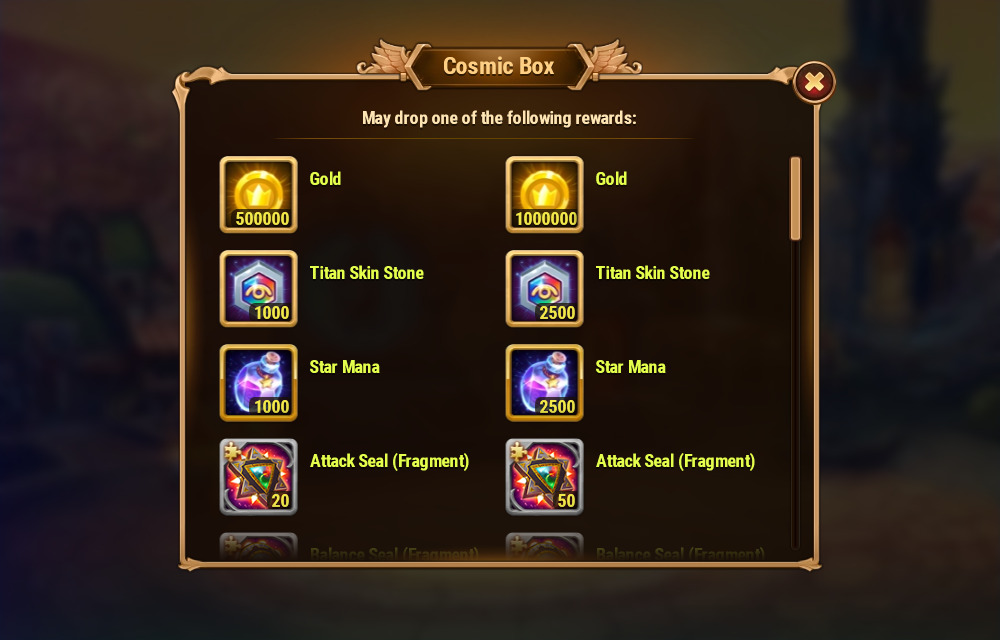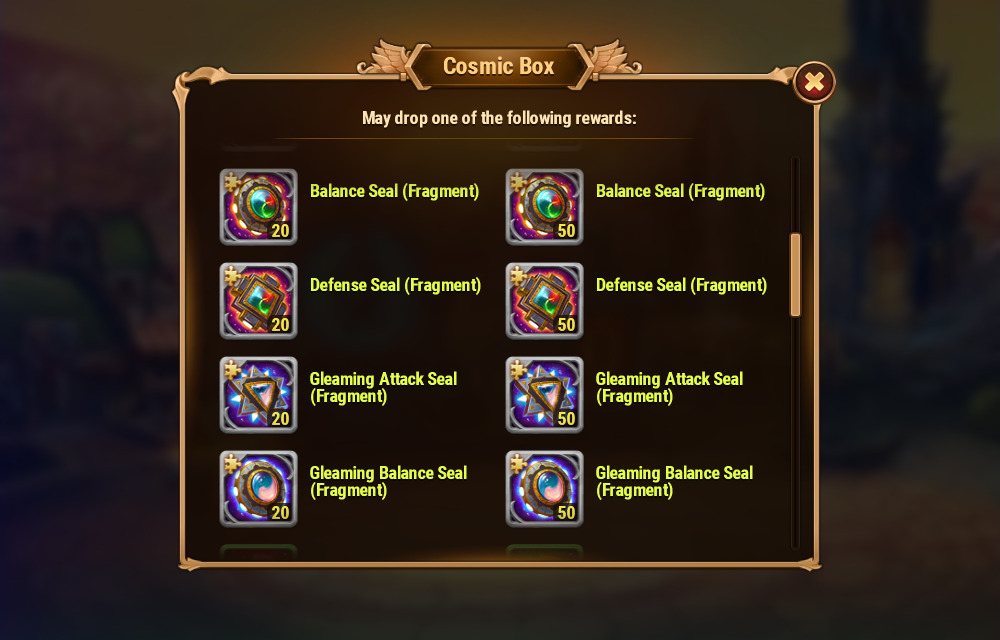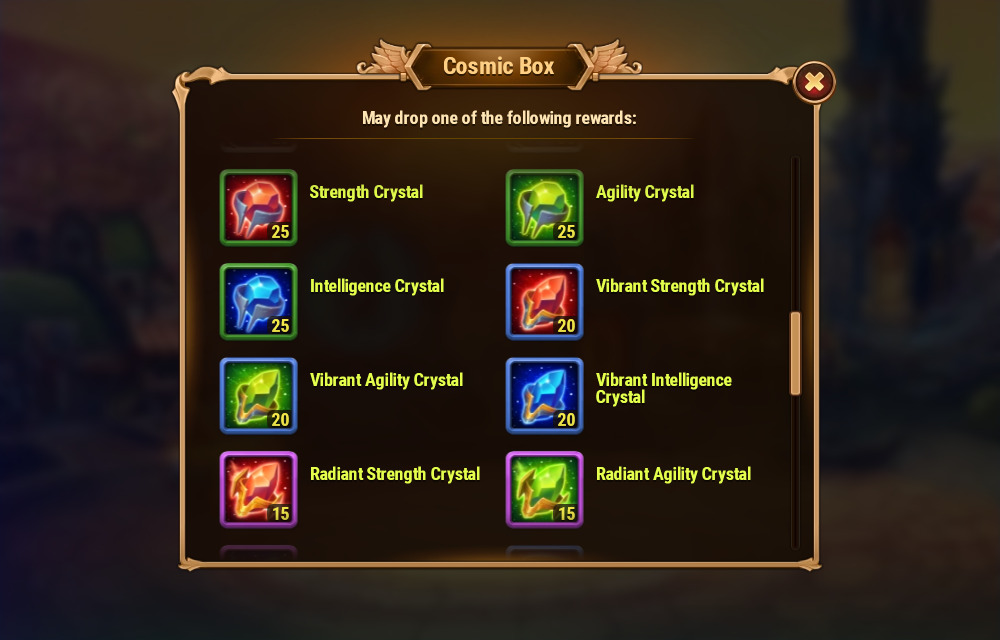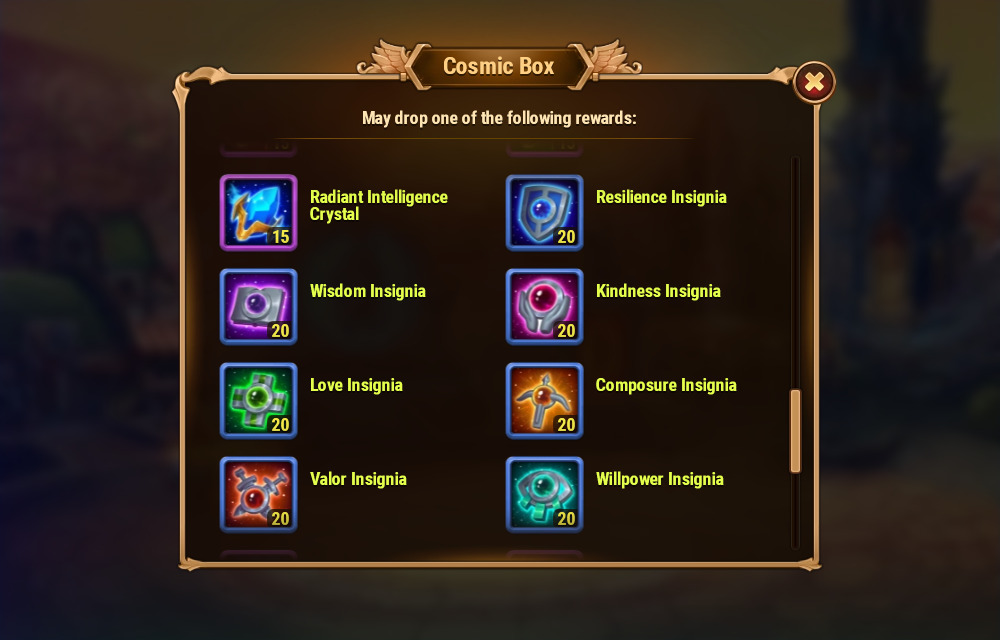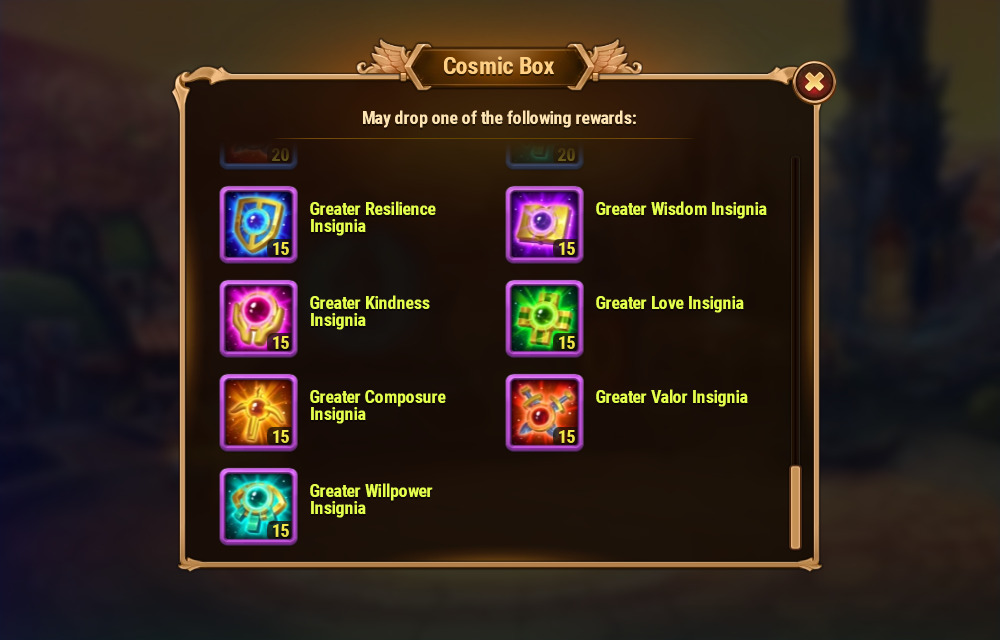 Unboxing 1,100 Root boxes
Cosmic Box, 1,100 pieces opened. For your reference.
(Thanks to DASHIMAKI-TAMAGO and japanese-chat for their help!)
500,000 Gold : 62 (5.6%)
1,000,000 Gold : 21 (1.9%)
1,000 Titan Skin Stone : 51 (4.6%)
2,500 Titan Skin Stone : 16 (1.5%)
1,000 Star Mana : 42 (3.8%)
2,500 Star Mana : 19 (1.7%)
20 Attack Seal (Fragment) : 50 (4.5%)
50 Attack Seal (Fragment) : 22 (2%)
20 Balance Seal (Fragment) : 49 (4.5%)
50 Balance Seal (Fragment) : 19 (1.7%)
20 Defense Seal (Fragment) : 46 (4.2%)
50 Defense Seal (Fragment) : 20 (1.8%)
20 Gleaming Attack Seal (Fragment) : 56 (5.1%)
50 Gleaming Attack Seal (Fragment) : 25 (2.3%)
20 Gleaming Balance Seal (Fragment) : 43 (3.9%)
50 Gleaming Balance Seal (Fragment) : 16 (1.5%)
25 Intelligence Crystal : 21 (1.9%)
25 Strangth Crystal : 20 (1.8%)
25 Ajility Crystal : 21 (1.9%)
20 Vibrant Intelligence Crystal : 20 (1.8%)
20 Vibrant Strangth Crystal : 30 (2.7%)
20 Vibrant Ajility Crystal : 28 (2.5%)
15 Radiant Intelligence Crystal : 30 (2.7%)
15 Radiant Strangth Crystal : 22 (2%)
15 Radiant Ajility Crystal : 18 (1.6%)
20 Resilience Insignia : 29 (2.6%)
20 Wisdom Insignia : 26 (2.4%)
20 Kindness Insignia : 26 (2.4%)
20 Love Insignia : 28 (2.5%)
20 Composure Insignia : 17 (1.5%)
20 Valor Insignia : 38 (3.5%)
20 Willpower Insignia : 27 (2.5%)
15 Greater Resilience Insignia : 20 (1.8%)
15 Greater Wisdom Insignia : 16 (1.5%)
15 Greater Kindness Insignia : 24 (2.2%)
15 Greater Love Insignia : 23 (2.1%)
15 Greater Composure Insignia : 16 (1.5%)
15 Greater Valor Insignia : 19 (1.7%)
15 Greater Willpower Insignia : 24 (2.2%)
Estimated Value of Cosmic Box
Including Gold: 164 Emerald
Without Gold: 140 Emerald
Cosmic Box Value Ratio
Gold : 14.3%
Titan Skin Stone : 13.6%
Star Mana : 4.8%
Titans Seal : 19.7%
Titans Gleaming Seal : 13.5%
Asgard Crystal : 2.1%
Asgard Vibrant Crystal : 4.2%
Asgard Radiant Crystal : 5.7%
Asgard Insignia : 10.4%
Asgard Greater Insignia : 11.7%
Expected value: 100 Cosmic Box
Gold : 4,700,000
Titan Skin Stone : 8,351
Star Mana : 8,051
Titans Seal : 539
Titans Gleaming Seal : 370
Asgard Crystal : 140
Asgard Vibrant Crystal : 140
Asgard Radiant Crystal : 94
Asgard Insignia : 348
Asgard Greater Insignia : 195
Related Articles
Season Event
Mini-Seasons: Cosmic Season
Mini-Seasons
Cosmic Season All Quests
Cosmic Season All Rewords
Cosmic Season
Cosmic Season All Quests
Cosmic Season Rewords